Inside and out, Terrin Ritcey's home looks like any other modest two-storey house in Halifax. The living room is packed with the tools of hobbies: a knitting loom, a half-finished quilt, a painting set to dry, a Wii controller. On the fireplace mantel stand woodcuts of the words "Dream" and "Believe." They face photos of the three adults with intellectual disabilities who have gained their independence thanks to this house.
"I can't imagine them having better lives," says Wendy Bird, the mother of one of the housemates. Bird's battle for her daughter to lead a normal life began when the child was still an infant.
Ritcey has a disorder related to cerebral palsy that has caused the right side of her body to be smaller and function abnormally. She's deaf. She also can't speak but understands how to communicate.
But these disabilities have never stopped her from being active. Now 30, Ritcey has spent her life skiing, swimming, bowling and running. A Girl Guide through school, she has held a job the past nine years at Prescott Group, a local organization that runs multiple businesses staffed by people with disabilities.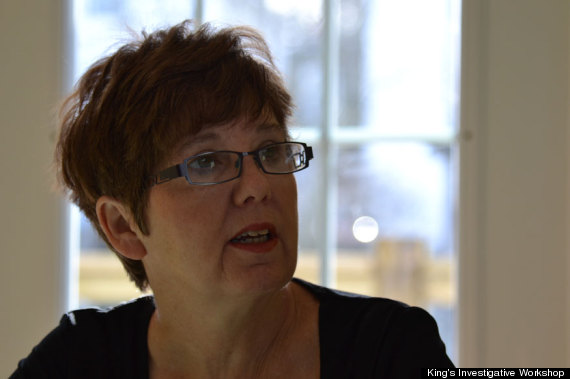 "Alternative family? Terrin doesn't need an alternative family. She has a family," says Wendy Bird.
Bird put Ritcey on a wait list for housing when she turned 19. At the same time, she and three other families of adults with intellectual disabilities began discussing the idea of pooling their money to purchase a house and develop their own care program for their children.
The families had been running a small summer program for their children and others' and wanted to find a new way of supporting their independence as they aged.
The group drafted a proposal for the Department of Community Services that included a budget and programming. Over the course of four years, the department ran through the gamut of reasons for rejecting it.
A moratorium on small options homes since the 1990s was the first reason. Bird said she was frustrated the government didn't have a deadline or a plan to move forward from the freeze. The group bought a house, hoping it might pressure the government to act. Instead, the department took issue with the fact that it was two storeys, saying that was not the norm. Bird countered by researching the number of approved two-storey small options homes.
The government then said the building could only house three people, not four, something Bird calls an "arbitrary number." And, finally, the department simply said it didn't have the money to fund the house.
During the negotiations, Community Services offered the families housing options for their children. Ritcey was first given the option of a placement in a couple's home under the Alternative Family Living program.
"Alternative family? Terrin doesn't need an alternative family. She has a family, and alternative family is at best a temporary refuge," says Bird, adding that she doubted her daughter would be able to stay with the same family for the rest of her life.
Ritcey was also offered a small options placement with two severely autistic women as roommates. Bird says the women were incompatible: both were uncommunicative and one had physical outbursts.
Community Services did persuade one of the families to move their child into another small options home, while another's daughter got ill and had to pull out of the original housing proposal. Down to two families and a house being rented out to meet costs, the group made headway when the issue of the housing crisis for people with intellectual disabilities hit the news. Not only did the news coverage help Bird find a new housemate, she's also convinced it put pressure on the government to approve their request.
Bird received a letter from the government in early 2007 that funding had been approved. By the end of March that year, they had moved in.
"We scrambled. We wanted to do it before they changed their minds!" Bird jokes.
Terrin, David and Michelle now form a close-knit trio in this nondescript house in Halifax. All three work weekdays and spend their free time with friends. They dance, participate in Special Olympics and see concerts. They disagree like any other roommates, says Bird, but they have also helped one another grow, along with help from two full-time and one part-time caregiver. With a bedroom in the house that staff rotate the use of, the staff has become almost like family, adds Bird. According to Bird, the house is cheaper by a third than similar
Regional Residential Services Society small options homes. It hasn't seen a funding increase since the home's inception six years ago, she said. The group compensates for its minimal budget by having the parents take their children to various appointments instead of paying caregivers to do it, doing renovations themselves and funding major purchases.
For Bird, it's worth it in order to be intimately involved in her daughter's life — she lives a 10-minute walk away — and to be confident in Ritcey's care. She says that thanks to Ritcey's independent life, her relationship with her daughter has improved.
"They (the residents) have kind of the freedoms and the life that we have, that you'd want them to have," says Bird. "For us it could not have worked out better."