2013 MMVA Winners: Taylor Swift, Demi Lovato, Drake And More Make The List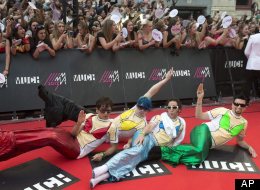 Not many award shows can make a combination of mermen, Korean pop stars and "Chavril" work, but that's exactly what the 2013 Much Music Video Awards did Sunday night in front of a sectioned-off block in downtown Toronto.
Hundreds of fans gathered in front of the MuchMusic building to catch this year's performers and presenters hit the red carpet as well as take to the stage in a two-hour popularity contest celebrating a marriage of video and music.
South Korea's PSY made his debut as this year's co-host and kicked the show off with his renowned hit 'Gangnam Style'. The K-Pop sensation also took home an MMVA for "Viral Video of The Year" with the same song, only to outdo his iconic horse dance with his personal twist on Beyonce's 'Single Ladies'. PSY would then later close the show with his first live performance of 'Gentleman' in Canada, set to a backdrop of dancers in gold pants and a giant inflatable doll fashioned after himself.
2013 MMVAs In Photos. Story Continues After The Gallery
Behind The Scenes At The 2013 MMVAs
Psy spent at least half his Q&A time answering a Korean interviewer's question in Korean, and while we have no idea what he said it sounded pretty good.

"How many MMVAs have YOU won?" responded singer Josh Ramsey to a press conference question.

Members of Down with Webster chat with reporters at the #MMVA press room on June 16, 2013.

South Korean pop performer, PSY, takes to the stage at the MMVA opening in Toronto on June 16, 2013.

Ed Sheeran takes a smoke break at the MMVA on June 16, 2013.

Serena Ryder performing 'Stompa' from a producers-eye view.

Most of the party guests watched the show on TV

Hundreds of fans gather outside the MuchMusic building in Toronto for the 2013 MMVAs on June 16, 2013.

Toronto hip-hop icon Kardinal Offishall fuels up during the MMVA pre-party on June 16, 2013.

Quebec's Karl Wolf gets comfy at the MMVA pre-party on June 16, 2013.

Members of Billy Talent hanging on the #MMVA balcony before the show kicked off.

The C.N. Tower peaks behind the MMVA main stage in Toronto on Sunday June 16, 2013.

Backstage

Before the chaos

Literally

Canada's First Couple Of Music went a big predictable in matching black outfits: Avril wore a sexy knee-length dress with a layered detail on her hip while Chad rocked a leather jacket and jeans. But Avril had the best accessory of the night: A spiked headdress! She really is a Punk Princess.

She's a good girl gone bad in a sexy body-skimming black and white number and strappy heels.

Well helloooo legs! The newly blond singer takes a risk in a very mini black dress. (Let's hope a slight wind doesn't cause a wardrobe malfunction!)

The former "Smallville" and "V" star proves that white is the new black in a hot thigh-skimming dress with sheer panels.

The Canadian "Arrow" star is handsome in a navy suit and classic striped tie. We love his vintage-looking shoes!

We love the Irish pop duo's fab (if a bit cheesy) style. Faux tuxes and Chucks? Yes please!

The "Glee" star turns up the sex appeal in a revealing LBD that not only shows off her chest but her undies too!

Don't forget, this is still all happening in someone's office!

The Canadian "Pretty Little Liars" star vamps it up in a hot crop-top and matching skirt. Those gold capped shoes belong in our closets.

The "Africa" singer goes Full Metal Jacket in combat boots, camouflage pants and a leather jacket. (Don't forget the Gucci belt!)

The "Pretty Little Liars" star goes short and sweet in a bell-shaped mini and plum shoes. So cute!

The "Pitch Perfect" star hits the right note in a sexy but sweet sheer polka dot dress and pink clutch.

The Juno-award winning singer wears some much needed colour on the MMVA red carpet. A bold print maxi dress is the perfect outfit for a fun night.

We're not sure why the singer wore a ripped-up skirt but it works with those sexy leather sandal-boots.

The Juno-award winning Canadian songstress is sophisticated in a sexy LBD with a sheer cut-put and that infamous messy 'do.

The singer goes for a classic tanned blazer and hot black button-up and matching pants. Gotta love this wavy hair!

Loving the hair and the muscle shirt but we're on the fence on that jean vest.

The rock band channels their inner mermaid. (Don't they look great with boobs?)

"American Idol" winner Phillip Phillips goes dapper in tartan and a sleek blazer.

Down With Webster looking supa dupa fly complete with afros, hipster glasses and large chains.

Our favourite Ginger supports the Toronto Blue Jays!

The rockers look too cool for school in coordinating blue outfits.

Kardinal Offishall is straight up dope with the white sunnies, blue button-up and fun beaded necklace. But what's with the asymmetrical hair?
Other international winners included Demi Lovato for her 'Heart Attack' video, which took international video of the year. She joined fellow songstress Taylor Swift who took the award in the "Your Fave International Artist" category.
Canada was thoroughly represented during the event with Avril Lavigne, Serena Ryder and Justin Bieber all getting nods for various categories. While Bieber wasn't able to accept his award in person, rapper Drake made a surprise appearance to collect his award for 'Started From the Bottom" which won the category for best hip-hop music video. Fellow Canadian rapper, Classified, took two awards this year, scoring two MMVAs for "Muchfact Video Of The Year" and "Video of the year" -- both for his song 'Inner Ninja'.
And while there weren't any awards for questionable fashionable choices, Canadian pop group Marianas Trench showed up on the red carpet dressed up as mermaids (or is it mermen?) only to later strip down to their underwear during their performance of 'Desperate Measures'. The group took home an award for their song 'Stutter' which won in the "Your Fave Video" category.
To see all the winners, check out the list below:
Video Of The Year: Classified & David Myles, 'Inner Ninja'
Post-Production Of the year: Billy Talent, 'Surprise Surprise'
Dance Video Of the Year: deadmau5 f. Chris James, 'The Veldt'
Director Of The Year: Director X – Drake, 'Started From the Bottom'
Pop Video Of the Year: Marianas Trench, 'Desperate Measures'
Rock/Alternative Video Of The Year: Serena Ryder, 'Stompa'
Hip-Hop Video Of The Year: Drake, 'Started From the Bottom'
Muchfact Video Of The Year: Classified f. David Myles, 'Inner Ninja'
International Video Of The Year -- Artist: Demi Lovato, 'Heart Attack'
International Video Of The Year -- Group: Macklemore and Ryan Lewis f. Wanz, 'Thrift Shop'
International Video Of The Year By A Canadian: Avril Lavigne, 'Here's To Never Growing Up'
Your Fave Artist/Group: Justin Bieber
Your Fave Video: Marianas Trench, 'Stutter'
Your Fave International Artist/Group: Taylor Swift