Kate Middleton Baby: Maternity Outfit Colours A Hint To Royal Heir's Sex? (PHOTOS)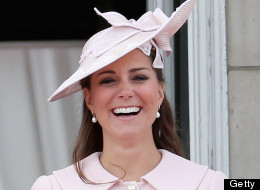 Kate Middleton made her final appearance before her royal baby's birth at the Trooping the Colour ceremony over the weekend and we're already missing her maternity style.
The Duchess of Cambridge wore a pale pink Alexander McQueen complete with a large collar, three-quarter length sleeves and ivory buttons. So cute! But the outfit begs the question: Does pink mean that Duchess Kate and Prince William are having a baby girl?
The royal couple have been famously mum on the topic, despite several reports hinting that the royal family leaked the sex of the baby. (The Mirror reported that Prince Harry revealed that Kate and Will were having a boy).
But despite our best guesses, we haven't come up with a simple way to tell whether Catherine of Cambridge is having a boy or a girl.
So, while we're waiting for the Littlest Heir Who Could to arrive, we've come up with a totally unscientific way to guess whether Catherine is giving birth to a future prince or princess, by tallying up how many times she's worn colours we think would look good on a boy or a girl.
Let the guessing begin!
Kate Middleton Maternity Style
At Kate's last public appearance before the baby's birth, Kate wore pink, which is traditionally a girl's colour. Verdict: Girl.

This is a wild card! Either her kid could be an aminal-print loving girl or a fabulous boy. Verdict: Up in the air.

A soft, neutral colour like nude looks good on girls. Verdict: Girl.

This could go either way but we're going to say yellow is a girl's colour. It's just so pretty! Verdict: Girl.

Peach is definitely for the ladies.Verdict: Girl.

We could totally see a little heiress running around the grounds of Kensington Gardens in a polka dot dress. Verdict: Girl.

Normally we would say that blue belongs in a boy's camp but this is more of a pale, baby blue. Verdict: Girl.

Dark hues? Definitely for a wee royal heir. Verdict: Boy.

This pastel green is more suited for a girl than a boy, although honestly, we could see it on a boy too. Verdict: Up in the air.

Tartan red? It looks great on Kate but is definitely a traditional boy's colour. Verdict: Boy.

Tartan is definitely male-orientated especially in dark blue. Verdict: Boy.

What a luscious colour! While it would look good on both boys and girls we think it would look good in a boy's nursery: Verdict: Boy.

Neutral colours fit in both men's and women's closets but this shade seems better suited for a girl. Verdict: Girl.

Kids shouldn't have to wear black until they get older. Verdict: We can't tell.

Doesn't this coat dress look great on Kate? We would love to see a baby girl in this hue. Verdict: Girl.

Only a girl could make this usually unflattering colour look good. Verdict: Girl.

Verdict: Boy. Definitely.

Everyone can rock a grey look. Verdict: Up in the air.

Kate really loves green! At this point, when she was first released from the hospital after announcing her pregnancy, Kate probably didn't know whether she was having a boy or a girl. Verdict: Up in the air.

FAMILY TREE: Queen Elizabeth II, Queen of the United Kingdom and the Commonwealth and Prince William's grandmother. MEANING: Elizabeth is of Hebrew origin and means God's promise or God is my oath. WHY WE LIKE IT: Why wouldn't you want to be named after one of the most powerful women in the United Kingdom? Even though sources report that the couple has decided to use Elizabeth as one of two middle names, Elizabeth not only honours the baby's great grandmother, but Kate Middleton's middle name is Elizabeth as well.

FAMILY TREE: King George VI was King of the United Kingdom from 1936 to 1952. MEANING: Originally of Greek origin, the meaning of George is "farmer". Also there is the story of Saint George, a knight who became the patron saint of England and achieved legendary status after his struggle with a fire-breathing dragon. WHY WE LIKE IT: Besides being a dragon slayer, the name George goes back to the Royal family's history books since 1660. George VI was also the last male figure in power — this title currently belongs to Queen Elizabeth II.

FAMILY TREE: Princess Diana, The Princess of Wales and Prince William's mother. MEANING: Diana is derived from either an Indo-European root meaning 'divine' or from the Latin word 'diviana.' WHY WE LIKE IT: After Princess Diana's tragic car crash in 1997, Diana would be a wonderful tribute to remember Lady Di. Again, sources say the couple plan on using Diana as a middle name, but we would love to see Diana used as the first name.

FAMILY TREE: Prince William, Duke of Cambridge and father. MEANING: William is of Old German origin and means protection. WHY WE LIKE IT: Maybe a reason to follow in his father's footsteps, William Jr. may be a suitable name if the couple had a baby boy. Prince William has always been known for his good grades, his love for sports and being a philanthropist.

FAMILY TREE: Princess Margaret, Countess of Snowdon, was Queen Elizabeth's sister. MEANING: Margaret is of Greek origin and means pearl. WHY WE LIKE IT: Keeping it in the family, we like that fact that Princess Margaret was the Queen's youngest and only sibling. Margaret lived a life of controversy when it came to her love life and divorce, but she was remembered for her affection and love for her family, according to The Telegraph. Plus, so many good nickname possibilities!

FAMILY TREE: Princess Diana's mother's name was Frances Shand Kydd. MEANING: Frances, which comes from old French, means to be free. WHY WE LIKE IT: Another way to keep a grandmother's name in the family, authors have described her as "certainly complicated" but also "funny, warm, intelligent and energetic," according to The Daily Mail. We also like this name because it could be used both for a baby girl or boy.

FAMILY TREE: Queen Victoria spent 63 years on the throne. MEANING: Victoris of Latin origin and means victory. WHY WE LIKE IT: Queen Victoria continues to be the family's longest reigning monarch and the longest reigning female in power. As a child, she was known as a "patient rebel" — always aiming to be "good" but also very strong-minded, according to Professor Lynne Vallone.

FAMILY TREE: Charles, Prince of Wales, father of Prince William. MEANING: The name is Old German and means free man. WHY WE LIKE IT: Staying true to a father-son bond, royal sources have said that Prince William has been very supportive of his father and that they share a closer relationship, according to the Telegraph. Who knows, maybe this is a trait that will continue with Prince William's son.

FAMILY TREE: Actually, this name isn't in the family — but it could be. MEANING: Jason means the healer. WHY WE LIKE IT: It may not be part of the Royal family's family tree just yet, but "Fledgling Jason Steed" is one of Prince William's favourite books, according to The Daily Mail. The story follows an 11-year-old boy named Jason Steed who is destined to save himself and his country from a nuclear threat.

FAMILY TREE: Okay, we're throwing this one out there but hear us out. MEANING: Smythe is Old English for 'blacksmith.' WHY WE LIKE IT: Kate Middleton has been seen donning a Canadian-made Smythe blazer several times, including during the 2012 London Olympic Games. And who doesn't like the sound of Smythe for a baby girl? At least it doesn't rhyme easily.

Back row, third from left.

Front and center.
Verdict: Based on the Duchess' maternity outfits, Kate Middleton is having a girl, having worn nine colours we think would look great on a princess, five colours we think would look fab on a boy and five colours we couldn't decide on.
What do you think? Is Kate Middleton having a prince or a princess?