Are E-Cigarettes Safe To Puff?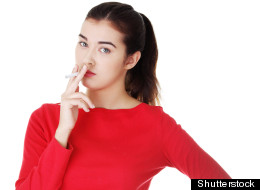 As electronic or e-cigarettes grow in popularity, some health advocates want them to be regulated.
E-cigarettes are battery-operated devices that use a liquid-filled cartridge that can contain mint, vanilla or other flavourings. The contents are vaporized into a mist that is breathed into the lungs. Some cartridges also contain nicotine.
Health Canada has not authorized stores to sell nicotine-filled cartridges, but they are available online and at some flea markets.
"To date, no electronic cigarettes with nicotine or health claims have been authorized by Health Canada," a spokesperson for the department said in an email Tuesday.
"As the safety, quality and efficacy of these products remains uncertain, Health Canada continues to advise Canadians not to use electronic cigarettes as they may pose health risks."
Electronic cigarettes are sometimes marketed as an option to help people quit smoking, or as a tobacco replacement.
Analysts think the market for e-cigarettes will surpass $10 billion in the U.S. by 2017 and that e-cigarettes will outsell regular cigarettes within a decade, said David Sweanor, a law professor at the University of Ottawa who works on tobacco and health issues.
Story continues below slideshow:
Natural Ways To Quit Smoking
Mindfulness training helped participants in a 2011 Drug and Alcohol Dependence study to stay off cigarettes. That study included 88 people who smoked 20 cigarettes daily, on average, who were split up into two groups: One received four weeks of mindfulness training, while the other group went through four weeks of an American Lung Association stop-smoking program. The researchers found that more of those who went through the mindfulness training smoked fewer cigarettes -- and stayed off them -- than those who went through the other stop-smoking program. The mindfulness training included realizing when you're facing a craving, accepting it, thinking about what's happening and then taking note of the sensation (whether it's tightness or pressure), Psychology Today reported.

Jogging and bicycling aren't the only exercises that could help you kick the smoking habit -- Shape magazine reported that weightlifting could help, too. The research, published in the journal Nicotine & Tobacco Research, showed that doing two hour-long weightlifting sessions for 12 weeks plus undergoing treatment to quit smoking was linked with greater success in quitting smoking, compared with just undergoing the stop-smoking treatment.

Eating lots of fruits and veggies could help smokers maintain a tobacco-free lifestyle, according to research from the University of Buffalo. The study, published in the journal Nicotine and Tobacco Research, included 1,000 smokers ages 25 and older. The researchers had the participants answer surveys about their smoking habits and their fruit and vegetable intake. Then, they followed up with them 14 months later and asked them if they used tobacco over the past month. The researchers found that there was a relationship between the amount of fruits and vegetables the study participants ate, and the likelihood that they quit -- and stayed off -- tobacco. In fact, people who ate the most produce in the study were three times more likely to report that they'd been tobacco free in the previous month. The researchers also found a link between increased produce consumption and taking longer in the day to have the first cigarette, smoking fewer cigarettes, and decreased dependence on nicotine (based on test results).

A review of studies suggests there is evidence that acupuncture and hypnosis can work to help quit smoking, Reuters reported. Researchers, who published their findings in the American Journal of Medicine, said that other options -- like medications and counseling -- should be tried first, but that hypnosis and acupuncture could help if those options don't work, or if people don't want to go on medications, according to Reuters.

Who knew your phone could be used to help you quit smoking? A recent study published in the journal The Lancet showed that smokers who enrolled in a program called "txt2stop" -- where they received encouraging text messages to quit smoking -- were twice as likely to kick the habit after six months, compared with smokers who didn't get any encouraging messages. In the study, conducted by the London School of Hygiene & Tropical Medicine, one group was able to text words like "lapse" and "crave" to a phone number, and received an encouraging text message in return, CNET reported. The other group of people, however, only got one text message every two weeks, and that message just thanked them for being part of the study.
"No one's given me a kiss on the cheek for giving them a piece of Nicorette gum, but I have gotten that for giving them an electronic cigarette," Sweanor said.
Sweanor believes in using e-cigarettes as a risk reduction strategy for cigarette smokers. "People smoke for the nicotine, they die from the smoke."
It's not nicotine itself that causes most of the harm associated with cigarettes, said Dr. Peter Selby, chief of the addictions division at the Centre for Addiction and Mental Health in Toronto.
"We really don't know whether these are meeting any kinds of standards of safety for people to inhale on them, whether they have nicotine or not," Selby said of e-cigarettes.
For Selby, the main issue is whether e-cigarettes meet manufacturing and regulatory inspection standards for producing products under hygienic conditions, for example, and to ensure they don't explode and cause burns. The potential harm of inhaling nicotine in e-cigarettes also needs to be compared with the risk from regular cigarettes.
"We need a framework to study that and understand it so we can actually tell smokers it is a safer option," Selby said.
"Right now, it looks like we've got our head in the sand. If you take the nicotine out of the tobacco and only give people nicotine, the potential harm is likely very, very small."
During National Non-Smoking Week in January, the Canadian Lung Association said it encourages people to quit smoking using scientifically proven methods such as nicotine replacement patches and gums. The group also objects to flavours that appeal to children, fearing e-cigarettes may encourage those under 18 to try tobacco products.
At Esmoker Canada, an e-cigarette store in Toronto, Mario Martinasevic says sales have almost doubled every month. Customer Ashley Harris calls e-cigarettes without nicotine a convenient alternative to cigarettes that she can smoke at the office or at a bar when out with friends without stepping outside.
"I don't want to be inhaling nicotine," said Harris. "I'm finding it fine without it."
Since switching to using e-cigarettes, Harris said food tastes better, she's feeling more physically fit and her teeth are better. She's also saving money.