Girl Falling From Fifth-Floor Window Caught By Delivery Men (VIDEO)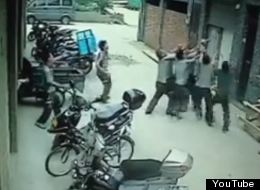 A two-year-old girl in China who fell from a fifth-floor window was caught by five delivery men and survived with minor injuries, the BBC reports.
CCTV footage of the incredible save shows the men looking upwards and positioning themselves in preparation to catch the child, whose name is Qiqi.
The couriers were taking a break when they heard Qiqi crying and saw her sitting on the window ledge.
Her parents said they left her sleeping at home, but that she climbed out the window when she woke up, according to The Telegraph.
One of the men injured his arm and another hurt his neck when they caught the girl, while she only had a minor graze on her face.