Jann Arden Defends Paula Deen On Twitter, Causes Controversy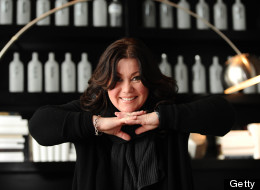 After watching a home she used to reside in washed away in the recent Alberta floods, singer-songwriter Jann Arden caused a storm on Twitter Tuesday by throwing her support behind U.S. celebrity cook Paula Deen following Deen's admission of using a racial epithet.
"What 'they' are doing to Paula Deen is disgusting," Arden tweeted. "Those in glass houses should not throw stones."
As well as retweeting a statement from Deen thanking those supporting her through the ordeal and saying Deen has done "so much for hunger in America," Arden replied to people criticizing Deen and Arden's stance. "@NightOwly and you lived a perfect life?" she said in one reply. "never said a harsh word? just saying...no one is in ANY position to judge. YOU or me."
A comedian then asked Arden if she was serious before saying that "Paula was wrong." Arden agreed with him but added it "doesn't make her a racist." The musician then asked him if his comedy routine was "clean? Fair?" or had "any questionable language."
In a series of tweets Arden then said "if someone was to fire me over a word, well, Fuck...I have said them ALL!! Ironically, it's bigots who are going after Paula Deen's character. Like they are perfect citizens?...what a bunch of bullshit." Later she said she had blocked "mean spirited people" after saying she was "being called a racist today."
Arden then said rap artists would "have to become mimes...Cause they are using a LOT of questionable language. Racist? No? Bad taste? Yup."
Stars singer Torquil Campbell commented on Arden's position. "as mandela lies in a hospital bed, jann arden steps up to defend some cracker who cooks on television," he wrote. "for this, her bravery will be lauded." Campbell also said his "favorite tweet" of Arden's was "where she says she's gonna go scream racist words at squirrels 'til she feels better" before quipping she should have her own radio show.
"'no one has the right to judge anyone else for anything ever,'" Campbell tweeted. "this, in a nutshell, is the very worst of the canadian ethos. cheers jann."
After tweeting, "didn't think I was gonna get out of Twitter alive today" late last night, Arden jumped back into the fray today, adding, among many other tweets, "Being cruel to me doesn't change anything. People have a right to a fair trial. We try people without facts all the time. Pathetic."
Arden performs in London, England on Canada Day at Trafalgar Square are part of July 1 celebrations in Britain.
Paula Deen Racism Scandal Timeline
On the heels of Paula Deen's finishing butters announcement, the National Enquirer claims that it has obtained video of Paula Deen making racist statements.

And confirms remarks.

Mixing recipes with racism.

And releases a statement.

Is her career doomed?

Type II racism, y'all.

The program was supposed to have the exclusive.

Nor was Al Roker.

Things got a little messy, and sad.

Her contract was set to expire.

They are not happy.

It's not over yet.

Other companies still mulling their future with Deen.

Fans are standing by her.

They are re-branding her four buffets.

There are a lot of tears.

The world's largest retailer said it will not place "any new orders beyond what's already committed."

The company originally stood by her, but no more.

Not too many left.

From the CEO: "We all think it's important, at this moment, for Paula to concentrate on responding to the allegations against her and on her path forward."

Domino effect here.

No more Deen merchandise.

Even though it isn't out yet and it is number 1 on Amazon right now.