Canada Day Facts For Americans (PHOTOS)
Happy Canada Day! If you're a Canadian here or abroad you're hopefully celebrating our country's birth with fireworks, barbecues, picnics or just some quality time with friends and family.
Our American friends might be a little confused about our national holiday and why all their secret (and not-so secret) Canadian friends online are talking about it today. We've written up a quick crash course on Canada Day that you can pass along to a non-Canadian, a new Canadian or someone who just wants to wave a red and white flag and celebrate the birthday of the best county in the world.
1. So what are we celebrating exactly?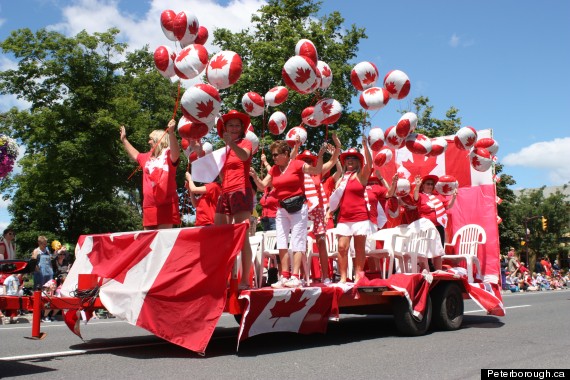 The birth of Canada, or as we call it Confederation. In 1867, leaders from the colonies of Upper Canada (now Ontario), Lower Canada (Quebec), Nova Scotia and New Brunswick, decided to form one country, Canada.
The document that they signed, the British North America Act, would essentially be Canada's constitution until 1982.
2. So you didn't go to war or anything?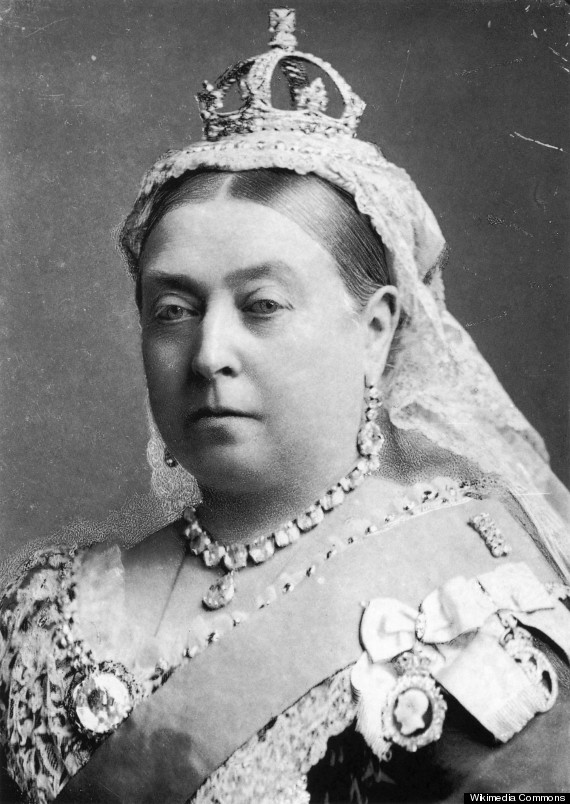 Nope. We asked Queen Victoria politely. She said yes.
3. What the heck is Dominion Day?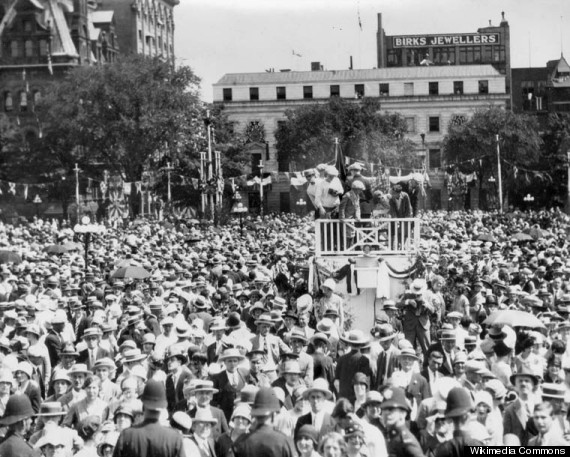 That's what we used to call Canada Day. The country was known officially as the Dominion of Canada so many older Canadians refer to July 1st as Dominion Day.
4. OK, where's the best place to celebrate Canada Day?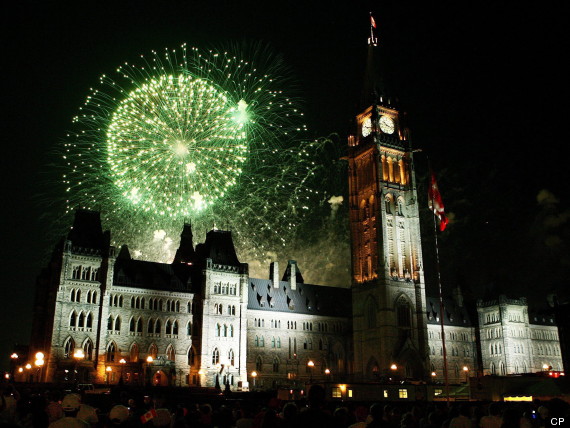 Ottawa! Hundreds of thousands go to the nation's capital to celebrate Canada Day. There's a big concert, fireworks and general merry-making.
But virtually every major Canadian town and city holds some kind of Canada Day festivities. And yes, there are fireworks.
5. OK, but what if I live abroad?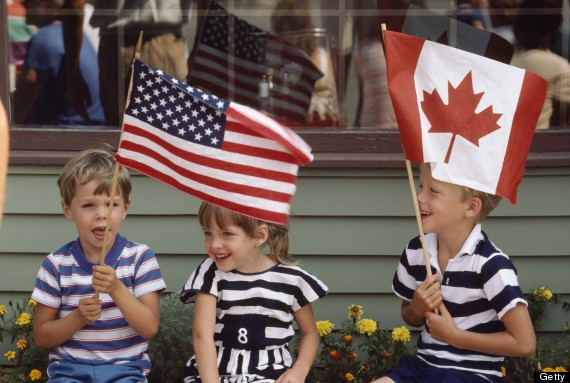 Canadian embassies and consulates often hold celebrations for Canada Day. London and New York are holding fun looking concerts. Otherwise you may want to try to look for an ex-pat group of Canadians in your area.
Story Continues After Slideshow
Bet You Didn't Know They Were Canadian
Yes, Dwayne Johnson's father is Nova Scotia-born wrestler Rocky Johnson. As the first generation child of a Canadian, Johnson is eligible for Canadian citizenship. Johnson also played in the CFL for the Calgary Stampeders during the 1995 season, but was cut after two months.

Scottie was totally from Vancouver.

The "Entourage" star was born in Montreal.

The world-famous architect was born in Toronto.

The former NBA star was born in Toronto.

The comedian is from Quebec City. Bonus points if you knew his brother is CBC journalist Neil Macdonald.

The "Castle" and "Firefly" star was born in Edmonton.

The potential Republican presidential nominee was born in Calgary. However, because his mother is American, U.S. officials have ruled that he would be eligible to run for the presidency.

That's right, "Safety Dance" came from a Montreal group.

While born in Portland, Groening's father Homer was born in Main Centre, Saskatchewan and so Groening is eligible for citizenship.

The "Bonanza" star was born in Ottawa.

While born in Indianapolis, both of "The Mummy" star's parents are Canadian and so he is entitled to Canadian citizenship.

The Oscar winning star of "True Blood" was born in in Winnipeg.

The regular contributor to "This American Life" was born in Montreal.

While the "Sex and the City" star was actually born in in the U.K., she moved to Courtenay, B.C., when she was just an infant.

"The L Word" star was born in Toronto.

The star of "The Matrix" was born in Burnaby, B.C.

The "Will and Grace" star was born in Toronto.

OK, you may have known this one already, but for some reason people are always forgetting that the "Titanic" and "Avatar" director was born in Kapuskasing, Ontario.

The original host of "Let's Make A Deal" was born in Winnipeg.

OK, so he was born in Syracuse, New York and his parents were both American, but the star of, well everything, went to school in Ottawa for several years in the early 1970s. It was in Ottawa that Cruise first became involved in acting, according to Andrew Morton's unauthorized biography.

Canadians are normally pretty nice but there are things you just don't want to say to a Canadian... (AP Photo/The Canadian Press, Nathan Denette)

(AP Photo/The Canadian Press, Chris Young)

(AP Photo/The Canadian Press, Fred Chartrand)

We asked our readers to tell us more things that you shouldn't say to a Canadian. We collected the best responses.

@HuffPostCanada #AngryCanadian Wasn't it wonderful that Ben Affleck thanked Canadians at the Oscars? Were Canadians in Iran?

@HuffPostCanada #AngryCanadian To someone from Toronto: "I have a friend named .... In Vancouver, do you know them?" "No, it's a 3hr flight"

@HuffPostCanada The old chestnut You guys all live in igloos right? #AngryCanadian

@HuffPostCanada #AngryCanadian "Is it warm there in summer? Do you drink maple syrup? You say roof (ruff), tour (tore), and bar (ba) weird."

#AngryCanadian Can't I just call you an American?

@HuffPostCanada "How would you feel about statehood?" #AngryCanadian

@HuffPostCanada #AngryCanadian "You're from Canada? Vancouver is beautiful!" Me: "I wouldn't know." "So, is Newfoundland close to Toronto?"

@HuffPostCanada @rebellionisjoy "So what's the deal with Tim Horton's? I don't get it." #AngryCanadian

@HuffPostCanada Donuts are bad, curling's not a sport, and Bettman is a great NHL commissioner. #AngryCanadian

I DONT SAY ABOOT"@HuffPostCanada: 'Say aboot for me' other things you don't want to say to a Canadian #AngryCanadian http://t.co/8ndPg2UNrX"

@HuffPostCanada -Do you celebrate 4th of July? #angryCanadian

When Fox won a contract to broadcast the NHL in 1994 it decided people needed the puck to glow in order to be seen. This was stupid. As Canadians know you do not need laser to see a puck. You just need eyes. The stupidity of Fox's move was immortalized in a Molson Canadian commercial. FoxTrax was retired in 1998, around the time Fox gave up on hockey.

America's less-famous first Constitution included an invitation to Canada to join the U.S. It remained open from 1781 until the U.S. Constitution everyone knows was finalized in 1789. A 2004 poll from Leger marketing found just 7 per cent of Canadians were even vaguely interested in merging with the U.S. So obviously, Canada made the right call. America didn't learn its lesson. For proof, see the next slide.

While many historians have labelled the conflict a draw, we're not sure how repelling a foreign invader and then burning its national monuments qualifies. And it wasn't all because of luck or American strategic incompetence, although that played a part. Canada also outsmarted the U.S. on a number of occasions. Take the fall of Detroit, when a much smaller force of British soldiers, Canadian militia and First Nations fighters convinced American General William Hull to stand down by using subterfuge. British General Sir Isaac Brock's forces allowed fake letters to fall into American hands. The missives suggested the size of their aboriginal force was much larger than it really was. Militiamen were dressed in the uniforms of British regulars. Encamped troops built more fires than were needed and troops marched in and out of sight of the U.S. fort to create the illusion of a larger army. The result? Hull surrendered more or less without a fight. Brains over brawn for the win.

America has maintained a trade blockade of Cuba since the missile crisis of 1962. Canada, not so much. In fact, former Cuban leader Fidel Castro was enough of a friend of former prime minister Pierre Trudeau to show up at his funeral in 2000. While America may have had good reason for maintaining sanctions against Cuba during the Cold War, the fall of the Soviet Union has raised serious doubts about the wisdom of the ongoing policy. While a series of U.S. administrations have avoided angering Cuban expats in the electorally-important state of Florida by maintaining the blockade, they have also passed up trade opportunities that could greatly benefit both nations. On a side note, it's hard to imagine Canadian literary legend Mordecai Richler without his beloved Romeo y Julieta cigars. If Canada had joined the blockade it's possible nobody would have ever heard of Duddy Kravitz. Did we mention vacations in Cuba are cheap and beautiful? America, you're missing out.

While America has been involved in many dubious conflicts over its history, Vietnam is widely considered the nation's greatest military blunder. Despite being closely allied with the U.S., Canada managed to stay out of the conflict. In 1965, prime minister Lester B. Pearson even called for a cessation of bombing in North Vietnam, a move which is said to have angered president Lyndon B. Johnson. Nevertheless, Canada-U.S. relations were never seriously damaged over Vietnam. The period is an enduring example of how two allied nations can disagree and still remain friends.

Ten years after the U.S. invaded Iraq, it has become clear the war was something of a mistake. The rationale to invade was the presence of weapons of mass destruction that didn't exist and the management of the country after the invasion led to bloody sectarian warfare. Canada, despite heavy pressure from the U.S. and a commitment to Afghanistan, stayed out of the conflict.

While there are signs Canada is headed for a housing crash of its own in the second decade of the 21st century, it did manage to avoid the crisis of the late 2000s that brought America's economy to the brink of total collapse. Canada avoided many of the questionable lending practices that saw low-income families take on homes they simply couldn't afford. But while Canada avoided the out-of-control leverage that characterized America in the 2000s, Canadians may not have learned the larger lesson. Since the financial collapse, international and domestic observers have grown increasingly concerned Canada is headed for its own housing meltdown. The federal government has made it more difficult to get mortgages with long amortizations and discouraged banks from lending at ever lower rates in an attempt to cool markets. Whether these moves will be enough to allow Canadians to continue to boast of their financial crash superiority remains to be seen.

America's national debt stands at roughly $16 trillion and climbing. Canada's national debt is roughly $600 billion. Even after adjusting for the U.S. population being nearly 10 times that of Canada, it's clear which nation is doing a better job at keeping debt under control. The situation isn't an accident, but a result of policy. In this case, smart policy from Canada and a near total lack of policy from the U.S. In the mid-90s, Canada significantly lowered its debt-to-GDP ratio with stiff cuts. While the cuts slowed economic growth to a crawl, they were seen as necessary by the Liberal government of the period after Canada's credit rating was downgraded by Standard & Poor's and Moody's. While the drop in growth lowered tax revenue, nearly to the point of making the cuts revenue neutral, they did shift Canada's economic balance away from the public sector and toward private business, a change credited with fuelling Canada's subsequent economic success. The U.S., on the other hand, took the surpluses of the Clinton era and turned them into massive deficits during the 2000s. President George W. Bush's massive tax cuts, two wars and the financial crisis have left America with a dire financial situation its political system seems unable to address. America's status as the global reserve currency has kept its debt from becoming a lending issue, but almost everyone in the political class agrees something must be done. The bipartisan Simpson-Bowles report commissioned by President Barack Obama in 2010 called for a combination of revenue increases and cuts to alter America's debt curve. Since then, most Republicans have steadfastly refused to trade revenue increases for cuts, arguing that cuts to spending and taxes are the way to kick-start the economy. Maybe checks and balances aren't so great after all, eh? Maybe the Founding Fathers should have given the Westminster system and majority governments a shot.

It's almost universally recognized that campaign finance has become one of the most detestable aspects of America's political system. Congressmen, senators and presidential hopefuls now spend absurd amounts of time raising cash. The situation has gotten so out of hand that phone-banks are now available just steps off federal property in Washington D.C. so politicians can easily make calls to donors without violating federal regulations. The cost of the 2012 federal election campaign has been estimated at roughly $7 billion. But even calling it the 2012 campaign is a bit of a misnomer. Campaigning for president never really ends now. In contrast, Canada passed laws banning donations from corporations and unions and setting a low cap on personal donations in the mid 2000s. The Liberal and Conservative parties were both part of the legislative effort. Campaigns are much shorter than in the United States and there are fewer allegations of corporate lobbying. Which way of doing things sounds smarter to you?

There are some snacks that define a nation, but not many that taste good to only those who live there. What do we love? The fact they leave our fingers dyed red after we've had a whole bag. Ketchup has never tasted so salty, non-tomatoey and outright good. Our U.S. friends may go nutty over Doritos, but we love our ketchup chips.

Many Canadians will point to the fact that Superman has a strong connection to the Great White North, but we'd like to reintroduce you to the real thing. 'Survivorman', while it was on in the late 2000s, showcased Les Stroud, a gritty Canadian who shot his own show in snow, sleet, heat and rain with nothing but random household objects and a trusty knife. We like to think that in a country that's increasingly urban, the outback is still our domain. Les, he's the best of us.

It was the scream heard around the world, and has been imitated - although never duplicated - several times since. William Shatner, who in his own right is a great Canadian, uttered the famous scream 'Khaaaaannnnnnnnnnnn!' in a scene during 1982's 'Star Trek II: The Wrath of Khan'. Was it the close up on Shatner's face or the fact he shook while he screamed that made it so powerful? Thirty years later, filmmakers and actors are still trying to outdo Shatner. But some things just can't be beat.

In warm weather, it will cool you down. If you're hungover, it's the magic antidote. The Caesar, Canada's favourite breakfast, lunch and evening cocktail adds a spicy twist to the Bloody Mary. Canadians are so particular about how it tastes -- with Clamato, not tomato juice -- that many don't even bother ordering it in the U.S. out of fear of disappointment. Served with celery, a lime and, if you're lucky, a fat dill pickle, it's the perfect cocktail. Who knew clam juice could add that kind of magic to a drink? (Photo Shutterstock)

Overall, Americans can save 24 per cent if they buy their drugs from online Canadian pharmacies versus filling their prescriptions at home, according to a study published in the Annals of Internal Medicine. The study sought to find out why so many U.S. citizens have been taking advantage of the deep discounts north of the border, and the results showed dramatic savings across the board. "Forty-one of the 44 brand-name medications examined were less expensive in Canada." Canucks are proud of their health-care system and easier access -- in this case financially -- to pharmaceuticals. (Photo Alamy)

The debate on whether we should cut ties to the monarchy was all but quashed last year after the outpouring of pomp and pageantry -- in Canada -- around the royal wedding. Canadians embraced the nuptials as if Prince William was their own and turned out in droves to see the newlyweds during their cross-country tour last July. From trying to get Pippa's butt to putting in their two cents on whether Prince Charles deserves the throne, Canadians love their Queen and all of the gossip that goes with her. (Photo Rex Features)

When it comes to food, Canadians concede there's far more selection in the U.S. but we're fiercely proud of the candy bars that can only be found here. Coffee Crisp is a great example. Consisting of a crunchy wafer, milk chocolate coating and slightest hint of coffee flavouring, the chocolate bar is true to its marketing slogan of making 'a nice light snack' and is adored by all moms and seniors. Rumour has it they've been spotted in a few U.S. border town convenience stores. We want proof!

Undoubtedly one of North America's natural wonders, the power and beauty of Niagara Falls never ceases to amaze, whether it's your first trip or 100th. Luckily for Canucks, the best place to view the falls is on the 'Canadian side'. That's right, busloads of tourists from around the world flood the observation areas near the falls in Ontario every day to snap the perfect picture for their Facebook profile. Do Americans bother to cross the border for the better view? You betcha. Just look out for the person using 'eh' at awkward times. (Photo Shutterstock)

About 56 per cent of Canadians have a passport while just 37 per cent of Americans do. While the majority of Canadians haven't been to countries like Azerbaijan, they do take pride in seeing the world and it's difficult to not run into a Canadian while travelling abroad. A story by TechCrunch claims more Americans have a Facebook page than a passport. Perhaps they prefer to view the travel photos of their friends online than to actually see sights for themselves... (Photo CP)

Canada limits corporate influence on our electoral process via spending limits on political donations and third-party advertising. The 2010 decision by the U.S. Supreme Court to strike down similar campaign finance laws in that country -- on grounds they violate the free-speech right of corporations -- poses a serious threat to democracy and the integrity of future elections in America. (AFP/Getty Images)

The soul of hockey isn't at the Hockey Hall Of Fame. Or the Air Canada Centre (sorry Leafs fans). It's in places like Windy Arm, Yukon where you can skate on ice clearer than your bedroom mirror in a setting that's straight out of Tolkien's Middle Earth.

There are few brands in Canada as reliable as President's Choice. Mr. Christie thinks he makes good cookies but nothing tops the Decadent, the brand's answer to Chips Ahoy. Kraft Dinner, in its familiar blue box, pales in comparison to PC's White Cheddar Mac & Cheese. It also doesn't hurt that nerdily-handsome Galen Weston (hearthrob of Canadian suburban housewives everywhere) is the pitchman for this iconic line of Canadian products. Why yes, Mr. Weston, I'd like some more Memories of Morocco Sweet And Spicy Sauce...

Ours might be smaller and fewer in number but Canadian cities consistently rank above American cities on livability. In the most recent Mercer survey of livable cities, Canadian cities took 4th, 14th, and 15th place, while the highest-ranked American city was 33rd. (Photo Getty Images)

According to Forbes, Canada is the best country in the world to do business and it's not because of the climate. Chalk it up to a lower corporate tax rate, excellent infrastructure and a well-educated populace. The U.S. and Europe's recent economic woes don't help them either. (Photo CP)

Canada has greater social mobility. If you are born into the poorest 10 per cent, your odds of making it to the richest 10 per cent are considerably better in Canada than in the U.S. In other words, it's easier to realize the American Dream in Canada than it is in the U.S. (Shutterstock)

(Photo Getty Images)

When it comes to national anthems, we've always had a bit of an inferiority complex (the maple leaf is not a banner spangled in stars). But according to new research, our simple and quaint pro-Canuck ballad "O, Canada" is among the world's finest. We even trump the Americans and Brits. So what if you can't remember all the words? This is an anthem worth singing. (Photo Getty Images)

Having a baby is hard work. And many women around the world aren't given the amount of time off they deserve post-delivery. But here in Canada, the true north strong and free, a lady can take up to a full year of paid maternity leave (17 weeks at 55 per cent of their salary and an additional 35 weeks after that). This contrasts vastly with The United States, Papua New Guinea, Swaziland, Liberia and Lesotho who provide no type of financial support for new mothers. (Alamy)

It completes your morning bowl of cereal, can quench thirst and is the perfect companion to chocolate chip cookies. Milk, dear readers, is an all around amazing drink. And grabbing a glass of the white stuff in Canada is unlike anything you'll be able to experience in many other countries. That's because there's a complete lack of unnatural hormones in our dairy products (so concerns about negative side effects simply doesn't exist), and we serve the beverage in a plastic bag, which, frankly, is far more convenient and environmentally friendly than cardboard containers (the baggies can be reused as makeshift lunch bags!). (Photos Shutterstock)

Take a deep breath in... and slowly exhale it out. Do you smell that? You may not, but that's the scent of clean air flowing through your lungs. According to new research, Canada rates tops in air quality (meaning you can say "ta ta" to stinky smog and gross pollution. [Ed. Note unless you live in smog-heavy Toronto]). In fact, while the U.S. averages 18 micrograms of particulate matter per cubic metre of air, Canada averages only 13 micrograms. That also decreases our risk of developing bad air-induced health conditions like allergies. Now once again and all together now: inhale... (Photo Alamy)

This "fake" Heritage Minute says it all: on July 20, 2005, Canada's government passed the Civil Marriage Act giving same-sex couples the same rights and privileges as heterosexual pairings. The LGBT community can not only marry, they can also adopt children. We also host one of the largest Gay Pride festivals in the world in Toronto every June/July.

French fries. Cheese curds. Gravy. All mixed together in one bowl. There's really nothing more to say than this dish is gluttonously awesome. And we're proud to say it's 100 per cent Canadian. (Photo CP)

A decades-long U.S. trade embargo on evil 'Communist' Cuba means that that island's beaches and resorts have long been free of American tourists. Canadians, needing an escape from long winters have been flocking to the island for decades now. Since the collapse of the Soviet Union, Canada has also been a crucial trading partner of the island country. (Photo Getty Images)

Many people think Canada is a country of citizens who don plaid, beaver tails and fur all year round. (We also, obviously, live in igloos.) So thank goodness for Joseph Mimran, the fashion powerhouse who is behind one of Canada's biggest and most popular clothing exports: Joe Fresh. His bright, colourful and decidedly on-trend collections are showing the world what Canada has to offer sartorially (which is not limited to some hipsterish version of a lumberjack). (Getty Images)

Once a 44.5 kg weakling, The Great White North punches way above its weight class in the music world. A few decades ago, only a rare few Canadian musicians managed to establish international careers. But the rise of government funding for music and CanCon radio regulations supporting domestic tunes developed our homegrown scene until it was strong enough to lead a post-millennial Canadian Invasion. Nowadays we claim the world's biggest artists in almost any imaginable genre - Arcade Fire, Justin Bieber, Feist, Drake, Michael Buble, Deadmau5, Metric, Shania Twain, Celine Dion, Nickelback, Diana Krall, etc. Don't tell the Republicans, but we can thank "socialism" for all that money, money, money these musicians are making. (Photos By Getty Images)

Tell us why you think Canada is great. Is it a photo of your favourite camping spot, a Canadian you really admire, our weird obsession with hockey and cold weather? We're looking for your responses on Twitter with the #LoveCanada tag, Facebook, in the comments and via e-mail. We'll be collecting the best responses and featuring them on our site in the coming weeks. (Photo Getty Images)

Canadian English is an odd duck, a weird amalgam of American English and our British roots. Throw in some minor influences from First Nations languages, French and other immigrant tongues and you've got yourself a quirky variant. Here's a look at some of the things that make Canadian English unique.

Canadian spelling keeps the 'u' in words like honour, colour and valour. Americans don't. Chalk it up to being efficient and such.

Canada switched over to the metric system decades ago, while the U.S. is one of the few countries that still use the imperial system. Old habits die hard though and even younger Canadians still use the old imperial system for measurements like height and weight. Most Canadians aren't a big fan of Fahrenheit to tell the temperature though.

One of the more lovable quirks, Canadians pronounce the last letter in the alphabet 'zed', which is clearly superior to the American 'zee'.

This man is wearing a tuque. Virtually all Canadians know and use the word... south of the border words like beanie or cap prevail. There are at least three ways to spell the damn word too. We've seen touque or tuque as well.. Took is just plain wrong.

British spelling uses the s in words like 'recognized'. Canadians have drifted towards the more American variant.

Actually that should be toboggan. The word has roots in French and Mik'maq which is probably why many Canadians prefer this word to the more prosaic sled.

You can see the double-l crop up in words like 'travelled' and 'levelled.' Our American friends feel that one l is enough.

American kids go to college while Canadian kids go to either college or university. We're not sure why. That's just the way it is. Also, Americans are more likely to use terms like freshman, sophomore, junior, senior. Try that on a Canadian campus and you just might get a blank stare.

Most Canadian kids dread math class. Most American kids too. British kids don't like maths.

Canadians know you can sit on a Chesterfield. Americans probably wonder why we'd sit on an old British guy.

The 'eh' is one of the most unique features of spoken Canadian English. It's easy to see why. You can use it to express agreement (It's cold out, eh), surprise (F----in' eh!) and more.

Two-four, mickey, twenty-sixer. If you're a Canadian who drinks all these words will be familiar. You'll get a blank stare if you use them anywhere else in the world.
6. What do I wear?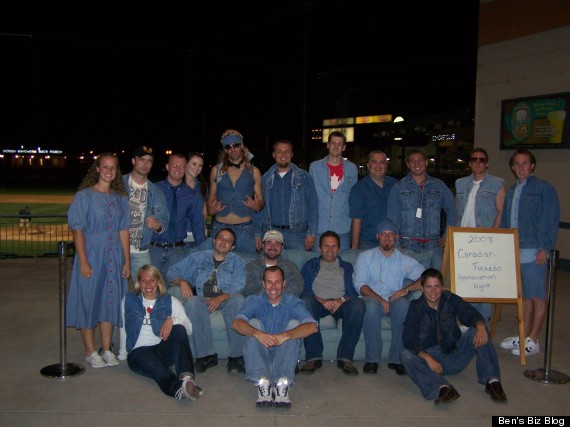 Something with a Canadian flag on it would be nice. Red and white are pretty easy colours to find and the maple leaf is a much subtler symbol than the stars and stripes (sorry American pals). Our friends at Stylelist have a little guide. If it's cool we recommend the unofficial Canadian uniform, the denim tuxedo.

7. What do I eat?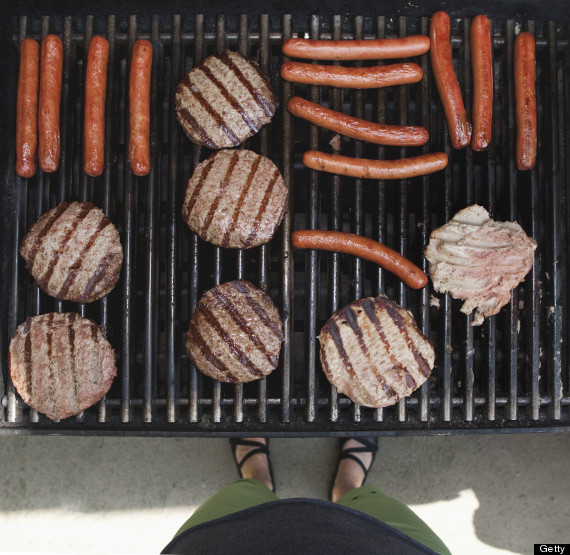 Well, it's summer in Canada. May we recommend you grill something. But hey, Canada is a pretty multicultural place now so if you get invited to a Canada Day party you can pretty much bring anything you want. Here's some Canadian foods we love.


8. What do I drink?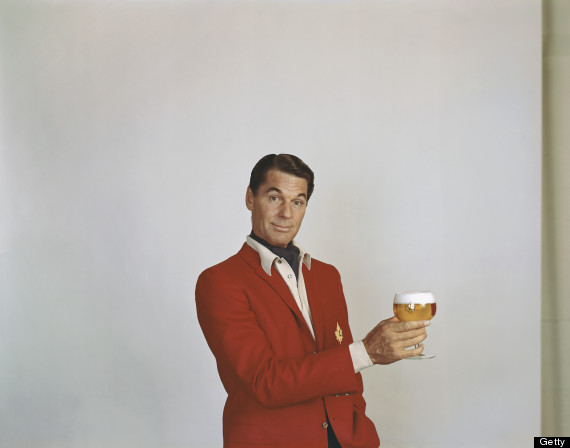 Canadians love beer. Labatt's and Molson's, the country's two biggest breweries, are among the most recognized brands in Canada. If you're ready to graduate to a craft beer we've got a list for you.

9. Do I have to know the words to the anthem?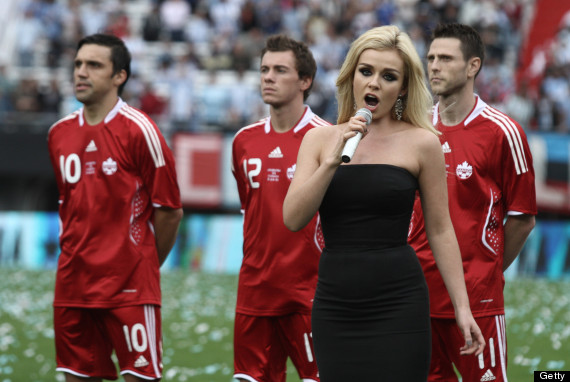 Well, aren't you a keener. Sure. 'O Canada' is a pretty easy anthem to learn and it can be sung in BOTH of our official languages.

10. What about party music?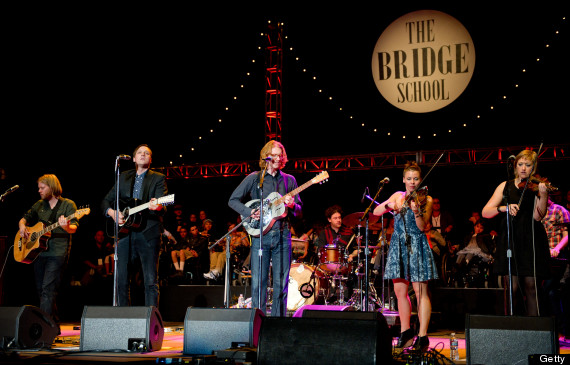 Sure. Here's a list of some our favourite Canadian songs. Other Canadian artists you're going to hear a lot of on Canada Day include: Neil Young, the Tragically Hip, Arcade Fire, Broken Social Scene, Joni Mitchell and, ironically, Bryan Adams. Play Nickelback, Celine Dion or Justin Bieber at your own peril.

11. What do I talk about?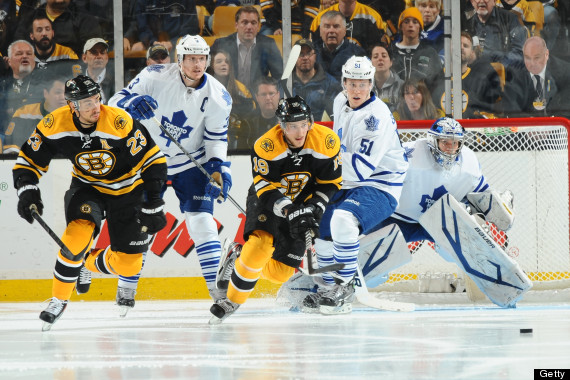 Well, Canadians do love hockey (the playoffs just ended, the Chicago Blackhawks won btw) and the Blue Jays (the country's remaining baseball team is doing pretty well). But if sports isn't up your alley, why don't you ask us questions about Canada. If you really want to talk about politics study up first. Also, talking about our awesome astronaut Chris Hadfield or the weather is a pretty safe bet.
If you're having trouble understanding some of our slang, we have a quick guide.

12. It's a holiday, yes?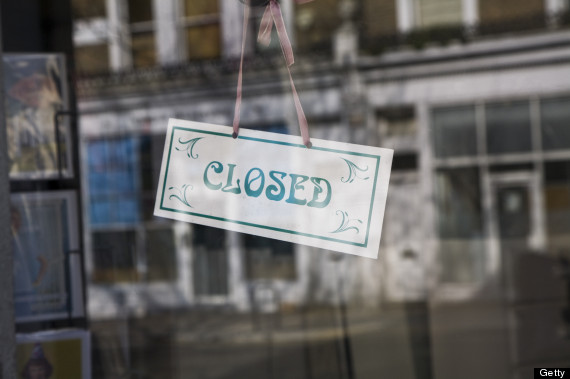 Yes! It's a statutory holidays so many shops, restaurants, banks and government offices will be closed. Canada Day falls on a Monday so many people will make a long weekend of it.
[Ed. note: This year Canada Day falls on a Wednesday. Some lucky people will try to turn this into an epic five-day long weekend. Good luck with that.]
13. Anything else?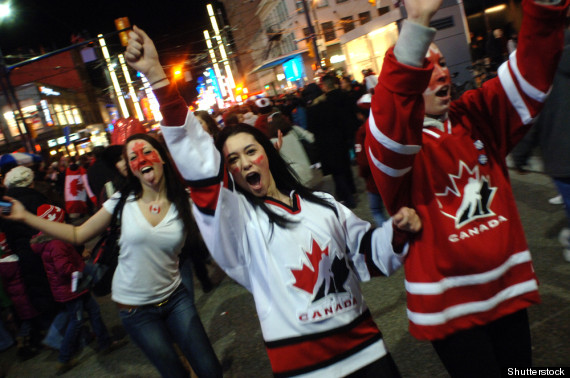 Nope. Thanks, eh. Happy Canada Day!