Mortgage Rates Canada: 1% Hike Could Sink Housing Market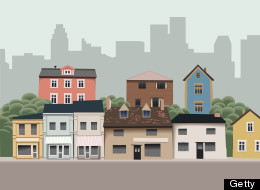 Canada's banks have declared a "soft landing" for the housing market, noting with evident relief that home sales in markets like Vancouver and Calgary have recently been showing surprising strength. (Sales in Toronto's incomprehensible housing market slumped one per cent even as prices jumped 4.7 per cent in June.)
But few would deny that Canada's house prices are strained to the brink — even the optimistic bank economists concede there is simply no room for prices to grow much in the coming years. Many of them continue to say there is a risk of falling house prices.
Many of them point out that, despite the astronomical prices, housing affordability in Canada is still not much above long-term norms. But that's entirely because of four years of rock-bottom interest rates that have shrunk monthly mortgage payments relative to house prices.
Now those rates are beginning to inch up, at least on popular fixed-rate mortgages. And a new study from Will Dunning, the chief economist for Canada's mortgage broker lobby, shows just how much of an impact rising rates could have on the housing market.
Dunning, who carried out the study for his private research firm, looked at the Toronto housing market. He found that a relatively small one percentage point increase in mortgage rates would result in a decline in home sales in the metro area of 15.3 per cent by 2015. Prices would drop about six per cent during that period, to an average of around $470,000, compared to $504,000 today.
Even a half-percentage point rate hike would mean an 8.8-per-cent decline in sales and a 2.6-per-cent decrease in prices, Dunning predicted.
Put simply, Canada's housing market would have a hard time handling even a small interest rate hike.
Which is alarming, because, as previously mentioned, rate hikes are happening. Government of Canada bond yields, which are linked to fixed-rate mortgage rates, have spiked sharply in the past few months, forcing banks to raise mortgage rates.
The days of sub-three-per-cent fixed mortgages at your local bank appear to be over, with the lowest mortgage rate up 0.65 percentage points in recent weeks, the Globe and Mail reports, to above three per cent.
Story continues below slideshow
Most Expensive Houses For Sale In Canada - June 2013
Six bedrooms and 12 bathrooms in this house the realtor describes as a veritable "Versailles" in the Toronto suburbs. Amenities include a seven-car garage, a "Ferrari room" (can you keep any other cars there?), handpainted sculptures and ceilings, and a heated indoor pool.

This two-story, 10,000-square-foot condo in the heart of Toronto's super-ritzy Yorkville neighbourhood boasts four bedrooms, five baths and 5,000 square feet of terraces. One feature that could make many Toronto commuters jealous is the parking availability — the condo comes with four spots.

Though it might look like a bungalow from some angles, this is actually a three-story house located on UBC's endowment lands. Eight bedrooms and eight bathrooms on some 11,500 square feet. Not to mention an indoor pool and a view of the ocean.

This penthouse unit in Vancouver's tallest waterfront tower features a media room, a climate-controlled wine room and views in all directions from multiple terraces. Four bedrooms and five bathrooms on 6,000 square feet of living space.

For a house of this price, the 3,400 square feet of living space and four bedrooms might seem less than impressive. But then, the house sits on a 75,000-square-foot lot overlooking the ocean. In Vancouver's Point Grey neighbourhood, that's enough to crown you king. For a wealthy investor, this property could be an ideal "tear-down." Sadly, only two pics available of this house.

The selling agent promises "360 degree panoramic views of Coal Harbour, mountain, Stanley Park & the city" in this 6,000-square-foot, three-bedroom penthouse. Features include a double-height living room, a rooftop jacuzzi and ensuite bathrooms in each bedroom.

OK, this is NOT actually the house for sale. There is no house on this property; it's a vacant lot. The pictures depicted in the realtor's ad, of this rather extravagant property, are actually artist's renderings. But the renderings caused some confusion earlier this year, with the realtor being accused of running a "fake" ad. So rather than show you pictures of a vacant, $19.9-million lot, here are the artist's renderings of the non-existent, ninth-most-expensive house for sale in Canada.

Only four bedrooms and two baths in this property in B.C.'s Okanagan Valley. But the property sits on more than 100 acres, and features a massive dock and a waterfall with guest houses near each.

This massive, 16,000-square-foot home sits on a one-acre lot and features a pool and a stunning poolside kitchen, as well as a wine cellar, a theatre, a guest suite, a pool room and a gym. And oh yeah, it has bedrooms too - six of them.

This nearly 10,000-square-foot home in West Van features all sorts of sci-fi goodness, like a TV built into a circular sculpture and an LED-lit wet bar. You have to see the pictures to believe it. Five bedrooms and eight bathrooms in the house.

The "Mayfair," as this property is known, sits in Vancouver's upscale Shaugnessy district and features four bedrooms and seven bathrooms. The house "blends classical Tudor Architecture with touches of Art Deco," as the realtor describes it. The property features a pool and hot tub, and outdoor kitchen and dining terrace, and a botanical garden.

Yet another property near UBC (are all of Canada's rich people moving into the same neighbourhood?), this house features a rec room, a media room and a wine cellar. Six bedrooms and eight bathrooms, and a damn fine view.

Seven bedrooms and 14 bathrooms in this house in Toronto's uber-posh Bridle Path. Sadly, the realtor wasn't able to provide any photos of this, the second-most expensive house publicly listed on the market, because it's under construction. But we hear it's awesome! Moving right along...

Six bedrooms and 14 bathrooms in this house near UBC, which also features geothermal heating, a 16-seat home theatre, a gym, a two-lane bowling alley and a four-level elevator. You may never need to leave home again.
This is happening because the U.S. economy is improving. Home prices south of the border have spiked by double digits over the past year (another housing bubble, anyone?) and the jobless rate has been creeping downward.
That prompted Federal Reserve Chairman Ben Bernanke to suggest the Fed would start withdrawing its massive stimulus program before the end of the year. The suggestion tanked the markets a few weeks ago, but also sent bond yields soaring, with mortgage rate hikes just behind.
So in other words, a return to normal economic conditions, complete with a return to normal interest rate levels, could pretty much sink the housing market. Uh oh.
But Dunning doesn't think this is likely. Perhaps ironically, he expects Canada's housing market to be held up by continuing global economic weakness.
"The fiscal reconstruction of Europe is going to be a drag on the world economy for years, which will result in sustained pressure on resource industries, negatively affecting countries like Canada and Australia that are heavily reliant on resources," he wrote.
"In short, I am not convinced that the rise of interest rates is justified, and we could see some retreat during the coming months."
So thank the heavens for the ongoing economic crisis — it might just save Canadian homeowners.