What's The Best Moment Of Your Life? Got A Photo?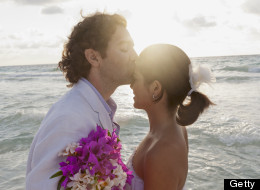 What was the best moment of your life? Was it when you married your sweetheart? The birth of a child? The last time you saw a loved one?
Sports Illustrated Richard Deitsch and sports podcaster Stephen Bennett wondered about this after seeing his brother celebrate an NCAA hockey championship.
How many of you have a photograph of the single best moment of your life? If so, what a gift. (HT: @sports_casters for thought).

— Richard Deitsch (@richarddeitsch) July 9, 2013
Deitsch and Bennett got dozens of heartwarming responses. Weddings and births but also the moving intergenerational meetings and more. This got us wondering. Do you have a photo of the happiest moment of your life? Share it with us on twitter using the hashtag #BestMoment or in the gallery.
Marrying your sweetheart, the birth of your first child, graduating, what's the best moment of your life? Share it with us.

Kristoffer Wood:We've been the love of each other's lives since we were teenagers, who only knew each other over the internet for the first 4+ years (internet dating pioneers), so when she moved in with me in 2004, I used the technique known as "Sealing the Deal" to set up the happiest day of my life. Kidding, of course, we knew we'd be married long before I SEALED THE DEAL! :D The boy in there is now 8 and has a 5 year old sister, and we're still happily married.

Pamela Jessen:I had a dream come true when Ray and I went on a Caribbean cruise for our 10th Anniversary. We went swimming with Stingrays...it was so cool!
Want some examples? Matthew Hall from the San Diego Union-Tribune did a great job rounding up 25 of the best in this Storify below:
The Atlantic's Megan Garber points out that the ubiquity of cellphone cameras mean that we're more likely to capture these happy moments. "We may plan to take pictures at weddings, or during proposals, or after the births of babies; many of life's happiest moments, however, are unexpected and random and weird. The fact that more of us are regularly carrying cameras around with us means that we are newly able to capture those moments," she writes.