Beth Ditto Gets Married In Jean Paul Gaultier Wedding Dress (VIDEO, PHOTO)
Beth Ditto has tied the knot in style!
The Gossip singer married her long-term girlfriend Kristin Ogata in a small and beautiful ceremony in Maui, Hawaii, wearing a romantic Jean Paul Gaultier gown with a super low-cut decolletage, a full tulle skirt and a traditional veil.
Ogata, who is Ditto's former assistant, contrasted nicely with her new wife in a white three-piece suit of a boyish jacket, shirt and Hawaii-perfect shorts. Both women adorned themselves with flower garlands around their necks in a nod to the vibrant island.
Ditto, the former MAC spokesperson, who walked down the aisle barefoot, revealed that she was engaged to Kristin back in April but kept details of the nuptials under wraps until her band posted a photo of the happy couple on their Facebook page which generated more than 18,00 likes and tons of messages of congratulations from their fans.
The band wrote:
"At long last, now that we have returned home and recovered from all the amazingness and had some time to bask in the afterglow, we are exited to share with you a pic or two from Beth and Kristin's wedding! So much love and appreciation to all of our family and friends who celebrated with us! And a huge thank you to Jean Paul Gaultier for the dream-come-true dress!"
It's no surprise that the 32-year-old wore a designer gown on one of the most important days of her life; the punk rocker walked the runway at the Gaultier Spring/Summer 2011 show and is known for her wild sense of style. (She has even sung for Vogue editors at fashion shows.)
Congratulations to the happy couple!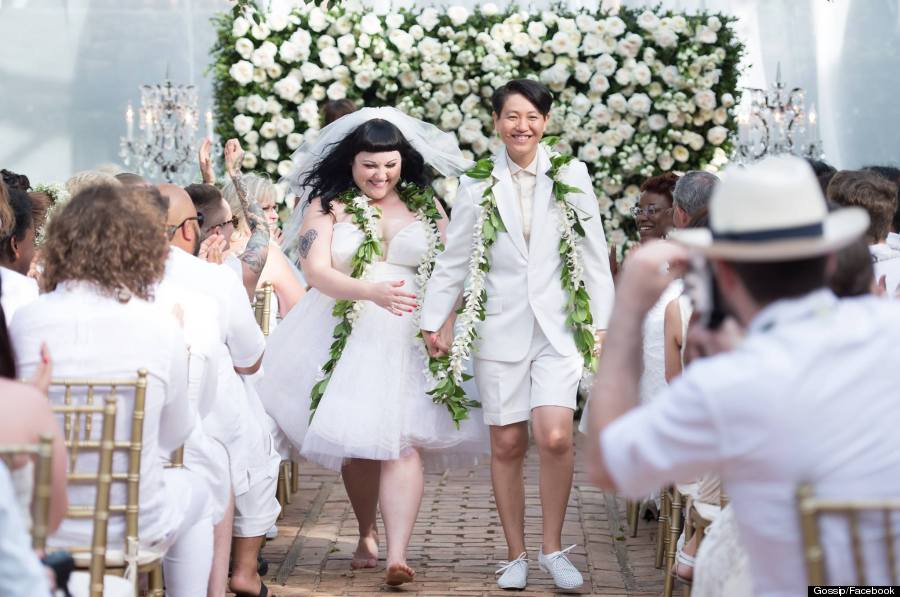 Other celebs got married this year too:
The couple tied the knot at the historic Aman Canal Grande Venice in Italy on Sept. 27.

The lovebirds tied the knot in St. Charles, Ill., outside Chicago on Sunday, August 31, 2014.

The couple wed in Greenwich, Connecticut on Sunday, August 31, 2014, in front of friends and family.

The longtime loves married on August 30, 2014 in Miami, Florida.

The couple tied the knot in August 2014 after nine years together. CORRECTION: An earlier version of this slide stated that Pitt and Jolie were together for eight years before tying the knot.

The "Cover Affairs" star married Kay on July 26, 2014 in NYC.

Adam Levine married Behati Prinsloo in Mexico on Saturday night, July 19, in front of an intimate group of approximately 275 guests, which included Robert Downey Jr.

The longtime couple wed at the San Ysidro Ranch in Montecito, California on July 5.

Palermo married Huebl on June 28 nuptials in Bedford, New York.

Couric tied the not on June 21 in a ceremony held at the couple's home in East Hampton, New York.

The "Chuck" star married Peregrym in Maui, Hawaii on June 14.

The former "Bachelorette" married Tyler Johnson in a surprise ceremony on Saturday, June 7, at her new husband's parents' estate in South Carolina.

The actress married "Happy Endings" creator David Caspe in Ojai, California on May 25.

The pair tied the knot in an extravagant wedding in Florence on May 24.

"The Office" star married Ackleson on April 26, 2014. His former co-stars were there to cheer him on!

The co-stars tied the knot on April 12, 2014. They are expecting their first child together very soon!

Britney Spears' little sister tied the knot with businessman Watson in New Orleans on March 14, 2014.

Keibler married Pobre on March 8, 2014. She's currently expecting their first child!

Palmer legally married her fiance on February 7, 2014 while pregnant with their son, Bodhi.

The "Spy Kids" star married Big Time Rush singer Pena Jr. in Cabo San Lucas, Mexico on January 4, 2014

"The Hangover" star said "I do" to Smith on January 4, 2014 in Oahu, Hawaii.

The former model secretly married Tim Leissner earlier this year, her ex-husband Russell Simmons revealed.

The pair tied the knot in a super secret wedding in early 2014.

The "Big Bang Theory" star tied the knot with her tennis pro beau on New Year's Eve 2013-2014.

Christian Slater said "I do" to his longtime love Brittany Lopez on Monday, Dec. 1, 2013 at a courthouse in Coral Gables, Florida.

After announcing she gave birth to a baby girl, Hewitt's rep revealed on Nov. 27, 2013 that she and Brian Hallisay also tied the knot.

Hilty and Gallagher were married in an intimate ceremony at the Venetian chapel in Las Vegas on Nov. 2.

The *NSYNC member tied the knot with his girlfriend on Nov. 2 in Orlando, Fla.

Clarkson wed Blackstock in Tennessee on Sunday, Oct. 20, 2013 at Blackberry Farms in Walland. Blackberry Farms is a 4,200-acre luxury hotel and resort situated in the Great Smoky Mountains.

Ricci married her fiance in New York City on Oct. 26, 2013.

Bell and Shepard tied the knot in Oct. 2013 after being engaged for four years. They wed recently at the Beverly Hills County Clerk office in Los Angeles, according to TMZ.

The longtime lovebirds wed in Oregon on Oct. 20, 2013 at a summer camp-themed party.

Fishel married her boyfriend of nearly five years in Los Angeles on Oct. 19, 2013. The couple said their "I dos" in front of over 200 guests at wedding venue Vibiana, a former cathedral, in a "short and sweet" ceremony.

The pair tied the knot in Los Angeles, Calif., on Oct. 12, 2013. The wedding took place on a lawn underneath a chuppah, and the guests all sipped cocktails by the pool afterwards.

The couple said "I do" on Oct. 12, 2013 at Smokey Glen Farm in Gaithersburg, Md.

Williams and model Lasichanh tied the knot in Miami on Oct. 12, 2013. The musician and his beautiful wife enjoyed music by pals Usher and Busta Rhymes.

The "Laguna Beach" star married Slack on Oct. 12, 2013 at Calamigos Ranch in Malibu, Calif.

Andy Samberg tied the knot with his fiancee Joanna Newsom on Sept. 21, 2013 in Big Sur, Calif.

The couple got married on Lake Como, Italy on Sept. 14, 2013.

The "Saturday Night Live" star and future "Late Night" host married longtime girlfriend Alexi Ashe in an intimate ceremony on Martha's Vineyard on Sept. 1.

The actress and director married on a ranch in Montana on Aug. 31, 2013.

The "Modern Family" star married his boyfriend in NYC on July 20.

Berry and Martinez tied the knot in France on July 13, 2013 after dating for three years.

Kimmel tied the knot with longtime love McNearney at a star-studded ceremony in Ojai, Calif., on July 13, 2013.

Rapper Wiz Khalifa and his Amber Rose finally became Mr. and Mrs. after deciding to get married in a courthouse on July 8, 2013. They are planning to hold a ceremony later this year.

The actress and the hockey player tied the knot in Prince Edward Island, Canada on July 6, 2013. CORRECTION: A previous version of this slide misstated the wedding's location.

The duo tied the knot on July 1, 2013 in France. Lavigne wore a black wedding dress!

The actress tied the knot with the soccer player-turned-artist in a secret wedding ceremony in London in June.

The "Scandal" star secretly wed the NFL player in Idaho on June 24, 2013.

Lucas married Hobson at Skywalker Ranch, in Marin County, Calif., at 5 p.m. on Saturday, June 22.

The "90210" star tied the knot with his longtime girlfriend at the Calamigos Ranch in Malibu on June 14, 2013.

The pair wed in Spain on June 8, 2013 after an almost two-year engagement.

The couple went to the courthouse in Nashville, Tenn., to get their marriage license on June 7, 2013 before their Southern wedding on June 8.

The "American Idol" lovebirds tied the knot at the Luxe Hotel in Brentwood, Calif., on June 1, 2013.

The actress married her tattoo artist fiance in New Orleans, La., on June 1, 2013.

The "Breaking Bad" star married Parsekian in a Paris-themed ceremony in Malibu, Calif., on May 26, 2013.

The "90210" actress tied the knot with the model/musician at the Boys Hall in Ashford, Kent on May 10, 2013.

Knightley married rocker Righton in an intimate ceremony in France on May 4, 2013. She wore a short tulle dress and flats.

Applegate and LeNoble tied the knot on Feb. 23, 2013 in a private ceremony after dating for five years. The couple have a daughter Sadie, 2.

The couple tied the knot in California on Dec. 27, 2012 after a 13-month-long engagement.

Winslet married her third husband, Rocknroll, in early Dec. 2012 in New York, saying "I do" at an intimate ceremony.

The longtime loves tied the knot at Zach Braff's home in Los Angeles, Calif., on Dec. 15. Cobb's former boss and BFF Jessica Simpson looked gorgeous as a bridesmaid.

"Bachelorette" stars Ashley and J.P. -- who met on season 7 of the show in 2011 -- tied the knot in front of family, friends at the picturesque Langham Hotel in Pasadena, Calif., on Dec. 1

The "X Factor" host, 39, married his girlfriend of four years, Courtney Mazza, 29, on Dec. 1 in a beach wedding in Punta Minto, Mexico.

The "True Blood" star wed the "Billy Elliot" actor on Oct. 30, 2012 in a small ceremony in Calif.

The singer-turned-actor married his girlfriend of five years on Oct. 19, 2012 during a private ceremony and reception at Borgo Egnazia resort in Puglia, Italy. JT called the wedding "magical" with Biel adding, "It was a fantasy."

"The Fresh Prince of Bel-Air" star wed his longtime love on Oct. 13, 2012 in Los Angeles, Calif. The couple got engaged in July. Everybody do the Carlton!

The model married the comedian on Oct. 12, 2012 in Santa Ynez, Calif., at the Sunstone Vineyards and Winery in front of 112 guests.

Osbourne and his love Stelly exchanged vows during an intimate ceremony in Hawaii on Oct. 7, 2012. The couple has a 6-month-old daughter, Pearl.

"The Sisterhood of the Traveling Pants" star, 29, and "The Increasingly Poor Decisions of Todd Margaret" actor, 48, tied the knot on Oct. 6, 2012. The bride wore a yellow wedding dress and celebrated alongside her "Sisterhood" co-stars Blake Lively and America Ferrera.

The "Private Practice" star wed fellow Broadway star Swenson on Oct. 6, 2012 at their home in Croton-on-Hudson, NY. The couple have been dating since 2007.

The "So You Think You Can Dance" host tied the knot with the comedian in a top-secret wedding in St. Isidore's College Church in Rome on Sept. 30, 2012. A friend of Deeley's said she "looked like a goddess" on her special day.

Hathaway married fellow actor Shulman on Sept. 29, 2012 at sunset in Big Sur, Calif. The couple dated for three years before getting engaged in November 2011.

The Kings of Leon bassist married Patterson in an outdoor ceremony in Charlotte, Tenn., on Sept. 29, 2012. They then celebrated with friends and family in a rustic house on the grounds.

Sabato Jr. married his longtime love in a romantic ceremony in Hawaii on Sept. 25, 2012. The couple have a child together, Antonio III, 1.

The Sugar Ray frontman and longtime love Carin Kingsland tied the knot on Monday, September 24, 2012, after 18 years together. They have 2-year-old twins, son Lydon and daughter Hartley.

Miley Cyrus' ex-boyfriend and the actress married in a private ceremony on September 22, 2012 in Atlanta, Georgia.

The singer, 57, got married on September 15, 2012 in London. Third time's a charm!

The gorgeous couple tied the knot on September 9, 2012 at Boone Hall Plantation in Mt. Pleasant, S.C., just outside of Charleston. It's the same mansion where "The Notebook" was filmed! How romantic ...

After quietly and privately marrying weeks earlier, Tucci and Blunt belatedly threw a big party on September 29, 2012 with a formal -- and star-studded -- wedding in London. Emily Blunt and Steve Buscemi acted as maid of honor and best man!

The actor, who plays hunky Dr. Jackson Avery on "Grey's Anatomy," married longtime girlfriend Aryn Drake-Lee on September 1, 2012 in an intimate ceremony.

The "Bridesmaids" star married Porter in a 3-day "WedFest" ending on August 26, 2012. The actor tweeted a photo of the pair wearing matching sweatsuits, reading, "Just Married."

"The Hangover" funny man married his bride married on August 11, 2012. Attendees at the wedding included Sarah Silverman and Patton Oswalt, plus (possibly) co-stars Bradley Cooper and Ed Helms.

Portman has tied the knot with longtime beau Millepied on August 4, 2012 in Big Sur, Calif. The gorgeous couple have a 1-year-old son, Aleph.

The former "Saved by the Bell" actor, currently starring in TNT's "Franklin & Bash," exchanged vows with advertising executive Catriona McGinn on July 28, 2012 at a winery in Santa Ynez, Calif.

The "Bridesmaids" star wed the "Conan" writer in NYC on July 7, 2012. They announced their engagement in December 2011.

The "Grey's Anatomy" star married her beau in a private ceremony in NYC on July 4, 2012. The Huffington Post was first to break the happy news!

The "30 Rock" actor, 54, and his bride, 28, tied the knot on June 30, 2012 in a New York City church in front of guests including Tina Fey and Woody Allen.

The "NCIS: Los Angeles" star tied the knot with his longtime girlfriend, actress Sarah Wright, on June 23, 2012 near Jackson Hole, Wyo.

The couple, who got engaged in October 2009, were married on June 21, 2012 in Somerset, England. Johnson, 22, and Taylor-Wood, 45, have two children together -- daughters Romy and Wylda.

Revenge star Madekwe and actor Goldberg said "I do" on June 17, 2012 in the English countryside. They have been together for five years.

Actor Ribisi quietly tied the knot with the model on June 16, 2012 in in a surprise elopement.

O'Donnell, who recently suffered a heart attack, moved up her planned wedding to Rounds after her fiancee was diagnosed with desmoid tumors, a rare disease that only affects three out of every million people. They exchanged vows on June 9 in a private ceremony in New York.

McConaughey and his longtime love tied the knot on June 9, 2012 at home in Austin, Tex. They have two children, Levi and Vida, and another one on the way! They shared their wedding photos with People magazine.

A beaming Barrymore tied the knot on June 2, 2012 with her fiancé of five months, Kopelman, at her Montecito, Calif., home. She gave birth to the couple's first child, daughter Olive, on Sept. 26. The couple shared their wedding photos in People magazine.

Nixon and Marinoni were legally married in the state of NYC on May 27, 2012. The "Sex and the City" star wore a custom dress by Carolina Herrera.

Zuckerberg and his longtime girlfriend exchanged vows at a small ceremony in their backyard in Palo Alto, Calif., on May 19, 2012.

The "Dexter" star married the marketing executive on May 5, 2012 -- aka Cinco de Mayo -- at the historic John Sowden house in the Los Feliz neighborhood of Los Angeles.

The Oscar-nominated actress quietly tied the knot with the Mumford & Sons rocker on April 21, 2012. They married in the English countryside of Somerset in front of 100 guests.

The Lady Antebellum star tied the knot with Kelli Cashiola on on April 14, 2012 at a private farm outside of Nashville Tenn. So romantic!

The pair eloped on April 8, 2012, tying the knot in a secret ceremony in southern California. Lake tweeted a photo of her wedding dress, writing, "Love is in the air."

The "Sex and the City" star married his longtime fiancée, Tara Wilson, on April 6, 2012. The couple have a 4-year-old son Orion.

The Lady Antebellum singer and the band's drummer tied the knot in upstate New York on Jan. 7, 2012, surrounded by family and close friends. Scott wore a custom-made gown by Vera Wang.