Canadian House Prices 'Bubbly,' The Economist Says As Feds Mull More Mortgage Changes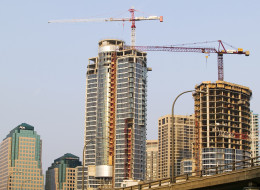 Canada's real estate industry has declared the prospect of a housing market bubble dead, but The Economist isn't listening.
The U.K.-based magazine has once again declared Canada's housing market to be "bubbly," in a survey that shows Canadian house prices to be 30-per-cent overvalued compared to incomes, and 74-per-cent overvalued compared to rental prices.
Story continues below slideshow
World's Most Overvalued Housing Markets
House price valuation vs. rent: -37% (undervalued) House price valuation vs. income: -37%

House price valuation vs. rent: -15% (undervalued) House price valuation vs. income: -18%

House price valuation vs. rent: -2% House price valuation vs. income: +11%

House price valuation vs. rent: +2% House price valuation vs. income: -12%

House price valuation vs. rent: +6% House price valuation vs. income: +21%

House price valuation vs. rent: +20% House price valuation vs. income: +14%

House price valuation vs. rent: +36% House price valuation vs. income: +31%

House price valuation vs. rent: +46% House price valuation vs. income: +24%

House price valuation vs. rent: +68% House price valuation vs. income: +24%

House price valuation vs. rent: +74% House price valuation vs. income: +30%

House price valuation vs. rent: +84% House price valuation vs. income: n/a

Also on HuffPost: MOST EXPENSIVE HOUSES FOR SALE IN CANADA

Six bedrooms and 12 bathrooms in this house the realtor describes as a veritable "Versailles" in the Toronto suburbs. Amenities include a seven-car garage, a "Ferrari room" (can you keep any other cars there?), handpainted sculptures and ceilings, and a heated indoor pool.

This two-story, 10,000-square-foot condo in the heart of Toronto's super-ritzy Yorkville neighbourhood boasts four bedrooms, five baths and 5,000 square feet of terraces. One feature that could make many Toronto commuters jealous is the parking availability — the condo comes with four spots.

Though it might look like a bungalow from some angles, this is actually a three-story house located on UBC's endowment lands. Eight bedrooms and eight bathrooms on some 11,500 square feet. Not to mention an indoor pool and a view of the ocean.

This penthouse unit in Vancouver's tallest waterfront tower features a media room, a climate-controlled wine room and views in all directions from multiple terraces. Four bedrooms and five bathrooms on 6,000 square feet of living space.

For a house of this price, the 3,400 square feet of living space and four bedrooms might seem less than impressive. But then, the house sits on a 75,000-square-foot lot overlooking the ocean. In Vancouver's Point Grey neighbourhood, that's enough to crown you king. For a wealthy investor, this property could be an ideal "tear-down." Sadly, only two pics available of this house.

The selling agent promises "360 degree panoramic views of Coal Harbour, mountain, Stanley Park & the city" in this 6,000-square-foot, three-bedroom penthouse. Features include a double-height living room, a rooftop jacuzzi and ensuite bathrooms in each bedroom.

OK, this is NOT actually the house for sale. There is no house on this property; it's a vacant lot. The pictures depicted in the realtor's ad, of this rather extravagant property, are actually artist's renderings. But the renderings caused some confusion earlier this year, with the realtor being accused of running a "fake" ad. So rather than show you pictures of a vacant, $19.9-million lot, here are the artist's renderings of the non-existent, ninth-most-expensive house for sale in Canada.

Only four bedrooms and two baths in this property in B.C.'s Okanagan Valley. But the property sits on more than 100 acres, and features a massive dock and a waterfall with guest houses near each.

This massive, 16,000-square-foot home sits on a one-acre lot and features a pool and a stunning poolside kitchen, as well as a wine cellar, a theatre, a guest suite, a pool room and a gym. And oh yeah, it has bedrooms too - six of them.

This nearly 10,000-square-foot home in West Van features all sorts of sci-fi goodness, like a TV built into a circular sculpture and an LED-lit wet bar. You have to see the pictures to believe it. Five bedrooms and eight bathrooms in the house.

The "Mayfair," as this property is known, sits in Vancouver's upscale Shaugnessy district and features four bedrooms and seven bathrooms. The house "blends classical Tudor Architecture with touches of Art Deco," as the realtor describes it. The property features a pool and hot tub, and outdoor kitchen and dining terrace, and a botanical garden.

Yet another property near UBC (are all of Canada's rich people moving into the same neighbourhood?), this house features a rec room, a media room and a wine cellar. Six bedrooms and eight bathrooms, and a damn fine view.

Seven bedrooms and 14 bathrooms in this house in Toronto's uber-posh Bridle Path. Sadly, the realtor wasn't able to provide any photos of this, the second-most expensive house publicly listed on the market, because it's under construction. But we hear it's awesome! Moving right along...

Six bedrooms and 14 bathrooms in this house near UBC, which also features geothermal heating, a 16-seat home theatre, a gym, a two-lane bowling alley and a four-level elevator. You may never need to leave home again.
The survey comes out amid reports that Canada could see another round of mortgage rule tightening, as last year's round of tightening seems to have done little in the longer term to slow house price growth.
House prices in Canada jumped an average of 8.4 per cent in the year to August, more than triple the rate that incomes are growing. The average house price now stands at $382,373. The number of homes sold jumped 9.4 per cent in the same period.
That likely won't assuage the Economist's fears about Canadian real estate. The magazine declared last spring that "a large bubble now looks set to burst" in Canada's real estate market.
The Globe and Mail reports that the Office of the Superintendent of Financial Institutions (OSFI) appears also to be concerned about an overheated market. The banking regulator has been asking detailed questions of the banks about the impact of last year's mortgage rule changes, with an eye to tightening the rules yet again.
OSFI has not made up its mind whether it will go ahead with further restrictions on lending, and what those restrictions could be. But the Globe suggests the regulator could crack down on uninsured 30-year mortgages.
Not everyone is worried about a potential bubble. Economists at the big Canadian banks have pointed to the recently strong housing numbers as evidence Canada avoided the price collapse that many had been predicting.
"That deafening silence you hear is the sound of the Canadian housing bears gone quiet," BMO declared last week. "Not only has the resale market absorbed last year's round of mortgage rule tightening, but the supposedly at-risk banks have just recorded a unanimously better-than-expected earnings season."
Economists attribute Canada's hot housing market to record-low interest rates that the Bank of Canada put into place during the financial crisis of 2008-2009.
In a report earlier this year, the C.D. Howe Institute urged the Bank of Canada to start raising interest rates. The think tank argued keeping them low for too long was leading not only to overly high house prices but also to high household debt, underfunded pensions and excessive risk-taking among businesses.
But a briefing note from Prime Minister Stephen Harper's office dismissed those complaints, saying they were "at odds" with what other economists have said.
The note also suggested that Canada can't simply raise interest rates while the U.S. and other trading partners keep theirs low.
"The costs of raising interest rates well ahead of other major economies would likely outweigh the benefits."