Mac's Convenience Stores Take On LCBO; Promise New Stores If Allowed To Sell Booze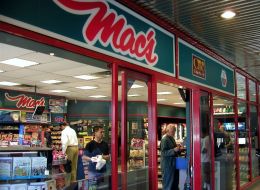 TORONTO - Mac's Convenience Stores Inc. is promising to invest $54 million dollars to build 27 new convenience stores in Ontario if it is granted the right to sell alcohol in Ontario.
"(The new stores) will provide some much needed competition to the government monopoly and private sector cartel that currently control alcohol sales in this province," Tom Moher, vice-president of operations of the central Canada division of Mac's, said on Monday.
The chain — owned by Alimentation Couche-Tard (TSX:ATD.B) — made a pitch for selling booze to the Toronto Region Board of Trade on Monday.
Tom Moher said he is becoming more optimistic ever that the Ontario government will allow convenience stores to sell alcohol in the "not-so-distant future."
"The province continues to be open to the dialogue and discussion, so that's very encouraging," Moher told reporters after his speech.
Story continues below slideshow
Where To Get Booze Outside The LCBO
Dial-A-Bottle delivers everything from beer to liquor to cigarettes and pop to people's doorsteps in various locations across Southern Ontario, but LCBO spokeswoman Heather MacGregor said those service providers also get supplies from places like the LCBO. "What that looks like, what type of product is available, what types of lines they'll encounter will be the same for them as it will be for everyone else," she said.

The Wine Rack has more than 160 stores mainly in Southern Ontario and other outlets located in North Bay, Sudbury, Thunder Bay and Sault Ste. Marie.

While the Steam Whistle brewery is located in the heart of downtown Toronto, customers from Hamilton to Oshawa, and as far north as Aurora and Whitchurch-Stouffville can get home delivery of bottles, cans, and draught kegs made all week long.

Mill St. Brewery underwent an expansion of its Toronto Distillery district location earlier this year and added The Beer Hall.

Situated near the U.S. border, the Taps Brewing Company in Niagara Falls brews on site and offers a variety of natural beers starting at only $4.65 a pint.

The Old Credit Brewing Co. Ltd in Mississauga crafts three distinct beers — Amber Ale, Pale Pilsner and Holiday Honey — in small batches.

Amsterdam Brewery was recently presented with six trophies, including the Gold award, and Beer of the Year for its Spring Bock brew, at the 10th Annual Ontario Brewing Awards.

The Clocktower Brewhouse consists of a main brewery and four restaurants around Ottawa.

Another brewery located on the U.S. border — this one with Detroit — the Walkerville Brewery's retail outlets in Windsor are open seven days a week.
The new stores would be built in Toronto, Brampton, Grey Bruce County, London, Ottawa, the District Municipality of Muskoka and other locations within two years of allowed to sell alcohol, Moher said.
He estimated the expansion would create up to 170 full-time jobs and each store would cost about $2 million to build.
However, Ontario Premier Kathleen Wynne said in June that the government is not considering the prospect of booze sales in convenience stores.
Wynne's announcement came after Finance Minister Charles Sousa said he wouldn't rule out allowing convenience stores to sell alcohol.
However, Sousa also said there are no plans to change the structure of the Liquor Control Board of Ontario — one of the largest purchasers and retailers of alcohol in the world — which turned over $1.65 billion to the province last year.
The Crown corporation is expanding its reach by setting up what it calls Express outlets inside 10 grocery stores, as well as adding more retail stores, Sousa said.