Diamond Jubilee Medal Recipients Include Lucien Bouchard, Ben Johnson, Controversial Senators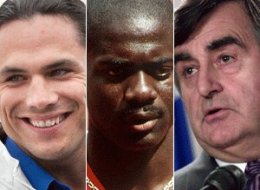 A leader whose dream of seeing Quebec separate from Canada nearly succeeded.
A sprinter who was forced to give up his Olympic gold medal after it was revealed he abused steroids.
A former politician at the heart of the Liberal sponsorship scandal.
And two senators currently facing an RCMP investigation.
These Canadians — Lucien Bouchard, Ben Johnson, Alfonso Gagliano, Sen. Pamela Wallin and Sen. Patrick Brazeau — are just five of nearly 60,000 recipients of the Diamond Jubilee medal, a prestigious award from the Canadian government.
The medal, created in 2012 to mark Queen Elizabeth II's 60th year on the throne, honours Canadians who have made significant contributions to their country or achievements abroad bringing credit to Canada. As such, it's the type of award that can honour anyone from a tireless, small town volunteer to an NHL superstar like Sidney Crosby.
All members of Parliament and senators — even those facing heat for the Senate expense scandal like Wallin and Brazeau — as well as members of the Queen's Privy Council and provincial premiers were automatically eligible for the medal.
But a database published last week on the official website of Governor General David Johnston revealed some other interesting recipients.
Postmedia's Glen McGregor was first to report that Laureen Harper, wife of Prime Minister Stephen Harper, was awarded the medal for her volunteer and charity work.
Rideau Hall wouldn't tell The Ottawa Citizen who gave her the medal but the Prime Minister's Office said Laureen was recognized "for her community work with various charities."
A slew of current and former Harper advisers also received the medals, manufactured by the Royal Canadian Mint. Harper's current chief of staff, Ray Novak, and new deputy chief of staff, Jenni Byrne, both got medals as well. As did former press secretary Dimitri Soudas, former top adviser Guy Giorno and former chief of staff Ian Brodie.
Karl Bélanger, principal secretary to NDP Leader Thomas Mulcair, also received a medal, McGregor reported.
But separatist icon Bouchard may be the most surprising recipient of an award commemorating the Queen of Canada.
Officials from the Governor General's office told iPolitics' Elizabeth Thompson that recipients do not need to be supporters of the monarchy.
"When you look at the program and the objective, it is for people who have answered a call to service, who have served Canada or their community well," said Annabelle Cloutier, director of public affairs. "Being a monarchist was not a criteria."
As an ex-cabinet minister under former prime minister Brian Mulroney, Bouchard remains a member of the Privy Council, and therefore eligible for the award.
Of course, Bouchard quit Mulroney's Progressive Conservative government to form the Bloc Quebecois, led the "Yes" side in the razor-thin 1995 Quebec referendum and served as a Parti Quebecois premier of Quebec.
The Privy Council condition may also explain why Gagliano received the medal. The former Liberal cabinet minister ran Public Works and took the brunt of the criticism after $100 million from a program intended to raise the federal government's profile in Quebec disappeared into "ambiguous sponsorship fees" to Liberal-friendly ad agencies.
Johnson, who was stripped of his gold medal in the 100 meters at the 1988 Seoul Games, has since become the face of an anti-doping campaign, Pure Sport.
Story continues after slideshow
Interesting Diamond Jubilee Recipients
Johnson won gold in the 100-meter final at the 1988 Summer Olympics in Seoul. He was disqualified three days later and forced to surrender his medal after tests showed he had taken steroids.

Bouchard, a former cabinet minister under Brian Mulroney, was the founder of the Bloc Quebecois and leading figure on the "Yes" side of the 1995 Quebec referendum. The referendum was narrowly defeated by a majority vote of 50.58 per cent to 49.42 per cent. He would serve as Leader of the Official Oppositon and Quebec premier.

Guergis was a junior cabinet minister in the Harper government. She resigned from both cabinet and the Conservative Party in April, 2010, pending an RCMP investigation into her conduct. Harper would say only that she faced "serious" allegations, though the RCMP investigation eventually concluded there was no evidence of criminal wrongdoing. She was defeated as an independent candidate in the 2011 election and sued Harper for defamation.

Gagliano was the Liberal cabinet minister in charge of Public Works at the time of the sponsorship scandal. His long political career ended in disgrace after it was revealed his department misspent millions by "channeling money to Liberal-friendly advertising firms."

Brazeau is a former Conservative senator who currently sits as an Independent in the upper chamber. Brazeau was kicked out of the Tory caucus in February, 2013. He was arrested for assault after an argument with a woman allegedly turned violent. He is also facing an RCMP probe into his housing expenses and tax filings prior to entering the Senate.

The senator quit the Conservative caucus in May to sit as an Independent amid a storm of allegations of dubious travel expense claims. The Senate called in the RCMP after auditors flagged $121,348 in inappropriate expenses. A Senate committee later determined Wallin owed another $17,621, bringing her total tab to $138,969. She recently repaid the full amount, with interest, but maintains she hasn't been treated fairly. With files from CP

Novak was named Harper's chief of staff after the resignation of Nigel Wright this spring, thanks to that infamous $90,000 cheque. Novak, 36, is so close to Harper that he spent nearly four years living in a small loft above the garage at Stornoway, when the prime minister was serving as leader of the Official Opposition.

Byrne was recently named deputy chief of staff to Novak. She steered Conservatives to a majority win in the 2011 campaign and is expected to again chair the Tory campaign in 2015.

Laureen Harper has been married to Prime Minister Stephen Harper since 1993. Though she has kept a relatively low public profile, Laureen Harper has been involved in numerous volunteer and charity initiatives over the years. She helped launch a national anti-bullying strategy in June.
Members of the House of Commons were also given 30 medals each to distribute to whomever they pleased.
Melanie Villeneuve, media relations officer for the secretary to the Governor General, told HuffPost through email that MPs need not have given the medals just to their constituents.
"The core eligibility criteria were to be a Canadian citizen or a permanent resident of Canada, and to be alive on February 6th, 2012," she wrote. "We also expected partner organizations to nominate recipients that reflected the dedication to service of Her Majesty Queen Elizabeth II, by having made a significant contribution to a particular province, territory, region or community within Canada, or an achievement abroad that brings credit to Canada."
The list of partner organizations includes MPs, senators, premiers, lieutenant governors and a range of non-governmental organizations like the Canadian Council for the Arts and the controversial REAL Women of Canada.
In August, REAL Women, a privately funded socially conservative group, slammed Foreign Affairs Minister John Baird for his criticism of Russia's anti-gay legislation.
"Mr. Baird's actions are destructive to the conservative base in Canada and causing collateral damage to his party," a group press release stated.
Last October, Saskatchewan Conservative backbencher Maurice Vellacott awarded a Diamond Jubilee medal to jailed anti-abortion crusader Mary Wagner.
Wagner, who repeatedly harassed patients and staff at a Toronto clinic, was commended by the Tory MP for her "civil disobedience to further a just cause."
Vellacott also recommended a medal for another activist, Linda Gibbons.
In a news release from his office, Vellacourt called the women "heroines of humanity."
"It's a pretty upside down world when we honour abortionists like Henry Morgentaler for killing over 5,000 babies and imprison precious women, like Mary Wagner and Linda Gibbons, who try to save babies from such savagery," the release said.
Vellacott's Jubilee citation to Wagner alluded to her willingness to do jail time in the cause of stopping abortions.
"Your faithful battle for justice for pre-born children, with your willingness to suffer hardship and personal deprivation, is a source of strength and inspiration for many," says the medal citation, awarded by the Governor General's office.
With files from The Canadian Press