Couples Halloween Costumes: 25 Popular Ideas For Two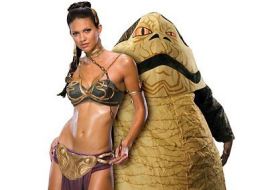 If you and your partner are looking for ways to get creative as a couple this Halloween, we say, coordinate.
Yes, weddings and prom may be appropriate times to wear matching outfits, but Halloween costumes seem to take things to a whole new level — you can get matchy-matchy with wigs, makeup and even share the same pants.
Are you two really into food? Go as peanut butter and jelly. Are you obsessed with computers? Go as a USB key and port. Are you both always glued to the television? Go as your favourite characters. See, the possibilities are endless (and can get pretty funny).
Check out 25 of the best Halloween costume ideas for couples. Did we miss any? Let us know in the comments below.
Popular Costumes For Couples
Because they fit perfectly together.

Now you can wear everyone's favourite sandwich.

Staying in the theme of favourite foods, you can also dress up like a pint and burger.

Where's Waldo? No really, now we have to deal with two.

These two are natural enemies — but you and your beau don't have to be.

No explanation needed.

You too can be the most talked about couple of the year.

Yup, pretty scary.

Everyone's favourite superhero duo.

Win every single 'best dressed' contest with this one.

Ha! We think this is cute.

Just because they have somewhat of a complicated love/hate relationship, doesn't mean you do.

Take your breakfast to the next Halloween party.

If you really want to stay relevant this Halloween, we say stick to Orange Is The New Black's favourite duo Alex and Piper.

Because sometimes, we're all big babies.

Feel 10 again.

Sure, it's Halloween, but we're just thinking about those summer nights.

Perfect cardboard-cutout for the perfect cardboard-cutout couple.

We all know both of you are anxious to re-live this moment.

Technically, you have something on.

For all you Game of Throne fans. Sorry, dragons not included.

Face it, your other half is your cheap eats.

If you two are health freaks, show up as vegetables.

For the techies out there, don't worry, people will get it.

Boo! Bring out your inner nerd.