How U.S. Government Shutdown Could Affect Canadians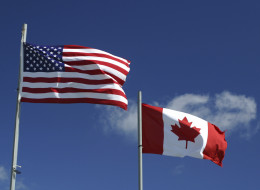 Disagreement over U.S. President Obama's healthcare law has led to the first government shutdown in 17 years – so how will it affect Canadians?
The severity of the international impact is entirely dependent on how long the shutdown lasts, which could be anywhere from a number of hours to days. The last U.S. government shutdown happened 17 years ago and lasted 27 days.
Former deputy prime minister John Manley described the threat of a new U.S. federal shutdown to Power & Politics host Evan Solomon as "very grave."
Canadians, along with other tourists, visiting the U.S. would likely be the first to feel the first ripple effect. All visitors would be barred from national monuments and parks after "non-essential" employees who staff these sites are asked to stay at home.
"This is a reminder that while Canada's economy remains strong, we are still vulnerable to uncertainties outside of our borders, especially in the U.S. and Europe," Finance Minister Jim Flaherty said in a statement Monday.
In terms of finances, Canadian treasury bills could experience an influx of U.S. capital as investors look for somewhere safe to keep their money, speculates Nomura Securities foreign exchange strategist Charles St-Arnaud.
Some ways Canadians could be affected during the U.S. government shutdown:
What Canadians Should Expect During U.S. Government Shutdown
Tough break if you're in the U.S. looking to visit one of the 59 protected national parks as visitor centre employees are told to stay at home.

Another raw deal for Canuck tourists who wish to visit the Statue of Liberty and other U.S. national monuments. Employees here are deemed "nonessential" and sites will be unstaffed, closed.

Security workers, customs agents, and border patrol are deemed "essential," so normal service is expected (though some airports have warned passengers to expect delays).

Because border patrol and customs agents are deemed "essential" by the U.S. government, services and border wait times should be normal.

Canadians applying for U.S. work visas, passports should not expect major delays as fees are collected for these services. Green card applications will also continue to be processed. Note: During the last U.S. government shutdown 17 years ago, 20,000-30,000 visas and nearly 200,000 passport applications went unprocessed, NBC News reports.

Bad news for Canadians fans of the National Zoo's panda cam. The zoo confirmed Monday should a spending bill not be passed by congress, its panda cameras will be turned off. No pressure, right Da Mao and Er Shun?

Given the two countries' intertwined economies, the impact of the U.S. government shutdown would be felt first in Canada's financial markets but are entirely dependent on how long it lasts.

Canadians with American spouses, partners working in "nonessential" government jobs could be put in a financial pinch if paycheques are halted during the shutdown. More than a third of U.S. federal employees deemed "nonessential" will be asked to stay at home without pay, while "essential" employees are expected to work without a paycheque.

Some analysts predict the U.S. shutdown will be a positive for the Canadian dollar, depending how long it lasts. New York-based Nomura Securities foreign-exchange strategist Charles St- Arnaud speculates U.S. capital could flow into Canadian treasury bills as investors look for a safe place to hold their cash.

Qualified Canadians shopping in the U.S. for real estate with low-to-medium incomes will not be issued government-backed loans. New loan applications will not be processed while the government is in shutdown.

NEXT: 'Oh Canada' Portraits

Sikh Motorcycle Club - Vancouver, B.C.

'Angela', The "Roller Girl" on East Hastings Street, Vancouver, B.C.

The Harms Family, Vulcan, Alberta. A Mennonite family who immigrated to Vulcan from Mexico, the Harms speak a dialect of low German.

Treeplanting in Brookmere, B.C.

Colourful characters at the Penticton Speedway's Demolition Derby in Penticton, B.C.

A treeplanter in Brookmere, B.C.

An attendee at 'Spock Days' in Vulcan, AB.

Harris and her mother in the Igloo Luxury Theme room at West Edmonton Mall's Fantasyland Hotel.

'Carol' and her boys in Calgary, Alberta.

Cricket players in Vancouver's Stanley Park.

The Ojulu Family in Calgary, Alberta.

Johnnie Doonanco, Brain Child Behind the World's Largest Pierogi and Former Mayor of Glendon, Alberta

90 Year-old Monk in Mundare, Alberta

Lake Manitou, Canada's only salt lake in Watrous, Saskatchewan.

Arnold and Millie Strueby in Danceland, Manitoba.

At the Demolition Derby in Weyburn, Saskatchewan.

Teenage mother on the Poor Man's Reservation, Saskatchewan

Pearl Lutzko, Canada's oldest woman in Ituna, Saskatchewan

'International Love'- on the border between Stanstead, Que. and Derby, Vermont.

Remi Guitard in Bathurst, New Brunswick.

Sioux Valley Pow Wow in Sioux Valley, Manitoba.

A bee-keeper in Tisdale, Saskatchewan.

The population of Rowley, A.B.

Roy and Marilyn Elmer in Vulcan, Alberta, June 2011

'Louise' in Dildo, Newfoundland.

Founder of Northern Sun Farm Coop in Sarto, Manitoba.

The 2010 Fjallkona (Icelandic for Ice Queen) in Winnipeg, Manitoba, July 2011

William 'Bill' Ikola in Thunder Bay, Ontario.

The Mann Family in their cherry orchard in Oliver, B.C.
Like this article? Follow our Facebook page Or follow us on Twitter Follow @HuffPostCanada