An Airdrie dad has taken a hard line with his son's truancy, plastering the town with posters asking people to keep an eye out for the kid during school hours.
The posters are reportedly an effort to curb the 12-year-old from skipping school and running with the wrong crowd.
The Calgary Sun spoke with Kevin (last name withheld so as to not identify his family), who said the posters are an effort at "hardcore, old-school parenting, (to) snap him back on the right track."
Kevin first drew up the posters Tuesday, slapping an all-caps ATTENTION across the top.
"If you see this 12 yr. old boy between the hours of 8:30 a.m. & 3:30 p.m (Mon-Fri) School days HE IS SKIPPING SCHOOL", reads the poster, which asks people to call his dad if spotted, unless the boy is doing bad things.
"If you see him smoking or getting into mischief, call the police, they will be nicer to him than his mom & dad."
Story continues below the photo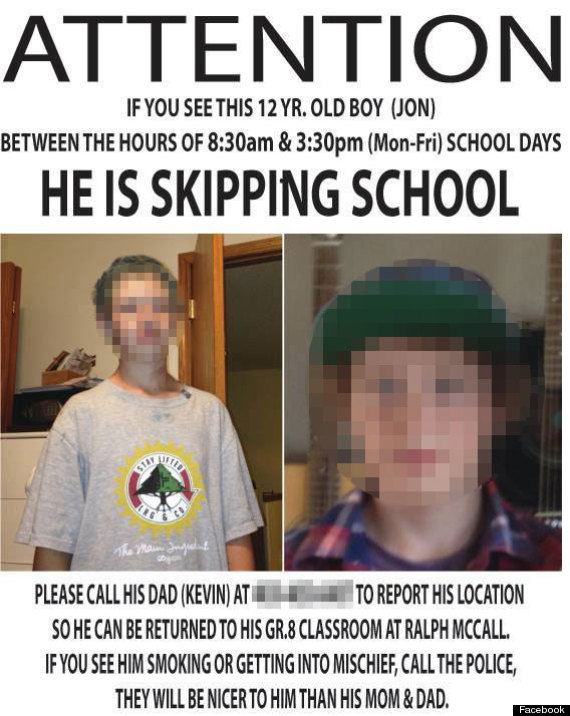 The posters went up in places his son hangs out, as well as on Facebook. The post had been shared more than 3,000 times before Kevin put his privacy settings on lockdown Thursday.
Many online are supporting the campaign, calling it creative and applauding the parents.
"Goes to show the father cares for his son's education..wish more parents would do this also...thumbs up to the father..," Priscilla Kronen wrote on Facebook.
"These parents seem to be doing their best with a difficult child," wrote Janet Mason in agreement.
Others consider the posters too aggressive, saying shaming the pre-teen will not end well.
"An encouraging word goes a lot further than scorn. This will just cause a rebellious heart and push a child farther away. The home that is supposed to be a haven and safe place is no longer welcoming and won't feel wanted there. This will backfire. The child will either be rebellious or you'll strip him of all confidence," wrote Val Wedel, also calling the posters a form of bullying.
"I'm 100% against this. My old man used to follow me around too. It's abuse and an invasion of privacy. Like it or not a 12 year old has the right to make poor life choices. The more his father makes these sorts of examples of him the more his child will become embarrassed and damaged," wrote Adam James Cormier, adding he think's the kid's rights are being infringed upon.
Story continues below the slideshow
Loading Slideshow
"I Am A Bully. Honk! If You Hate Bullies"

Jose Lagares made his fourth-grade son hold a large homemade sign that read: "I am a bully. Honk if you hate bullies." <a href="http://www.huffingtonpost.com/2013/10/04/jose-lagares-bully-publicly-shames-on_n_4045040.html" target="_blank">Read more</a>

"I Was Disrespecting My Parents By Twerking At My School Dance"

Frances Hena made her 11-year-old daughter, Jamie, hold a sign that read "I was disrespecting my parents by twerking at my school dance" for two hours. <a href="http://www.huffingtonpost.com/2013/09/13/mom-twerking-shame-video_n_3916580.html" target="_blank">Read more</a>

"Smoked Pot, Got Caught, Don't I Look Cool? NOT!"

Brandon Mathison, 13, was shamed by his mother, April Mathison, for getting caught smoking weed. He wore a sign that said "Smoked pot, got caught, don't I look cool? NOT!" <a href="http://www.huffingtonpost.com/2012/08/27/april-mathison-teen-punished-sign-for-smoking-pot_n_1833253.html" target="_blank">Read more</a>

"I Like To Steal From Others And Lie About It"

Father Montrail White punished his 8-year-old daughter, Amiyah, "after repeatedly catching her taking things that didn't belong to her." School officials called police when White made his daughter stand in the parking lot wearing the sign pictured above. He was asked to leave school property but says the sign will remain in their home in case it needs to be used again. <em><a href="http://www.ksdk.com/news/article/316438/3/Swansea-police-called-as-Montrail-White-disciplines-Amiyah-White" target="_hplink">Read more</a></em>

"I Was Not Raised THIS Way!!"

Fifth grader, Tarvon Young, was suspended for planning to bully a classmate. His mother, Tarra Dean, didn't think his punishment was enough and forced him to stand outside his school holding up a sign that read "I was sent to school to get an education, not to be a BULLY. I was not raised THIS WAY!!!" <a href="http://www.wsvn.com/news/articles/local/21007137790589/suspended-student-holds-sign-outside-school/" target="_hplink">Read more</a>

"I Want To Be A Class Clown, Is It Wrong?"

Michael Bell Jr.'s parents forced him to wear a sign that read, ""I want to be a class clown, is it wrong?" after they were disappointed with his bad grades. The other side of the sign asked cars to "honk if they think three failing grades are bad." <a href="http://www.local10.com/news/Dad-makes-son-wear-sign-for-bad-grades/-/1717324/9274744/-/y8f5yjz/-/index.html" target="_hplink">Read more</a>

"I Am A Thief"

When 12-year-old Jose Gonzalez took $100 from his cousin's wallet, his dad made him stand on a street corner for five hours holding a sign that read, ""I am a thief. I took money from a family member." <a href="http://www.denverpost.com/news/ci_20270115/curbside-confessional#ixzz1sQRwpOay" target="_hplink"> Read more</a>

"Honk If I Need Education"

Mom Ronda Holder forced her 15-year-old son, James Mond III, to wear a sign around his neck that said: "I did four questions on my FCAT and said I wasn't going to do it...GPA 1.22...honk if I need education." <a href="http://www.huffingtonpost.com/2011/02/20/tampa-bay-mom-ronda-holder_n_825447.html" target="_hplink"> Read more</a>
Kevin told the Calgary Sun that his son was pretty furious when the poster first went up on Facebook, firing off an expletive-laden outburst at his dad.
"When he first saw it he was upset, but he's usually a good and respectful kid, and I can understand that he was pretty mad for the first couple hours," said the dad.
However, the posters appear to be working.
"Then he sort of decided the jig was up, and because he can't go anywhere else without being recognized, so it's time to go to school."
Also on HuffPost: