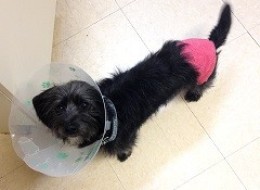 Harold's a fighter: the tiny dachshund mix who was found abandoned and hurt on a road outside Squamish is recovering from his injuries and he's ready to be adopted, the SPCA said in a Friday news release.
The 18-month-old pup was found suffering from major bruising on his ribcage and abdomen and an infection on his hind end and inner right leg, Global News reported.
Check out some images of Harold, a pup found abandoned and hurt near Squamish. Story continues below the slideshow:
Harold, Squamish Abandoned Dog, Recovers
This gallery shows images of Harold, an 18-month-old dachshund mix who is recovering from injuries after being taken into the SPCA Squamish Valley branch.

NEXT: Animals Who Just Need A Hug

In this Feb. 9, 2012 photo, Meghan Caffery, a U.S. Customs and Border Protection Agriculture Specialist, hugs Izzy, an agricultural detector beagle whose nose is highly sensitive to food odors, at John F. Kennedy Airport's Terminal 4 in New York. (AP Photo/Craig Ruttle)

A woman hugs her dog during a memorial outside the Aurora Municipal Center July 22, 2012 in Aurora, Colorado. (Photo by Joshua Lott/Getty Images)

A horse embraces a young girl in a picturesque hug. (Image via Imgur)

17-year-old evacuee Shoko Igarashi, hugs her dog who will have to be looked after by friends while she goes into a shelter in Koriyama in Fukushima prefecture, 60km west of Fukushima nuclear power plant on March 23, 2011. (Photo credit GO TAKAYAMA/AFP/Getty Images)

"Well i was takin a nice little stroll through the park when i came across a sloth trying to cross the road! When i picked him up he spread his arms out wide to give me a hug! from then on i knew that we would be the best of buddies for ever and ever... all the days of my life!!" - Lucy in Phoenix, Arizona (Shared by The Humane Society of the U.S.) (Image via Flickr)

A woman cuddles her rabbit after an obstacle course of the first European rabbit hopping championships, which Lada Sipova-Krecova of Czech Republic won, on October 30, 2011 in Wollerau, Switzerland. (Photo by Harold Cunningham/Getty Images)

Douglas, who was rescued by Animal Place, loves getting hugs. (Image via Flickr)

A dog puts a paw around his human friend in an adorable embrace. (Image via Flickr)

Vincent the cat visits his owner, who broke her hip, in the hospital. (Image via Imgur)

Spain's Queen Sofia hugs a 7-month-old panda cub during her visit to Madrid's Zoo on March 29, 2011 in Madrid. (Photo credit JAVIER SORIANO/AFP/Getty Images)

A young girl hugs her new puppy who appears content in the warm embrace. (Image via Imgur)

A 26-year-old chimpanzee named Pipo embraces veterinarian Eduardo Sacasa at the National Zoo, about 20 kms south of in Managua, on April 07, 2011. (Photo credit ELMER MARTINEZ/AFP/Getty Images)

Moose, a Leonberger, and Dr. Joe embrace during the second annual 'Meet the Breeds' showcase of cats and dogs at the Jacob K. Javits Convention Center on October 17, 2010 in New York City. (Photo by Michael Loccisano/Getty Images)

A nurse hugs Pisco, a 13-year-old therapy llama, during his visit to the Hospice of Saint John on September 1, 2009 in Lakewood, Colorado. The llama visits the hospice each month as part of an animal therapy program designed to increase happiness, decrease loneliness and calm terminally ill patients during the last stage of life. (Photo by John Moore/Getty Images)

Eli the British Bulldog gets a cuddle from her owner Sue Leicity on Day one of Crufts, a four day dog competition, at the Birmingham NEC Arena on March 8, 2012 in Birmingham, England. (Photo by Dan Kitwood/Getty Images)

A woman hugs one of her monkeys at her house in Havana on October 20, 2010. (Photo credit STR/AFP/Getty Images)

Lucky the kangaroo just wants some love. (Image via Flickr)

A Romanian woman embraces her dog during an animal rights protest in the front of the Romanian Parliament building in Bucharest on April 11, 2011. (Photo credit DANIEL MIHAILESCU/AFP/Getty Images)

An elephant trainer and two elephants share a group hug at Auckland Zoo in New Zealand. (Image via Flickr)
The SPCA put out a call for $2,000 in donations to cover surgery costs, but residents of Squamish and elsewhere stepped up in a big way, raising $6,290 for him and other animals.
The puppy may be taken into a new home as early as next week.
"We've been blown away by the public's kindness and generosity," BC SPCA Squamish Valley branch manager Marika Donnelly said in a news release.
"We are so grateful to everyone who gave and to everyone who contacted us about giving Harold a forever home. He's doing absolutely amazing!"
Like this article? Follow our Facebook page Or follow us on Twitter Follow @HuffPostBC