Thrill Vancouver 2013: Zombies Dance In Yaletown (VIDEO)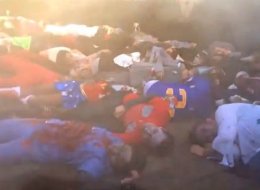 As Halloween creeps closer and closer, Vancouver's zombies celebrate. With dance.
Really.
Thrill Vancouver is part of an annual international event that celebrates Michael Jackson's classic song and music video, The Province reports.
After group rehearsals earlier this month and getting their make-up professionally done at the Roundhouse Community Centre, the dancers descended upon Yaletown and danced their guts out for spectators.
And the event wasn't just for the spook and the groove, according to Global News; it was also to collect money and donations for the Greater Vancouver Food Bank. Because zombies had souls once, too.