When it comes to countries perfect for biking, you can always count on the Netherlands to lead the pack. And really, betweenaccessibility and dominant cyclist culture, it's not hard to see why.
Now, factor in the country's newly-celebrated architectural project, The Hovenring, and the Netherlands' cycling scene just hit a winning trifecta for bike-happy locals and tourists alike.
But a triangle is probably the last word you'd use to describe the Hovenring. It's actually more of a roundabout, but just for bikes.
See, cars go underneath the Hovenring while cyclists bike around the 72-metre diameter bridge which connects the cities of Eindhoven and Veldhoven while protecting cyclists from traffic on the Heerbaan/Meerenakkerweg intersection below.
In the centre of the structure stands a 70-metre high pylon with 24 steel cables connecting everything together to create "flying saucer" like effect. The Hovenring's been around since 2012 but was nominated recently for a Dutch Design Award.
However, as Gizmodo points out, the separation of cars and bikes might make things move faster for everyone, but it also keeps both groups isolated. More isolation means less experience each group has with each other and less experience means a greater chance of a messier accident when their worlds collide.
Still, while the question of how beneficial the Hovenring is for locals remains, one thing is certain: it looks gorgeous at night.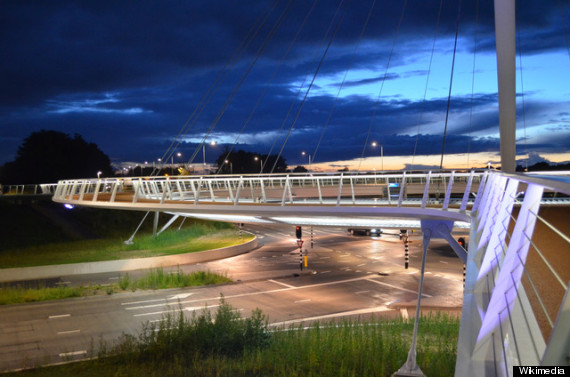 Like this article? Follow us on Twitter Follow @HPCaTravel
Related on HuffPost:
Loading Slideshow
Paleis Hotel, The Hague

<a href="http://www.paleishotel.nl/en/information.htm" target="_hplink"><strong>Paleis Hotel</strong></a>, a stone's throw from Noordeinde Palace, is the hotel in historically central Den Haag which feels delightfully similar to a stay in an actual Dutch Palace. It's home of what I consider the 'most comfortable bed in Holland.'

Lloyd Hotel, Amsterdam

<a href="http://www.lloydhotel.com" target="_hplink"><strong>Lloyd Hotel & Cultural Embassy</strong></a> prides itself on being the first of its kind in the entire world: A hotel with rooms spanning 1 to 5 stars, bringing together a wide array of Amsterdam's visitors from all budgetary levels to experience one meticulously designed property, an exemplar of Dutch hospitality.

Seven Bridges Hotel, Amsterdam

<a href="http://www.sevenbridgeshotel.nl/cms/" target="_hplink"><strong>Seven Bridges</strong></a> provides a hands on touch to boutique overnighting which is harder and harder to find in the heart of Europe's major capitals. The owners take great pride in the rooms they've uniquely furnished to enhance the hotel experience with historical pieces from around Europe. Also... Breakfast in Bed!

Stempels Hotel, Haarlem

The location of the <a href="http://www.stempelsinhaarlem.nl/index.php?lang=en" target="_hplink"><strong>Stempels Hotel</strong></a> on Haarlem's historical and energetic central square makes it the ideal accommodation for anyone desiring to explore one of Holland's overlooked gems. The perfect location aside though, Stempels is without a doubt the luxury property which falls inside your traveling budget.

Hotel De Utrechtsche Dom, Gouda

<a href="http://www.hotelgouda.nl/index-e.php?cmd=intro" target="_hplink"><strong>Hotel De Utrechtsche Dom</strong></a> is dedicated to introducing Gouda newcomers to the opportunities of a thriving historical gem in Holland. Sit down at breakfast with the hotel's owner and you'll learn about a remarkable city, more than just the cheese. The cheese however, is amazing!

Stadshotel Jeroen, Den Bosch

<a href="http://www.stadshoteljeroenbosch.nl/" target="_hplink"><strong>Stadshotel Jeroen</strong></a> is quite the unique experience. Luxurious accommodations housed in the annex of the Jheronimus Bosch Art Center, which is itself housed in a converted Catholic church. For a fusion of art, hospitality, history, culture, and architecture, there is no better hotel.

Hotel de Emauspoort, Delft

<a href="http://www.emauspoort.nl/eng/" target="_hplink"><strong>Hotel de Emauspoort</strong></a> provides an opportunity for a stay you can only find in Delft. Two "Gypsy Caravans," hotel rooms on four wheels, which sit peacefully in the Emauspoort courtyard. All the comforts of home in your very own caravan, giving you the feeling of life on the road.

Hotel "De Leeuw", Deventer

<a href="http://www.hoteldeleeuw.nl/hotel-english.html" target="_hplink"><strong>Hotel "De Leeuw"</strong></a> is a sweet treat in the city of Deventer, literally! The hotel doubles as a 'sweets and tea shop' with all manner of delicious delights plucked from Dutch history and modern indulgences. The exceptional hospitality will make it difficult to want to check-out.

Kruisherenhotel, Maastricht

I do not use the phrase 'one of a kind' lightly when describing the <a href="http://www.chateauhotels.nl/default.aspx?sc=7&taal=en" target="_hplink"><strong>Kruisherenhotel</strong></a>. My jaw literally dropped upon entering this unbelievable 60 room hotel contained entirely within the 15th century Kruisheren cloister and gothic church. Breakfast is served in the most incredible breakfast room I've ever sat in. The photo above doesn't do the gothic nave justice; book a room to experience what I mean.