Vertical Forest Building: Vancouver Approves Modern Project (PHOTOS)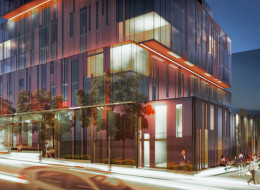 How would you like to live in a forest?
What if it had four walls, a kitchen, and a comfy bed?
On Oct. 29, Vancouver City Council approved the building of a project called The Vertical Forest. Created by Arno Matis Architecture, The Vertical Forest will filter and control light the way an actual forest would, according to a press release.
The building will grow in Mount Pleasant at 2290 Main St. at Kingsway, and is the neighbourhood's first rezoning development project since the Community Plan Implementation Strategy was revised.
"Once a coastal forest, now a bustling urban site, the building presents a contemporary design response that simultaneously captures the 'atmospheres' of the old and new Mount Pleasant," project architect Arno Matis said in the release. "The project's 'vertical forest' façade is an impressionistic interpretation of light filtering through Vancouver's costal rainforest."
The project uses a forest-like pattern on the building, employing a "biomimetic" (artificially mimicking a natural process) passive solar strategy. The "skin" will be tailored to the solar/view angles of the building's location, with innovative wood veneer and glass curtain wall panels giving it the feel and lighting of a forest.
The Vertical Forest Building is believed to be the largest application of this technology in the world.
Here's a look at the illustrations of the project:
The Vertical Forest Building
Up Next: Greater Vancouver's Most Beautiful Buildings

Built in the 1930's, the Burrard Bridge carries motorists, cyclists and pedestrians across False Creek into the downtown from the affluent Kitsilano area. Architect Bing Thom says it's a "gateway to the downtown" that has aged very well.

Not so much a building as an infrastructure project, every station along the line that carries commuters from Vancouver to New Westminster and Coquitlam features a unique design. SFU design Brandon Yan says they provide a "wonderful experience for transit users."

Two glass domes, skating rinks and a downtown UBC campus, this underground public space was a hotbed of activity during the 2010 Olympic Winter Games. Architect Bing Thom calls it a "garden in the middle of the city."

Designers in Greater Vancouver really value their libraries. Vancouver's downtown branch not only offers mounds of books, but a public space that all people can enjoy. SFU design student Brandon Yan: "It's a building that stands out from afar but offers people a wonderful haven in its glass atrium."

Former Vancouver city planner Brent Toderian admires the Woodwards building more for its many uses than its architecture. The building is a unique experiment, combining market housing with non-market units, commercial space and plaza.

Construction began in 1929, and Vancouver had seen nothing like it. It is decorated all over with art deco images of Canada geese, sun rays and marine life. Architect Michael Geller: "If you did a survey, most people in Vancouver would say it is one of their favourite buildings."

Arthur Erickson was inspired by Northwest Coast post and beam structures when he designed this museum at UBC. Vancouver architect Michael Geller doesn't like concrete, but he makes an exception for this one: "I would say that people find that anthropology museum to be an attractive building, even if they're not exactly sure why."
Like this article? Follow our Facebook pageOr follow us on TwitterFollow @HuffPostBC