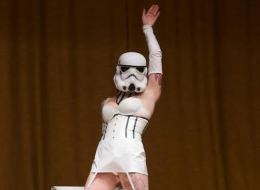 Fancy watching as Obi-Wan Kenobi uses The Force for good (or maybe bad) to divest a group of cantina dancers of their clothes?
Well get on over to "Star Wars: A Nude Hope," a burlesque take on the sci-fi classic playing Vancouver's Rio Theatre on Friday and Saturday.
The production is being staged by the Geekenders, a theatrical troupe that puts on monthly "nerdlesque" shows with a bawdy spin on popular movies.
"A Nude Hope" director Fairlith Harvey was watching Han Solo shoot Greedo's clothes off in a dance routine when reached by The Huffington Post B.C. on Wednesday.
Asked why she would stage a burlesque take on "Star Wars," her answer was simple: "Why WOULDN'T someone stage a 'Star Wars' burlesque show?"
The burlesque backdrop is perfect for a feminine spin on a heavily-gendered genre, Harvey said.
"Burlesque is really something for the geek girls, whereas a lot of geek activity is masculinely charged. [This] is something the women can appreciate and enjoy."
Check out images of this and previous Geekenders shows. The story continues after the slideshow:
Star Wars, Burlesque Style At The Rio Theatre
This gallery shows images of the Geekenders, a theatrical troupe that is putting a burlesque spin on the "Star Wars" franchise at the Rio Theatre on November 23 and 24, 2013.

NEXT: 20 Burlesque Stars That You Should Know

Known for: Producing and occasionally performing in "Revealed," a fully nude show in Manhattan's East Village. The risque creation became such a hit, the New York Times bid La Femme a pointed farewell when the slower rhythms of Nashville, and a nice man, came calling. Signature act: Performing as her sci-fi doppleganger Princess Leia. Based in: Nashville

Known for: Playing with gender. From her Robert Smith-inspired stage name to her self-billing as a "female-female impersonator", WFB has a genius for avoiding pigeon holes. She even made a living as a drag queen at one point, despite not needing any drag to be a woman. That's what we call a can-do spirit! Signature act: Mixing a martini in her cleavage. Based in: New York City

Known for: Conjuring an evocative and campy WWII-era atmosphere. The Taipei born, Texas bred performer calls herself "the Asian Sexsation." Signature act: Dancing with black fan in hand to a Japanese cover of "St Louis Blues," a combination Chang calls "sad" and "glamorous." Based in: New York City

Known for: Being the "queen of burlesque," briefly marrying Marilyn Manson, and courting a high-flying audience (especially the fashion elite), by which she's managed to jettison burlesque sensibilities into the mainstream. Signature act: Anything and everything old school -- from corsetting her waist down to 16 inches (oof) to posing in Japanese bondage. Based in: Hollywood and Paris

Known for: Mixing sweetness and horror. Jeffrey Deitch, whose gallery hosted one of Muz's exhibits in 2007, compares the sculptural quality and gender play of her work to "the early work of Duchamp and Man Ray. There's a conceptual comedy to it." Aside from looking like living art, the muscular girly girl fulfilled a long-held dream of many 8-year-old selves when she became Head Mermaid at the now defunct Coral Room. Signature act: Taking a (staged) beating as Italian opera plays in the background, and emerging nude and covered in fake blood. Based in: Manhattan

Known for: Enabling a tradition of smart commentary for women of color. This permanent troupe with a rotating cast of members espouses an anti-"fembot" philosophy, and is geared to audiences who want a little gravity with their G-strings. Signature act: "Jezebel," the BGB show that kicked off 2012, explored the 19th century extralegal system of placage, by which white men took Creole mistresses as common law wives. Based in: New York City

Known for: Irreverence, "high camp," being a pioneering male star in a heavily female world. Tigger! (pictured to the right) often gets the Dita-esque moniker of the "King of Boylesque," the term for burlesque as performed by boys. Signature act: Becoming Father McTigger, an altar boy-loving priest who pulls a communion wafer from his shimmering purple thong to the strains of Olivia Newton John's "I Honestly Love You." Based in: New York City

Known for: Being to burlesque what William Strunk and E.B. White are to novelists, by writing the definitive guide to her subject of choice, "The Burlesque Handbook." Jo Boobs also presides as the fantastical-sounding Headmistress of the New York School of Burlesque, and rooms with another star on this list, Julie Atlas Muz (who she canoodled with on an episode of "Gossip Girl"). Signature act: Wearing a Godzilla mask that hides that pretty face. Based in: New York City

Known for: Being one of the longest performing burlesque stars, with a career that began in the 1950s and continues today. The octogenarian known as "The Tempest in a D-Cup" says she was one of Elvis Presley's lovers in her Hollywood days, but even in her 70s, she managed to charm Robert Ebert. Signature act: The "time capsule," as the AP coined it: "She knows nothing of poles. She would never put her derriere in some man's face. Her prop of choice is a boa, perhaps the occasional divan." Based in: Las Vegas

Known for: Being one-third of the "world famous Pontani sisters," and the closest thing to a household name to come out of New York's scrappy scene. As the host of the traveling variety show Burlesque-A-Pades, she's introducing the country to some of burlesque's biggest stars. Signature act: The "Gold Digger," a crowd-pleaser styled after traditional 1940s acts. Based in: New York City

Known for: Raunchy and comic high-concept acts that usually involve pulling something (or many things) out of her orifices. She's considered as much a comedienne as she is a burlesque star. Signature act: The "Pee-Wee Herman," in which she dresses up like the "Playhouse" host and pulls platonic joke props (rubber chicken, whoopee cushion) out from where they're lodged around her body. Because: "How can you receive a Pee Wee Herman suit and not find a way to turn it into an act?" Based in: New York City

Known for: Being a self-described radical feminist so at home in the drag community, even the queens started to get weird about how "confusing" her gender was. Signature act: Drag Jimi Hendrix, set to -- what else? -- "Foxy Lady." Based in: Minneapolis

Known for: A studied "wide-eyed innocence" coupled with an academic bent (she graduated summa cum laude from Amherst College) that makes for exuberantly self-aware silliness. Case in point: her full stage name is Doctor Princess Lady Scoutington. She's also one of a few out-and-proud female burlesque stars. Signature act: Anything musical, whether its a Broadway medley, or a "glorious ukulele solo." Based in: Los Angeles

Known for: A 1950s variety show host's showman sensibilities, which has endeared him to Hollywood and TV executives alike as boylesque's answer to Dita Von Teese (whom he emcees for regularly on stage). Signature act: "Have Yourselves A Murray Little Christmas," a retrofitted holiday song that Hill pulls out every December for his annual Christmas show. Based in: New York City

Known for: Being the Queen of Coney Island, where she's performed in the annual mermaid parade for more than a decade. Her pantyless, psychosexual hijinks made her a longtime muse of fetish photographer Doris Kloster. Signature act: Eating crickets and goldfish in her "Geek Act," holding Burmese pythons for the "Snake Charmer," dressing as fantastical half-human creatures (not just a mermaid) in "Sideshow." Really, take your pick. Based in: New York City

Known for: Her androgynous good looks and rocker sensibility. We trembled at her perfect bone structure and profile shots in the Magnetic Fields' video for "Andrew In Drag." (She's the dapper gent). Signature act: A Cylon strip routine that involves dressing like a Battlestar Galactica robot and stripping down to the skin. Based in: New York City (Photograph Courtesy Alex Colby.)

Known for: Being "the girl with the 34 and a half inch inseam." A co-producer of New York's Sugar Shack Burlesque, Malone blurs the line between defining herself by her body and transforming it. Signature act: She does a mean Bettie Page. Based in: New York City

Known for: Channeling the 20s with a carefully referential name and skill -- tap dancing, not striptease. Their canniness at transforming into ladies of another era makes them perfect subjects for escapist imagery. Signature act: If Tempest Storm does the "time capsule," the Minskys are operating a time machine. For tapping, swinging and beauty marks, they're your gals. Based in: New York City (Photograph courtesy Jason Goodman.)

Known for: Being one half of a burlesque power couple along with husband Johnny Porkpie, until they called it quits. Luckily the two were together long enough to found Pinchbottom Burlesque, one of the city's most ingenious burlesque spots. Signature acts: Performing as her alter-ego Kobayashi Maru, an android creature. Based in: New York City

Known for: Being a key player in the "new burlesque" movement in New York along with Julie Atlas Muz, The World Famous Bob and other burlesque royalty. In the process, becoming a plus-size poster girl to whom even the bone-obsessed Karl Lagerfield bowed down. Signature act: The "balloon strip," in which she slowly pops a constellation of balloons surrounding her body, closing with a pair in an obvious spot. Winky face! Based in: New York City
Darth Vader is portrayed as a young woman wearing black vinyl and thigh-high, platform stiletto boots, with stormtroopers dancing backup to "Killer Queen."
"It's probably the most sexually charged number in the show," Harvey said. "We just made Darth Vader this Jessica Rabbit dominatrix, black vinyl-clad bundle of hormones and it's worked so far for everybody."
Other numbers feature a roller derby R2D2, a star destroyer puppet and a dancing, lusty garbage compactor monster.
The show comes just a month after the Geekenders' "Chaos Theory," their riff on "Jurassic Park", where theme park mogul John Hammond opens a facility full of showgirl dinosaurs.
Cue one dancer hatching out of an egg and performing a burletta to "Walk the Dinosaur," and two Godzillas lay waste to a construction paper city.
Both "Star Wars" shows are sold out this weekend but the Rio will have 50 tickets available at the door each night for $25 each. Doors are at 7 p.m., show starts at 8 p.m.
And there's more. Depending on the audience reaction, the Geekenders may be persuaded to stage a sequel: "The Empire Strips Back."
Like this article? Follow our Facebook pageOr follow us on TwitterFollow @HuffPostBC