Beastie Boys In Legal Battle Over Use Of 'Girls' In GoldieBlox Viral Toy Ad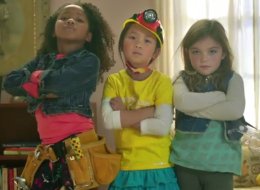 When GoldieBlox's "Princess Machine" ad hit the internet last week, it immediately went viral. And no wonder -- during a season when the toy industry's extreme gender-based marketing really hits home, it's hard to see who wouldn't want to support a toy that steers girls away from an E-Z Bake Oven towards engineering.
The ad, which has been viewed over eight million times, featured three girls constructing Rube Goldberg-type contraptions to the tune of the Beastie Boys' song 'Girls.' The video itself is cool, but it was the use of that specific song that, shall we say, made the commercial sing.
Off the Beasties' 1986 breakthrough smash album "License To Ill," the original song's overt sexism can't even be excused by the punk rock irony that imbues the rest of that record. So GoldieBlox replaced the original's lyrics about girls doing laundry and the dishes: "Girls -- to build the spaceship / Girls -- to code the new app / Girls -- to grow up knowing / That they can engineer that / Girls. That's all we really need is girls."
Its reworking felt clever -- but it also felt off. After all, no Beasties tune had ever been used in an ad before. In fact, when group member Adam "MCA" Yauch died of cancer last year, his Will specifically stated: "Notwithstanding anything to the contrary, in no event may my image or name or any music or any artistic property created by me be used for advertising purposes."
Late last week, the Hollywood Reporter ran a story about a copyright dispute brewing between the two parties. They reported that GoldieBlox filed a lawsuit claiming "the Beastie Boys have now threatened GoldieBlox with copyright infringement. Lawyers for the Beastie Boys claim that the GoldieBlox Girls Parody Video is a copyright infringement, is not a fair use and that GoldieBlox's unauthorized use of the Beastie Boys intellectual property is a 'big problem' that has a 'very significant impact.' "
Then today, the Beasties responded with an open letter, published in the New York Times, in which they dismiss the claims of fair use as a parody because the song is being used to make money.
"Like many of the millions of people who have seen your toy commercial 'GoldieBlox, Rube Goldberg & the Beastie Boys,' we were very impressed by the creativity and the message behind your ad.

We strongly support empowering young girls, breaking down gender stereotypes and igniting a passion for technology and engineering.

As creative as it is, make no mistake, your video is an advertisement that is designed to sell a product, and long ago, we made a conscious decision not to permit our music and/or name to be used in product ads.

When we tried to simply ask how and why our song 'Girls' had been used in your ad without our permission, YOU sued US."
This issue will be settled in or out of court, but though GoldieBlox' original message is undeniably a good one -- as they claim, their goal was to "break down gender stereotypes and to encourage young girls to engage in activities that challenge their intellect, particularly in the fields of science, technology, engineering and math" -- even little kids know that you're not allowed to take something that isn't yours without permission.
In 1992, arena rockers Van Halen received MTV's "Video of the Year" award for their in-the-moment anthem "Right Now." The political overtones of the song and its typographical video -- which included statements like "Right now, someone is working too hard for minimum wage" -- was a pivot for a band known for its ballads about bedding beautiful ladies (indeed this song was a track on an album titled "For Unlawful Carnal Knowledge"). So, when the song appeared in a Crystal Pepsi commercial that repurposed the video for soda-selling purposes, it was a shock. But as Eddie Van Halen is reported as saying, they did it so that the company didn't hire studio musicians to do a cover - a legitimate concern in an era when such a move was still deemed "selling out."

With Windows 95, Microsoft introduced its first graphical user-interface operating system, meaning it was the first time PC computers sported a visual desktop, something that Apple's Macintosh had introduced in 1984. So for the company it was kind of a big deal. To elevate the launch, Microsoft licensed the Rolling Stones hit "Start Me Up" (the band's first such move), a cunning song choice since one of Windows 95's key features was the now-ubiquitous "start" button. While rumours at the time suggested the Stones were paid anywhere from $8 to $14 million for the use of the track, now retired Microsoft chief operating officer Bob Herbold recently confirmed it was a mere $3 million. Pity.

Anyone into electronic music in the late '90s (pre-EDM moniker) will recall bopping their head to French techno artist Mr. Oizo's (Quentin Dupieux) banging track "Flat Beat." Though most of those same people will immediately associate the song with Flat Eric, a yellow Jim Henson Creature Shop-created puppet that starred in a series of Levi's commercials sporting Mr. Oizo's repetitive bass loop. More than just a mascot for the jeansmaker, Flat Eric took on a life his own. Not only did he feature in Mr. Oizo's own video work, Flat Eric became a pop culture phenom, appearing in the BBC version of "The Office" and mainstream mags such as NME, The Face and Melody Maker.

There's a delicate line when using the work of an artist posthumously, particularly for commercial means. Handled poorly, fans will instantly cry foul. Handled well, however, and reviving a long-passed artist's tune can breathe new life into it and spawn a whole new generation of fans. Such was the case when Nick Drake's 1972 song "Pink Moon" was used in this Volkswagen ad, the carmaker's first online ad. A dreamy, pitch-perfect ode to teenage nights, the spot is heralded as one of the best uses of music in an ad. It also reintroduced the English folk artist's music to fans in the digital age: the ad led to a large increase in record sales and the track placed #5 on Amazon's sales charts.

As news spreads that the word "selfie" was just named Oxford Dictionary's word of the year, it's kind of hard to remember a time when we didn't have a camera in our back pocket. But in 2003, digital cameras were still big news, and at-home photo printing was a high-tech wonder. To tell the story of how simply you can print your photos, HP enlisted The Cure's 1989 new wave classic "Pictures of You" to do the talking. Of note, while the visual effects look pretty straightforward 10 years later, at the time, it was a pretty eye-popping execution making the entire commercial a winner.

While British dance trio Dirty Vegas did relatively well with their 2001 single "Days Go By" at home, it wasn't until the track was featured in this Mitsubishi commercial did they hit it big in the U.S. No, hit it big is too gentle. They blew up. The song reached #1 on the Billboard charts, #14 on the Hot 100, and was awarded a Grammy for "Best Dance Recording." The commercial also introduced pop-locking to white, suburban audiences, a fact that was lamented and parodied by David Chappelle (while at his comedic peak). Speaking of parodies, while still an "SNL" cast member Jimmy Fallon took a turn at sending up the band's epic video (it certainly seemed epic at the time).

When Sony Bravia wanted to communicate just how vibrant its television's colour display was, it turned to visual metaphor. A beautiful, bountiful, bouncy metaphor. For 2005's "Balls," Sony hurled 250,000 translucent colourful balls down one of San Francisco's steepest streets at filmed the mayhem in slow-mo. Lovely as it is, the spot is truly elevated by José González's gentle and wispy song "Heartbeats." A folksy remake of Swedish duo The Knife's, er, sharper 2003 track, the song vaulted the Swedish-Argentine singer-songwriter to global fame. The ad itself was among the most award-winning of that year and demonstrated that there are more artful alternatives to the hard-sell in marketing.

Apple created its own visual shorthand when it launched the marketing campaign for its iPod: bright colours, dancers in silhouette and an lively song representative of a particular musical genre. The campaign, which ran from 2004-2008, included musicians such as N.E.R.D., Gorillaz, U2, Daft Punk, Black Eyed Peas and Coldplay, is probably most associated with Jet's "Are You Gonna Be My Girl?" The energetic tambourine-tapping beat, raw rock guitar riffs and fast-talking lyrics somehow completely embodied the electric glee music lovers felt about this game-changing device. Check out the whole campaign in this convenient supercut.

There's an academic thesis in waiting when it comes to the evolution of game marketing. Once simply a smattering of in-game action, advertising new game titles have embraced the art of emotive storytelling. The first, and still arguably the best, in this trend was "Gears of War," which launched a grenade into the sea of status quo when it paired Gary Jules' stripped down, totally vulnerable cover of "Mad World," made famous by Tears for Fears in 1983, with lushly rendered yet totally savage in-game action. This, boys and girls, is the moment it all changed.

French indie-popsters Phoenix are as close to a household name as you can get in indie pop. But in 2006, they were still relatively unknown (their track "Too Young" was included on the soundtrack of "Lost in Translation" in 2003 led to increased notoriety but their breakout album, "Wolfgang Amadeus Mozart" wouldn't hit until until 2009). So, when Telus licensed Phoenix's song "I'm an Actor" (a deeper cut from their 2004 album "Alphabetical"), to fans of the band, the telecom brand seemed super-cool -- insofar as telecoms can seem cool. Telus has long paired hip musicians with it's adorable animal concept, but we like this one best, because Phoenix!

Everyone likes a homegrown success story, so when a single from Toronto-based songstress and Broken Social Scene conspirator Feist was chosen for an Apple iPod spot (now well established as a way to break young musicians), Canadian music fans cried 'huzzah! One of our own was handpicked to sell Nanos!' Also incorporating Feist's charming video into the commercial, the partnership did much more than swell Canadian pride for being recognized south of the border. Feist saw an astronomical increase in sales, with digital sales doubling in the week after its release, and the song climbed international charts and won her a Juno. It makes it all the more adorable (and Canadian) that she later admitted to being naïve about how great an impact the spot would have on her career.

A gorilla, Phil Collins and a set of drums. We could finish this description now because this online video is as awesome as that sounds (and yes, that sounds awesome). But we'll go on. Released at a time when online ads were gaining in popularity - and thereby breaking the boundaries of traditional TV advertising - this branded film for Cadbury's showed how a brand could use entertaining content (versus straight-up brand messaging) to make a name for itself. Plus, it simply surprised and entertained the hell out of people. C'mon… a gorilla… playing drums… spectacularly… to Phil Collins. Enough said.

UK body care brand Lynx (known as Axe here) is notorious for gratuitously plastering buxom babes all over its ads. But in 2007, Lynx took a left turn and unleashed a charm offensive. As an impossibly attractive young couple awake in bed, doused in a gauzy veil of morning light, they silently begin to retrace their steps from the night before to retrieve their clothing. Finally parting in the supermarket with out saying a word, the use of long-deceased Hawaiian musician Israel Kamakawiwo'ole's simply charming ukulele rendition of "Somewhere Over the Rainbow," makes you forget that in fact this couple's darling morning-after started with the most lurid grocery shopping trip. Ever.

In many cases, the right song can instantly create a mood for a commercial far faster and more effectively than visuals. This is one of those cases. Sure, this looks like one of the most fun house parties ever, with superstar athletes like David Beckham, Katy Perry, Kevin Garnett and Missy Elliot as guests. But this remake of the Four Seasons' silky, soulful 1967 jam "Beggin'" is so affecting and infectious it makes you want to drop whatever you're doing, grab your shell-toes and three-stripe zip-up, and get to that party. Right now!

As musicians become more comfortable collaborating with (and getting paid by) brands to lend their tunes to ads, the ways in which songs are being incorporated are changing. Where young bands will often use the mass reach of commercials to increase their notoriety, some are using spots to actually release their tracks. (To wit: Canadian band Walk Off the Earth released their latest single via an interactive commercial-cum-music video with VW.) One of the earlier acts to do this was French electro-synth duo Justice, who teased the upcoming release of their track "Civilization" by running it in Adidas' "All In" spot first.

The fall of Detroit is one of the most profound economic stories of our generation. That one of the most vibrant and industrious cities in North America could just collapse so profoundly boggles the mind. But Motor City is tough and resilient -- so don't count it out just yet (the obsession with ruin porn and urban decay tourism notwithstanding). This was the message from Chrysler's 2011 Super Bowl anthem to rebirth that was perfectly paired with "Lose Yourself" from Detroit's own fallen-son, Eminem. It's impactful and optimistic without being saccharine with a soundtrack and artist that mirrors the spot's story of redemption and rebuilding. Too bad its 2012 follow-up fell prey to maudlin cheerleading.

Auteur chefs and urban market-goers around the country have wholly embraced the farm-to-table movement, but until this ad from burrito chain Chipotle the concept was largely detached from the quick-service food market. Wanting to communicate that it was using its corporate size and scale to make more ethical food-purchasing choices, Chiptole set out to do something different. So it got country music legend (and presumed consumer of such munchies-ready foods as burritos) Willie Nelson to remake Coldplay's contemplative song "The Scientist" and set it against some stellar animation. It worked and then some. The ad won bushels-full of awards and became one of the most talked about ads of the year. Some were skeptical of the chain's whole-food, farm-sourced claims, but it did spark a legitimate conversation about how to make fast-food ingredients better.

You know that feeling when everything's allllllllllright? When no one can dampen your mood? When nothing else in the world matters other than what matters to you? Well, this is all that and more – with a nice tumbler of SoCo on the rocks. Seventies soul sister Odetta's super-smooth to-hell-with-the-haters tune is absolute perfection set against this spot's rotund, mustachioed, sunbaked, loafer-wearing dude. He's amazing, he knows it, and you should too.

Embattled smartphone maker Blackberry needed to go for broke with the launch of its Z10 handset earlier this year. So it tapped the chart-topping, award-winning single "Elephant" from Aussie psych-rockers Tame Impala. With fantastic production values and whimsically connected scenarios, the song provides a wonderfully rhythmic soundtrack to support the ad's message of "keep moving." Sadly, the spot didn't save the company from its financial strife (though if you know of a commercial that has that kind of sway, please let us know!). At least it was memorable and enjoyable to hear while in frequent rotation.

When A-ha released its video for "Take on Me," the feather-coiffed 'dos of new wavers everywhere stood on end. The pencil sketch rotoscoped animation made minds melt. Awards were won. It's still revered as one of the best music videos of all time. So, when Volkswagen chose to use this song in a commercial, they did it in the best way possible: by re-imagining that original video with a great deal of humor. Who among us hasn't had our minds wander off while in a meeting, doodling away on a notebook, singing in pitch-awful falsetto? No? No one else? Inspired and amusing.

Directed by Tony Kaye, one of the most famous and notorious commercial directors, this commercial is … just… wow.