Tory MP Paul Calandra has been the butt of more than a few jokes due to his performance in question period since Parliament returned in October.
The parliamentary secretary to the prime minister has been tasked with fielding tough questions about the Senate expense scandal and Wright-Duffy affair.
But his answers — which often include personal anecdotes about his family life or insults hurled back at Liberals and New Democrats — haven't exactly won him rave reviews.
Nor has his penchant for saying matters are "clear," "very clear," or even "very, very clear."
The criticism from pundits and political observers seems to be that honest questions from the opposition are being shamelessly deflected, sometimes in bizarre ways.
Last month, for example, NDP MP Charlie Angus asked the government how many lawyers from the PMO were involved in setting up the secret deal with Senator Mike Duffy.
Calandra dodged the question by rhyming off a list of Tory achievements in what National Post columnist Andrew Coyne called the "most complete non-answer" in question period history.
"Thank goodness Canadians elected a strong, stable, national Conservative majority government, led by the best prime minister in the world, flanked by a minister of finance who has won awards, with the strongest cabinet in Canadian history and Conservative members of Parliament working all over the country to hope for hope, jobs and economic prosperity," Calandra said in the House.
"Well, that was bizarre," Angus shot back.
But there's reason to believe Calandra's answers haven't improved much in recent weeks.
Here's a very brief sample:
In response to an NDP question about Nigel Wright:
"I do like flowers and, of course, with lemons I like to make lemonade. My two daughters, this summer, actually had a lemonade stand where they sold lemonade for 5¢ on the street. They did very well. I am very proud of them."
In response to a Liberal question about the Wright-Duffy deal:
"She is sitting in a caucus where, I do not know, three-quarters of them have been convicted of some type of fraud, whether it is the Elections Canada Act or robocalls. The real fraud squad is sitting in the Liberal Party."
In response to a question about the Senate expense scandal:
"I have two daughters, a seven-year-old and a five-year-old, two beautiful girls, Natalie and Olivia, and each week I give them an allowance. Part of that allowance might be for cleaning their rooms. Both Natalie and Olivia know that sometimes their mother might clean their rooms. They both know that they should not ask for an allowance because they did not actually do the work. If my five-year-old and seven-year-old can figure this out, how is it that these senators cannot figure it out and how is it that the opposition supports that type of activity from our senators?"
In response to a question about Chris Woodcock:
"My father owned a pizza store. He worked 16 to 18 hours a day. I can tell the House what my father would not have done if he saw somebody stealing from his cash register. He would not have said 'You are suspended, but make sure you come back every two weeks and collect a paycheque.' What he would have said, 'You're fired, leave,' and he would have called the police."
Then a little later:
"Mr. Speaker, just to conclude that story, we also had a driver, Eugene. He was a Philippine immigrant and he used to deliver pizzas. Part of the agreement was that he would provide receipts for gas. Could Eugene have provided extra receipts? He could have, but he did not. He was honourable."
You get the idea.
Well, if you've ever wondered what it must feel like to ask a question and get that kind of response back from Calandra… wonder no more.
A mysterious new website has popped up — askpaulcalandra.com — which allows you to empathize with all those NDP and Liberal MPs trying their best to hold the government to account.
You simply type in your query and — presto! — you receive a "clear and on-topic answer" from Harper's parliamentary secretary.
For example, I typed in a real question Mulcair asked in the House on Monday: "Does the Prime Minister agree that there was a criminal cover-up organized out of his own office?"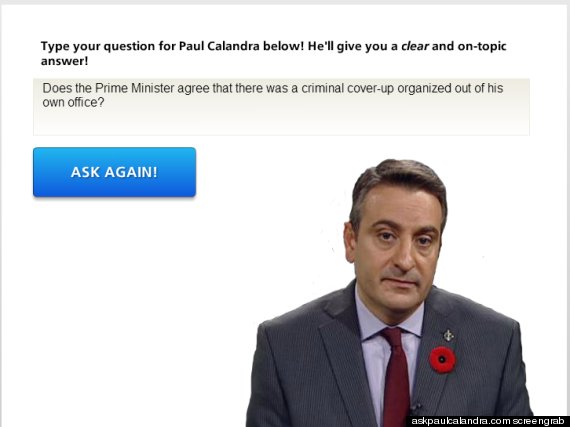 In no time, an audio file played Calandra's response: "The prime minister's already answered that question."
Unsatisfied, I tried the same question again.
"Let me just take an opportunity to congratulate my Saskatchewan Roughriders," Calandra responded.
But here's the kicker: that's exactly how Calandra began his response to that very question this week, before adding that it's "quite clear" the RCMP is only investigating Wright and Duffy.
It's just like REAL question period!
The website encourages those unhappy with the answers they receive to email either Calandra or their local member of Parliament to voice their displeasure.
You may even receive a clear response.
Also on HuffPost:
Loading Slideshow
'Chinese Water Torture'

On page 26 of the documents, the RCMP note "On February 15, there were e-mail discussions within the PMO about the Senate Rules committee and a proposed definition of residency, Nigel Wright e-mailed Benjamin Perrin."

'He Just Handed The Libs The Reason To Go To The Police'

On page 44 of the documents, the RCMP detail an email exchange between Tory Senator Carolyn Stewart Olsen and PMO staffers Chris Woodcock and Patrick Rogers.

'We Are Good To Go From The PM'

Page 32 of the documents details a Feb. 22 email from Nigel Wright to staffers in the PMO, including lawyer Benjamin Perrin.

'The PM Knows, In Broad Terms Only...'

Page 45 of the documents details an email sent on May 14 from PMO staffer Andrew MacDougall to Nigel Wright and others. MacDougall says he has received inquiries from a journalist about Nigel Wright co-signing a loan for Senator Duffy to repay the money. Carl Vallee, PMO Press Secretary, writes: "Would the PM know the actual answer to the question? Just in case he asks us."

UP NEXT: Get To Know Nigel Wright

1) He probably took a BIG pay cut

It is believed that Wright was <a href="http://thewalrus.ca/mister-right/?ref=2011.04-politics-mister-right&page=" target="_blank">earning more than $2 million</a> in salary and bonuses at Onex, but made around $300,000 working on Parliament Hill.

2) He's unmarried

Along with John Baird, Jason Kenney, and James Moore, Wright was one of four <a href="http://www2.macleans.ca/2011/09/12/harper%E2%80%99s-single-white-males/" target="_blank">"single, white males"</a> profiled in Maclean's magazine in 2011 as holding immense power in Harper's inner circle. Moore has since tied the knot.

3) He's a big runner

Wright would apparently run a half-marathon each morning before starting a <a href="http://thewalrus.ca/mister-right/?ref=2011.04-politics-mister-right&page=" target="_blank">14-hour work day at Onex.</a> <a href="http://www2.macleans.ca/2011/09/12/harper%E2%80%99s-single-white-males/" target="_blank">He has kept that pace after he began working in Ottawa</a>. He is said to be fond of telling a story of once being surrounded by several snarling dogs during an early morning run - <a href="http://www.thestar.com/news/canada/2010/09/28/travers_nigel_wrights_job_is_to_restore_order_to_pmo.html" target="_blank">a perfect metaphor for politics.</a>

4) Harper isn't the first PM he's worked for

Wright was a <a href="http://www.cbc.ca/news/business/story/2010/09/24/harper-chief-of-staff.html" target="_blank">speechwriter and policy adviser</a> to former prime minister Brian Mulroney. He was also <a href="http://www.theglobeandmail.com/commentary/editorials/wright-you-are-mr-harper/article1380288/" target="_blank">policy co-ordinator</a> for Kim Campbell's leadership campaign.

5) He almost became a priest

Wright considered joining the Anglican priesthood as a young man. <a href="http://thewalrus.ca/mister-right/?ref=2011.04-politics-mister-right&page=" target="_blank">He is currently a subdeacon at St. Thomas's Anglican Church in Toronto. </a>

6) He was the subject of a conflict of interest probe

<a href="http://www.huffingtonpost.ca/2013/01/08/nigel-wright-conflict-of-interest-chief-of-staff_n_2435040.html" target="_blank">The federal ethics watchdog cleared Wright of conflict of interest allegations in January. </a> Ethics commissioner Mary Dawson investigated Wright after it was reported he was lobbied on three occasions by Barrick Gold Corp, despite deep personal connections to the company's founding family. Dawson found there was no violation of the Conflict of Interest Act.

Next: Wright Helps Duffy Reaction

Justin Ling

Also, not for naught: what the hell is Mike Duffy doing with his money that he can't pay back his improper expenses?

Aaron Aitken

Mike Duffy: "I stayed silent on the orders of the PMO." For whatever reason, the sentence just sends chills up my spine.

James

Mike Duffy is such an idiot. I wish Frank Magazine was still around to really savage him properly.

John Francis

There's only one explanation - Wright expected SEX in return for his gift of $90K to Mike Duffy. Happens all the time. #cdnpoli

Beari8it

Welfare cheats are kicked out for $90 but PM Harper gave Mike Duffy Senate job and he cheated $90,000 #cdnpoli #HarperHistory #BadEconomy

Matt Hopkins

Karma, Mike Duffy. Karma. #CutTheChequeNigel

Mark Day

This Mike Duffy story just keeps getting better and @RobertFife hasn't slept in 5 days!

Joanna Smith

The $90,172 Nigel Wright covered considered a gift that Sen. Mike Duffy will have to pay taxes on. #cdnpoli

Beari8it

Why didn't Mike Duffy mortgage his PEI house to pay for the $90,000 repayment? #cdnpoli #CPC #cronyism

Next: If I Had $90,000

Steve Ricketts

#IfIHad90000 I'd buy you a nice fur coat, just like Tom Flanagan's (because that's cruel) #cdnpoli

Raymond Reid

#ifihad90000 I'd buy an economic action plan ad. Jk, those cost millions... like twenty!

Raymond Reid

#ifihad90000 I'd buy you a blue vest, but not a real blue vest that's cruel. And I don't actually wear vests, my warm centrist persona does.

Amanda

#ifIhad90000 I sure in hell wouldn't be giving it to Mike Duffy! #Cdnpoli

Tracey Braun

. #ifIhad90000 I'd fund a War of 1812 #cbc miniseries that was historically accurate - and to be proactive, one on WWI as well.

Raymond Reid

#ifihad90000 I'd buy a mediocre journalist and make him into a senator.

Liam Lahey

#IfIHad90000 I'd have one of Canada's search &amp; rescue helicopters pick me &amp; my pals up to go fishing

Stephen Bailey

#IfIHad90000 I'd buy an Economic Action Plan ad, But not a real Economic Action Plan ad because that's cruel

Liam Lahey

#IfIHad90000 I'd buy property in PEI and I would actually spend time there too

Chris Turner

#IfIHad90000 I'd buy you less than 1/10 of one percent of an F-35, because those things are crazy expensive / Like a Picasso or a Garfunkel

Victoria Pleavin

#IfIHad90000 We wouldn't have to eat PEI Lobster / But we would eat PEI Lobster / Of course we would, we'd fly it in

Chris Turner

#IfIHad90000 I'd buy you membership in the UN Convention to Combat Desertification / Haven't you always wanted a talkfest?

Paul Strachan

#IfIHad90000 I'd still eat at Hy's..lunch AND supper..what's Kraft Dinner?