Liberals say campaign flyers in Toronto Centre depicting NDP Leader Tom Mulcair as "too angry" shouldn't be seen as proof the party resorted to negative attacks to win in Monday's federal byelection.
Jeremy Broadhurst, Liberal national director, told HuffPost Canada the party won't apologize for calling out Mulcair for running an "angry campaign" in Toronto and elsewhere.
"I think what we saw during the campaign in Toronto Centre was some pretty targeted, specific attacks questioning the personal motives and back story of our candidate in the riding," Broadhurst said. "They were running shades of Conservative campaigns."
Grit candidate Chrystia Freeland, a former journalist, easily won the long-time Liberal riding despite a spirited challenge from the NDP's Linda McQuaig. Liberals also won in the Quebec riding of Bourassa and narrowly lost to Conservatives in the Manitoba riding of Brandon-Souris.
At a victory celebration in Bourassa, Liberal Leader Justin Trudeau suggested it was his party, not the NDP, which has taken up the mantle of positive politics championed by late NDP leader Jack Layton.
"Make no mistake, the NDP is no longer the hopeful, optimistic party of Jack Layton," he said. "It is the negative, divisive party of Thomas Mulcair. Because it is the Liberal party tonight that proved hope is stronger than fear, that positive politics can and should win out over negative."
Broadhurst doesn't believe the campaign flyers — which featured a photo of Mulcair on the front and three bullet points on McQuaig's "radical" plans on the back — conflicted with that message.
Broadhurst said the flyers were simply meant to contrast where Liberals and New Democrats stand on the issues.
"It's not a personal attack. It's not going after irrelevant things," he said. "We are talking about three major, substantial things: tax rates, trade and national unity."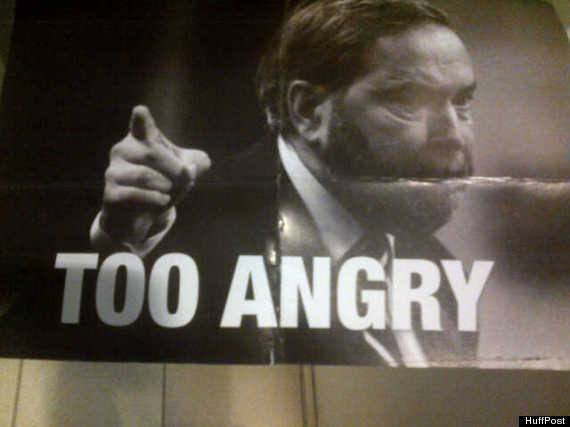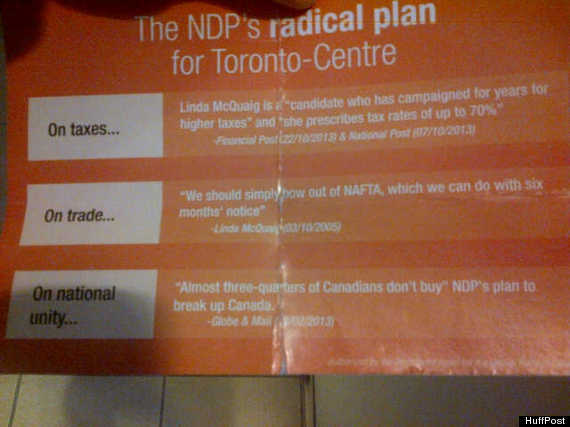 But NDP national director Nathan Rotman doesn't buy that those flyers were about highlighting differences in policy positions.
"This is the kind of Conservative-style, character-based, negative politics that is turning people off politics," he said.
Rotman took particular issue with the way the flyers targeted the NDP leader.
"The attack on Mulcair is completely unfounded," he said. "Contrasting positions is fair game if taken in context. This is not what they did at all on their leaflet."
Rotman maintains NDP tactics in Toronto Centre – which included surfacing an article Freeland wrote "extolling the virtues of Sarah Palin" as a feminist role model – were intended to keep the focus on the Liberal candidate's positions.
NDP flyers in the riding highlighted the Liberal party's support for the Keystone XL pipeline and opposition to abolishing the Senate. They also labelled Freeland a parachute candidate with no ties to the community.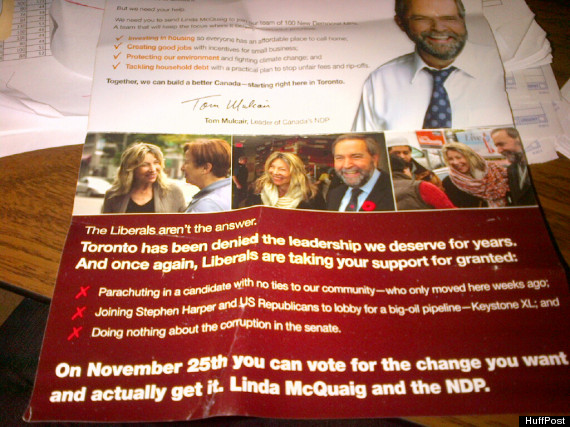 Also on HuffPost:
Loading Slideshow
SURPRISE!

Oh Puh-Lease!

You Wouldn't Like Me When I'm Angry..

Hide And Seek.. GO! 1.. 2.. 3.. 4..

Bring It!

No Seriously. Bring It!

Laser Focus

The World's Tiniest Violins

Check Yourself

Touchdown

Relax!

Something Isn't Sitting Right..

There's The Door

YES!

Who Loves Ya?

UP NEXT: Trudeau Glam Shots

UP NEXT: Memorable Trudeau Photos

Come At Me, Bro

Justin Trudeau trains at Pan Am Boxing Club in Winnipeg on Friday Feb. 1, 2013.

Peekaboo!

Justin Trudeau & co. making faces.

Riiiiip!

Justin Trudeau splits his pants while pushing the "scrum machine" in support of Prostate Cancer Canada in Toronto Thursday, July 21, 2011.

Don't Shoot!

Justin Trudeau gets his geek on at Montreal Comiccon in September 2012.

So Long 'Stache

Justin Trudeau has his moustache shaved off to raise money for the Judy LaMarsh Fund, that supports female candidates, at the Liberal Party convention in Ottawa on Saturday, January 14, 2012.

Coming For MacKay

Minister of National Defence Peter MacKay (left) is chased by Liberal MP Justin Trudeau in a motorized wheelchair during a wheelchair race relay on Parliament Hill in Ottawa on Wednesday, May 12, 2010. Twenty-five MPs and senators used a wheelchair for the day in support of the Canadian Paraplegic Association's Spinal Cord Injury and CPA awareness month.

All For One, One For All

Justin Trudeau all dressed up for the Montreal Movember Gala in 2010.

Get Him!

Pierre Trudeau's sons, Sacha, left, and Justin, tackle their mother's paperboy in Ottawa in this undated photo.

'Family... And A Cow.'

'Nuff said.

He Can Certainly Take A Punch

Alexandre (Sacha) Trudeau delivers a right hook to his older brother Justin during a play fight in 1980 at Ottawa airport as the boys await a flight with the return of their father, then-prime minister, Pierre Trudeau.

Be Honest With Me, Who's Cuter?

Justin Trudeau strikes a pose with an adorable baby.

A Very Furry Christmas

Justin Trudeau poses with his family on his 2010 Christmas card.

Game On!

Former Liberal MP Ken Dryden, left, and Justin Trudeau play table hockey as they visit Sun Youth, a community organization, Monday, Jan. 14, 2008 in Montreal.

Yanking Their Chain

Then-prime minister Pierre Trudeau, left, watches as his 11-year-old son Justin swings on a chain during a tour of an old fort in the Omani town of Nizwa Dec. 2, 1983. Trudeau and Justin spent the day visiting the towns of Jebel and Nizwa 165 kilometres south of Muscat.

Rocking Out

Justin Trudeau in Muskoka, Ont.

YeeHaw!

Liberal MP Justin Trudeau, centre, has his cowbay taken by his son Xavier, 4 years-old, while his wife Sophie Gregoire, second from left, holds daughet Ella-Grace, 3 years-old, while they attend the party's annual Stampede breakfast in Calgary, Saturday, July 7, 2012. This is the 100th anniversary of the Stampede.