Canada Falls On Internet Speed Rankings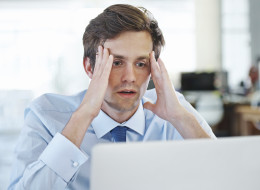 Canada has some of the slowest internet speeds in the developed world.
According to data from broadband research company Ookla, Canadians on average had the 38th fastest internet speeds in the world. Among developed countries, only a handful had slower internet speeds than Canada, among them Australia, New Zealand and Italy.
That represents a fall of five spots since this spring, when Canada ranked 33rd in Ookla's survey.
Ookla crowdsources data from SpeedTest.net, a site that allows web users to test the speed of their connections. The research firm used millions of these tests to compile its data on internet speeds around the world. The numbers represent an aggregate of actual internet speeds, not speeds as advertised by providers.
The average internet speed in Canada was 18.94 Mbps over the past six months, up from 16.6 Mbps this spring. But despite the apparent improvement, Canada slipped on the rankings as other countries saw larger increases in internet speed.
Canadians' average is speed is less than a third of world-leading Hong Kong, at 70.91 Mbps.
Story continues below
Internet Download Speed By Country (2013)
18.94 Mbps Average speed as crowdsourced at Ookla.

18.97 Mbps

19.41 Mbps

20.07 Mbps

20.15 Mbps

20.18 Mbps

20.75 Mbps

20.84 Mbps

21.76 Mbps

22.89 Mbps

23.06 Mbps

23.20 Mbps

23.24 Mbps

23.31 Mbps

23.66 Mbps

24.12 Mbps

24.76 Mbps

26.23 Mbps

26.83 Mbps

27.98 Mbps

29.10 Mbps

32.25 Mbps

33.48 Mbps

34.42 Mbps

34.97 Mbps

35.23 Mbps

37.42 Mbps

37.71 Mbps

38.42 Mbps

38.71 Mbps

40.63 Mbps

40.98 Mbps

40.99 Mbps

42.95 Mbps

47.58 Mbps

52.00 Mbps

53.11 Mbps

70.91 Mbps
How a country ranks on the listings depends not only on the quality of the internet infrastructure, but also on affordability: If internet services are too expensive, consumers will opt for lower-speed services, and average speeds will be lower.
Canada ranks 30th on Ookla's list of lowest internet costs. At $3.61 per Mbps on average, Canada is slightly cheaper than the U.S. ($3.82) and slightly more expensive than Sweden ($3.55).
The CRTC's latest survey of broadband services finds broadband is now available to 99 per cent of Canadian households, including 95 per cent of households in rural areas.
The availability of ultra-high-speed internet (100 Mbps+) has increased considerably, with about a third of Canadian households having the option to order the service. That's up from only around 10 per cent in 2009.
The number of households with broadband grew to 13.5 million in 2012, up from 13 million in 2010, the CRTC reported.