Canada Has Most Overvalued Housing Market: Deutsche Bank
Canada has the most overvalued housing market among 20 developed countries, says a report from Deutsche Bank.
The new report comes as real estate giant Re/Max predicts an "exceptionally healthy" year for real estate in 2014.
Deutsche Bank estimates that house prices in Canada are overvalued by 60 per cent. That's an average of two different measures: Home prices compared to rent (88 per cent overvalued) and home prices compared to income (32 per cent overvalued). The analysis compares house prices to historical norms.
"Based on their analysis, anyone in the market for property might want to avoid Toronto or Vancouver," writes the Wall Street Journal. "On the other hand, if you can get around Japan's restrictions on foreign investment, an apartment in Tokyo looks like a steal."
Japan ranked as the most undervalued housing market in the bank's survey, about 39 per cent below historical norms.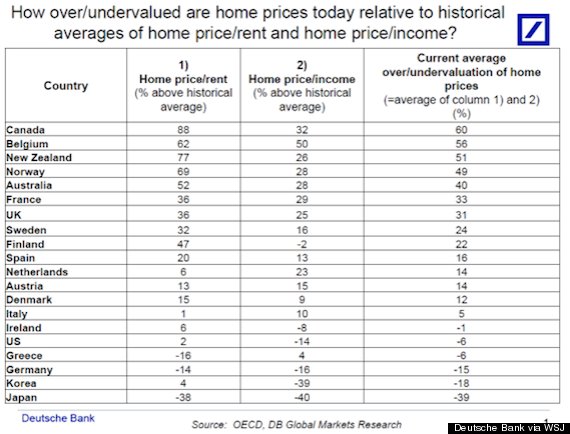 The Bank of Canada earlier this week reiterated its assertion that high household debt levels, pushed up by rising house prices, are the largest domestic risk to Canada's economy.
But persistently high prices and record household debt levels won't stop Canada from having an "exceptionally healthy" housing market in 2014, realtor Re/Max said Wednesday.
Re/Max says that nationally, home sales are expected to climb two per cent to 475,000 units next year after a three per cent increase to well over 453,000 projected for 2013 when all the numbers are in.
At the same time, the value of an average Canadian home is forecast to escalate three per cent to $390,000 in 2014 after rising four per cent to $380,000 in 2013, according to a survey of the group's independent brokers and affiliates.
Meanwhile, the outlook is for the residential housing market to remain in "clear balanced territory'' throughout 2014, although some pockets and price points may see continued shortages.
Story continues below
Coolest Houses For Sale In Canada
This newly-built home just northwest of downtown Calgary not only looks cool and has excellent views of the city, it features some pretty slick amenities, such as built-in kitchen appliances, a 1,500-bottle wine cellar and five bedrooms across 5,300 square feet of living space.

This house in Montreal's old-money Westmount area was built in 1857 and, with its awesome wrap-around porch, may be the coolest heritage residential building for sale in Canada right now. It's actually three units -- a main house, a townhouse in the back and what's referred to as the "well house." Three bedrooms and two baths in the main house.

Can you say house with a view? This four-bedroom property features not only one of the best views out of anyone's living room window in the country, it also has an outdoor pool, sunk slightly below house level, with views all its own. Four bedrooms and an elevator in this house the realtor describes as an "amazing entertainment home."

Located in Vancouver's (now) prestigious neighbourhood of Kerrisdale, this house is described by the realtor as "an expression of West Coast Modernism." We're not sure what that means, but this house's situation next to an elegant outdoor pool is certainly eye-catching. Four bedrooms on 5,200 square feet of living space.

The coolest thing about this house is the location -- look at where it's sitting! Not for the faint of heart, this eight-year-old house sits perched 90 feet above the Atlantic Ocean on the Nova Scotia coast. Five bedrooms in this property that sits on 16 acres of land.

This house may look like a remade 19th-century train station, but look carefully: There's a two-car garage on one side. The house is actually only four years, and situated in pleasant Bedford, outside Halifax. The house features an elevator to the second floor, and a master bedroom with fireplace and six-piece ensuite bathroom.

Designed by Ottawa architect Barry Hobin, this 3,300-square-foot house near the city's ritzy Rockcliffe Park neighbourhood features a sixty-foot-high domed skylight and some pretty non-standard layouts.

From above, this house is shaped almost like a hexagon, but that's not the only cool thing about -- it's also located on an outer beach not far from St. John's. Dubbed "Burnt Island," the property is made of red cedar log and features three bedrooms in 3,100 square feet of living space.

This house's a unique take on the Roman column look is certainly controversial, but for those who do like the look, the home is a winner. Twelve thousand square feet of living space in this house with seven bedrooms, including two loft bedrooms, a rec room, an exercise room, a sauna and a wet bar.

The realtor describes this as a "modern day Mad Men entertainer's home," and there is definitely something "retro-modern" about this three-bedroom, 4,200-square-foot bungalow. The house has a "covered outdoor living room" -- only in Vancouver could you find that in Canada -- that features a pool with a hardtop.

This house that the realtor boasts was featured in Architectural Digest is something increasingly seen in the dense inner cores of Canadian cities -- modern architecture reflecting the traditional houses nearby. Promos for the house promise a "New York Upper East Side feel" in this five-bedroom property.

It may not look it from its industrial-modern design, but this house is, according to the realtor, a ravine oasis. Located in the city's upscale Lawrence Ave. area, the house features a 23-foot ceiling in the foyer, a glass spiral staircase, an indoor squash court and a sauna on 5,100 square feet of living space.

Not many pictures available of the exterior of this house, but just look at this pool! Possibly the awesomest indoor pool in a private residence in Canada. The rest of the house ain't bad, either: 12,000 square feet of living space, with nine bedrooms and 10 baths, a 25-foot-high ceiling at the main entrance, and underground car parking.

This is a huge house -- more than 8,500 square feet of living space. Besides the eye-catching front entrance, the house features a 22-foot barrel vaulted entrance and more than 500 feet of private waterfront. There's also a three-car garage.

The realtor promises an "indoor and outdoor lifestyle" in this oceanfront house in West Van. The house's three levels overlook a central atrium and the lower level features a heated swimming pool and jacuzzi. The house has an elevator, naturally, and a boat ramp.

Located about 100 kilometres outside Montreal, this summer "cottage" is located on a private peninsula on Lac du Nord. The house features an infinity pool, a wine cellar, and a movie theatre. And oh yeah, there are bedrooms too, six of them.
Re/Max says its optimism is largely based on an improved outlook for Canada next year which is expected to see the country enjoy economic growth second only to the 2.8 per cent rate of the United States among Group of Seven countries.
And it says that while Canada's economic growth is currently forecast at 2.3 per cent, it could move higher given the impact of strengthening global economies on the Canadian manufacturing sector.
"Canadian housing markets are on solid ground after a somewhat harrowing first and second quarter of 2013,'' said Gurinder Sandhu, executive vice-president and regional director, RE/MAX Ontario-Atlantic Canada.
Better than expected economic performance, relatively stable inventory levels and the threat of higher interest rates down the road "proved mid-year game changers, providing the stimulus necessary to jump-start home buying activity,'' Sandhu said.
As a result, the momentum that emerged in the latter half of the year is expected to spill over into 2014, setting the stage for continued growth and expansion in most residential markets, Re/Max said.
Overall, 23 of 25 markets surveyed, or 92 per cent, are set to experience average price increases by year-end 2013, with Hamilton-Burlington the leader at 7.5 per cent, followed by Barrie, Ont. and District at seven per cent, Calgary and St. John's, NL, at six per cent, and Greater Vancouver, Winnipeg and the Greater Toronto Area at five per cent.
The forecast for 2014 shows the upward trend continuing, with values expected to again climb in 92 per cent of markets surveyed, led by Greater Toronto at six per cent.
Although there are several factors that are expected to contribute to rising housing prices on a national basis, one of the most pressing is build out, Re/Max said.
"Nowhere is that more obvious than in Vancouver, where the mountains and the ocean have prevented further growth, and the Greater Toronto Area, where the greenbelt has stymied future development.''
"As such, the availability of low-rise homes relative to the population is expected to contract, placing further pressure on prices,'' it said.
"We're definitely seeing a greater commitment to higher density at a municipal level,'' said Elton Ash, regional executive vice-president, RE/MAX of Western Canada.
"In fact, the trend already underway in Vancouver and Toronto, has gained serious momentum in smaller markets where cities are moving to infuse vibrancy into the urban core through mixed-use residential/commercial/retail development.''
—
The Huffington Post Canada with files from The Canadian Press