'Dean Blundell Show' Suspended By Edge 102.1 After Homophobic On-Air Remarks About Criminal Trial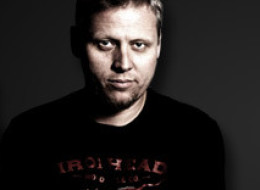 "The Dean Blundell Show," the shock-jock morning mainstay for Toronto radio station 102.1 The Edge CFNY-FM, is off the air.

On Thursday evening a statement was posted on The Edge's site for the controversial program from parent company Corus Entertainment. "Effective immediately, we are suspending "The Dean Blundell Show," the statement said. "This will allow us to review our internal practices to ensure that our programming is compliant with our station's policies, as well as community and broadcast standards." There's no word as to if the show will return to the airwaves at some point or personnel changes are forthcoming.
This decision follows an extensive report from The Toronto Star on Sunday, Dec. 8, regarding comments the show and particularly the program's producer Derek Welsman made regarding a criminal trial where Welsman was the jury's foreman.
The Sept. 30 broadcast of "The Dean Blundell Show" contained homophobic and biased comments which could have jeopardized the fairness of Joshua Dowholis' trial which concerned four men Dowholis -- who is HIV-positive -- sexually assaulted after meeting at a Toronto bathhouse in 2011.
"If anyone wants to get into the backdoor business, I can give you some tips," Welsman said during the program. Three days after Dowholis was found guilty (Sept. 27), Welsman revealed more details regarding what the jurors had to determine before deeming Dowholis guilty. While Welsman hasn't been charged, revealing any information from jury deliberations is illegal. On three separate broadcasts (one prior to the jury's verdict and two afterwards) Welsman spoke about the trial and the jury.
"All I know is that you have damned a man to five of the greatest years of his life," Blundell said on the Sept. 30 broadcast. "True," Welsman replied. "I have done my job, my civic duty."
If the judge in the case should order an inquiry into what transpired regarding Welsman's actions, Dowholis lawyer Kathryn Wells could seek a mistrial. "Just because he's gay, just because he lived that lifestyle, does not disentitle him to a fair trial," she told the publication, adding Welsman "willfully engaged in misconduct" such as discussing jury deliberations. Dowholis is scheduled to be sentenced in January.
The Canadian Broadcast Standards Council (CBSC) had admonished the program previously including four times since September, 2009 for controversial and, at times, homophobic comments. Following its last brush with the CBSC, the station was required to submit a plan revealing how it would avoid possible breaches in future broadcasts. On August 14, 2013 the Council released its decision regarding comments Blundell made earlier in the year that some complained were homophobic.
"The CBSC received two complaints about the broadcast alleging that the hosts had given the impression that young people should be ashamed if they engage in a 'gay' sport or other homosexual activities and had perpetuated negative stereotypes about homosexuality," the decision read. "CFNY-FM responded that the program is intended to be satirical and sarcastic."
Story continues after slideshow
Outrageous Homophobic Statements
The former "Saturday Night Live" star and now Tea Party activist sparked national furor when she slammed the hit show "Glee" after it featured a kiss between two gay characters in a column for WorldNetDaily. In the column, Jackson wrote in response to an emotional, long awaited kiss between Kurt (Chris Colfer) and Blaine (Darren Criss). "Did you see "Glee" this week? Sickening! And, besides shoving the gay thing down our throats, they made a mockery of Christians - again! I wonder what their agenda is? Hey, producers of "Glee" - what's your agenda? One-way tolerance?" She later appeared on "Showbiz Tonight" to clarify her thoughts. "Well, it doesn't matter what I think," Jackson said. "What matters is what the Bible says. And I'm really concerned about our country because immorality is, well, let's see: secular humanism rules the airwaves, and it's stealing the innocence away from this whole generation of children. My daughter is a teenager and I can't find any show that she can watch." With that diatribe, Jackson was asked, based on her remarks, both in the column and in the interview, whether she was homophobic. "That's a cute little buzzword of the liberal agenda," Jackson smirked. "Basically, the Bible says that homosexuality is a sin."

Santorum is quoted by the Allentown Morning Call as saying in 2004, "This is an issue just like 9/11... We didn't decide we wanted to fight the war on terrorism because we wanted to. It was brought to us. And if not now, when? When the supreme courts in all the other states have succumbed to the Massachusetts version of the law?"

Tennessee's GOP State Senator Stacey Campfield told HuffPost Gay Voices in January: "Most people realize that AIDS came from the homosexual community -- it was one guy screwing a monkey, if I recall correctly, and then having sex with men. It was an airline pilot, if I recall." "My understanding is that it is virtually -- not completely, but virtually -- impossible to contract AIDS through heterosexual sex...very rarely [transmitted]." "What's the average lifespan of a homosexual? it's very short. Google it yourself."

As quoted by World Net Daily: "Imagine we identify the gene -- assuming that there is one, this is hypothetical -- that will tell us prior to birth that a baby is going to be gay. Just like a baby is gonna be redheaded and freckled and maybe tend to be overweight and so we tell the parents that, and the parents say "Nope, don't wanna give birth to that child, [it's] not gonna have a fair chance. Who wants to give birth to an overweight, freckle-faced redhead?" Bam. So we abort the kid. Well, you add to this, let's say we discover the gene that says the kid's gonna be gay. How many parents, if they knew before the kid was gonna be born, [that he] was gonna be gay, they would take the pregnancy to term? Well, you don't know but let's say half of them said, "Oh, no, I don't wanna do that to a kid." [Then the] gay community finds out about this. The gay community would do the fastest 180 and become pro-life faster than anybody you've ever seen. ... They'd be so against abortion if it was discovered that you could abort what you knew were gonna be gay babies."

"If you're involved in the gay and lesbian lifestyle, it's bondage," the former Minnesota senator and GOP ex-presidential candidate is quoted as saying in 2004. "It is personal bondage, personal despair and personal enslavement."

Alan Osmond, who shot to fame in the late 1960s and early '70s as one of The Osmonds, took heat in November for penning an article that some in the lesbian, gay, bisexual and transgender (LGBT) blogsophere deemed homophobic. In his article for the website The Family, the 62-year-old Osmond brother, who is Mormon, not only argued that being gay is not genetic, but also comes out in defense of "reparation" therapy, which is sought by those seeking to change their sexual orientation: Research has NOT proved that homosexuality is genetic. Even more important, many researchers whose studies have been used to support a biological model for homosexuality have determined that their work has been MISINTERPRETED. What is clear is that homosexuality results from an interaction of social, biological, and psychological factors. These factors may include temperament, personality traits, sexual abuse, familial factors, and treatment by one's peers. Before noting that "treatment success rates that exceed 50 percent," Osmond continued: Developmental factors aside, can individuals diminish homosexual attraction and make changes in their lives? Yes. There is substantial evidence, both historical and current, to indicate this is the case.

After being asked whether he rehearses with his actors before shooting a scene, the "Tower Heist" director Ratner infamously replied, "Rehearsing is for fags." The gaffe, made during a Q&A session following a "Tower Heist" screening in late 2011, seemed questionable even for the sharp-tongued Ratner, who is said to be in talks to direct an adaptation of the Broadway musical "Wicked." One audience member is said to have been so upset by the reference that they immediately left the session. Though he later resigned from co-producer of the 2012 Oscars telecast, he also apologized for the statement: "It was a dumb way of expressing myself," he wrote. "Everyone who knows me knows that I don't have a prejudiced bone in my body. But as a storyteller I should have been much more thoughtful about the power of language and my choice of words."

The right wing commentator raised eyebrows from both U.S. political parties in 2007 when she stated: "I was going to have a few comments on the other Democratic presidential candidate, John Edwards, but it turns out that you have to go into rehab if you use the word 'faggot,' so I'm - so, kind of at an impasse, can't really talk about Edwards, so I think I'll just conclude here and take your questions."
On Wednesday the radio station posted a 30-second apology from Blundell regarding what happened. "I need to be serious for a minute," Blundell said according to a Toronto Life article. "On this show we regularly have pretty crass conversations. Recently we crossed the line. My producer Derek Welsman and I had a discussion about a sexual assault trial on-air. We both made rude, homophobic and inappropriate remarks, which were offensive and unacceptable.
"We offended a lot of listeners, our families and our friends," Blundell continued. "We strive to do our best every day to entertain you, our listeners. Those conversations were not entertaining. They were plain and simply wrong. For this, I sincerely apologize, and I'm truly sorry."
Corus Entertainment echoed those thoughts in their own apology
according to Canada.com
. "Corus Entertainment is offended and disappointed by recent language used on the Dean Blundell Morning show in discussions about a trial," the statement read. "The comments that were made do not represent the views of our company, our employees and our sponsors, and are contrary to our core values, and who we are as a company. We apologize to our listeners and to the broader community. We can and will do better." On Friday morning (Dec. 13) Blundell tweeted from his personal
Twitter account
but spoke about the weather in the Greater Toronto Area and not the current storm of controversy surrounding his show. Meanwhile,
Welsman's Twitter account
has been protected. Blundell's program co-host
Billie Holiday tweeted
Dec. 9 she was heading for the Bahamas "for some sun" and has made no comment also.