Abraham Lake In Winter Is Gorgeous.. And Explosive (PHOTOS)
Photographs of Abraham Lake frozen in the middle of winter rival, in beauty and awe, those of any other Alberta mountain lake.
It may be man-made but it flaunts the same myrtle green in the water and the same mountain peaks around the lake that other natural, liquid wonders that dot the Canadian Rockies landscape provide.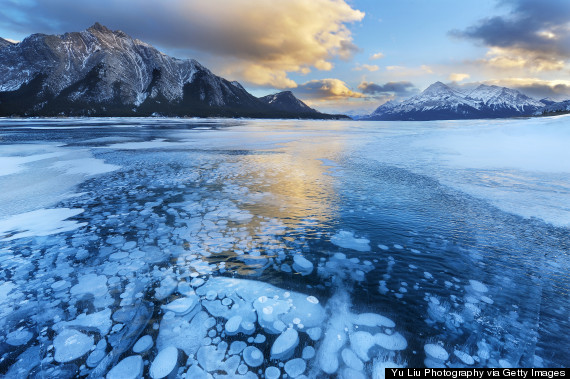 But Abraham Lake has something the others do not.
Frozen in the ice are other-worldly features, features that are so awe-inspiring and unique that they draw photographers from the world over.
In the bluish tinge of the winter's ice, photographs capture puffy pedestals of gas, cotton-like bubbles frozen in time and milky stains that colour the frozen surface.
Take a look.
Story continues below slideshow
Abraham Lake - Explosive Beauty
NEXT -----> Things To Love And Hate About Alberta Winters

So many ski and snowboard days! Alberta's ski season lasts from November to late May and lots of powder days make it a dream come true from anyone who likes to hit the hills.

It starts snowing so darn early in Alberta! This year's first snowfall came at the beginning of October, which makes for a very long winter. Sigh...

Staying in or visiting the wonderful, old hotels in Alberta, like the Banff Springs or the Chateau Lake Louise, make for the perfect winter staycation.

Having to wash your car about a million times per winter because of all the snow and sand on the roads. It wouldn't be so bad, but often you're out washing your car in sub-zero temperatures. Not very pleasant.

So many gorgeous mountain lakes means Alberta has some of the most picturesque skating backdrops in the world. (This is taken at Lake Louise, where the hotel erects an ice castle on the lake each winter.)

Having perpetually cold fingers and toes is pretty uncomfortable, and often unavoidable no matter how great your gloves and boots are.

Alberta winters are just so beautiful. We're not convinced there's anywhere else in Canada that is as beautiful as the mountains after a fresh snowfall.

Constantly. Being. Itchy. A good moisturizer is a must in Alberta, because our winters are so dry and wreak havoc on your skin.

A dry cold means once you come inside to where it's warm, you can warm up pretty quickly. Very little moisture in the air ensures your clothes don't feel damp, making you feel chillier.

It seems like every year the frost comes a bit too early, leaving at least one or two items in our garden spoiled before we get around to harvesting them.

Winter is the time to take place of the many natural hot springs in and around Alberta. There's nothing like having the heat of the water warm your body while feeling snowflakes fall on your head and face.

The roads. The heavy snow combined with frigid temperatures make Alberta roads really dangerous. People in the province also complain about a lack of plowing, especially on city side streets, making it all the more dangerous if you head out in your car.

Apres ski. There's nothing like hitting up the pub at the base of the ski hill after a long day to rest your tired legs and thrown back a couple specialty coffees or frosty pints of beer. Alberta ski hills throw some pretty amazing apres ski parties throughout the season.

The constant nosebleeds and crusty feeling inside your nose that comes with the bone-dry weather.

The chance to pull out all that crazy, fluorescent ski gear sitting in the back of your family's hall closet and wear it like a badge of honour. It's hard not to laugh when you see someone coming down the ski hill in a bright pink onesie.

Wearing long underwear underneath EVERYTHING. And, yes, that includes your work clothes. Because either you choose to wear them all day and run the risk of being warm while inside, or you choose to take them off when you get there, meaning at some point you will have to take off your clothes at work. Both awkward.

Gushing waterfalls become frozen in time, quite literally. They are gorgeous and sparkly and make a great destination for winter hiking.

Trying to find a place to plug your car in when the temperature drops to -40C.

Surviving a long winter means no one appreciates it more than an Albertan when the summer finally rolls around. We know how to make the most out of ALL the seasons.

Waiting for transit when it snows and the temperatures plummet can be absolutely brutal. It seems like transit systems almost grind to a halt, leaving you standing in the cold forever, being late for work and missing appointments altogether.

Check out these gorgeous photos of Alberta in winter!
The features and colour showcased in all their glories in the ice are truly a sight to behold, but they are also to be respected, as they are nothing less than explosive.
What lurks beneath the surface of this bewitching lake is methane gas.
Methane is an effective fuel, burning - and exploding - with ease.
Thus, the haunting scenes captured by the photographer's lens, frame perfectly the duality of the beauty of the lake, explains photographer Fikret Onal.
"The bubbles are methane gas, which is released when plants and animals decompose in the lake," explains Onal.
"The plants on the lake bed release methane gas and methane gets frozen once coming close enough to much colder lake surface and they keep stacking up below once the weather gets colder and colder during [the] winter season."
Methane is a potent greenhouse gas, 25 times more powerful than carbon dioxide, according to University of Alaska Fairbanks Professor Katey Walter Anthony.
Story continues below video
When Abraham Lake is frozen, much older methane from deep beneath the Earth's crust and ancient oceans remains trapped at the bottom of the lake as a white rock substance known as methane hydrate. As the lake starts to warm up, the methane escapes and comes to the surface. Combined with the methane from decomposition, this creates the amazing-looking frozen columns seen in these photographs.
The effect is compounded by the fact Abraham is not a natural lake but is the result of the damming of the North Saskatchewan River in northern Alberta in 1972. The result is extra organic material, such as trees, grasses and plants that would normally not be found on a lake bed, decomposing and creating even more methane gas.
As climate change takes its toll in northern lakes and seas, scientists fear that methane that has been frozen by permafrost will slowly start to leak into the atmosphere, pumping out as much as 10 times the amount of methane that is currently in the atmosphere will come out of frozen lakes such as Abraham.
But the methane also provides an opportunity for those who can harness it's power and redirect it towards industrial consumption.
In early 2013, Japan became the first country to successfully extract natural frozen gas from deposits of icy methane hydrate buried in the ocean floor. According to experts, the amount of carbon stored in these types of gas deposits across the globe is staggering, and the idea of tapping into this newfound energy reserve could mean big things for countries with scant energy resources.
- Environmentalgraffiti.com