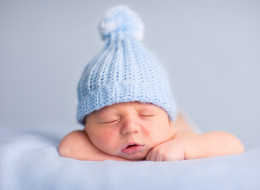 Not sure what unique name to give your baby? You might want to steer clear of these.
The B.C. government recently released the province's 20 most popular baby names for boys and girls in 2012.
Ethan was the most popular among boys, with 297 babies named. The most-named among girls was Olivia, with 274.
Are you surprised by any of the top choices?
B.C.'s Top Baby Names 2012
William

Matthew

Samuel

Jayden

Nathan

James

Oliver

Daniel

Ryan

Owen

Jack

Jacob

Benjamin

Alexander

Noah

Logan

Mason

Lucas

Liam

Ethan

Amelia

Maya

Grace

Isla

Madison

Brooklyn

Lily

Charlotte

Abigail

Sophie

Hannah

Avery

Isabella

Chloe

Ella

Ava

Emily

Sophia

Emma

Olivia

Up Next: Top Trends In Baby Names 2013

Girls characters seem to have a huge influence on baby girl names. Shoshanna rose 67 percent (when spelled with one "n"), and Zosia 46 percent. Marnie jumped 62 percent, or 3,286 spots, on the list. Pictured: Zosia Mamet, Jemima Kirke, Allison Williams, and Lena Dunham attend the Premiere Of 'Girls' Season 2 Hosted By HBO at NYU Skirball Center on January 9, 2013 in New York City. (Photo by Andrew H. Walker/Getty Images)

"Indie" girl names like Lena (Dunham) and Lake and Bell (Lake Bell) have risen in popularity. Bell by a whopping 67 percent. Pictured: Actress Lake Bell attends the 2013 Whitney Gala & Studio Party at Skylight at Moynihan Station on Wednesday, Oct. 23, 2013 in New York.

There's something about a close-knit duck huntin' family to name your kids after. The Duck Commander's wife Korie saw an 89 percent increase on the name charts with Willie's older brother Jase (Jason) rising 8 spots. Pictured: "Duck Dynasty" cast members, from left, Willie, Korie, Jessica, Jep, Missy, Jase, Miss Kay, Phil and Si attend the A+E Networks 2013 Upfront on Wednesday, May 8, 2013 in New York. (Photo by Evan Agostini/Invision/AP)

Unlike their U.K. counterparts, who are apparently big Jesse fans, U.S. parents are rooting for the good men and women -- by Breaking Bad standards. Marie (the good wife to DEA Agent Hank) went up 21 percent while the name Mike (He was a drug dealer with a conscious) went up 20 percent. Photo via Amazon

George doesn't look to be going out of style anytime soon. The Royal Baby's name has seen a 10 percent increase on the charts for boys. And, there's a twist: The name has also risen by 37 percent for girls. Pictured: Britain's Prince William, Duke of Cambridge holds his son, Prince George of Cambridge, as he arrives at Chapel Royal in St James's Palace in central London for the christening of the 3-month-old baby on October 23, 2013.

Producer and recording artist Kanye West now has another accolade to boast about. His first name has jumped 38 percent and West, on its own, is close behind, rising by 22 percent. Pictured: Kanye West at the Alexander Wang collection during Mercedes-Benz Fashion Week in New York.

Most parents aren't too fond of naming their girls after "bad girl" celebs, but Miley seems to be the exemption. The name rose 16 spots on the list. Pictured: Miley Cyrus arrives at the American Music Awards at the Nokia Theatre L.A. Live on Sunday, Nov. 24, 2013, in Los Angeles.

It's no secret that people like funny, and parents are no exception. Names of late-night hosts and comedians, including Alec (Baldwin), Jimmy (Kimmel and Fallon), Jason (Sudeikis) and Vincent (Vaughn) all climbed up the charts this year. Pictured: Television Host Jimmy Fallon attends the Billy Crystal's '700 Sundays' Broadway opening night at Imperial Theatre on November 13, 2013 in New York City.

New parents also looked to the past for inspiration. Kennedy climbed 25 percent, Abraham rose 20 percent and Lincoln rose 11 percent. Barack even rose by 48 percent. And of course, Jackson is number one overall. Pictured: People tour an exhibit at the Newseum dedicated to John F. Kennedy who was killed fifty years ago today, on November 22, 2013, in Washington, DC.

12 Surprising Baby Names That Are Trending Top 100 Unusual (But Cool) Baby Names For Girls The Most Popular Baby Names By State Do Parents Unconsciously Pick Gendered Baby Names?

Up Next: Nameberry's Most Popular Baby Names Of 2013

The top 10 names for girls...

1. Imogen Pictured: Musician Imogen Heap. (Photo by Mark Metcalfe/Getty Images)

2. Charlotte Pictured: Actress Kristin Davis, who played Charlotte York in "Sex and the City." (Photo: MAX NASH/AFP/Getty Images)

3. Harper Pictured: Victoria Beckham with her daughter, Harper. (AP Photo/Thibault Camus)

4. Eleanor Pictured: Eleanor Roosevelt.

5. Amelia Pictured: American aviatrix Amelia Earhart. (AP Photo, File)

6. Evelyn Pictured: Angelina Jolie who played Evelyn Salt in "Salt" (Photo by Andreas Rentz/Getty Images for Paramount Pictures)

7. Isla Pictured: Actress Isla Fisher. (Photo by Chris Pizzello/Invision/AP)

8. Violet Pictured: Actors Jennifer Garner, left, and Ben Affleck, who have a daughter named Violet. (Photo by John Shearer/Invision/AP)

9. Penelope Pictured: Penelope Cruz. (Photo by Carlos Alvarez/Getty Images)

10. Cora Pictured: Elizabeth McGovern who plays Cora Crawley on "Downton Abbey" (Photo by Chris Jackson/Getty Images)

The top 10 names for boys...

1. Asher Pictured: Rapper Asher Roth (Photo by Robin Marchant/Getty Images)

2. Finn Pictured: Actor Cory Monteith, who played Finn Hudson on "Glee." (Photo by Frederick M. Brown/Getty Images)

3. Declan Pictured: Actor Connor Paolo, who plays Declan Porter on "Revenge." (Photo by Alberto E. Rodriguez/Getty Images)

4. Atticus Pictured: Gregory Peck as Atticus Finch in the film of "To Kill A Mockingbird"

5. James Pictured: James Franco. (Photo by Joel Ryan/Invision/ AP)

6. Oliver Pictured: Actors perform onstage during a rehearsal of Lionel Bart's musical adaptation of 'Oliver' at the Theatre Royal, Drury Lane on January 12, 2009 in London, England. (Photo by Dan Kitwood/Getty Images)

7. Henry Pictured: Actor Henry Cavill, who plays Superman in "Man of Steel." (AP Photo/Rob Griffith)

8. Emmett Pictured: Kellan Lutz, who plays Emmett Cullen in the "Twilight" series. (AP Photo/Charles Sykes, FILE)

9. Owen Pictured: Owen Wilson. (Photo by Richard Shotwell/Invision/AP)

10. Django Pictured: Actor Jamie Foxx who played Django in "Django Unchained."(Photo: Getty Images)

And the top 10 unisex names...

1. Rowan Pictured: Rowan Atkinson (Getty Images)

2. Quinn Pictured: Dianna Agron, who plays Quinn Fabray on "Glee (PIERRE ANDRIEU/AFP/Getty Images)

3. Kai Pictured: Jennifer Connelly, whose son's name is Kai. (VALERY HACHE/AFP/GettyImages)

4. Sawyer Pictured: Steven Spielberg, whose son is named Sawyer. (Photo by Evan Agostini/Invision/AP)

5. Avery Pictured: Elizabeth Banks, who played Avery Jessup on "30 Rock". (Photo by Jordan Strauss/Invision/AP)

6. Charlie Pictured: Charlie Sheen (Photo by Jason Merritt/Getty Images)

7. North Pictured: Kanye West and Kim Kardashian, whose daughter's name is North. (AP Photo/Zacharie Scheurer)

8. Elliot Pictured: Christopher Meloni, who played Elliot Stabler on "Law & Order: SVU" (Photo by Charley Gallay/Getty Images for Joyful Heart Foundation)

9. Finley Pictured: Lisa Marie Presley, whose daughter's name is Finley. (Photo by Carlo Allegri/Invision/AP)

10. Emerson Pictured: Teri Hatcher, whose daughter's name is Emerson. (Photo by Dan Steinberg/Invision/AP)

12 Surprising Baby Names That Are Trending Top 100 Unusual (Yet Cool) Baby Names For Girls The Most Popular Baby Names By State The Most Popular Baby Names Of 2012 Do Parents Unconsciously Pick Gendered Baby Names?
Like this article? Follow our Facebook page

Or follow us on Twitter

Follow @HuffPostBC