Calgary Couple Giving Their Home Away To The Needy For Free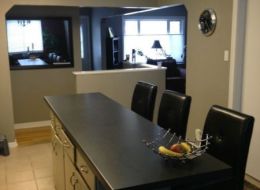 It's not every day one comes across a free home when browsing through the classified ads.
But that is exactly what's happening in Calgary, where a couple is offering their home free, "to a person or family in need."
The ad, which was posted on Kijiji Sunday and has already garnered more than 16,500 views online, is offering the 1,200-square-foot home for free to anyone willing to take on the expense of moving it off their lot.
"We are building a house on the same site and need to have our current house moved off the site by mid-to-end of February," reads the ad.
"This house has been my home for the past 10 years and I have done many renovations to it.
"The last thing I want to see is for this to be torn down. It is an awesome house and would make a great home for anyone in need."
The bungalow was originally built in 1952 and has been upgraded to include tile flooring in the kitchen and bathroom, hardwood floors in the living room and bedrooms, as well as new skylights and a jetted tub.
Story continues below slideshow
NEXT ----> A cabin in Saskatchewan has been built almost exclusively using items and materials found on Kijiji.

This cabin in Saskatchewan has been built almost exclusively using items and materials found on Kijiji.

Keep clicking through the slideshow for cottage entertaining ideas

"There are some things you can never have have too many of for a party, namely plates, cups, cutlery and napkins," says Tara Sachs of Parts & Labour Catering in Toronto. "It's also good to have enough ice to last you until the end of the world."

This part is easy, according to Sachs. "For cottage events, it's always easy to find help -- someone will want to work the bbq, someone will always be willing to stock the bar, it won't be difficult to find someone to refill the salad bowls -- all you have to do is ask!"

"Get all the prep work you can done a day in advance (make sauces, chop veggies, wash your greens, make iced tea)," Sachs says. "Know which bowls and platters you will be serving each menu item in. Do whatever you can to make your menu items quick and easy to put out."

"On the deck, on the dock or on the forest floor, wherever you are planning on having guests congregate should be nice and tidy. Ensure you have enough seating and tables set out and that it is arranged in a way that promotes comfortable gathering and socializing."

"Should Mother Nature rain on your parade and you have to move the party indoors, know where you will have everything set up in the cottage - bar, food, extra seating and decor items. A little rain should never dampen a good time."

"Set up baskets in the washrooms with personal care items (sunscreen, dental floss, mints, gum, lip balms, feminine products, lotion, etc.)," Sachs says. "This is a small gesture that is easy to assemble and guests always appreciate."

"Set it and forget it!"

"Set up coolers or bins of ice around the party so guests can stash and grab their drinks with ease."

"From the food to the decor to the overall planning, don't make it unnecessarily hard on yourself. People appreciate a no-fuss approach."

"You planned, you prepped, now you party!"
The home is a modern, nice looking abode that would serve most families well, but devil's advocates on Reddit were quick to question whether the seemingly generous, gesture was more self-serving than charitable.
"It's a nice gesture but I think all they are doing is trying to get rid of the old house without paying a ton of money to have it removed," said TECH-NOIR on Reddit.
"I have no idea how much it costs to move an entire house but I'm 100% sure its more than first/last (month's rent) on an apartment," commented Popcorn.
"You also have to have a plot of land.
"This isn't someone doing something nice, it's someone trying to get rid of their house without paying and passing it off as being a good Samaritan."
But the charitable homeowners say they will pitch $1,000 towards moving costs and add the home would be a perfect solution for a family who may have lost their home during the recent floods, as they likely already have the land but now need a home to put on it.