Quick, answer this question: What's the first food you think of when you think of bodybuilders? More than likely, your answer was "meat," because, after all, we've always learned protein is the key to building big muscles. And who hasn't jealously pictured those buff guys at the gym wolfing down burger after burger?
But as this PETA ad shows, it's not always meat, or animal products at all, that create a body that lifts hundreds of pounds at a time.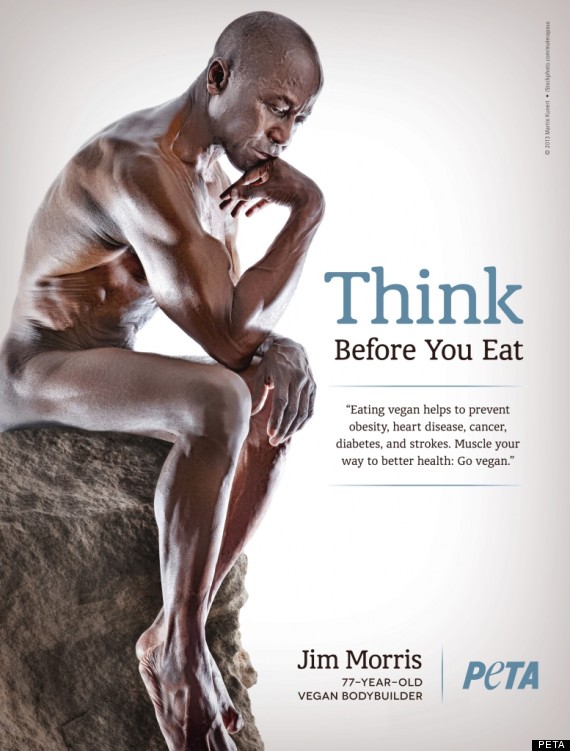 Jim Morris, now 78 years old, became vegetarian at 50 and vegan at 65 and believes diet is to thank for his enviable physique.
"I would not be here, and I would not be in this condition now had I continued eating the way I was," he says in a promotional video on PETA's site. He speaks disdainfully of drinking milk and emphasizes the usefulness of the protein in the fruit, beans and grains he ingests.
Last year, a massive study found that those who follow a vegetarian diet were 12 per cent less likely to die of any cause than meat eaters, reported Men's Journal, and as Oprah's site (among many others) points out, eating a vegan diet is far friendlier to the planet.
While a vegan or vegetarian diet might not be for everyone (and certainly doesn't guarantee you'll look like Morris at 78), incorporating more plant-based meals into your routine even once a week can reduce your risk of heart disease and certain types of cancer, according to WannaVeg.
Like this article? Follow our Facebook page

Or follow us on Twitter
Follow @HuffpostCaLiv


Also on HuffPost:
Loading Slideshow
Mike Tyson

Boxing champion and vegan Mike Tyson <a href="http://www.foxnews.com/on-air/on-the-record/transcript/mike-tyson-039i-live-boring-life-i039ve-learned-love039?page=2" target="_hplink">spoke with Fox News</a> about switching to an animal product-free diet earlier this year. In the interview, Tyson says he became a vegan two years ago after his wife was trying out different weight-loss diets and says he "feels awesome" even though he "forgets to eat sometimes." "(I feel) incredible. I wish I was born this way. When you find out about the processed stuff you have been eating. I wonder why I was crazy all those years." He adds, "All that garbage I was eating running around, the drugs didn't help either."

Betty White

The 90-year-old actress is an animal activist and has been a vegan for years. "They never lie to you. You know when they tell you something, they mean it. They love you unconditionally," <a href="http://theview.abc.go.com/blog/protect-your-pets-betty-white-way">White told the women of "The View"</a> about animals.

Denzel Washington

Denzel only recently became a vegetarian, although he admits to <a href="http://www.wtva.com/entertainment/story/Denzel-Washington-gives-up-meat/IxyPo6Ji1U2yi-K26EBQHw.cspx" target="_blank">cheating with chicken on occasion. </a>"When I did the play Fences (on Broadway) it just kind of woke me up to this idea of getting back to the basics in every way, and I made a commitment to just work harder and eat good."

Andre 3000

After the release of Outkast's first album, <a href="http://www.vibe.com/article/andre-3000-his-style-evolution-quitting-weed-new-music-and-more" target="_blank">Andre 3000 became a vegan/vegetarian.</a> He has been meat-free since he was 22 years olds.

Ben Stiller

Ben Stiller gave up <a href="http://www.huffingtonpost.com/2012/07/27/ben-stiller-vegan_n_1710859.html" target="_blank">coffee and became a vegan in 2012. </a>

Christian Bale

The "Batman" star <a href="http://www.accesshollywood.com/celebrity-vegetarians-they-say-no-to-meat_gallery_1912/image_85121" target="_blank">gave up meat when he was just 9 years old after reading "Charlotte's Web."</a> He also grew up with an animal rights activist father.

Kal Penn

Despite <a href="http://www.usnews.com/news/obama/articles/2009/04/08/10-things-you-didnt-know-about-kal-penn" target="_blank">being famous for his ridiculous journey to White Castle</a>, Kal Penn is a very strict vegetarian.

NeYo

NeYo made the decision to become vegan as part of a New Year's resolution. <a href="http://www.peta.org/b/thepetafiles/archive/2013/01/04/new-year-new-ne-yo-the-rapper-goes-vegan.aspx" target="_blank">He tweeted that at first it was a "discipline test," </a>but as he learned more about it, he realized there was "much more meaning to it."

Questlove

Roots Drummer Questlove <a href="http://vegnews.com/articles/page.do?pageId=4374&catId=8" target="_blank">embraced a plant-based diet due to health reasons. </a>He said he wants "to be the first member of the hip-hop generation to live past 60."

Richard Gere

The actor has been <a href="http://www.nzherald.co.nz/entertainment/news/article.cfm?c_id=1501119&objectid=10619256" target="_blank">meat free for over 30 years. </a> He also considers himself an activist for vegetarianism.

Sarah Silverman

Not only is <a href="https://editorial.huffingtonpost.com/slides/v2/#slideshow/312199/slide/2784299" target="_blank">Sarah Silverman a vegetarian, she is an activist for circus animals.</a> "Ringling's elephant handlers—who have zero vet experience—continually stab the animals with sharp metal rods called bullhooks in order to keep them performing despite their ailments," she said.

Steve-O

Steve-O credits his <a href="http://www.huffingtonpost.com/steve-o/animal-cruelty_b_2927374.html" target="_blank">vegetarianism to watching a YouTube video.</a> He at first said that he was motivated by "fear of spiritual consequences," but soon found that it made him simply feel good about himself.

Milo Ventimiglia

Named by<a href="http://features.peta.org/sexiest-Vegetarian-Celebrities-2011/PastWinners.aspx" target="_hplink"> PETA as 2009's Sexiest Vegetarian Celebrity</a> alongside musician Kellie Pickler, Milo Ventimiglia has been a vegetarian since he was "in the womb." In 2009, the Heroes actor <a href="http://www.youtube.com/watch?v=7P9qda1IH3Y" target="_hplink">appeared on "The Bonnie Hunt Show" </a>and talked about how he was raised vegetarian. "I was a vegetarian in the womb, I was doing it before it was a trend," he joked. "My parents have been vegetarian for 40 years. They raised my sisters and I vegetarian, we had a dog - he was vegetarian." He added that even when he branched out as a teenager to other foods it just "didn't sit well" with him.

Olivia Wilde

Actress Olivia Wilde was <a href="http://features.peta.org/sexiest-Vegetarian-Celebrities-2011/PastWinners.aspx" target="_hplink">crowned 2010's Sexiest Vegetarian Celebrity</a>, along with fitness guru Bob Harper, by PETA. Wilde, previously vegan, abandoned that diet last year following her divorce from filmmaker Tao Ruspoli, <a href="http://haveuheard.net/2011/09/olivia-wilde-quit-vegan-diet-divorce/" target="_hplink">haveuheard.com reported.</a> The site writes she told <em>Cosmopolitan</em> magazine: "I was hardcore vegan for years. When everything in my life became a little hectic, going through the divorce and everything afterward, I was like, 'I need some goddamn cheese.' And so I had some cheese." On her website <a href="http://wildethings.org/vegan-things" target="_hplink">Wilde Things she says</a>: "I'm a firm believer in the adage 'your dollar is your vote.' Often we forget the power of each of our purchases." She adds: "Sadly it is incredibly difficult to ensure that you are not perpetuating a cycle of cruelty that is only getting worse as demand rises and profits grow."

Kellie Pickler

In 2008, country singer Kellie Pickler <a href="http://www.people.com/people/article/0,,20236190,00.html" target="_hplink">told People Magazine</a> she stopped eating meat to improve her health but changed her reasoning after discovering animal cruelty videos online. "One night I couldn't sleep and I was up just Googling random stuff and I'm like, 'Hmmm, PETA.' I saw all the videos and I just thought it was horrible. It's animal cruelty. A lot of it has to do with knowing what happens to the animals and it really bothered me and so I will not eat meat," she said. Pickler was named <a href="http://features.peta.org/sexiest-Vegetarian-Celebrities-2011/PastWinners.aspx" target="_hplink">Sexiest Celebrity Vegetarian of 2009</a>, alongside actor Milo Ventimiglia, by PETA.

Alec Baldwin

<a href="http://www.zimbio.com/Vegan+Stars/articles/QHaN-JTolFJ/Alec+Baldwin" target="_hplink">According to Zimbio.com,</a> Alec Baldwin said "he chooses an animal-free diet for the animals, for the environment, and for his health." Conflicting reports over the years suggest Baldwin may be an "on and off" vegetarian.

Carrie Underwood

Last year, <a href="http://features.peta.org/sexiest-Vegetarian-Celebrities-2011/PastWinners.aspx" target="_hplink">PETA's Sexiest Vegetarian Celebrity of 2007 and 2005</a> Carrie Underwood announced she had rid all animal products from her diet, <a href="http://tasteofcountry.com/carrie-underwood-vegan/" target="_hplink">according to TasteofCountry.com.</a> The site reports she told Australian television show "The Circle": "I recently made the switch to vegan because I'm actually kind of lactose intolerant." The singer said she became a vegetarian at age 13 when she realized what happened to animals on her family's farm.

Christina Applegate

Actress and animal activist Christina Applegate <a href="http://www.peta.org/features/christina-applegate-fur-get-me-not.aspx" target="_hplink">told PETA</a> she stopped eating meat when she saw blood on her plate while at a restaurant. I was eating lunch on the Married With Children set, and they served me some kind of meat (I don't even know the names of them all anymore because it's been so long). I looked down and there was blood on my plate, and it was that realization, that I can't eat something that has been alive, I just can't do it," she said in the interview. Applegate was featured in a 2007 PETA Christmas-time campaign reminding shoppers not to buy fur as gifts.

Anna Paquin

The mom of twins may be surrounded by a lot of blood on the "True Blood" set, but in reality, she's a vegetarian.

Bruce Springsteen

Springsteen looks amazing at 63, and it might have something to do with his vegetarian diet!

Emily Deschanel

Zooey Deschanel's sister has been a vegan for 20 years! "Saying no to meat makes me feel stronger inside; I feel aligned with my morals and ethics," <a href="http://www.lhj.com/style/covers/julie-bowen-emily-deschanel-dana-delaney/?page=2">she told Ladies Home Journal</a>. "I still have to defend myself because people don't understand it."

Lea Michele

Michele defended by her vegan diet last year, <a href="http://www.allure.com/celebrity-trends/cover-shoot/2011/lea-michele">telling Allure</a>, "People get confused, like, you know, I just eat grass. I'm half Italian. I can eat some b----es under the table."

Peter Dinklage

The "Game of Thrones" star is a vegetarian,<a href="http://veggietestimonial.peta.org/psa.aspx?CID=e58a8d78-5fe3-41eb-8177-cf6bbaceb10b"> telling PETA</a>, "I wouldn't hurt a cat or a dog or a chicken or a cow. And I wouldn't ask someone else to hurt them for me. That's why I'm a vegetarian."