Canada's Happiest Cities Ranked By Jetpac (PHOTOS)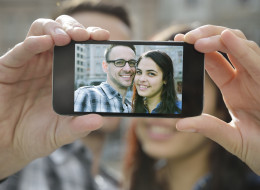 What's the happiest city in Canada? Jetpac City Guides might have an answer.
The app, which analyzes Instagram photos to produce city guides, processed over 100 million public pictures to count and measure smiles in Canadian cities. It rated smiles in geo-tagged photos on a scale of 0-100, giving higher scores to bigger smiles and lower scores to smaller grins, and produced a list of the top 25 happiest cities in Canada.
The results? Saskatchewan cities Regina and Saskatoon both made the top five, as did Quebec's Gatineau and Quebec City, while big cities Toronto and Vancouver ranked lower on the list.
Check out Canada's happiest cities. Story continues below slideshow
Source: Jetpac's Top Canadian cities in order of 'smile score'

Smile score: 17.7

Smile score: 20.2

Smile score: 21.3

Smile score: 23.6

Smile score: 24.1

Smile score: 25.4

Smile score: 25.6

Smile score: 26

Smile score: 26.2

Smile score: 26.8

Smile score: 27.2

Smile score: 27.2

Smile score: 27.3

Smile score: 27.6

Smile score: 27.9

Smile score: 28.1

Smile score: 29.3

Smile score: 29.4

Smile score: 29.8

Smile score: 32.3

Smile score: 33.4

Smile score: 33.8

Smile score: 34.5

Smile score: 36.2

Smile score: 40.2

Source: Reputation Institute

CITIES WITH THE WORST REPUTATION Based on a ranking of 100 cities with the best and worst reputations. Source: Reputation Institute
While scoring smiles is a creative way to judge happiness, previous reports have used a number of different factors.
Canada already had a good ranking for joyfulness, with the World Happiness Report listing the country as the sixth happiest in the world, thanks to qualities like high average income, long life expectancy and strong social ties, according to CBC.
The report also said a number of other variables largely explain differences in happiness levels, including freedom to make life choices, corruption and generosity.
'Happy City' author Charles Montgomery has also found that "the key ingredient to happy cities is positive social relationships, so the happy city is a social city."
"People who live in towers report trusting their neighbours less," he explained to Metro News in November, and he noted sprawl leads to longer commutes that can leave less time for social interaction.
And back in 2010, Lonely Planet named Montreal one of the world's happiest places, praising the "clean, welcoming and refreshingly multicultural" city and its Just For Laughs comedy festival.
Which places on the list have you visited? What qualities did they have that made you happy? Tell us in the comments.