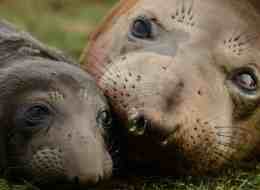 Bertha the elephant seal gave birth to a pup this week, with the whole thing streamed via a live feed from their home in the Strait of Juan de Fuca. And now, so many people want to catch a glimpse of the newborn that they're crashing the video stream.
The footage, focused on the pair's home at the Race Rocks Ecological Reserve, can only handle 30 viewers at once. Granted that's not a huge number, but it still demonstrates a heightened interest in the large and mysterious animal. (We've been trying to access the live feed to no avail. Sad face.)
Staff wrote on the website that the seals will be there for weeks, and that pup and mother were "doing well."
Race Rocks is the only place in the country where elephant seals breed, Friends of Ecological Reserves director Garry Fletcher told the Times Colonist. Adult elephant seals can weigh more than a car, Metro News reports, and usually prefer to breed in Oregon and California.
Check out pictures of Bertha and her baby:
Elephant Seal Pup Born At Race Rocks Ecological Reserve
Up Next: Harbour Seal Pups Released By Vancouver Aquarium

This gallery shows photos of a rehabilitated harbour seal pup with a satellite transmitter attached to its head.

NEXT: Vancouver Aquarium Releases Seal Pups

The Vancouver Aquarium released 11 seal pups at South Surrey's Crescent Beach on Saturday, Oct. 12.

The Vancouver Aquarium released 11 seal pups at South Surrey's Crescent Beach on Saturday, Oct. 12.

The Vancouver Aquarium released 11 seal pups at South Surrey's Crescent Beach on Saturday, Oct. 12.

The Vancouver Aquarium released 11 seal pups at South Surrey's Crescent Beach on Saturday, Oct. 12.

The Vancouver Aquarium released 11 seal pups at South Surrey's Crescent Beach on Saturday, Oct. 12.

The Vancouver Aquarium released 11 seal pups at South Surrey's Crescent Beach on Saturday, Oct. 12.

The Vancouver Aquarium released 11 seal pups at South Surrey's Crescent Beach on Saturday, Oct. 12.

The Vancouver Aquarium released 11 seal pups at South Surrey's Crescent Beach on Saturday, Oct. 12.

The Vancouver Aquarium released 11 seal pups at South Surrey's Crescent Beach on Saturday, Oct. 12.

The Vancouver Aquarium released 11 seal pups at South Surrey's Crescent Beach on Saturday, Oct. 12.

The Vancouver Aquarium released 11 seal pups at South Surrey's Crescent Beach on Saturday, Oct. 12.

The Vancouver Aquarium released 11 seal pups at South Surrey's Crescent Beach on Saturday, Oct. 12.

The Vancouver Aquarium released 11 seal pups at South Surrey's Crescent Beach on Saturday, Oct. 12.

The Vancouver Aquarium released 11 seal pups at South Surrey's Crescent Beach on Saturday, Oct. 12.

The Vancouver Aquarium released 11 seal pups at South Surrey's Crescent Beach on Saturday, Oct. 12.

The Vancouver Aquarium released 11 seal pups at South Surrey's Crescent Beach on Saturday, Oct. 12.

The Vancouver Aquarium released 11 seal pups at South Surrey's Crescent Beach on Saturday, Oct. 12.

The Vancouver Aquarium released 11 seal pups at South Surrey's Crescent Beach on Saturday, Oct. 12.

The Vancouver Aquarium released 11 seal pups at South Surrey's Crescent Beach on Saturday, Oct. 12.

The Vancouver Aquarium released 11 seal pups at South Surrey's Crescent Beach on Saturday, Oct. 12.

The Vancouver Aquarium released 11 seal pups at South Surrey's Crescent Beach on Saturday, Oct. 12.

The Vancouver Aquarium released 11 seal pups at South Surrey's Crescent Beach on Saturday, Oct. 12.

The Vancouver Aquarium released 11 seal pups at South Surrey's Crescent Beach on Saturday, Oct. 12.

The Vancouver Aquarium released 11 seal pups at South Surrey's Crescent Beach on Saturday, Oct. 12.

The Vancouver Aquarium released 11 seal pups at South Surrey's Crescent Beach on Saturday, Oct. 12.

The Vancouver Aquarium released 11 seal pups at South Surrey's Crescent Beach on Saturday, Oct. 12.

The Vancouver Aquarium released 11 seal pups at South Surrey's Crescent Beach on Saturday, Oct. 12.

The Vancouver Aquarium released 11 seal pups at South Surrey's Crescent Beach on Saturday, Oct. 12.

Rescued Seal Pup Red Square Arrives At Vancouver Aquarium

The first rescued seal pup of 2013 has arrived at the Vancouver Aquarium. Named Red Square by aquarium staff, the newborn seal is described as "feisty".

Meet Charlie and Simba -- two stray mutts that we adopted as seniors several years ago. Being around seniors who were abandoned but who never lost their amazing joyful spirit constantly reminds my family of resilience, forgiveness and living each moment to the fullest. --Dr. Patricia Fitzgerald, Wellness Editor, The Huffington Post Healthy Living

This is Walter, my 2-and-a-half-year-old terrier mix. He was born in a Los Angeles shelter and taken in by a woman who runs an independent rescue from her house. By way of Petfinder, I found him, fell in love with his photo and immediately adopted him when he was 3 months old. We have since moved to NYC, where he is a fixture at the Union Square dog park. Walter has been an amazing, playful and affectionate companion, making friends wherever he goes! --Lori Fishkin, Account Manager, AOL

This is Derrick, our rescue kitteh who a friend of a friend found by the side of the road. Derrick's about 3-and-a-half years old. -Arin Greenwood, Associate Editor, The Huffington Post DC

And this is Murray, our rescue pointer mix, who we got from a DC group called Rescue Angels. Murray is about 3. We spoil them rotten. -Arin Greenwood, Associate Editor, The Huffington Post DC

Astro was adopted as a kitten from the Detroit Humane Society. He was the only boy in a litter with four sisters. --Simone Landon, Editor, The Huffington Post Detroit

Earl is still a baby (about six months old). We found him when he was a tiny kitten on Spencer Place in Brooklyn at around 4 a.m. and made the impulsive decision to bring him home. He and Astro are best buds. --Simone Landon, Editor, The Huffington Post Detroit

Doozer Monkey, left, and his siblings were found in a ditch near a house on Long Island five years ago, shortly after they had been born. The mother cat had just been hit by a car. Doozer was the runt of the litter and had a horrible infection in his right eye that left a scar -- one of the reasons my husband and I think he was overlooked by others looking to adopt. He's extremely affectionate and playful -- and sneaky. He steals things and hides his toys all over the house, thus the "Monkey" part of his name. We adopted Figgy Monster seven years ago at an upstate animal shelter when he was just 2 months old. He was also the last of his brothers and sisters to be adopted. He has a stubby little tail, a birth defect that might explain why we found him all alone in his cage at the shelter. Figgy can be lovable one minute and then lash out the next -- part of the reason we tacked "Monster" onto his name -- but he can also be a little cuddle monster who loves to sit with us on the couch and nap with us. --Jennifer Spugnardi, Editing and Quality Manager, Seed Team, AOL Huffington Post Media Group

My pooch Daisy. She's two-and-a-half. Rescued from a high-kill shelter in West Virginia by a group in Alexandria, Virginia called A Forever Home. She's mostly Australian Cattle Dog, though I'm pretty sure there's Beagle and some sort of pointer in there, too. Sweetest, most affectionate dog I've ever owned. --Radley Balko, Senior Writer, The Huffington Post

This is Artie, the lovable 10-month-old, red-nosed pit bull. My partner, David, had decided to volunteer at Animal Haven, the shelter in Soho, after our 14-year-old pit bull, Gina, had passed on. Not a good idea, considering that we were supposedly not going to get a another dog any time soon. Well, after two weeks of volunteering at the shelter, Artie, then three months old, was brought in, and we soon had a new doggie. He'd come from the New York City shelter. We were told that when pit bulls turn up at the city shelter at that age they're often brought in by the police, picked up in a drug arrest. So now, instead of guarding a drug den, he is playing at Puppy Loft with lots of other pups and sitting in our laps because he thinks he's a Yorkie (and please don't tell him otherwise!). --Michelangelo Signorile, Editor-at-Large, The Huffington Post Gay Voices

My first job was at an animal shelter. It was a job that I loved so much I stayed for almost 10 years. Ecru was brought in by a lady who said he belonged to her neighbor who had been in a tragic accident the week before. She assumed someone had taken care of Ecru, but she found him in his back yard pen, and it was obvious he had not eaten in quite some time. He was so happy to be around people again he jumped up and bounced around the lobby, and then he came at me. By the picture you can tell he was as big as I am, but he raised up and put his paws on my shoulders. I knew immediately he belonged with me. The vet checked him out and told me to take him home, that he was too malnourished to be neutered at that time. He was full of energy. Anyone who tried to walk him on a leash found themselves running to try and keep up with him. He never had any training of any kind, however when he was with me he stayed right by my side. He never pulled the leash, he never walked one step in front or one step behind -- he stayed by my side. This picture was taken on one of our happiest days. There was a dog show to benefit the shelter. This picture was taken as I walked Ecru to the front of the line to accept his Best in Show Award. He has recently passed, but out of the many rescues I have had over the years he holds a special place in my heart. --Carla Lohr

Here are Bing and Nellie. Bing (beagle and whippet?) was rescued with the rest of his litter on a roadside after their mother was killed by a car. He is now about four years old. Nellie (border collie and black lab) was picked up on the streets of Trenton, NJ, and is now about eight years old. --Brad Hill, VP, Audience Development, AOL

Meet Roscoe, a dapper cat who always wears his "tuxedo" when it's after 6 (other cats: what are you, farmers?). I adopted him three years ago from the Burlington County Animal Shelter in New Jersey when I was looking for another buddy for my other cat, Cookie. It was actually the second shelter that he had been too -- even though he has a sweet personality, many people have a heart-breaking bias against black cats. Even tuxedo-wearing ones. Roscoe patiently lets Cookie jump over him, welcomes all guests into my apartment and tolerates the Cosby sweater he occasional dons when it gets chilly in our apartment. --Brie Dyas, Editor, Styleist Home

I adopted Cooper, a Sharpei-mutt, about two years ago from Sean Casey Animal Rescue in Brooklyn. He's probably six to eight years old now. Sweetest, kindest and laziest dog ever. --Liena Zagare, Editor, The Huffington Post

Pepper FTW! Adopted her this month and she completely rules. --Zach Carter, Senior Political Economy Reporter, The Huffington Post

This is Rocky, an American Staffordshire Terrier I adopted in 2008. He was raised as a bait dog by a fighting ring and still bears the scars -- but only physically! He wasn't much of a fighter, so eventually he was just tied with wire to a tree outside an apparent drug house, where he couldn't reach drinking water. The wire grew into the skin around his neck, and he ate his own feces to survive while starving down to skin and bones. Today he is a happy, handsome, immaculately behaved boy who is patient and loving with children and even obeys silent hand commands. He is a living reminder that pit bull breeds deserve love, too. --Janie Campbell, Editor, The Huffington Post Miami

Henry the Greyhound was a retired racer from Orlando, Florida. He was not very successful on the track and was brought up to northern Virginia by a local rescue group. Henry is a true couch potato; he loves the life of leisure! Rusty the Norwich Terrier was found at the local animal control shelter one morning by a worker. Rusty was in a crate left by the front door with no explanation or information. We had just lost a little dog due to old age and were looking for a new little dog to keep Henry company. Rusty fit the bill and is a highly-energetic bundle of joy. Alan Zlotky, Photo Manager, AOL

This is Congressman CatFace (D-Under The Covers), whose constituents know him affectionately as CatFacedCat. We met in '08 at the Manassas, Va. County animal shelter, where the congressman was facing tough reelection prospects: For one, he had kennel cough and parasites, he wasn't neutered and, as an adult black cat, his odds of being adopted were slim. But we turned things around, and even recently got redistricted into a bigger apartment. More room to kiss babies and ride on parade floats, naturally. Vote CatFace 2012! --Christina Wilkie, The Huffington Post

This is Charlie. We adopted him from the animal shelter where he was born in Providence, RI. His original name was "Leatherface" (he and his brothers were born around Halloween, and all named after horror movie characters) but we went for Charlie because of his little mustache. Hey, it's better than Adolf. --Andrew Losowsky, Books Editor, The Huffington Post

Oogie was rescued during the worst time of my life, months after my best friend had passed away. I was concerned I wouldn't have enough "puppy energy" for him, but he has been the ultimate cure for depression. His has the typical pug expressions and silliness that make me laugh and smile every single day. Talk about a blessing! --Renee Pirie, Patch

This is Ruca, our 3-year-old Bengal mix. We rescued her from the Petco in Union Square in New York City over two years ago. She is a very rambunctious girl with an unhealthy obsession for boxes. --Jordan Schultz, Sports Columnist, The Huffington Post

The big orange Main Coon is our favorite lug, Felix. We rescued him nearly five years ago when he was trapped inside a car engine as a baby in L.A. We think he was somehow separated from his mother because he was very malnourished and obviously very greasy from the car. Now, he has become an incredible addition, sleeping extraordinaire and lover of all people and animals. Lexi, whom he has become fast friends with, is a wonderful English Coonhound, Akita and spaniel mix whom we rescued about four months ago. She comes from South Carolina, and we think she very well might have been displaced from her family after Hurricane Irene. Even still, she was never properly socialized or trained. Now, after a short time, she is the perfect family dog, though who loves to play with all cats and dogs alike! --Jordan Schultz, Sports Columnist, The Huffington Post

Meet Rusty. He's a 4-year-old Australian shepherd/Greater Swiss mountain dog mix adopted from the Dumb Friends League in Denver seven months ago. He's a belly-rub fiend that -- inexplicably -- prefers to sit with his front legs crossed. Loves eating snow, exercising in the mountains and wears his sunglasses at night (see inset). --Ryan Grenoble, Associate Editor, The Huffington Post Denver

We got our now 14-year-old Golden Retriever Buddy from a rescue group when he was 6. Plenty of life still left in the old guy, shown here fetching tennis balls in the lake. --Ann Brenoff, Senior Writer, The Huffington Post

We are a two-dog household and only acquire our dogs from rescue groups or shelters, which is where our pretty little Dolce girl came from. A Bichon-Poodle mix (a Bichadoodle?), everything she does, including sleep, is adorable. --Ann Brenoff, Senior Writer, The Huffington Post

This is Daxter Bailey, or as I lovingly call him, Dax. About eight years ago, I was feeling pretty down, and decided to go volunteer some time on a rainy October afternoon at my local Humane Society. I was cleaning out the cat and kitten cages and had one kitten left to put back. I sat down on the bench in the little room where he'd been out and about playing while I cleaned his cage, and as soon as I sat down, he walked over, used his little claws to climb from the floor up my leg, and then walked up my body to curl up under my chin, where he promptly fell fast asleep, somehow managing to snore and purr at the same time. It was almost like I had no choice. I adopted him that night, and he has been with me ever since, living all over the country, from Colorado to Florida to Arizona. --Paige Harmes, Lead Moderator, The Huffington Post Media Group

And this is Rylie, my parent's adopted "teenager." She's a 2- to 3-year-old mutt! They adopted her just this January, from The Animal House in Ft. Collins, CO. The story my parents were told was that she was lost/abandoned somewhere near Ft. Riley, Kansas, which also happened to be where my brother has been stationed the last several years (when not deployed), while he was in the Army. She was found there, and for some reason, was sent to the shelter in Ft. Collins, where my parents took one look at her and fell in love. So in honor of the army base where my brother had been, and of where she was found, they named her Rylie. She's a sweet little thing, and my parents are glad every day that they brought her into their family. --Paige Harmes, Lead Moderator, The Huffington Post Media Group

This is Scrabble. He found us on a trip to the North Shore Animal League when we went to find out about volunteering -- and came home with a furry child instead. He was just a 2-month-old Boxer/Greyhound mix when he entered our lives. Now we've had him for almost six years, and he spends every night lying on our laps with this exact face. --Annemarie Dooling, Community Editor, The Huffington Post

Izzy has been with me for three years. She is the light in my life. Izzy adopted me after she was found roaming the streets of Brooklyn and was brought to Mighty Mutts, the rescue organization I volunteer for. She looked so lost and was indifferent to all people. I took her in as a foster and everything changed for both of us. A week later, I went to show her at Union Square (Mighty Mutts shows dogs there Saturdays all year long). She was completely attached to me and would sit with no other volunteers but me. She even started whining for me when I would walk away. When potential adopters came and asked me about Izzy, I talked her down to everyone after realizing quickly I wanted her myself. Contrary to what most people believe about rescue dogs, a lot are trained sweethearts, but abandoned for monetary or other reasons. Izzy was already fully-trained when she came home with me. --Vanessa Stasco, Recruiter, AOL

Mr. Ted E. Bear (left) was rescued from a well-meaning hoarder, who had more than 40 dogs in her home. At 8 years old, he sat at the shelter for four months until I decided to give him a try. Now, "everyone" wants to keep Ted when meeting him, yet he sat their for four months with no one wanting him. Yogi Bear (right) stopped by with a neighbor who was fostering him. The neighbor asked if we knew anyone looking to adopt, and Ted E. darted out the door and the two started playing. So, we decided to keep Yogi as Ted's friend. At 10 months old, Yogi had never been inside a house, having lived on the streets of Bakersfield. In the middle of the night, he used to let himself outside the dog door and sleep on the cement in the back yard, as it's all he knew. Now, he sleeps through the night on a king-sized bed. --Beverly Atkins, Account Director, AOL

Meet Zoe, Lola and Neena. Zoe was left on the railroad tracks, Lola was taken to a shelter to be killed to teach some children a lesson and Neena was dumped on the streets of a big city. They now have their "forever" home and are the biggest love bugs at 10, 9 and 2. --Debra Mattson

I met Natalie with her foster mom on the street in Saratoga. I was dining outside with friends in preparation for a Dixie Chicks concert. Ironically I had seen Natalie and her caretaker an hour earlier in Los Gatos but did not have time to engage them. Well, after 30 minutes of holding her and asking numerous questions, I knew she was the perfect addition to our family. Here is the clincher: She was found abandoned on a farm with her two sisters, Emily and Marty. The foster group had named them for the Dixie Chicks and there I was off to see my favorite girl group, knowing that in a few days my Natalie would be coming home. --Kimberly Kennedy Walsh

Haveissues:Leo was a 2x rescue dog (rescued by my son and his girlfriend, then by us from them). He is about a year and a half old, very energetic and a clown. We have had purebreds and mutts over the years and I still like mustts the best.

mother305:Daisy came first just needed a home with attention, 2 years ago she lost her best friend to old age so along came Millie. Millie is from a shelter in Kankakee whos picture showed up on facebook. My husband I drive down and back with Daisy to see if they would be good together. Now we have the two most wonderful girls and happy girls too

whisperer:One of all my rescues.

m00ns4mmy:we rescued Jude from S.T.A.R.T. (save the animals rescue team) 12 years ago in a new jersey petco. form her foster family we learned that they "liberated" her from a very cold and lonely life outside of a local dive bar. she was about 1 year old when we got her. she still bears some of the emotional scars...afraid if we move too quickly and is never seen by strangers. but she loves us so very much and we would be lost without her.

edeyoun2:Penny was adopted 5 years ago from the Champaign County Humane Society in Illinois. I was looking for a kitten, but after spending just a couple minutes with her I fell in love.

palmqfam:Chloe, a purebred Cardigan Welsh Corgi, was rescued at 8 weeks old by Midwest Bloodhound Rescue from a kill shelter in Alabama. I saw her on Pet Finders online and fell in absolute love with her. My little bull terrier and I drove to see if we would get along and ended up all driving home together. She is now 2 years old and is the dominant poochie in my house. The cats aren't that impressed, though. Smart, cute, fun, adorable, sassy, and I couldn't live without my little Cloezone.

Anne Siperek:I was found running down a freeway in NJ, so the shelter my owner rescued me from decided to name me Freeway. Boy, am I a lucky dog! Now I live in Florida!

edeyoun2:Matty was rescued at 10 months from a kill shelter in Georgia by Mobile Mutts Rescue Transports. Mobile Mutts drives dogs from kill shelters in the south to rescues and non-kill shelters up north. Champaign, IL is where these pups spend the night. One night is all I needed to fall in love with Matty, whose name was A444497 at the time. I was so heartbroken when I had to give her back to be taken to MUSHR, a Minnesota Husky rescue, that the next weekend I drove 9 hours to get her back. Best decision I ever made!

Brittany Rae Barry:Cici was found by a friend of a friend in her shed when she was only 3 weeks old. My husband and I were looking to adopt a kitty and it was perfect timing. She was the cutest kitten I'd ever seen, and now she's a beautiful 2 year old cat. Since she's a calico, she's definitely sassy, and she lets you know when she expects snuggle time. We love her!

redhand1:Lady was adopted from Greyhound Rescue, Inc. from West Virginia. She never raced at the track, just disposed of. I fell in love with her from her picture online (online relationships can work out!) when I was recovering from radiation treatments for cancer. She is the love of my life and I can't imagine my life without her. If you must, for some reason, have a purebred dog, there are lots of breed rescue groups out there. Use the internet! And consider a greyhound: the sweetest, gentlest, prettiest dogs I know.

klwolff:Shelby came into my life almost 2 years ago. she was cared for in shelter in TN and now is part of my family in CT. She is the latest in a long line of shelter dogs and cats I have loved. I wish more people would consider shelters for their next companion

HelenKGarber:We saw Oliver at the animal set up at Gold's Gym Venice. The director said that he was a Xmas present gone wrong for a little boy in Orange County. Although purchased for a large sum of money in a pet store (meaning puppy mill spaniel), he was dumped off like trash at the rescue center 4 months before. He was 1 1/2 years old. We quickly went home to get our 13 year old rescue, Dudley to see if they would get along. It looked good, so we brought him home. Although sweet and adorable looking, he had some major trust issues and was a snapper and biter. It was obvious that he had been struck by adult males by the way he reacted to most. Once he learned to relax and trust us, he became a marvelous dog. As sweet and adorable as he looks here. We can now trust him as much as he can trust us. Oliver is a wonderful companion to our 14.5 year old, Dudley. He brought our competitive alpha male, Dudley back to life who races up and down the stairs with him as if he was only 5 years old

Oliver, a Spaniel Mix that was rescued by the Garber family, enjoys his first outing at the beach. Stuart H. Garber and Springer Spaniel big brother, Dudley, join him and introduce him to the ocean and the sand. Oliver, a Spaniel mix, the newest rescued member of the Garber Pack joins them for a romp. Good Dog rescue said that Oliver was owner relinquished. Purchased from a pet store about a year before (which means puppy mill spaniel), given up after the man's son didn't want to play with him anymore.

Pandymariee:This is Lucky. The sweetest, most loving, and snuggly mutt you'll ever meet. She has short stumpy legs like a Corgi, big ears like a german shephard and a cute body like a Beagle. She was found as a 7 or 8 week old puppy under a wheelchair ramp of a trailer in rural South Carolina. She was covered in fleas and had a belly full of worms. She is very timid if she doesn't know you and will hide from you due to the possible abuse she suffered from by the people who had her from birth. She is now 2 and a half years old and couldn't be happier. She loves being outside and is spoiled rotten!

HelenKGarber:When our first springer rescue Benchley became fragile, I found out how difficult it was to manage a weak 70 lb dog. 6 months after he passed I searched the English Springer Spaniel Rescue website for a dog that looked like Benchley, but weighed no more than 50 lbs. I wanted another owner relinquished dog as well as another middle aged male. Dudley matched the bill and his name sealed the deal. I had just rented on studio on Venice Beach and passed Dudley Ave on the way to the studio. We drove 5 1/2 hours each way to pick him up and he has been with us ever since. At 14.5 he still has a great deal of energy, can still join us for our walks to the Santa Monica Pier and back and is totally obsessed by food...Hence sharing his favorite LA Times section with his forever Dad, Dr. Stuart H. Garber circa 2004

groovyjc:We got Shadow from the local animal shelter when he was about 3 months old. He'd been left in a carrier on the side of the road. My husband loved shepherds, so we decided to adopt him even though we were a bit wary of a pure bred dog. He is quite sensitive compared to our other mutt, but we love him. He's really just a big baby who loves to play with our other dog and his two-legged family too!

pkgdiva:Lola was born to a feral colony, and spent four years in a shelter before I adopted her in 2001. If she's not on my lap, she's in her bed on my desk.

groovyjc:Lucy is a sweet German Shepherd, Lab, Pitbull mix. She was kept in a kennel outside with her brothers and sisters until she was taken to our local animal shelter at 4 months of age. Poor thing had never been walked, been exposed to people and had never walked on a floor before she went to the shelter. She was so scared when we got her, afraid of people walking down the street, wind, paper bags, you name it! But she's slowly come out of her shell and if you just quietly let her approach you and hang out near you, she'll be your best friend. She's a love and funny too!

Vixenroo:I met Cleo when I first unwittingly stumbled onto the front lines of Rescue. I thought I was simply being a good neighbor, helping a kind older lady catch the wild kittens that had been born in her yard and were now frustratingly out of reach under her deck. Little did I know that this would be the catalyst to change my status from compassionate social do-gooder to the Crazy Cat Lady down the street. Virginia had been feeding "strays" and giving them a safe haven in her yard without realizing that is only half the equation to end the cycle of suffering. This was my first big lesson too, so eyes wide open I naively jumped into the fray. I got some good advice and set about trapping the kittens and what I had been told were three or four adult cats (the number actually being thirteen). The kittens were still young enough to tame and place in new homes. The adults were returned to the yard sans their reproductive parts and the tip of their right ear to forevermore identify them as "feral" cats. Over the next several years Virginia continued to feed and keep a watchful eye on her semi-wild friends. Sometimes I'd have to trap a cat that was obviously ill, sometimes they would just stop coming to the dishes and we'd be left sadly wondering what happened to them. Slowly their numbers decreased until there were only three cats left from the original colony. When Virginia's dementia finally forced her from her home, my husband and I relocated Gigi, (the majestic, truly-feral Russian Blue), Barbie, (the black beauty who turned out to be a lap cat) and the shy, gentle tabby girl, Cleo. We built them a habitat on the back of our house to help them adjust to their change in territory and when released they did quite well. Barbie insisted she was now a house cat and refused to venture fourth into the big bad world again. Gigi took up leadership in our yard, but Cleo was just too timid to hold her ground with the other animals here and after a while we rarely saw her even on the fringes.  Weeks would tick by without a sighting and right at the moment I'd be losing all hope, she'd allow me to catch a glimpse of her and relieve the tightness in my chest. On the south side of our house we have a protected narrow alleyway. In it we placed a shelter converted from an old stereo cabinet, my plan being to trap and enclose Cleo there for her own protection. I hesitated to intercede. For the sake of my peace of mind, I would be robbing her of her freedom. My friend Gretchen, who is an animal communicator, asked Cleo to consider it. Now here's the amazing part... Cleo must have thought it was a good idea because shortly after the "conversation" Cleo took up residence there! These days Cleo can be seen lounging lazily in the afternoon sun and when I call her for dinner she's never late. Gratefully I see her sweet face peek around the corner and she greets me with an adorable half meow, half hiss. It melts my heart to know in her geriatric years she has chosen trust over fear, come off the mean streets, and is finally home at last.

pkgdiva:Sherman was surrendered to a shelter at 11 after a vet refused to euthanize this healthy cat. He's a very sweet and cuddly boy with a HUGE purr! I adopted him in 2009.

pkgdiva:Poopffe was found after his family abondoned him when they moved. He's put on six pounds and finally grown into his enormous paws since I adopted him in 2009.

wilsontrees:Ranger the shepherd mix was going to be killed by a farmer. He survived parvovirus and was rescued by a local organization,adopted by me. Ollie was a stray and bounced from shelter to shelter, along with being rejected by an adopting family. They are each other's boon companions and adored by our family.

JXA:We found the very pregnant mother in a Denny's parking lot on Christmas day. All five puppies now have good homes!

HelenKGarber:I wanted an adult Benchley to pair with our lovely 2 year old female Springer Spaniel Mrs. Parker. Before the internet, you would look for dogs in the classified ads in the newspaper. I scoured the Santa Monica Evening Outlook everyday and then I found who I was looking for. Benson: Liver and White Springer Spaniel, 5 years old. Benson was so closed to Benchley, that I knew he answer to his new name right away. They loved each other dearly as I had hoped for and spent the next 71/2 years together until he passed away.

Jenine Combs:The sweetest chow chow you'll ever meet, at least according to her vet and everyone else who meets her. Kota was adopted from the San Diego County Animal Shelter in July 2006. A volunteer had posted her info on Craigslist because she was deteriorating at the shelter after being there for over a month. She had been picked up in a rough part of town. She was labeled as "dog aggressive", but after bringing a friend's dog to the shelter to play with her, that was quickly proven wrong. We asked to have a couple of days to think it over, but were unofficially told that she would likely be put down within a day or two if she wasn't adopted. We immediately decided to take her home that night. Kota is now the queen of the house, along with our 2 cats. As we say regularly, she went from the "pound to the penthouse"!

Sarah Swanson:This is my Shepherd Beagle, Sophie. She was "arrested" and brought to the Everett Animal Shelter by the tribal police. She is wonderful and I love her. She has added so much to our lives.

closet librarian:Rescued from the San Diego animal shelter. Booka (short for Bugaboo) was not considered an easily adoptable cat because he was black, and Rizhik (means "little cute redhead" in Russian) was semi-feral. Booka was lap fungus from the beginning, and it took a while, but now Rizhik is a love-kitteh too! Happy pets, happy people! ;)

kimmy3480:Adopting Sedgwick, our beloved Shih Tzu, from Animal Care and Control changed our lives.

Sharon Darnell Ganzhorn:My precious SweetPea adopted from Gloucester-Mathews Humane Society in VA 5 years ago. She is the beloved darling of our household.

urkiddinme:Adopt-a-Bull pitbull rescue on Cape Cod found out about a litter of pitbulls in a neglected situation in a town nearby. When they took Lotus, she was living in a crate with her littermates in waste up to their ankles. She had a urinary tract infection and rotted nails. We met her at 9 weeks old and had to wait until she had been spayed to officially adopt her. We also had to introduce her to our three year old, 134-lb Land of Giants pitbull, Mojo. They immediately established a big brother/little sister bond and now spend their days together...sleeping!

Amber Roth DeGrace:Rescued in 2011 from SPCA of York County, PA.

Erin Sassaman:Oliver was transported from a kill shelter down south to NY. Found him on Petfinders and fell in love! Although we had a challenging start, he has worked his way up to being my favorite, sweetest adoption of all time!

Amber Roth DeGrace:Rescued in 2011 from SPCA of York County, PA

Kelly Smith Kraff:Myles was rescued by the Atlnata Boxer Rescue. He was nursed to health by an amazing volunteer who fostered him until he was ready to move on to another foster home where he has a fur-sister to play with and a family who adore him. He is RESILIENT and strong and has a heart of gold!

Amber Roth DeGrace:Rescued in 2006 from Monmouth County SPCA, New Jersey. We worked with a Cane Corso rescue group to find her.

daxter:Eleanor was a research dog. She was bred for that purpose. She only knew her kennel from when she was a puppy until she was three. She as a tattoo in her right ear and cut vocal cords, that makes her bark sound raspy. Which a friend nicknamed her Kathleen Turner. She was adopted by one of the individuals that worked in the lab, and six months later turned over to Wonder Dog Rescue in San Francisco. That is when she came into my life and I fell in love with her. She still has some emotional scars, but she is one happy dog that loves cuddling and treats!

Marg Gotwald:Ozzie on the left was thrown out of a car in Southern VA, rescued by a witness, fostered by a Rescue group until I found him on Petfinder. Gus, was being fostered by a rescue that retrieved him from a high kill shelter in WV, again found him on Petfinder and adopted him as a playmate for Ozzie who was delighted!

Chastity Pine:I adopted Sampson from the shelter when he was a kitten. He was found in a dumpster before he was taken in. When I went to look at cats, he kept reaching his paw out and smacking me with it. I fell in love. Delilah was rescued from an abusive home a few months after Sampson was adopted. She was beaten, neglected, and kept in a cage. They are both 9 years now and best pals!

dstone11:These dogs were abandoned when they were just weeks old. We were lucky to be able to adopt them, they are almost 2 now and are the most lovable dogs.

Sara Brooks:Crake (tuxedo) was found 2 and a half years ago on my back porch, all skinny and tiny. I think this mom had him and his sister under there. He is a true momma's boy, all cuddly and sweet with me, but afraid of other people. Malcolm (sliver tabby) was found wandering my neighborhood in November at about 6 months old, super friendly and well-adjusted for a stray. He is sweet and cuddly as well, but also jealous, will eat anything that isn't nailed down-especially if it is on my plate-and has a purr that will shake rafters. They are the joys of my life.

Ness7085:My senior dog Zeus is 9 years old. I adopted him in September and it was love at first sight. He is the most loving gentle thing you will ever meet. How he ended up in not just one but two different shelters still baffles me.

Allan H Clark:Baxter had been adopted and returned—he was too nervous to go into their house. He is a wonderful dog, well trained and very affectionate, a shy sweet animal who brings joy to us.

azepsantaniello:This is Hatch, rescued from the Perth Amboy, NJ animal shelter 5 years ago. Seems he is a pure bred wire hair pointing griffon. And, that is his happy face.

meeghank:Murphy and Molly were both brought up by rescue groups from kill shelters in the south. They now spend their days chasing squirrels, playing, stealing pizza, going on roadtrips and trying to climb trees in Boston! We don't know their exact breeds, but as far as we're concerned, they are the cutest Pittreiver and Irish Mousehound ever!

Lindsay Goins:I fostered Junior and his 4 siblings from the humane society, with their mom, so i wouldn't be so lonely the first time I lived alone. I told myself every day I wasn't allowed to keep any, and I diligently found homes for all his brothers and sisters with friends at school; but when it came down to the day they were all leaving me, I couldn't say goodbye to him! Now he's an important part of my family and he makes me happy every day.

Urfubar12:This is Jezebel and she is traditional bone mouth Shar Pei. When I was at the vet to pickup a perscription for my other dog I noticed a breeder with about 13 dogs. The vet told the man that (my dog) had pricked ears and he couldn't show her or sell her for the amount of money he wanted. On his way out of the door he told his partner "On the way back I'm gonna toss this one on the side of the road." I grabbed his arm and spun him around and asked "Are you being serious?" He replied "Uh, yeah..she ain't worth nothin. You want her?" I snatched her out of his hands so fast, she must have been a blur. I'm totally in love with this dog. She is such a sweet little cuddly dog, and her ears? One of my favorite features!!

Jamie Romas:Mister Wilson is a 4-year old Queensland Heeler mix (mixed with what, no one knows...) I adopted him from the Sacramento County Animal Shelter, where he was named Wilson. For some reason people just started calling him "Mister Wilson" and it stuck.

Salanry:I rescued Daisy last year from a shelter in Dallas. She is a great companion dog and has changed my life. She thinks she is a big dog and gets along with dogs of all sizes. Favorite activities include: eating, sleeping, hanging with her wolf pack, going to the park.

autumnheart:"I get a new dog every twelve years…" said the man who brought his dog into the animal shelter. Meet Schooner. He's got old man teeth, old man bones, and old man muscles, but he's got the heart of a young pup. He's ours now and we love him dearly.

Brynn Hoffman:Biscuit and Bruegger were both adopted through a local rescue organization. They are two of the sweetest and cutest dogs you will ever meet!

KyLee Boyd Vonderharr:Zander our resuce dog came to us via Secondhand Hounds out of Edina, MN. They rescued him from a high kill shelter in Missouri. We've had this dog 3 months and he is amazing. In a matter of 5 weeks he passed 3 levels of training and is a few short classes away from being a certified therapy dog. He is amazing and we are beyond blessed with his sweet personality. Rescue dogs are the BEST!

legosmom:Our three shelter puppies - "Luna" the Puggle, "Lego"(unknown probably Jack Russell/Chihuahua and "The Cheagle" - Beagle/Chihuahua aka Sausage. All three rescued from the Sonoma County Animal Shelter. Our lives are immeasurably richer by their everyday antics. And believe me, the three of them are a lot of fun together.

mspeep:This is the formerly feral Peep who now will never venture outside again. Inside is the place to be!

Naithom:We discovered Precious, beaten, bloodied & dragging 8 feet of chain. We took him in and in healing him, he healed us. He was with us for 14 years but he will be a part of us forever.

Massiel Bobadilla:This is our beautiful shepherd/lab mix, Moana (officially, Princesa Moana San Roque). We adopted her last summer from a rescue that saved her from the high kill shelter in Devore, CA. Since then, she has become the most loved, most spoiled, sweetest thing to ever come into our lives. She's still a little shy around strangers --we think she may have run away from an abusive home-- but once you've earned her trust, she will shower you with unconditional love and kisses. We named her after the main character in "Pan's Labyrinth"...the little girl, Ofelia/Princesa Moana. She once had a life of suffering and loneliness, but was eventually reborn as the princess she was always meant to be. We just adore our sweet baby girl

jlgrounds:This is my boy that was one of five puppies left on a busy road. While this shows how he inspired me to buy a new sofa, he is a total joy to me. I got him at a shelter while wearing my Obama t-shirt...hence his wonderful name

Elena Trebaol:Shasta I adopted at 4 months from Seattle Animal Shelter. She was my first pet ever and she just turned 8. Penny I got from a puppy rescue at 7 weeks - I had never even been around a puppy and had no idea what I was doing, but she just turned 3 and is wonderful in spite of turning my life completely upside down. Sherman though, his story was heartbreaking. I was fostering a mommy cat and her 4 week old litter. I brought them in to get some shots, and the foster coordinator told me that they needed to take mommy cat immediately to see if she would nurse a litter of 7 10-day-old kittens that had been dumped at the shelter. They were just about to euthanize all of them when I walked in. I ended up taking everyone home (Mommy cat Panda, her 4 big kittens, and the 6 little kittens (one died while at the shelter.) I lost three more at home. I was wiping the crusties off one of the kittens swollen eyes (realizing their eyes shouldn't be so puffy...and they should be open by now...)and the seal broke and puss just poured down his face, I swear he took one look at the world and gave up. Three survived, but when I brought them in for their 4 week shots I was told they were all FIV positive and would be euthanized. I balked and took them all home with me and found good homes - turned out they just had antibodies from their birthmom, and at 8 weeks they were completely healthy. Sherman weighs 20 pounds now - I think he must be part ragdoll. All three are the best things that could have ever happened to me.

MissMiniMonster:Her original owners found her on their property but gave her up when she was diagnosed with FIV. I adopted her in November 2010 when she was about six months old.

shanhautman:In 2009, Tula was rescued from a kill facility by Alive Rescue in Chicago. We adopted her not to soon after. She is the light of our lives!

cadreamer14:This is Little Pierre. I found him in a Target parking lot a year ago. He was only 4 months old and so skinny and hungry that he was licking crumbs off the sidewalk. Now he is a very happy, playful (and mischievous!) and well fed kitty! Thanks to his survival instincts that helped him survive a winter in a parking lot, he still likes to "dumpster dive" in our kitchen trash cans. We'll frequently hear a "crash" and see Little Pierre at the bottom of a trash can, looking innocently up at us. :)

Kerr Mudgeon:This is Tripoli, Trip for short. We adopted him from the Charlotte Humane Society last September. He's a 7 year young English Cocker Spaniel, and is a wonderfully behaved gentleman who has brought a lot of joy to our lives. Hard to believe anyone could give up this loving boy, but we're glad we found him and made him a member of our pack.

DEM1976:My Wife and I rescued Punkin in the Fall of 2009. She had recently given birth, and was hit by a car. The rescue organization had named her Jetta, and my Wife and I decided that was bad karma and renamed her Punkin. We can't remember what it was like to not have her in our lives. Every day we come home, and I worry the dog may need a spinal adjustment she wags her tail so ferociously. Rescue dogs are the best.

mariadperez:Toody is a 4-year-old poodle mix who was abandoned to the streets, probably because he's blind. As you can see from the picture, he has a very hard life now. ;-) I love this little mutt, and he has made my life immeasurably better by his mere presence.

Terry Childers:From L to R: Foxie our oldest is a rescue dog from Chicago. La Otra, Miss Peepers, Buddy & Sombra came to us from the streets here in Costa Rica. They add joy to our lives every day.

Whitney Hanson:I rescued Quinn from a small shelter near Austin, TX called Humane Society of Williamson County. She had spent almost her entire life in the shelter and has never let me forget how grateful she is to have a home and a family.

drromani:After my old dog died we decided to adopt another. Because my husband was out of town so much I wanted the meanest, most ferocious dog I could find for protection. Lo and behold "Bella" not only would not bite but she would not bark! I don't have a watchdog but I do have the most loving friend I could ever need! Both Bella and I are taking karate classes just incase that burglar does come around!

soundmangreen:Picked her up from an LA County Shelter 6 months ago. Best decision I've ever made. When I tell strangers she's from the shelter they always say "They have dogs like her at the pound!?"

Lori Goldstein:When we lost out two dachshunds we decided not to adopt anymore dogs for a while, but every night I was glued to petfinder.com. When I came across these three girls I gingerly inquired about them, clearly stating that it was impossible for me to adopt for the foreseeable future. Within minutes I received an email response thanking me for agreeing to adopt the bonded three. I've been madly in love ever since! They were five at the time and now they are almost 12 years old.

Lori Gibbs:This is Suki, a Corgi and Dachshund mix. I rescued her from a shelter after she was picked up as a stray in Lincoln, Nebraska. When I first saw her sitting in a kennel, she was curled up in a ball and looked so scared, as all the dogs around her barked and begged for attention. I fell in love with her instantly. She had fleas, and was in pain from being spayed, but she quickly recovered. Since then, in the past four years, she has instantly loved everyone she's met, and is the sweetest dog in the world. Even though her past humans abandoned her, she never needed any training. She'll obey any command she understands. She loves warm blankets, playing tug of war, begging on two legs, burying rawhides in the backyard, all human food, and belly rubs. She is spoiled rotten.

Lisa Seay:Ellie had been at a shelter in Knoxville TN. A coworker saw her and told me about her. I've had for almost nine years now. She is approximately 12 years old. Best decision I ever made. Lisa, Knoxville TN

Patti Conte Allen:Luke's 70th Birthday Luau...enjoying the day at the pool...with his friends and family in Orange Park Florida! rescued from Jacksonville Humane society in 1999

stpgirlie:I was lucky enough to be the first one in line at the shelter after they put his picture up at the local humane society. He was about 3 months old, and so cute! I hadn't expected to fall for a Golden mix, but here I am, with 110 lbs of love! Wish we knew what he was mixed with, though!

Pimpson:I rescued Izzy 4 years ago from the Richmond Animal League. She and her sisters were found under an abandoned house. We think she is a Greyhound/German Shepherd mix. She loves to run, jump and hunt rodents. She's still a little skittish but absolutely adorable! Best thing I ever did.

wooty99:Belle is our newest rescue. Spider is also a rescue along with his brother Georgie Cat. We also have 3 more rescue dogs.

bekindandshare:I found Stella on www.adoptapet.com, and I adopted her in December 2011 from Pet Match Rescue. She was found with her mother and the rest of the litter in a construction dumpster. Stella, the runt and only girl, was very little and it took her 12 weeks to reach 2 pounds. Today, she is a whopping 10 pounds and loves to jump and play. Her purring makes my day. This photo was taken when I celebrated her first birthday (that's why she has her fancy necklace on). Stella has changed my life and lifestyle in so many ways that I feel like my new life began when she entered it. I am a much better person, I feel a lot more fulfilled, and I am contributing more to society. I wish everyone the happiness that Stella has brought to me.

John Pohlschneider:Lucy is our 8 year old adopted Coon Hound. We recently brought Juno home to join her. They fast became BFF's.

lisaciacci:We rescued Sammie almost a year ago and she's been the center of our lives since. She's the sweetest and kindest dog I've ever met. We're the lucky ones!

msalmib:This is our beagle/terrier rescue dog Scout as a puppy (he turned 2 the other week). It took us six long months to find the right dog, and instantly we knew Scout was the loving, happy smart dog for us. Not only does he bring us so much joy (and kisses), everyone who encounters him immediately falls in love with him. We're expecting our first baby in a couple of months, and I can't wait for Scout to meet her!

Elyse Acosta Druck:We adopted Haley (also known as Little, Haley-mon, minnypin, and Sis!), a Dachsund-Min-Pin Mix, from the Austin, Texas Townlake Animal Shelter in 2007, when she was just 2 years old. She was found on the side of the road with her 4 puppies, who were 6 weeks old and bigger than she is! We adopted Scarlett, a Lab-mix, (also known as ScarJo, Bigs, Sis, Wiggithy, or Lady Wiggithy...don't ask!) from the same shelter in 2010, when she was four years old. She was surrendered by her owner, as they were moving out of town, and could not afford to take her with them. They are sisters now; they play, sleep, eat, and get into mischief together! They are the loves of our lives!

M Liu:Hanzo was living on rescue farm after being saved from a flea market in Ohio. We happily flew to meet him and tell him we were relocating him to live in NYC! At first he was little unsure about city life, but if you met him know you'd never have guessed he was a country boy.

cricketdog08:Shayde and Zuri The black dog is Zuri, a flat-coated retriever mix that I found on Petfinder. She was a pregnant stray in a wonderful foster home and I adopted her after her nine puppies were weaned. She was hand shy, terrified of riding in the car (had to be physically restrained), afraid of everything (the ceiling fan, the ice cube maker, traffic, etc.) and had separation anxiety. Less than a year later, she was a certified therapy dog. The experience was so rewarding, that a year after adopting Zuri, I adopted Shayde, a senior Aussie/Sheltie mix. Zuri and I both fell in love with her. Zuri went on to complete the first two levels of agility and last weekend, passed her evaluation for renewal as a therapy dog with the highest rating, meaning she is now basically unflappable. I am totally in love with these two dogs and feel so lucky to have them as part of my family. Please rescue and don't overlook the black, adult, or senior dogs.

Amy Peterson:We adopted Blue (on the left) this year from the Washington Animal Rescue League in Washington, DC. We were originally looking for a small companion for our little guy, Barney (on the right). Blue was starved and had never had a haircut in her life, and didn't know how to play with toys because she'd never had one. I was scared to pick her up when we first got her because I was afraid she was would break. Today, she's the perfect weight thanks to her love of cookies, preens when she's groomed because she knows she's the prettiest girl in the world, and sleeps with her stuffed dog every night in our queen sized bed. Barney and Blue are boon companions who love going for bike rides in my bike basket, napping every day between 10am - 3pm, and dancing for cookies.

thtrmgr:Maggie is the shepherd mix on the left. She showed up on my doorstep emaciated and dragging a metal clothesline cable she had chewed through in 2005. I notified the shelter and placed an ad in the paper but no one ever claimed her. She's one of the sweetest dogs you'll ever meet, so loving and playful too. I adopted Georgia on my second day volunteering at the local animal shelter back in 2004. She was only about 6 months old and has never met a person she doesn't want to kiss to death (though she can be bossy with other dogs). We think she's a doxie-sheltie mix. I found my beautiful (collie mix) Bailey boy on Petfinder in 2001. He and his brothers had been mill dogs who were going to be shot because they weren't sold and were already six months old. Someone stepped in and took them to a shelter instead. I actually went to the shelter to adopt his brother but by the time I got there, Bailey was the only one left. She brought him from out of the back and he came up to me and put his nose on my knees and I knew I had to have him. He had never been socialized and was initially afraid of his own shadow. Years of patience, love and then canine companionship have brought him out of his shell. He's mostly well-adjusted now (although he can be easily startled). I love them all (and two cats with their own stories not in the pic). Animals enrich our lives so very much.

gstumpf07:Upon adopting Phoebe, I found out that she had been living at a puppy mill, confined to an outdoor cage for the first five years of her life where she had been horribly neglected and mistreated. Phoebe was at high risk of being put down because she was no longer able to reproduce and was considered to be useless. I got notice that someone was trying to find a home for her, so I drove to North Hollywood to pick her up, and the rest is history. Although she was suffering from a host of health conditions, from a hematoma in her ear, to rotting teeth and hypothyroid disorder, Phoebe has gotten top-notch medical care and is now a happy, healthy little lady who is now enjoying her golden years in a loving home. I tell people that she rescued me just as much as I rescued her. She's my soulmate.

isis:I had her DNA tested and she is a beagle, minipin, corgie and other things. Loving like a beagle but brave and a good mouser. She wakes up happy every day.

sf bee:This is my little orphan Annie. She was surrendered to a rescue group when she was just a few weeks old, with skin parasites and a bum leg. She was adopted and returned after a week, now with an eye problem that required surgery. She spent the next 5 months in the shelter, until I saw her on the SPCA website. When I went in, the trainer told me she was shy and may not respond to me right away. As soon as I knelt down, she wrapped her paws around my neck and I knew it was love. I had to wait a week to adopt her, and when I called the next week I was devastated to hear that someone else had adopted her, and was picking her up later that day. I decided to go in to say goodbye, and, lucky me, just before I arrived that silly person called to say they didn't want her after all. Their loss has been my gain, and my joy, for the last 3 years.

lesismoree:Coco was found as a tiny kitten in a gas station parking lot. I was happy to keep him and now he is quite the independent kitty and a love.

lullu:This is my beautiful Saint Bernard/GSP mix who was confiscated for cruelty. I was lucky enough to be at the shelter before a rescue group came for her.

tammatha:I adopted Sasha and Sonja from the Lost Dog Rescue in 2005. They were rescued from hoarders. When I first met them they were afraid of everything and had experienced so little. Now they think they rule the world and I'm okay with that :)

realitymatters12:Lots of Airedales end up in rescue. They are big, strong, stubborn dogs and can be a challenge. Bruiser was an escapee from a puppy mill, who was terrified of humans when we got him. With much time, care and love, he became the most wonderful dog ever.

SageFire:Sammie - 10 years old, diabetic, returned by a family who decided they didn't want him, 6 months in the shelter before they could make him available, took him a couple of months to even sit next to me. No longer sick he is a happy and cuddly best friend.

Jesse Hazzard-Watkins:Adopted from a city shelter, we knew Bella was ours when she tried to climb into our laps when we met. She's a pitbull-greyhound mix and definitely loves to run, but is also perfectly happy lying in our laps!

JasonMelissa Weinheimer:Boags is a rescued Rhodesian Ridgeback. He was extremely malnourished and abused as a puppy. He was one of five puppies rescued from deplorable conditions. He is the most laid back, relaxed dog in his new home. Zoe is a mix of Rottweiler, Boxer, and Bull Terrier. She was rescued from a Kill Shelter in NYC. She has enormous amounts of energy. The two of them together are Yin and Yang and we are so fortunate to have them!

WoodsideCraig:We got Christian, a Turkish Van when he was 10 years old. He was given up to a shelter that euthanizes and we rescued him. His owners had been evicted from their home and could no longer keep him. He was very unhappy at first, but now he's happy, loving purr machine.

Laurie Hertzlin Wade:My rescue mom Ginger and her pup Penny. Ginger was found roaming the Florida Panhandle pregnant with nine puppies in her belly. She was brought to a high kill shelter where she was about to be euthanized until a Central Florida rescue group found her. Through the group she was able to be placed in a foster home were she gave birth to nine beautiful puppies; all placed successfully in loving homes. This is how Ginger and her daughter Penny came to live with us. Ginger tested positive for heartworm but under the constant care of a homepathic vet we were able to cure her of heartworms without using arsenic. These girls own our hearts! Our lives will never be complete without dogs!

Stephanus Van Schalkwyk:Dottie, a Pitbull/Dalmatian, came to us from Stray Rescue in St. Louis, MO. She had been bred in a puppy mill and had great difficulty walking. She passed on October 2nd, 2009 at about 17 years, the last two being carried around, but still so full of life and always protecting me from every imagined threat! She was the best friend I have ever had. I miss her so!

Domaq:Echo on the right was a stray that a friend found. We took her in 11 years ago to be with our shelter rescued dog. When her pal succumbed to cancer, we planned to get another dog when we returned from a long planned vacation. A week before the vacation an emaciated Sheba showed up in our yard. The timing was all wrong but she was all right. A happy ending was had by all.

Italia2006:My wife rescued JohnWayne when he was a kitten. He was abandoned in a rural parking lot. Shanti was rescued from a family that had was going to turn her in to the local rescue center. We have two other rescue dogs as well. They all live and roam happily on a 44 acre ranch in eastern Oregon.

snowflake66:Ozzy & Doodle -- both odd Weiner Dog mixes-- were found as strays and taken in by Atlanta Pet Rescue & Adoption. And lucky me, I got to take them home and keep them forever....

Michelle Honald:Adopted from Denver Dumb Friends League in 2001, it was love at first sight.

Lydia Nolan Herlihy:We found our Bella on craigslist from a woman who rescues from High kill shelters. She fosters the dogs for a few weeks and then adopts them out. Bella is so wonderful, sweet, and a love!

Phyliss Dubinsky Shey:Chewie was rescued from someone who put him up for adoption. Frankie wandered in off the street 8 years ago as a tiny kitten.

Jeff Squires:Patty was 9 when rescued from an outdoor shelter in the Phoenix desert. She weighed 125 and were told she would just be a couch potato. We got her into shape and down to 75 with walks. She came down with diabetes and was given insulin shots for over 3 years. She passed away at 13.5 years and will never be forgotten.

stilesan:We didn't even have to go to the shelter. Buddy was a stray cat in our neighborhood who adopted us. When we took him to the vet for the first time we found out he had already been neutered. So he was either lost or abandoned. We put notices around our area and checked with city hall but nobody claimed him as lost. I guess one man's trash really is another man's treasure.

katzpjz:Kramer was found by co-workers were I worked. He had been dump in a light business park. The night before my husband & I had talked about being ready for another cat after 3 months of our 1st cats passing. They hid him under a towel & said that they had something for me. I almost cried when they uncovered him.

jammies:This is Oscar. He was abused and left in an abandoned apartment. Our first few months together were pretty rocky as he was very traumatized. Now he is the sweetest, happiest, most gentle boy you will ever meet and I learned true patience since getting him :)

ashnazg792:This is Jack. I got him at the local shelter almost five years ago. He was two at the time, and they told me he'd been feral. He is the sweetest, most loving cat I have ever met in my life. I take him to visit my parents when I go, and when I open the car door, he walks straight into their house without help. He is very happy being an indoor cat and doesn't miss his life "on the street" one bit!

amamamy:From left to right... Maxie was found on the street at less than one year old and brought to the local SPCA and put in a cage. While he was there one night, the ceiling caught on fire. Obviously, he survived, but he was to afraid to be adopted out, so they called the Japanese Chin rescue group I got Opie (#2) from and they called me to pick him up and foster him. I fell in love. He has seizures, but they're under control with medication. Opie was found as a stray in southern California between one and two years old. I had just lost my first ever rescue doggie and I knew I had to have another boy for Soshi to play with. Soshi and I drove four hours to get him and they're are the best of friends. Soshi was found in a cemetery and shuffled around from home to home until she came to me at about ten months old. She was a holy terror but, after I sat her down and had a talk with her, I swear she started to listen to me and her true, sweet self came through. Jello was about eight years old when I got him. He was so close to dying, it scares me. I took him to the vet and found that he was microchipped but the phone number associated with the chip had been disconnected. He had an ear infection, a heart murmur, a skin infection, worms, and fleas. At only about 11 pounds, he was also dangerously underweight. When he began to put weight on, he developed a lung infection due to filthy teeth. He got those cleaned and we shortly found out that he had severe arthritis in his back with, at his last x-ray, seven fused bones. He's on pain meds and you'd never know he had a problem. He's up to over 15 pounds now and he runs around like a puppy. What gets me about him is that he must have lived with a family. He was potty trained...he knew about laps and kisses and belly rubs. Someone just decided to dump him by the side of the road. They're all absolute bundles of love. People always ask me if they're related and I answer that they all have the same mommy...ME! -Amy in Northern California

DogRescuer NYC:My failed foster, Peanut from NY ACC ~ I think I knew from early on that I wouldn't be able to let her go. The rescue never posted her on PetFinder, she was never officially up for adoption because I fell in love with her. Her former family had dumped her at ACC claiming they were suddenly allergic to her, and I still don't understand how they could ever get rid of her. She's PERFECT in every way; she loves dogs, she loves people, she can snuggle right by my side all day, and when she isn't, her butt keeps wiggling and her tail keeps wagging. She has a single tooth left and she has the body of a peanut (hence the name,) and she's the sweetest, softest, friendliest, happiest little girl ever. She's my angel and she rescued me at least as much as I rescued her.

napkinpoet:I started my first semester of graduate school and thought I might need some company so I went to the local animal shelter. Maybe a cat? I walked passed what I thought was the ugliest dog I had ever seen, stopped at her cage, and she offered me her paw. That was over 15 years ago and now she's my best friend.

Anne LaRose:I adopted Bear from the Escondido Humane Society. He's the best cuddlebug.

em dot:I adopted my cat from the RSPCA in Sydney Australia 11 years ago, when she was about a year old. When they opened the cage she leaped out, attached herself to my shirt and rubbed herself all over me, chattering and meowing. I couldn't refuse her! She's been my best friend and an absolute joy to come home to every day and I just adore her.

Italia2006:Sid just turned 16 in January. We rescued her from a shelter in San Jose, CA when she was a puppy. She has been an amazing dog, bringing so much joy to our lives. She spent the first 10 years of her life in northern CA, and the last 6 years on our 44 acre ranch in eastern Oregon. She runs every day, albeit not as fast as she used to, and loves to wander our property. She especially loves to ride in the back of our pick up truck when we have to plow the snow off our long driveway.

Italia2006:I found Katie Bug on Craigslist. She had been rescued from the Oakland pound and saved from euthanasia by the Hopalong Society. She was deemed too antisocial to be saved. It did take a little while to warm up to us, but after awhile she would try to get as close to you as possible, wanting affection. Hence, we started to call her the 'love bug', shortened to KatieBug over the years. She is now 7 years old and is a wonderful dog. She doenst like it when our other dogs and cat are having fun. She will jump off the couch, run over and break up the fun, then run back to the couch. When she does that we call her 'the Fun Police'. Of our three rescue dogs, Katie is the one I really feel like we saved from death. She has had a wonderful life and has many more years to go.

camartinwv:Lulubell is the Sophia Loren of cats. I found her on my sidewalk when she was about 8 weeks old, a little over 16 years ago. It was the late fall and the sun was going down, getting cold. I just happened to walk to my front door and look out and there she was, her head falling to the sidewalk. I ran out and picked her up - she was very cold. I wrapped her in a blanket while I warmed canned cat food diluted with a great deal of water in a pan to luke warm. And she ate a little. Then she looked up at me with so much thankfulness and she is my loyal companion to this day.

novelbud:Bowie was brought to a local shelter with multiple injuries including a fractured skull. Subsequent exams indicate the fracture is a result of being struck on the head with an object that was about one inch in diameter. In other words, someone hit him. He is the sweetest dog in the dog run and loves everyone.

Jessica Reipke:Smokey chose us as much as we chose him. He was shipped up to MN as a stray from Georgia. Underweight and shy around every single person he encountered. This picture is of him about 7 months after we rescued him. Couldn't be happier!

camartinwv:Millner is one of a litter of four, born to feral parents at a small preserve, located where I was formerly employed. Some concerned employees wanted to capture mom and have her spayed since this was her fourth litter. The other three females of this litter had been adopted and he was all alone. Soon, his mother would start another litter and he would be on his own, in a very large, lethal world in Florida. Millner is very gentle and loving and regal and happy.

maddoglove:My beautiful rescue mini dachshund Coco. I adopted her when she was 7 years old from an angel who has rescued and placed 90 (!) abused and abandoned dachshunds. Amazing woman. This beautiful animal has brought me so much joy.

limaryla:This is Jasper, a 2 year-old mutt we fell in love with at a local rescue in Agoura Hills, CA. He had been found wondering the streets and been taken to a kill-shelter where he was held the maximum time they could hold him without being claimed. Just days before he was to be euthanized, he was saved by the rescue group. He is a lovable, bouncy dog who has never met a person, dog or lap he didn't like. Our life would be empty without him.

rsense:Smart, Handsome and Full of LOVE. My rescue Rumi keeps a smile on my face. My heart swells just thinking of him!

Melanie Beth Collins:Joey was rescued as a kitten in the spring of 2006. He loves to hear himself talk!

nandayadav:Meet scooter(italian greyhound/beagle mix) and Hope(Beagle/possible lab mix). We got scooter about 3 yrs ago from petsmart in adoption, he was in foster home before that. We got hope about a yr ago from another foster home, both show typical beagle quality, hard to walk, howl like crazy and Hope will do anything to make the house a mess..but we love them both to death. I am single now living in a house and if it wasn't for them i would be probably go crazy living here alone.

mhatrak:We adopted Lady Bailey when she was nine years old. When she was rescued by Golden Retriever Rescue Group, she weighed 110 pounds. When we brought her home, she was 103 pounds. Our veterinarian said she needed to go down to 75 pounds. Our walks around the block took forever. She seemed lethargic and just too heavy to move. Fast forward to today: she's 70 pounds, prettier, and faster. We go on hour-long hikes. Utterly lovable creature; we simply adore her.

wendoxia:MY darling beanie, after she was neutered. My daughter rescued her, the only survivor of a puppy mill parvo epidemic, and dropped her off to me to keep my company when while my daughter was at college.SHe is the best dog I've ever had.

Steamboater:That's my Lab Fonzie and Samoyed Joy. Both are gone now. Got Fonzie from the shelter and he was abused, left out in a storm and chained to the shelter's fence., and had scars on his thighs where he had been beaten. Very nervous when adopted him but after 3 months became a lap dog. When he died from cancer Joy was sullen for a long time. They really loved each other and I miss them both terribly.

summerraquel:Sometimes, adopting a shelter pet saves more lives than one. This is my rescue pup Stetson Brooks who I rescued from a high-kill shelter in San Antonio, TX on the day he was to be PTS after seeing a YouTube video of him in the shelter posted on the FB page of the San Diego Lab rescue (Labradors and Friends Dog Rescue Group) that I volunteer with. The woman who helped me transport Stetson from TX to CA ended up starting Tracy's Dogs, a non-profit that aims to video dogs in San Antonio's city shelters, and to then transport the adopted/rescued dogs to homes and rescues across the U.S. Stetson's adoption established a relationship between Tracy's Dogs and Labradors and Friends Dog Rescue Group, and 25+ Lab/Lab-mixes have been rescued from San Antonio's city shelters, transported to CA, and adopted by San Diego families. Stetson is an ambassador for the big black boy dogs who have an especially hard time getting adopted, and he is paying it forward by helping other shelter pups find their forever homes.

ramarino:Nikki an Akita saved by BigEastAkitaRescue after years of abuse, and Screwy, found as a kitten on the docks of Brooklyn, NY.. on one of their walks in the country. They and my two other rescued cats have rescued me. Bob Marino, NYCdog

Tamara Rousso:Mr. Tibbs was brought to the local shelter where I volunteer. He was severely underweight with overgrown hair. He was found running at a local Walmart. Tibbs is one of the funnest dogs I have ever owned. He is very affectionate, playful, and very smart.

Danigirl65:My family's business is located on the outskirts of town, so we are a prime "dumping ground." Noah (on the right) is my oldest rescue at 11 years old. I took in he and his sister, Molly, at 5 weeks old when they were discovered underneath a covered boat at a boat dealership next door. Jasper (left) was rescued back in October at 4 months old after 3 months of seeing him here and there on the property. All told, we have rescued and found homes or no-kill shelters for over 50 cats, 4 of which reside at our business and 4 that keep Noah & Jasper company at home.

DFC:I rescued this dog as a puppy the day after Thanksgiving in 2005. I found her quavering at the door to the post office in Kayenta, Arizona, a town in the Navajo Nation. I went in to check my PO Box one last time before finishing my re-location to Window Rock, Arizona. I came out and she was still there, so I decided this was the dog for me. I had already moved everything to Window Rock except for my little two-seat Luscombe airplane, and so after finding an old towel for her to sit upon, in she went and off we flew to Window Rock. A few minutes before landing about an hour later we went through some turbulence and she vomited. But she ate it back up after landing. I later found out from a coworker in Kayenta that she had been previously chained up at the local meth dealer's trailer home. I named her P.O.ppy, or "Poppy", the Post Office Puppy. About 18 months later she was taken in by my nearly 80 year old father when I re-located once again for my job, this time to Hawaii. She became his dog and was a most excellent companion. People asked where he had her trained. But she was not trained. Neighbors loved her. Then in mid 2011 a large and aggressive tumor appeared on a kidney. It and the ruined kidney were removed and she did well, but the cancer aggressively re-appeared a couple months later, as expected and she began to suffer again. She died on January 26, 2012, well before her time. Need to adopt a great dog? Spend a few days on the Navajo Reservation and pick one out. I three that I got in 2008-2009 when I returned from Hawaii, plus another who went to my brother. They'll need de-ticking, and probably de-worming, a good bath, the usual vet check-up/vaccinations, etc. and will be good to go.

DFC:This was the second dog I rescued off the Navajo Reservation in 2008 while working there as an air ambulance pilot, hence the name "Kaksi", Finnish for "two". I spotted her wandering the Burger King parking lot in Chinle (near Canyon de Chelly) in mid-summer, scrounging for scraps and drinking water dripping from the bed of a pickup truck hauling a load of water for livestock. She was holding her right hind leg off the pavement. She kept her distance until a few days later when she allowed me to inspect her leg while she ate and drank food and water I brought. I couldn't tell what exactly was wrong. I decided I'd take her in with the caveat that I'd have her put down if her injuries were too great. I got her to the Vet in Tuba City 150 miles away a day or two later (I didn't know at the time there was a low cost Navajo Nation vet clinic in Chinle) where she was evaluated and x-rayed. The femoral head was broken off, probably in a collision with a car. And so, a couple months later (due to logistical difficulties) I took her to a clinic in Farmington, NM for her FHO (femoral head ostectomy). Despite the advanced condition of the injury, she recovered well, though with a few periods of pain and apparent regression. But she's been pain-free (with no meds, just a daily Phycox supplement) and running fast on all fours as if nothing were amiss since late 2010/early 2011, here in Anchorage, Alaska where she loves the snow; a major transformation. She lives with me and two other dogs rescued from the 'Rez in 2008 and 2009, "Sabine" and "Onyx".

FrenchKissed:She was 10 when we adopted her, and sadly, we only had her for a little over a year; but just as her petfinder ad suggested, the quality of time we spent with her made up for the lack of time we had with her. She was such a wonderful girl and I miss her a lot.

DFC:July 2008: A coworker (and major dog rescuer) suggested I take my two recently rescued-off-the-rez dogs to a boat landing on the San Juan River for a swim, about 50 miles north. This was something I'd never done, and I didn't normally drive this highway. But I did that day. Just south of the Utah border, approaching the entrance to Monument Valley, a car way ahead of me swerved around something in the road. I assumed it to be another dead dog. A moment later I saw it was a small dog standing on the center-line, very much alive, at least at the moment. I pulled off the road where this scrawny mongrelly cattle-dog mix was and she immediately ran under my car for shelter. I couldn't reach her from the right side, and so during a break in traffic consisting of RVs, semi-trucks, cars, pickups and motorcycles, I reached under from the left side and wrapped my hand around her behind the ribcage and pulled. Here she is in the car shortly after this after having some water. On a trip home to California a week or two later, my brother took an interest in her and she became his. She's grown into a delightful, obedient, smart, quiet and observant companion, accompanying him on surfing trips to Baja California, and just hanging out in the shade on his construction jobs.

Tess Michaels:We found Max in our street in November 2008. He was super skinny, had scratches and bites all over him and had a bad eye which had to be removed. Max is now the entire streets best friend and loves his food and fellow rescue cat Molly

Melita Ivanova:This is Leonardo aka Leo (he was named after Leonardo DaVinci who famously said: The smallest feline is a masterpiece). As a little kitten he was attacked by a dog, which has bitten off parts of his right hind leg while his left hind leg was completely crushed. Luckily he was saved by a girl who tried to cure him by herself. After two days of unsuccessful treatment (with him being constantly in pain), she contacted Dragana, an Anima Mundi (Association for Animal Protection, Skopje, Macedonia) activist. Dragana immediately took him to a vet, who, without delay operated him. As he was a tiny kitten with still undeveloped leg bones structure, the vet managed to bond pieces of cartilages of his legs. He stayed at the veterinary station for two more weeks. As Dragana knew that I wanted to add one more kitten to my little "cat gang" (two female cats Milu & Lilu) she asked me whether I would be willing to adopt him. I have to admit that I had doubts on whether to take him or not, but when Dragana told me that with him being "damaged" it was very, very unlikely that anybody would be willing to take him, I said yes. It was love at first sight when I saw him for the first time - tiny little gray ball with white collar, with skinny legs and round tummy. He has been part of my cat gang since July 2011. Our first two months passed quickly with weekly visits to the vet and by daily applying of a healing cream; although his leg will always be little bit shorter and little bit bent, it healed completely by the end of August 2011. Leo is such a special, such a silly, such a feisty, such an adorable cat. He has HUGE appetite and he is constantly hungry, always ready to steal food from other cat bowls. When he plays he does it in such a way that he gesticulates with his whole body: his ears, his eyes, his mouth…… Due to his shorter leg, when he walks, he so, so delightfully, wiggles his back and he has an unusual sitting position. When he wants to cuddle, first he would sit next to me, without taking his eyes off of me and then he starts to woo me with his loud purr. His ultimate charming move is to lie on his back and twirl left and right. His favourite toy is one little green woollen ball that he carries in his mouth everywhere he goes – even outside. He likes to chase bugs in my garden; and although he constantly tries, due to his condition, he is not able to climb trees. In November 2011 he got lost. I was searching for him everywhere, asking passers-by and visiting all our neighbours to check whether anybody has seen him, posted lost-cat posters in local vet stations and pet shops, asked local postman to check on local street cats, spread the news on him via Facebook/e-mails/Internet newspaper as well as contacting all my friends and friends of my friends. He was nowhere to be found. Needless to say I was desperate. After 11 days I was called by our neighbour that there was a cat in her cellar. I ran immediately and there he was, much, much slimmer but ALIVE!!!!! He managed to survive for 11 days without food and water - I still do not know how, but I am so glad for this little miracle.

Sandra Larsen:Blaze was found in a schoolyard at 4 months old. We rescued him but he has 'saved' our whole family through his awesome loyalty. Now he is an assistance dog who brings joy to all who know and love him.

LennietheShew:Poe- found under a dumpster in Waynesboro, Georgia! I wasn't looking for a pet but she's the best thing ever and I can't wait to get her a brother!

jennoschmello:This happy 3-year-old Golden/Labrador mix (a.k.a "Goldendor") is our very own Mitsy! She was rescued from a high-kill shelter in South Carolina by Lucky Dog Animal Rescue which is based in Washington, DC. My husband and I adopted Mitsy at an event a year and two months ago. As you can see, Mitsy is very friendly. We consider the neighborhood cat, Smoky, to be one of her very first pals! Being a first time dog owner, I can honestly say Mitsy has changed my life. I didn't know what we were getting into the day we took her home. She wasn't house trained and she ran away the second day we had her. :( But everything turned out for the better in the end-- Mitsy is very much a part of our family.

Riverbedsky:Once a rescue, Teddy is now a therapy dog visiting hospitals.

ssbailey10:Diego & Ellie are Anatolian mixes. Diego, an owner surrender, was adopted in March of 2011. A few months later, we decided he was in need of a play mate. Ellie was adopted in June of 2011 and had quite a story. She was a stray and has quite a large scar on her back as the result of a run-in with a boar. She was found by people who took care of her until they realized that she was also pregnant, so they took her to a shelter. She was put on "death row" as is common with pregnant dogs. Thank goodness the humane society swept in and rescued her. They are great friends and bring so much joy and laughter to our lives.

Amy Whitaker:TJ(left); Lucy (right). TJ was the bait puppy in a pit bull ring. Lucy has a palsy in her hind legs. They resuced us.

SaulPanzer:Nero Wolfe is now 10 years old. I found him when he was 10 weeks old on a road outside the fairgrounds. He was covered in black grease and was standing in the middle of the road. I had been depressed for months since the death of my beloved Kenzie, a spaniel mix. We were dining out and my sister persuaded me to drive past the animal shelter to see if there were any pets in outdoor runs. Instead we found Nero waiting for us in the middle of the road. My sister stopped the car, got out and picked up the puppy and handed him to me, saying through tears, "You've been waiting for a sign. I think this is it." Every day with Nero Wolfe has been a blessing--he is a large dog, over 100 pounds--but is the gentlest soul in the world.

DvdAndrsn:Bono [whose name is actually Bonaparte, because schipperkes are from Belgium, & you know what happened to N.B. there] spent the first couple years of his life in an awful puppy mill. He has scars on his face from eye infections that scabbed up & from fights. The first 'rescue group' that had him was about as bad as the puppy mill. When I went to meet him, I was told he wasn't sociable with new people, but he came over & laid his nose on my arm, so I figured he knew I'd be his pal forever. He's now about 6, loves to play with his pal Maddie the akita, & when he's really wound up he does the schipperke thing of running with his back side sort of tucked under. Bono has a Facebook page, Bono the Schipperke, where he shares his daily adventures & his efforts to save the world from the machinations of Nicky the evil fox terrier [who belongs to my parents], the Wil Wheaton to Bono's Sheldon Cooper.

Charla Hudlow:Hanky started his life in a box on the side of the road in Missouri. By the grace of god, he was picked up and placed at Midwest Animal Rescue in Minnesota. I saw his pictre online and immediately fell in love. A friend who had recently fostered and adopted through MARS helped me get in contact with the organization, put in a good word for me, and five short days later, this little man came into my life. He is the sweetest, most curious, loving, hilarious little boy. I tell him everyday how he is the best thing that has happened to me.

Jason Stiegelmeyer:My Name Is Hope, I am a Blue Heeler rescued from Hurricane Katrina, check out my facebook to see all my cool adventures I get to go on. http://www.facebook.com/pages/Blue-Dog-HOPE/221596801220643

infopro20:First a foster - but then she adopted me!

Lacie Craig:This is my Shiloh Bear. She's a 10 month old Basset Hound mix we rescued from the Humane Society on New Years Eve. She was brought into the shelter as a newborn pup, was adopted then brought back to the shelter because that couple decided they didnt have time for her. Their loss is my gain. I named her Shiloh, meaning Peaceful. She is such a sweetheart! Her new best friend is my 9lb mini dachshund Kate.

Mary Carotenuti: "All about me ... just sayin" by Fatboy Babushka "Hi, my name is Fatboy Babushka. I am 4 years old, weigh 24 lbs and am double-pawed (not bragging ... just sayin'). I was abandoned as a kitten and raised by a possum. I don't know how to meow yet ...... I quack. I was rescued by my Mommy and now live with my best friend and brother, Sunny Papoochie. I love to be loved and I love to eat. I'm very happy and have many friends and someday I hope to be a TV Star or a Movie Star or a Super Model or something ... I just haven't decided yet. Here is where it all began. It was Fall and the leaves were falling from the trees. I was hungry and tired. I spotted a treehouse in a neighbors yard and decided to climb the tree and take shelter there. I was surprised to see a possum asleep in the corner of the house. At first I was frightened; but I was so tired from climbing the tree that I quickly fell asleep. When I awoke, I felt something very warm and furry next to me. I opened my eyes to see a pointy nose staring at me. It was the possum letting me know that he liked me. I finally felt safe. The possum became my good friend. We went everywhere together. We found our food in garbage cans and gardens. The possum was very good at hunting for food. During the day, children played in the treehouse while we explored the neighborhood looking for food. But at night, the treehouse was ours where we snuggled and felt safe. One day we entered a yard belonging to a lady who liked to feed the birds, squirrels and chipmunks. We watched her every morning, fill the bird and squirrel feeders and change the water in all the birdbaths. There were birds, squirrels and chipmunks everywhere. It was the best place ever! One day while the possum and I were hiding in the bushes the lady came outside holding a beautiful long-haired cat. She was exquisite. I looked at the possum and thought .... she loves cats .... I just know it ... maybe she will put out some cat food. I wished and I hoped and I prayed. The next day, while the possum was hunting for food in the woods, I went back to the ladys yard. While she was feeding the birds, she spotted me in the bushes and said very softly ...."I never saw you before ... you are beautiful.... who do you belong to"? I ran and hid behind a tree because I was afraid. I watched as she went in the house and brought out a dish and placed it on the back steps. Even from a distance I could smell it was something very tasty. I waited until she went back in the house and shut the door. Then very cautiously, I approached the dish to see what was in it. Before I knew it, I had eaten every bit of what was in the dish because it was so delicious. I never tasted such wonderful food in my life. It was mushy and wet and smelled like tuna. Suddenly, I heard a noise and I ran again and hid. This time she put out a bowl of fresh water but I was so tired after eating all the tuna that I just fell asleep in the bushes. The next day, I visited the lady again to see if she would feed me. I waited in the bushes and watched while she filled all the bird and squirrel feeders. Then she went inside and brought out a dish of wet food and a bowl of fresh water. But this time, she placed another dish down and instead of the wet, mushy food, the dish was filled with small dry pieces of something crunchy. I ate the wet food and then I ate the dry food, but I left a few pieces in the dish for the possum ... maybe about one or two ... I don't remember ... I was very hungry that day. I drank some water and went back to the bushes and fell asleep. I awoke and found the possum eating from the dish I had left for him. For weeks, the lady fed us. I knew she loved me when she named me Fatboy Babushka. I liked the name and I would wait for her to call me every morning when she put out my food. "Fatboy ..." she'd sing ... "Fatboy Babushka". I could tell she wanted to get close to me because she would sometimes put out my food and sit down; waiting for me to come. But I was still afraid ... I didn't know why. As time passed, I felt a little more comfortable when I saw her so I didn't hide. I would wait on the steps for her to feed me and she always did. One day she placed the dishes down and bent down to pet me. I got scared and put my teeth on her. I didn't bite her ... I just wanted her to know I was afraid of her and not to pet me. I didn't know it then; but I was a feral kitty and hadn't had any vaccinations. I had to be quarantined for 14 days to make sure I wasn't sick and I wouldn't make the lady sick. An animal control officer came and tried to catch me but I was too clever. Finally when they put out a can of Bumblebee AlbacoreTuna I let down my guard and was captured. The lady cried when they took me away. The Doctor took good care of me but he clipped my ear when I was asleep ... I'm still not happy about that. I heard him tell the nurse that I would be much happier now. I wonder how he knew ... maybe he had his ear clipped too ... don't know for sure ... just sayin'. After the 14 days I was brought home. As soon as they opened the carrier door, I ran like a bunny back to my treehouse to see the possum. The lady kept calling "Fatboy ... Fatboy Babushka" ... but I just kept running. I missed the possum and wanted to make sure he was okay. I was happy to find him in our treehouse. He looked the same ... except ... he looked fatter. The next day I went back to my yard and did not like what I saw. I hid under a bush and watched while two cats ate my food. I knew them. Sunny was a buff colored tiger cat and he was very timid. Rebel was a silver grey cat and she was a bully. They were brother and sister and they belonged to someone in the neighborhood. I knew all about them. Rebel liked to hunt birds and put scratches on my nose. Sunny stayed out of trouble. As I hid, I wished they'd go home and never come back. But that didn't happen. Every morning the woman put out food for me, and Rebel and Sunny. They'd eat and then go home. Sunny would often come back to play with me and watch the birds in the backyard. We became good friends and he started spending more and more time in my yard. At night he went home and I continued to go home to the treehouse and sleep with the possum. I knew I had a home the day the lady bought me a house. It had a pink door, a blue roof and green shutters. Sunny liked to sit on the roof. This is where I found my food dishes everyday. Weeks had passed and the weather was getting much colder. One day the lady put a heated bed in my house and a blanket and some toys. By now, Sunny had become my best friend and was spending more and more time in my yard and in my house. We shared stories and he liked hearing about my adventures with the possum. He named him "Pete". I knew how much he loved the heated bed so I let him sleep in it whenever he wanted. One night he fell asleep and never went home. That was the night that something very peculiar happened. Sunny and I awoke to hear strange noises ... kind of like a quacking. Suddenly, the possum appeared with three baby possum behind him. They looked like Pete only smaller. Sunny and I sat and watched while all four ate the dry food and then left. They were the cutest little things and I could tell that Pete loved them; just like he loved me when he took me in as a kitten. Winter was approaching and the lady was worried about them so she made a shelter for them out of a styrofoam cooler. She cut a hole for them to get in and out, lined the inside with mylar wrap and put shredded paper in the bottom for them. They lived in there all season and survived a very cold winter. Spring came and our daily routine was the same except everything smelled different, it was more colorful and the days lasted longer. Sunny and I are still the best of friends and we have the best life. Rebel is now living with us (more about her later) and she is much nicer and not a bully anymore. I hope you like my story and will continue to read about my adventures. JUST THE BEGINNING

Dot Johnson:Sweetie Pie was adopted from the Lexington Humane Society in February 2009. She was a scared, timid little girl in the cage. I brought her home and she has been the greatest addition to my little family.

jjvm:7 years ago I rescued our Weimaraner, Vegas, from living in a crate in a nice lady's garage as she searched for his forever home. She had 7 weims living in the house with her and they tended to gang up on the new guy. He has been my everything, getting me through some rough times... This past January my boyfriend and I decided to do something about the horrible plight of NYC shelter dogs by fostering our first pup, Mello. As soon as he met Vegas the two hit it off and they have been inseparable ever since. Having Mello we have learned so much about pit bulls, the ignorance and lies out there and just how wonderful they really are. We're now addicted...thanks to Mello my boyfriend and I are doing all that we can for these tragically misunderstood dogs. Last weekend we decided that we loved him so much, and he fits our family so wonderfully that we just couldn't bear to part with him - his forever home is now here with us and we couldn't be happier!

amanda mac:Chip's first owner caught me looking at petfinder.com at work. He told me that he had to give Chip up, because he wasn't getting along with a pair of new siblings. Even though he has his own bed, I have been waking up to find him on my pillow for two years now.

bevcaz:Fang wandered onto my driveway about two and a half years ago. He was skinny, hungry and scared. I always kept food out for the strays in the area, and he stayed around. One night, I was sitting outside and he jumped onto my lap and started purring... that was it, I was in love. I brought him in that night, and he has been an indoor kitty ever since. Fang lets me know every single day how much he loves me, and I let him know that I love him dearly too. He didn't look so good when he first found me, but now he's a big, beautiful, fluffy bundle of unconditional love!

Susie Pchelle:I adopted Ghost from New Vocations in 2005. I love the work they do to retrain and rehab off the track racehorses that might otherwise be euthanized. One of the great loves of my life!

brunnhilde51:Rudi was a Landseer mix we got from a shelter north of the city of Mannheim, Germany. We figured out he had been rescued from the streets of Greece or Turkey. He had few molars left when we got him which apparently came from gnawing on rocks. Rudi had never been in a house before, and as we brought him home from the shelter, he stood for half an hour with his front paws in the door and the back ones still outside. He just wasn't sure what to do. In spite of his hard life, he had the personality of a saint. Didn't bark for three months, but then, when he finally did.....!!! We loved him very much. He passed a couple of years ago, but I would wager he enjoyed his last years. Jayne Dierbach, Germany

Karen-Elaine Hickey:I was introduced to Valentine nee Pebbles by Happy Home No Kill Animal Rescue in Henderson, NV. Happy Home rescued her from the kill animal shelter in Las Vegas when they had an influx of animals from a hoarder. I was nervous to adopt my first kitty, but she's clearly made herself to home, especially in my heart.

Pate Belichick:After losing my 11.5 yr old Chesapeake Bay Retriever, Mocha, I had adopted at 13 months from the Chesapeake Bay Rescue (www.cbrrescue.org) SF Bay Area, 2 months later I fostered 2 Siberian Husky/German Shepherd Dog pups, (www.Hopalong.org) named after football teams, Dolphin & Charger. Both were adopted but Dolphin was returned as she didn't fit into the adopters routine. I got Dolphin back as I had been the foster mom, 3 days later my mother died and that sealed it for me -- Dolphin was staying. Now almost 3 yrs later we are a happy family with another new member as of last Saturday. My boyfriend and his daughter adopted a Black Labrador pup, Clyde, from Fresno, CA this past Saturday. Now as one big extended family, Louie, 10.5 yr Chesapeake, Clyde, and Zoe -- it's a 3 Dog Night.

glitterari:While riding the bus to town one day, the vet tech from the local clinic told me the saddest tale about a little dog that had been brought in after being hit by a car. It was a street dog that had been roaming the streets in a Costa Rican village, and the woman who hit the dog took it to my vet's office and paid for all the vet bills. It had multiple injuries to its hind legs, and it was skinny as could be. You could see all its ribs and every vertebrae, even after being at the vet's office for two months and being fed every day. I took one look at this dog and fell in love. He weighed exactly 4 kilos. Now after having him for 3 months, he has gained an entire kilo and his injured leg has healed with proper diet and exercise. Little Max, whom we call the Poopiedoodle, is the most loving and funny dog I have every had. Even my grumpy Australian Cattle Dog loves him (he was a rescue, too!) Today I took him to the vet to be weighed and he is a whopping 5 kilos of energy and happiness. We're not sure what breed he is -- maybe MinPin, maybe Chihuahua, but we don't care -- we love him no matter what he is! Save a live, adopt a homeless animal.

MissMiniMonster:Here she is the day we moved into our new apartment. Her mother was a stray and lived in a man's garage, where she had her kittens. The man ran a classified ad in the paper (2007) and basically said I could keep whichever kitten I could catch. She had severe fleas and an infected ear but clearly she is quite healthy now.

Mary Radofsky Alvarado:A rescue shelter had this lovely girl waiting for me I just know it! Shepherd/Lab/Retriever Mutt and she was only about 8 months old when I got her. She is loving, playful, gentle and makes friends wherever she goes.... her one fault.. I should have named her Houdini because she will find a way out of the yard with the merest of opportunities. Of course, I drive up to the house and THAT face greets me. Who could be mad????

Juliet Beer:This is my wonderful dog Bella (Beagle Shepherd Mix?) I rescued her from High Sierra Animal Rescue in Plumas County, CA. I can't imagine life without her. She was either 2 or 3 when I got her. I saw her face online, and just knew she was the dog for me. She was timid and shy (and apparently jumped the 6 ft. wired fence at the shelter trying to run away from the other dogs from fear a few times). When I brought her home, she seemed like she had never been inside of a house, or up stairs. She was afraid of doors for a long while. Now she is thriving, and not much scares her! I have a 5 ft. fence, and she never tried to escape. Only one time did she jump over the fence due to a nearby gunshot - she ran to the front door! She's such a lover! I now am on my second 'foster'. It makes me feel so good to help animals develop and give them to great homes. Please everyone, adopt a pet now from your shelter! Save our unloved animals from being euthenized!

Marisa L Russell:We rescued Buster from a Boxer Rescue when he was less than a year old. He was living on the street until the rescue took him in - they called him Franklin. He is the sweetest, most loving dog we have ever known and has brought so much happiness to our family. We love you Bustie!

No Manches Guey:I rescued Balthazar (Charlie) from Lied Animal shelter here in Las Vegas. I have lived and laughed more than I ever have prior to having him. We were made for each other and fate brought us together. :-)

Rachel Erland Krohn:We adopted our "Nice Brown Dog" (the official breed our landlord wrote on our pet agreement) from the Humane Society in Long Beach, Washington on our honeymoon when she was 4 years old. She was a stray and we knew she was our dog when we took her on a walk to the beach and she sat sweetly while letting a toddler pet her. Although we discovered later that she did have dog aggression issues, she remained the most loving dog to our family untill cancer took her last summer... we miss her terribly. RIP Gracie girl.

Rachel Duff Tinsley:I rescued Mandy from The Shelby Humane Society in Birmingham, Alabama 7 years ago. She was found behind a dumpster eating rotting food. I can not imagine my life without her. She is the best dog in the world. She makes me laugh every single day.

Joyce A King:My rescue dog Maggie, adopted in November 2010. We drove from Georgia to South Carolina and back in one day to get her. She joins her canine siblings Dakota, Jack, and Thor, and has been a wonderful addition to our family. I will always adopt, and I'll always have dogs in my house.

outdrguy11:Rosie a 2 year old hound came from a shelter in Alabama.

trharrington70: I adopted her from a rescue center from Animaprt Petstores in Madison WI. She was found in October in a snowbank, she had a chipped tooth, was so small and and underweight they were not sure if she was 1 or 3 years old. By spring they had nursed to normal weight and I adopted her. A year and a half later, she is still having some trouble from her rough start. It turns out teh chipped tooth was dead for some time, just one week ago, she started to act odd and I noticed her jaw was swollen. Turned out she had an abcess, it was taken care of quickly and the tooth was removed.

MarjorieMcK:This is my ChiWeenie, Napoleon Tear-a-bone-apart, who I adopted from the Hanover County pound two years ago. At the time, Napoleon barely registered in at four pounds, had all his milk teeth, and was a shivering and terrified little fellow. Today, he's a six pound love bug who has bonded with all four of our cats (who all tower over him). I can't imagine life without LapaNapaDoleon... ;-)

musicmasterno1:"Chunk" was rescued off the streets at 3 days old. Now 6 years old, she is an absolute doll.

xxangelicbluxx:This is Bella, my beautiful 9 month old fur baby. I had checked the shelter's website over and over for weeks, and everyday the same kitten would pop up on my screen. Well the day I visited the shelter it was love at first site and it was as if she knew I was coming for her. She lunged at the cage door and mewed for attention as I was walking over to her. I just had to bring her home. Adopting her was definitely one of the best decision Ive ever made!

jayx002:rescued dog, he had parvo when we found in on the streets of miami... now a healthy dog

southernbelle4ever:Bella is a 2 yr old medium mixed breed who was found at a shelter by Bandit's Adoption and Rescue of K9s (BARK) in VA and she was scheduled to be put down. BARK saved her, got her fixed, and decided to bring her to an adoption event the day after her surgery. When my family & I saw her, we were immediately drawn to her & she leaned against my son & stole our hearts. We were very blessed to have our adoption application approved & Bella joined our family! That was about a year ago & she has truly been a gift & we are thankful every day for organizations like BARK!

flowers27:Adopted in 2007! Tim and Faith

brittanybreeze86:Kassia, My little St. Bernard/Chow mix abandoned found abandoned in a trailer park.

Jerry Ringuette:Rescues from the Long Island Bulldog Rescue (LIBR) Now living the good live in Quincy MA with their "dad" Jerry Ringuette

Marianne Michelin:Dusty, the gray tiger, was adopted from the St. Lucie Co. Humane Society at around 3-5 yrs old. He loved everyone and everything and was the perfect cat. He has passed on now but in my heart, is irreplacable. His young brother, Travis, was found years later on the side of a NC backroad in winter. Probably dropped off by someone, he weighed only 7 oz. at the time. He never would have made it through that night. He is still with us and is a great, if not a bit shy, pet.

eodk9102:Annie is a purebred Shepherd I rescued from a shelter that works as my Explosives Detection K9 for my Police Agency. She was a stray that had amazing drive for the work.

lcpooch1:We rescued Molly at 4 months old. She LOVES the snow and loves her snow boots! Good thing she's a MIDWEST living Pup!

sarahbvt:Adopted from the shelter 3 years ago.

rcs8718:Jasmine is our red doberman came from a doberman rescue in Ohio almost 10 years ago and Indy our black doberman came from Indiana. Jasmine and her siblings had been locked in a small room while the owners went on a trip, needless to say the ainmal control stepped in and took the animals and Doberman Rescue took in the mom and pups to adopt out. Jasmine has been a wonderful and loving friend. She is best buddies with Indy. We drove about 9 hours to get her and had taken our other dobe Twilight to meet her and they hit it off as friends that very night. Twilight passed about 3 years later at age 11 and we went to Indiana to get Indy as a companion for Jasmine. Our dogs enrich our lives and give us unconditional love.

kgoebel13:Our 2 boys are both rescues - Shane from Corridor Rescue in Houston & Carson from Golden Retriever Rescue. Shane had a tough start, having been hit by a car with smashed back legs, who laid in Animal Control for 7 days before Corridor came in and had him amazingly put back together. Sweetest boys who love each other so much people think they were litter mates.

Jennifer Schuerholz:I rescued Ozzy (the Aussie mix) back in 2009 and this past fall adopted Charley as well. They became best friends at the doggy daycare Ozzy went to, which was fostering Charley at the time, and I had to keep them together. Ozzy came from Tennessee and Charley from Louisiana. I can not imagine my home without the two of them in it:)

bkwoof:This is Ed, our loving adopted mutt. His desire to be with us at all times, to be touched and his leaning on us gives us such happyness.

Sondra Leleux Broussard:Hubby not so much into cats; I finally convinced him to let me have a kitty after 5 years. Jacque was rescued at a pound (filthiest place I had ever been in) and weighed a little over 4lbs, was infested with fleas, had ringworms and an upper respiratory infection not to mention scared and smelly (I think his bed was the litter box) as heck. After only 2 months, Jacque has doubled his weight, overcome all of his ailments and has become more beautiful than I could have imagined! He is silly as heck and is fitting right in with the 2 shitzhus he shares the house with!

reallymadcow:Everyone asks me Tippi's breed and I proudly say that she's 100% mutt from the shelter. She's the sweetest and most loving dog EVER. I'm totally not biased.

erikagleason:Selma Lou is a 6 year old retired racing greyhound from Jacksonville, FL, who I found through a rescue group based around the DC area. I'm in college and she has been the best study buddy and walking buddy anybody could ever ask for. She is just the sweetest dog.

Kari Garthright:Missy (Black/Grey dog) is an Australian Sheppard mix I adopted almost 6 years ago at a local shelter. I had her alone for almost a year before I met my future wife. A year after my wife and I married we took in Sadie, a small yellow lab. She lived on a farm, but was constantly getting too close to a hwy that was over 1 mile away. Sadie was born with a ball in her mouth, and will fetch constantly! The two became best friends and make our lives so good. I can't imagine life w/o a dog, and I will always adopt from a shelter or someone who is about to send theirs to a shelter. We've had missy now almost 6 years, and Sadie is coming on 2 with us.

matanzero:Goldie is a 17 month old pit mix that was living on the streets. I reluctantly accepted her for a few days while a proper home was found...little did I know, she was home. She now fetches, brings her leash on command and loves to do tricks, her favorite trick however is laying around on the couch.

marcybeth76:This is Keebler. He was found on the streets and brought to a kill shelter. He was rescued by the Animal Alliance of Belle Mead in New Jersey, where I adopted him in 2004. He has been my best friend ever since.

investorob:Copy Cat was an anniversary gift in December, 2010. She was spotted and adopted at the SPCA in St. Lucie County FL and was just a kitten. She got her name for her always being on top of the copier in the office.She has been an incredible stress reliever and companion. Seen here keeping my files safe.

jme6280:Jake was found on the street as a puppy, louie came from a marine base in California and Jessie was adopted from a shelter at the young age of 7.

Kim Breslin:Montana and Kylie are mother and daughter. I saw them on a flyer for adoption for free. It seems the owner's had left them with a pet sitting service and had not picked them up for 3 months. The pet sitter called the owner's and was told they would pay her to put the dogs down. They no longer wanted them. I adopted them for free. My "girl's" have been with me for 4yrs now and saved me from a downward spiral I was in since my divorce. I recently added 5 new additions to the family, all cats. These little wonders came from my local animal shelter. I call them my sunshine, everyday is a great day when I spend time with my "kid's"!

Debbi Hoeler:Bailey, pit mix 9yrs old, DJ 5yr old puggle and Molly, 6 mon old pit mix...all rescues..all the loves of my life

Johnna Holmi Beenen:This is Ruby. She's about 3 yrs old. I adopted her a year ago from a local shelter where she was found as a stray. She is energetic and loving and is now "Queen of the Castle"!

Dave DeRosa:Willie was in a kill shelter in North Carolina, where he was thankfully taken from and given safe harbor at a no-kill shelter in Princeton, NJ. Lucky for me, this shelter is right next to my office and it didn't take long for the ladies at the shelter to keep giving him to my friend to walk when we'd volunteer over lunch. He's become my running buddy and is even quite the ladie's man when I take him out for walks around town. An endless ball of energy, Willie is always looking to play and learn new tricks.

iliwerdili:The Dude & I last winter. We adopted him when he was 1.5 years old from the PGSPCA, and he's changed our lives forever :) ALWAYS look at the older dogs before going for a puppy!

midnightbears:Bella was resuced from a shelter after her owers moved and left her behind. She is my always at my side helping and advising me couldn't ask for a better friend.

GGirls:This is lady who will be 8 years old on March 8th. She is a terrier mix (but seriously a jack russell!) When we rescued her 5 1/2 years ago, she weighted 9 lbs and had no fur on her leg because she was hit by a car. Now she is a happy, healthy 23 lbs! Oh the power of unconditional love!

Caitlina13:Deme found me in the parking lot of my condo and decided I had what it took to take care of her. I had gotten out of my car while backing up to go to work because I saw her staring at me. She jumped into my car, so I took her to the nearest vet clinic. Being scared, when they tried to treat her bloody paw and infected ear, she nipped one of the vet techs. It wasn't a bad injury, but she drew blood and had to be kept for 10 days to make sure she didn't have rabies. I visited her everyday sometimes twice a day. I named her, bought her a bed and brought her a toy while she had to stay caged up. She eventually came home to us after no one claimed her despite my boyfriend and I's efforts, and it has surprisingly been happily ever after! She has fit right in with our cat and guinea pig, and give us constant entertainment. She not only has kept us fit with walks, but also has helped our stress levels. The pure heart of a rescued animal leaves you forever changed in the best way possible! It will be one of the best things you ever do!

val2619:Ginger is a 7 year old Golden/Shepherd mix, who we adopted at 7 months old, from the North Shore Animal League. Ginger loves the outdoors!!

marinm89:This is Bella Blue, McCready, and our foster puppy, Figgy (adopted to her fur-ever home on 2/24/12). All babies are rescued pit bulls. Bella Blue and McCready were rescued strays and Figgy was rescued from being euthanized via gas chamber and hour before her time was up! Bella and McCready are what inspired us to create the new pit bull networking page on Facebook: Bella-Reed Pit Bull Network. Please stop by, 'like' us, and say hello! www.facebook.com/BRPBN

mollylovesit:This is Scott, a Chihuahua mix that was 3 1/2 when we adopted him from a local animal shelter. He had worms, throat trauma, kennel cough, an eye infection, and was vastly underweight, but it was love at first sight! He is much healthier now and is very happy in his new home. He has made a world of a difference in our lives and has brought us so much joy!

ladanielso:Spencer is a senior dog with arthritis in one knee who might be half blind, but he is happy, sweet and loving.

Opinionshurt2:I searched thru shelters online for about a month and then came across Leesha. She had been abandoned and in a shelter for 5 months. I drove 40 miles to rescue her. Love at first site as they say! She has the most wonderful personality of any cat I've ever owned. She has seizures about once a month but that doesn't deter from the love I have for this cat. I would adopt all over again.

mollylovesit:This is Olive, a Chihuahua mix that we adopted from our local shelter. She was an owner surrender because her owner had too many dogs and was forced to give some up. She's very playful and has so much energy, which is very different from our other very relaxed pooch, but she brings the much needed energy to our home and we couldn't imagine life without her!

ILoveSpots:Boone~abused by 1st owners~2nd having baby didnt want anymore~he was in a Dal rescue for over a year. After just loosing my Dal to cancer at the age of 3 I took a 5 hour ride to a Dal rescue~didnt leave without Boone~he rescued me :)~my shawdow~4 years in March this bundle of joy has been in my life!! My lovebug :)

mollylovesit:This is Paula, a cat we adopted from our local shelter. She's big, angry, and everything we've ever wanted :) We love her!

Tia Kropf-Beringer:This is Gus. Gus was abandoned in the woods in Northern Wisconsin. He survived alone in wolf country until he was found (skin and bones). He was obviously a dog that had never been indoors. Had to learn to use the stairs and be housebroken. He turned into the sweetest, most handsome dog in the world! Amazing how someone could have just left him!

Anna Braunscheidel:I went to the SPCA of Erie County (NY) not expecting to adopt a dog. I needed a break from writing and was just expecting to pet a couple dogs and cats, then leave. Tito stole my heart. He was 5 at the time, and had been in a shelter for 6 months in W. Virginia before being transferred to New York. He was so scared he wouldn't come to me, but when the man picked him up and brought him, I knew I had to have him. Despite his ribs and spine showing through his dull coat, despite his injured eye, I saw a beautiful dachshund. I came back the next day (about an hour early) and held him in my arms for over an hour as I went through the adoption process. Tito is the best dog I have ever known, fiercely faithful, eternally grateful, and full of love.

priscycute:Puppie (Shepard brown mix) was a day away from being sent to the dog shelter and my husband i good not just let that happened. So we picked him up, made all the arrangements to get him neutered and we had already found him a home. Then something happened he felt in love with my other dog Sophie the beagle and so did she, and we could not just brake them apart after being together for a month.

sueb03:Lizzy was resuced from death row 6 years ago. She wsa a formerly feral cat. With time she had become a sweet and friendly pet who loves to snuggle in your lap. Queen LIzzy rules our three dogs too!

BrownNoser Huffington IV:A few months ago, my daughter and I went to PetCo to get some food for her Guinea Pig - we walked in and saw that there was an adoption event going on - I had NO intention of adopting a pet(we already have 2 ShihTzu's and the 3rd passed away months earlier)but as soon as I saw Bosco's sad, sweet face, his calm and gentle disposition and read his info(10yrs old and Sharpei Pitt mix), I knew I needed to adopted him: 1)he's old and the older the dog, the less likely they are of being adopted(strike one), 2) he's a Pitt mix and that alone is a deterrent (strike two)and 3)he'd been in the shelter for more than a year and had yet to find a home (strike 3). He was the only dog there that people would ignore and I felt that if I didn't adopt him that day, he'd remain in the shelter and never get a chance to live out his last few years in a caring, loving home. He is a calm, sweet and gentle dog and I'm happy that he will enjoy his senior years with us.

ag416:This is my boy Jackson who I adopted from the SPCA in Maryland. He is a Lab/Beagle mix and has brought so much joy and love to my life. Shelter dogs are the best!!

Michelle Wheeler Warner:Bonnie was from Texas, Buddy from South Carolina. Now they are best friends. Shelter dogs are the best!! Ask the question who rescues who?

britter252525:This is my terrier mix Mowgli. He was found on the side of the freeway by a co-worker and was in need of a good home. It was love at first sight for me and I could not wait to get him home. He is just over 1 year old and is brilliant! He can catch a ball, sit, come, and stay (when he wants to). He rescued me just as much as I rescued him.

LikeADiamondCursed:I rescued Chopper after a friend told me his pregnant mom was dropped off at a local steel plant in town. She delivered 6 kittens in the midst of heavy machinery and dangerous conditions. Chopper was the runt of the litter and had a scratch on his nose that has turned into the cutest little black scar. He is no longer a runt and weighs in at 19 pounds. Chopper is no fatty though, he is all muscle, and is incredible smart. He has toilet trained himself, plays fetch, and loves sneaking into the candy bowl. He is now 8 years old, and my soul mate.

wcsbobp:Rosie is a mixed breed hound from a shelter down South. She is up to 60lbs now and still wants to climb into your lap.

rspapril281:From the moment I saw him in the pound I feel in love with him. he was my baby for 4 years until he died. After he died I had a tattoo of his name a a dog paw print placed over my heart. Aries was my baby boy and I miss him everyday

c4higgins:This is Yuengling, and as you can tell she loves boats and being on the water. I rescued her from Whiteville NC. She was actually pulled from a kill shelter the day before Thanksgiving by a kind volunteer. I adopted her 2 days later, at only 4 weeks old. She's my best buddy:)

Kathryn Byrnes:When I went to the shelter to find a dog - I stopped dead in my tracks when I saw Finley. When they took me into the "visitor's room" to see how we got along, he literally jumped into my lap! He was so malnourished and sick with an aggressive form of Pneumonia, I almost lost him the first week I had him home. Luckily, after lots of love and treats, he's never without a smile on his face. Couldn't be more in love with him!

Colleen Shanahan:A reluctant Santa's helper

tktmgug:We adopted her from a Rescue in Garner NC. She is five months old. She is an angel! A perfect addition to our family!

Laurel009:A rescue dog is ready to love and be loved.

Heidi Carrens:Seniors Henry (l) and Alfie (r) were both rescued from the Baldwin Park shelter in Southern California. Please consider adopting a senior pet. they are calm, quiet and usually housebroken.

Jenn Mahoney:I found this guy as a full-grown, yet still young, stray at a local Humane Society while in college. From first sight, I knew that I needed to have him. After waiting the three days for the owners to claim him, he became my baby. It will be 10 years this October since I adopted him.

AquaLunaDesigns:Rocky, so named because he was found as a kitten beneath the Rocky statue in Philly, I had just moved out of the dorms and had had horrible roommate problems. I didn't want to live alone but I couldn't bear the thought of a roommate. My mom suggested a cat. I thought for sure dad would be against it. It was my first time living alone, I wasn't sure if I could handle a kitten! But dad even said it was a good idea. I went looking for pet stores but without a car they were hard to find. Then I stumbled across a listing on Petfinder.com His foster mom had had him for six months, even though his 'siblings' (other kittens of about the same age taken in at the same time) had been snapped up almost instantly. I guess because he was a black cat, but I'm a fashion designer and black goes with everything! His foster mom brought him over for a visit and he never left. He's been my constant companion and got me through finals and friend drama and defended me when a roach crawled under my apartment door. He is a cuddle bug and a monster (Rocky Horror at those times) but mostly he's my best friend. It's cliched but true; I saved him and he saved me.

Kierstan Boyd:We adopted our dog, Honey, from a local animal welfare league. She is part yellow lab, part husky. Her best buddy boy is Pippy, this funny kitty we found as a kitten wandering abandoned in our neighborhood. Clearly the two of them are best friends!

Chris Eaves:We adopted Subie from the Humane Society. She's been the perfect dog -- smart, happy, fun and sweet. We later found out she'd been brought in twice before we adopted her--which I can't even imagine. Being an active herding mix, she gets a walk first thing every morning, which maybe is why we've never had a single problem with her. She's a good buddy.

Tone Loke:Caught in the wild @ 8 weeks old with 3 siblings. Rudy is on the right. We got him from an Australian Shepherd rescue at 12 weeks. He is now an accomplished agility dog at 5 years old.

Sarah Vitiello:I wanted a kitten and we went to the SPCA to look. They didn't have a lot of kittens and suggested we take a look at the "teens". It was love at first sight when I saw Una. She came right up to me and fell into my arms. I knew she was the one I was taking home. She was 5 months when I adopted her, and will be 2 years old in June. It has been over a year since she has been in my life and I cannot imagine her not with me.

Alyssa Fessett:Micky was found wandering around the roads of Indiana with his brother Ricky. We had found him on Petfinder and hoped he would still be at the TLC shelter a few days later when we could go. When we asked about Ricky and Micky they said that Ricky had been adopted but Micky was still there. He was still recovering from various health problems so he was really calm and would fall asleep in your arms. We decided he was the dog for our family and I know he was supposed to be because as we were signing his papers, another person came in asking about him. After bringing him home he got alot more energy and we saw his true personality shine. Micky is a great dog! He does excellent with my autistic brother and is a true part of the family. Couldn't be happier with my shelter pet.

Shawn Kay:Maggie, Morgan, Miela and Rufus! The loves of our lives.

Kristi Clark Gardner:This is Tyson. We rescued him from a Tractor Supply store, believe it or not. While shopping for various items, a local Boxer rescue foundation was having an adoption weekend. Tyson was found tied to a fence with the rope around his neck cutting into his hair and skin (he still has a scar). We knew he was positive for heartworms when we adopted him but how could we say "no" to a face like this? He is the sweetest, most loving dog we've ever owned and I can't imagine not having him in my life. I'm sure someone, somewhere is missing this dog (we don't believe the original owners tied him up) because a lot of time and money was invested in him...he came to us neutured, ears & tail docked, house trained, and knows several commands. The rescue foundation advised us that it's highly likely Tyson was stolen from his original owners for fighting purposes (Boxers are often mistaken for fighting dogs, like Pit Bulls). Knowing that information, I couldn't be more thrilled with our decision to adopt him. He's so amazing!

Gabby Alvarado:Lexi is half Boxer and Akita and was rescued at 13 weeks old by I.C.A.R.E. Dog Rescue in South Orange County, CA. She was saved from a bad situation and it was love at first sight when I met her at 3 mo's of age. She is now 1 years old and my best friend. I.C.A.R.E. and Lexi have touched my heart that I now foster/volunteer for I.C.A.R.E. and Lexi enjoys playing with the friends we bring home to help find forever homes. She is one very special girl.

Ally FurAnimals:Toodles is a tiny, 3 year old, 6lb Chihuahua who was rescued after 6 long weeks in the Orange County Shelter. He had been networked online a few weeks prior to his rescue and at the time his (supposed) previous owner spoke up and said he was her dog and she would be getting him out the next day. Everyone assumed little Toodles was safe. Until a friend was visiting the shelter over a week later and spotted poor little Toodles STILL there. A promise to him had been broken and now he was just hours away from being put to sleep. Last minute efforts were made and Toodles was successfully pulled from the shelter before it was too late! ICARE took the sweet boy into their rescue and had him vetted (deworming, vaccines, exam, etc) right away. Then the pocket-sized cuddle bug came home to me and I fostered him for a few months...about eight to be exact! It became apparent as time went on that Toodles knew he was already home. How could I now place him in a new home? He is my sweetest boy. I would often cry when he'd go off to adoption events--worried this was the last time I'd see him! He is always by my side. He loves to give me hugs and just rest on my chest. I have successfully fostered many dogs since that were adopted out, but Toodles and I had a special bond. Toodles was incredibly timid when he came out of the shelter--too fearful to even take a drink of water. He has since made a complete turnaround. Toodles is now a very happy dog who loves playing with the fosters that come and go as well as his best friend, Vito--also a Chihuahua rescued from the same shelter as Toodles, just a few months earlier. He also loves to chew and hoard all the bones in the house--he is truly obsessed with them, which has earned him the nickname, "T-Bone Toody'. And Toodles does great with visitors. He barks at first but eventually ends up in everyone's lap, getting pet and looking into their eyes in this certain adoring way that only Toodles can do. I love my foster failure and wouldn't give him up for all the gold in the world. He is my friend, my furbaby and happiness--my tiny ray of sunshine! Working with ICARE was an easy and very pleasant process also. I will be adopting ALL my future rescues from ICARE Dog Rescue.

wcsbobp:I was looking for a new pooch after I had to put my last dog down that I had for 15 years, then I saw this one....Wow. She's a rescued dog (pup actually) and I couldn't resist. Best dog in the world!

HuffPost Blogger Marc Kirschner:My wife talked for years about what kind of dog we wanted. Those conversations were quickly discarded when we met Daisy a few weeks ago at Petco on 86th and Lex, where they have rescue events every Sunday. Daisy is a pit bull/whippet mix that was lucky enough to have been rescued by two wonderful foster parents the day she was scheduled to be euthanized by Animal Care & Control. She has adapted quickly to her new surroundings, makes new friends every time she goes to the dog run and is sweeter and more gentle than we possibly could have imagined. In other words, she's a typical pit bull/pit bull mix.

lkclifford:Rufus was found at the local oil refinery when he was a kitten. I adopted him from the family who rescued him when he was about 6 months old. He has always been very shy and hides when anyone comes in the door, but he loves his mom. I am the only one allowed to pick him up. I have had him for about 6 years now and he is my baby, along with his sister, Mavis - another rescue and my 2 Shelties.

AshleyMarie28:My boyfriend and I were on our way home from a night out and decided to stop by our favorite neighborhood bar. A group of really loud laughing people walked in and I looked up to see what was so funny, scurrying behind them was a tiny black kitten that had been following them for blocks. He wandered toward me, where I reached down to coo at and pet him, next thing I know he's asleep at my feet. One drink later and he's purring in my lap. The bouncer approached me to tell me cats weren't allowed in the bar, my boyfriend (who wasn't a cat fan) told me this was my ONE AND ONLY chance to have a kitten. Needless to say I scooped him in my arms and took him to his forever home where we cleaned up and treated a wound on his ear I think was from another animal attack. Giles the cat quickly became our mascot, feisty, extremely spoiled and rambunctious. After about a year he attracted the attention of another feline, a white siamese looking older cat that we noticed one day when I had the eerie feeling that I was being watched. I looked over to our window where a sad looking cat was staring at Giles and I through the window, thus his name Sad Cat, we've tried other names but this one just stuck. I started feeding him regularly, but couldn't take him in due to landlord rules. I posted pictures of him on various social media asking my friends to please adopt this completely socialized, friendly creature. He spent months coming to my window even through a snowy winter and when he would meow I would let him in from the cold for longer and longer periods of time. Eventually some friends decided to come over to meet him and instantly fell in love. Now Sad Cat and Giles have play dates and are both out of the cold.

lisanewms:These are my two babies that I rescued in Destin, Florida from a high-kill shelter. Milo (left), is a boxer/pitbull mix and was a little over a year when we adopted him. He is now 2! He was given 5 days to find a family. You could see every single bone in his body and could tell he was strongly abused and neglected. But that didn't stop him from showing as much affection as he could by rubbing his face all over you, licking your face, climbing up to lay on your lap and jumping and prancing around to show off how excited he was that someone was interested in loving him back. He is an AMAZING dog and such a cuddler and it breaks my heart he was about to lose his life. We also happened to fall in love with another baby at the shelter, Kahlua. She was 4 months when we came across her and she is now 1 year. She's a brindle red-nosed American Staffordshire Pitbull and is as sweet as pie. She has a load of energy and proves every wrong when they say pitbulls or vicious because she will just lick you to death. :)

Jeremy Lyman:Juna and Maki are both from the ACC in NY. Juna is an 11 month old pit mix and Maki is about 2 1/2 years old. They are both as sweet as can be and are constantly finding themselves in these positions. They are the best of friends and are actually both looking for homes!

Tim Nooncaster:I wrote this in August just after I let her go... My Golden Retriever Maxie has been gone nearly 4 days now. For quite awhile it was hard for her legs to hold up her aging body. The eternal puppy inside. I loved her with all my heart. We all did. She was a member of our family. I was a Paratrooper at Ft Bragg North Carolina in 1998. One sweltering hot July day I went to a friend's house for lunch. We went out back to look at his tomato plants. As I got closer I could see over. An emaciated half starved little dog was laying in a hole she dug in the yard next door. Bugs swarming, She saw me, smiled and wagged her tail kicking up a dust cloud. Trying to stand but too weak at only a year old. I hopped the fence and gave her some water. At that second she became my dog. No more at the mercy of neglectful owners that only wanted a puppy. A couple nights later she was in my possession and would remain for always. With the help of many friends Maxie became a normal happy dog. I sent her home to Chicago to family and reunited with her a couple years later. The years went by and my family grew. With Maxie there always, always with us, always with me. Through life's ups and downs. It seemed she got old and gray too fast. Vision and hearing going. Her face turned white. With legs wobbly she was resigned to lay and watch the world go by. When she would fall on the stairs or the hardwood floor she'd always look at me for help. This broke my heart remembering how she used to run, and run, and run, and run. A little over a week ago she fell and rolled into her Mom's flower bed. I picked her up but she refused to stand anymore. She refused food and water. She would just look at me. I think she was saying "Daddy, I'm tired and I just can't fall down anymore". I spent Monday morning with her. Her Mommy came home from work and we layed in the grass with her one last time. She just layed down and let us pet her. We put her in my truck and took the shortest ride of my life. She layed on the table with no fuss when we got to her vet. It was hard watching her die. She passed in the arms of those that loved her most. Her Mommy layed on her and sobbed for a long time after she was gone. I picked her up exactly like I did bringing her into my world and held her in my arms for awhile longer. I took one last smell of her fur, stroked her head, closed her eyes and carried her to the back room. Always critical of myself I'll always wonder what I did to deserve this gift. No longer does she have to work to fill her lungs with air, or climb stairs. Her heart and legs are strong as she runs everywhere, arthritis gone. Her keen vision and hearing is restored, along with her beautiful red coat. She's where it's always spring. Except for the occasional patch of snow she likes to eat. The grass is freshly cut and bug free, with tennis balls everywhere. There's always a cool bowl of water to drink from and a hand with a cookie in it for her. The sun is warm but not hot, and she takes a break and lays down to wait for her family. Tail always swishing back and forth.....

mlw789:Kaci is our little bundle of joy. She protects her little (although physically bigger) sister Zoie with every ounce of her being. They are the best of friends. Both were adopted from the ASPCA.

Katie Goff:This little sweetie was adopted from a rescue organization when she was eight years old. She loves to lie in front of the fireplace and get belly rubs, and she's friends with everybody!

tallky:We rescued Maggie when she was a few months old and had been kept constantly in a cage. She loves her freedom, water, and chews EVERYTHING! We love her madly and cannot imagine life without her, now 1 1/2 years and happy!

dm4n6:Pure bred chihuahua we adopted from an upstate NY rescue. The most love, energy and entertainment that can fit into a little five pound body! She gets on famously with our other three rescue dogs and is much smaller than all of our ten adopted cats! We are truly one big happy family and we couldn't have asked for a more precious little girl to be in charge!

sumofrazier:These are our rescue pit bulls. Malcolm, the white one is deaf w/ a slightly deformed leg came from Deaf Dane Rescue Inc in Oregon, and Lois, the red one is the puppy mill momma who was the saddest dog at the shelter in Silverdale, WA. Both are happy and warm!

Kissthisangel:I adopted Zoe in August of 2007. When I went to her foster home, we locked eyes and I took her home that same day. I was later told that I was the only person she didn't 'hiss or growl at'. Zoe has been with me through 3 major hip surgeries, a flood and countless other life events. One thing I have come to know is I AM the lucky one to have found her. She has changed my life for the better.

terriangel9:Maggie is the sweetest most lovable dogie. Adopted from a shelter in Colorado when she was about a 1yr. old. She was pregnant with (no one knew) Maggie now lives in CT with me and her dad and adopted cat Oscar.

dollarsd:I own a doggy daycare and pet sitting business. One of my clients dogs had to be put down due to cancer, I went to the SPCA to make a donation in memory of the dog. All over the shelter they had flyers and pictures of a deaf pit bull that had been at the shelter for close to 6 months. I asked to meet the dog, from being at the SPCA for so long he had developed a few issues but nothing major. Long story short, it was love at first sight. You would never know that he was deaf upon meeting him, he is so eager to learn and please. He gets along with every dog that he's introduced to and is incredibly loving. I often think about what would have happened had we not found each other and about all of the other homeless pets that aren't as lucky as Dodger.

Jill Blackstone:I rescued a dog... then another because I felt guilty having a big yard with one dog. Then another because the 2nd was shy and needed a younger dog to nurture. Then another because she was abandoned at my vet's office. Then another because he was found near dead by a friend and needed a place to stay. And on and on. Then I founded my own rescue organization (www.thumpingtails.org) that has rescued and re-homed over 500 dogs to date. The dogs in this photo have all passed on and there is now a new posse in the house, still enriching my life in every possible way. Before my first dog, my life was just about me. Now my life is about so much more, and I can't imagine anything different. Go rescue a dog who needs you, and find a part of your soul that you never knew existed.

Joshua Goldman:While going to college in VT, I was hiking through the woods when I found some guy beating a 6 month old puppy. Not to get into any gory details, I walked away with the pup. After going to 2 vets that told me the best thing for him was to be put down, I found a vet that performed surgery for next to nothing (remember, broke college student)on his shattered leg and several broken ribs and gave me a high calorie stew recipe made from lamb and fresh veggies because he was at 50% weight. I was eating ramen noodles and Harvest ate lamb stew! He was the most loyal dog and my best friend. I lived in a cabin on 600 acres and he would wander the property during the day, but would always be on the porch when I got home. That was Harvest, always there when you needed him to be. He passed away last summer, almost 13 years to the day those 2 vets told me to put him to sleep. He was my best friend, and, although I have 2 new rescue dogs (a newfoundland/husky mix and a westie) I know I will never love a dog like I loved Harvest....

Jill Blackstone:My friend, an emergency vet, called at 1 a.m. to see if I could take in a pit bull pup whose front legs had been run over by a car and was going to be put down. I said yes, went back to bed and the next day they handed me a 3 month old puppy who could fit in my hands, whose casts were bigger than the rest of her and whose spirit was magical. We named her Izzy, I have no idea why, and I intended to foster her, let her recover and then adopt her out. But her leg had broken on the growth plate and required several more surgeries and a year-long recovery, by which time Izzy thought I was her mother and I knew I couldn't part with her. She is now 4 years old, ecstatically happy, loving and affectionate. Though I've placed many pit bulls through my rescue she's the first one I kept, and now I'd never be without one. This breed is so beautiful, so happy, so funny, so playful, so loving, so great... and so misunderstood. Yes, having a pit bull is a different kind of responsibility. ANY dog can bite -- and the only dog bite that ever sent me to the hospital was from a 6 pound terrier -- but if they bite, they can do a lot of damage. They must be socialized; Izzy can be trusted with dogs, cats, birds, any creature really. I know that if there's a dog fight 10 miles away, someone might try to blame my pit bull because of breed prejudice. But I am a responsible dog owner and I know Izzy's limitations. She will not start a fight, but if challenged she will defend herself. So as the human in this equation, it's my job to control her environment. And I do. Izzy lives with other dogs ranging from a 160 pound Great Dane mix to a 14 pound maltipoo who literally jumps on her head and bites at her face to get her to play. She loves them all. And I can't imagine my life without her. Sometimes I wake up in the middle of the night, and she has snuggled right up against me. I put my hand on her chest and feel her breathe deeply, and I thank God for bringing her to me, and I pray for all the pit bulls who are not as lucky.

Julie Murrman Sloan:My shelter rescue Bella. Thankful every day that I picked her...and she picked me!

Amnavvet:Coleen was abused and is very mistrusting but has come a long way in her recovery. Baron waw abandoned and is very gentle and loving

michelle2448fan:This is Buddy (L) and Chance (R). Buddy came from the Inland Valley Humane Society in Pomona, CA. I adopted him 3 yrs ago when he was a 3mo old scared pup. He is amazing, full of energy and full of love. He loves to snuggle and love belly rubs. Chance came to us when he was only a few weeks old. He was abandoned and we had to feed him puppy formula with a syringe. As you can see he has come a long was from the 4lbs he was when we rescued him! He thinks he's Buddy's size and has no problem climbing into your lap for some attention! These dogs are my life and I can't imagine what would have happened if we had not decided to rescue a dog instead of buying a dog. Adopt a shelter dogs deserve nothing less than a loving forever home.

Suzi Anderson:We fostered Sadie, our Australian Cattle dog after my Beagle passed away. The moment I went to pick her up at Petsmart I knew it was going to be more than fostering. As soon as she got to my house she went to the couch and sat down like she had been there her whole life. Her story was that she was kept in a crate for her whole first year and then taken to a shelter when she gave birth to her first litter because she did not know how to be a mom and was scared of her puppies. So they used her for breeding purposes and then dumped her off. We love her!

ryaona:This is my Lucky boy, a doberman lab mix. We adopted him when I was 11 after losing our childhood dog, the last of his adorable litter. Today he is 11 1/2 and battling cancer. He is still that happy, little boy and it breaks our hearts to know we will have to say goodbye soon. We love you Lucky!

ryaona:After finding Lucky my dad took me up and down Southern California to every shelter and pound to find him a sister. It took a month, but I finally found Kokoa. She was young, probably too young to be away from her mother, but found wandering the streets. Almost 12 years later she is unbelievably loyal to us and her bff Lucky. I Couldn't imagine our family without her.

ryaona:Last but not least is Remmy! My husband and I moved out of state and away from my dogs who continue to live with my parents. Feeling lonely, my husband and I went out to the humane society and fell in love with a puppy whose litter was abandoned by a dumpster. He is unbelievably strange but he made this state feel like home. Nothing beats coming home to snuggle with this kid.

DrKMcK1:Yoda was adopted after I had a heart attack and my 12 year old Lab died.He's a rescue and was 2 yrs 2 months old and 9 pounds. He's now 3 1/2 and I love him. He has 4 hamster friends who he really likes. Everyone loves him.The best dog ever.

rawkstar4179:Sita was dropped off at the vets office where I worked when she was 11 weeks old ... and never picked back up. After 1 month, I was able to adopt her, and she has been my baby ever since. We think she's Shiba Inu/German Shepherd/Chow, but who knows?

Kristen Strobel:Anna was slated to be euthanized at a shelter because she had a chronic runny eye. This sweet, shy bunny has been everything you could ask for in a friend for the past 8 years. She asks for so little- a safe, inside home, fresh food and water and a clean litter pan-yet she gives so much in love and companionship. She is a regal rabbit and I am so happy to have her. Pigpen the cat came to me one day while I was out in the country in the middle of nowhere. Thin, dirty, covered in fleas and ticks, he walked up to my friend and I and started rubbing and purring and generally letting it be known that he wanted our attention! He was quite sick with an upper respiratory infection that took months to clear up. Now he is a happy house cat, sleeping in bed with me at night, purring up a storm, and no longer thin, dirty, flea or tick ridden. Sometimes I catch him snuggled up with Anna. My rescued furry family members add so much to my life, and I count myself very blessed that they have found me. I wish everyone would open their hearts and homes to a rescue animal.

WuzzlePhd:This is Charlotte, a 4 year old cat we adopted for Christmas 2011. She had been a foster cat for 2 1/2 years, brought to the Gainesville Pet Rescue along with one of her kittens, who was adopted quickly. We wanted a cat, not a kitten, to be added to our home, Mom, Daughter and Shih Tzu. She has adjusted to her new life: breakfast in the loft, running up and down spiral stairs, chasing her pray, playing follow the leader with the Shih Tzu, window watching from the loft and front bedrooms, snuggling in a bed or on the sofa, helping my daughter or me type on the lap top. One of her favorite place is on the screen porch, where she can watch and listen in the safety of her new home. Funny thing note: slider will be wide open and both she and the Shih Tzu use the doggy door to enter the house.

cuddlebaer:This is Snow White. She found us many years ago as an abused, and abandoned kitty, ever since she has lived on my daughters bed and bugged me during the day.

r thames:I adopted Mr. Buttersworth a month ago. He's an obese but very loving cat that always makes me laugh.

LeatherWitch:Tigger literally saved my life during recovery from addiction in 2002 and from that experience...our family went online to Humane Society and found Roo(fus).! Now they are our "Children" and live hapily ever after !~

Jacquie Jaskowiak:Radar found us at the Minnesota Humane Society. Who could say no to those ears? He came to us from an Oklahoma puppy mill that had been shut down. Can't imagine what my life would be like without this guy :)

japfink:I ran to the NSAL when they said that they had a puppy who had survived Parvo. This black and copper ball of fluff looked up at me and it was love at first sight. My husband and I watched him sniff around his new digs. We looked at each other and said "It is Horus." On an earlier visit to Central Park, we found a 3,000 year old stylo, a gift from Egypt. As an Anthropologist, I thought the of Horus and Cleopatra's love story as endearing. I asked my husband "Isn't Horus is a cool name for a dog? Especially since Horus was the god of enlightenment." Erik agreed. So before us was our enlightenment; a five-week old pup who had to be removed from the shelter before he infected any other dog. We took him to our vet and got a treatment and feeding plan for a 5-weeks-old meaning that he was to be bottle-feed for the next two weeks, on demand. We tried crating him only to have him whimpered all night. We opened the crate door the next night, put a hot-water bottle wrapped in a piece of old-soft blanket good for and Horus was good for the night. We went through paper training for the next several weeks, then carrying Horus out to pee every two hours. Horus's 12-week check-up showed that he was ready to go on walks. At first it was every 3 hours then 4 hours until at 8 months Horus wanted to go out 3 times a day. Horus is a Rotti-Shephar

savaskys:Back in the early '90s this dog walked into my lady friend's front yard gave her the take me home I'm yours forever look. She already had a dog and a cat so she called me and asked if I wanted a dog. I had never had a dog before but I said yes. I named him George and took him to the vet to get him checked out. George had a collar but no tag. Somebody didn't want him to come home. He was underweight had worms and you could see his ribs. He had been neutered which suggested that he had a home for a while. George wasn't a shelter dog but probably would have become one. He lived in the house and loved to ride in the car. He knew where the paper in the basement was, something somebody else taught him. Each nite when I went to bed he would come into the bedroom and jump up on bed and lay there for a while until he thought that everything was ok then he would return to his spot in the living room. I learned later that he had a nervous system condition that eventually caused him stomach to build up with gas. He passed away in a kennel while I was away on a business trip. That was nine years ago and I still miss him. I buried him in a local pet cemetery. Steve Savasky Jenison, MI

courtney20:I adopted Zoe in July, and she saved myself and my apartment in August. I was in a back bedroom when the fire broke out and the fire alarms had yet to go off. After getting my attention by wildly barking and all but dragging me to the the living room, I then saw the entire wall on fire. She then stayed with me, even outside, the entire time the fire dept was there. She then slept in my bedroom facing the hallway into the living room for about a month afterwards :) Without adopting Zoe I am unsure I would have been able to escape the fire.

Cutepurringcats:Wilbur was a stray who somehow knew to get food and water from a local animal shelter's manager, Jennifer Moore. After feeding him the whole winter of 2001, Moore trapped Wilbur and took him to the shelter she works at. Three weeks later, I found Wilbur by volunteering there. The first time I held him, I knew he was mine because he had tested positive for feline leukemia, so nobody else wanted him. Luckily, it was a false positive and about five months later, I got permission to take him home. Wilbur lived with me the last nine years of his life.

noragb:Serena taking a well deserved nap.Rescued 4 years ago. Wonderful nature, sweet, grateful and faithful

Barbara Louise Carrin:Bella Grace is our rescued 3 year old American Mastiff Saint Bernard mix. She is the sweetest 120 pound lapdog I have ever had. She has the sweetest disposition, almost never barks, and makes the cutest non bark noises I have ever heard a dog make. She doesn't have a mean bone in her body, and loves anyone who will consent to pet her or giver her a knacker , our term for a dog treat.

Schnitzelmama:Mid-January last year I walked into an LA County Animal Shelter in Lancaster, CA. LA County has a tremendously high kill rate and I wanted to see a shelter for myself. That day changed my life. I became a rescuer, foster, and transporter. That day I saw a dog named Gigi, dumped by her owners earlier in the morning, who I tried to find a week later to save. The shelter couldn't find her. Another week, the same thing. She was in the system, but we couldn't find her anywhere. A full month later - unheard of for a dog to live that long - I found her in isolation, emaciated and with a drain in her neck, stitches and staples, from a dog attack. I immediately got her out and took her home. This picture is a few days later, with my mother, who fell in love with her too. After her recovery and health returned, I decided that Gigi had been through enough in her short 2-year life. She'd found her forever home. Since then, I've gotten over 100 dogs out of various shelters and networked and transported them to rescues in Oregon and Washington. I've become part of WagStar, a team that drives dogs to new homes in other states. And Gigi still lies next to me, a loving reminder of why we all work together to save the shelter dogs. Christine Wood

vballbrat:Not only did Billy get a new home with two kids but he got a new best friend, Cody!

musicmasterno1:This is Stu P. Id. We found this little guy wandering the streets of southern Alabama. He was covered in fleas and eating garbage. We took him home, gave him a nice flea bath, and he slept like a baby right with us that entire first night.

Kathleen Callahan:Layla was rescued from a hoarder with over 180 dogs. She is scared of people and most dogs but she has completely rescued me! She loves to play and sleep all day in her forever home!!

phontphoneez:We picked up "Goofball" from a Boxer Rescue in Alabama. He's a true comedian and has an amazing "dogonality".

marseedoe:Annie was a stray that was picked up on the side of the road. She was underweight and had been living off the land. The vet wasn't sure if she had ever been anyone's pet. She is now pleasantly plump, loves being with her pack and enjoys soft surfaces and belly rubs!

Solange Noelle:It was the eyes that got me - two enormous frightened eyes beneath a worried wrinkled forehead - a tiny fawn female Chihuahua cowering in what looked like a litter pan in the back of the Kern County (Bakersfield CA) shelter. As Mami to two middle-aged Chis of my own, I'd never fostered before and wasn't sure I could - but this face went straight to my heart. I emailed my friend Kay, an active rescuer and foster, to say I would foster her. When she told me that there was a male that came with the her, I was bummed - two more was just too much. I knew someone would step up for her, and I put it out of mind. Three weeks later, Kay emailed me and asked if I were still interested. By this time, the dog had gone from a healthy 6 lbs to an emaciated 4 lbs, bones sticking out everywhere, and with an ulcerated eye. This creature, who was 'as dead as a living thing could be,' as her foster mom put it, had been thrust into her arms by a compassionate animal control officer who said, 'Please, just take her.' Apparently the food at the shelter had been too big for her to eat and she had slowly starved to the point where her vital signs had nearly shut down. On top of it, she had somehow gotten an ulcer on her right eye and she was in serious danger of losing it. Her foster mom, Paula, took her to two different vets, who told her to put the dog down, but she refused. This was about the time Kay got hold of me and some miracle alchemy connected me to Paula and, with a newly minted credit card, I said do whatever it takes. It wasn't a logical decision, nor maybe a smart one, but it was made with the heart. A plea for a ChipIn was made and over $1100 was donated for the dog Paula called 'Sweetie Pie,' and the bit of change my grandmother left me when she passed covered the rest. In the meantime, her brother came up the next day on emergency transport, wearing nothing but his blue paper shelter collar, and for two months 'Kilo,' as we came to call him (short for 'tranquilo' or quiet/mellow in Spanish) acclimated to my home and two Chis while Sweetie Pie was nursed - with IVs, fluids, antibiotics, and a Nebulizer breathing apparatus - by Paula until she was well enough to travel. On an August weekend, my goddaughter and I drove two hours down the freeway to meet Paula, who sobbed as she handed the now healthy but still thin Sweetie Pie, now renamed 'Carmela,' over to me. Mella, as we came to call her, slept in Syd's arms all the way home. She was given a clean bill of health by my vet, was spayed and had her teeth polished up, and we were lucky that she was able to keep her eye - and although its cloudiness may be like 'dirty sunglasses' as my vet says, it doesn't slow her down a bit. In the beginning Mella cowered whenever a hand was raised around her, leading us to believe she had been hit in her previous life. She doesn't cower any more, and the dog who was 'as dead as a living thing can be' is now positively round, with a lovely little barrel belly, and is the liveliest of all four Chis. She and my other female grudgingly tolerate one another, after some bumps in the road (girl fight! girl fight!). We have come to give her many names: Mella Bella, Gooey (short for 'Geoduck,' after the longnecked clam), and most of all Ghost Dog. She is Ghost Dog because she has the most curious habit of lifting her nose in the air for no good reason and sniffing and looking curiously at an invisible something - a ghost? an angel? dead people? We don't know. We believe that because she was so close to death she may have crossed over and come back - sounds very woo-woo and hippy-dippy, but Mella is a spiritual little dog who seems in tune with something the rest of us can't see - that is, when she's not nosing her way under a blanket and wrapping herself into a 'blankie burrito.' Mella truly was the child of an entire community and it is a privilege to be her forever Mom.

DSevere:We found Libby on the street as an abandoned puppy, Teddy belonged to a friend's relative & was about to get sent to the pound (drove 550 miles round trip to death valley to get him), Bella's owners rescued her and then moved someplace where they couldn't have a dog, and to their credit put some effort into finding a new home for her, which is how they found us. Our dogs are our kids and bring us endless fun, mischief and joy.

Daphne Grisham:My husband and I adopted Biggie, a 2 year old AmStaff/"pit" mix from Brooklyn Animal Care & Control on Feb. 5, 2012. His previous owner gave him up due to a landlord issue. In the last month he's blossomed so much and continues to reveal his sweet nature to us. He was emotionally shut down in the shelter, and only half-heartedly responded to the "sit" command, but has since shown us that he knows how to "come", "sit", "shake hands", and "high five" on command.

Nina Fleck:We adopted Cookie 5 years ago from the 110th street shelter in Manhattan, a day before she was supposed to be euthanized! Cookie is fully blind. She believes she is a dog and we believe she is the reincarnation of Bette Davis (-;

WynK3lly:he was a friendly stray and would beg for food from construction workers. He was a BIG dog, and was very thin at 90 pounds.A couple of burritos a day was not enough. The workers boss was gonna call the pound to take him away. but then Duke did the most amazing thing- he picked up a brick and gently offered it to the man as a gift. So the man called around and found the animal rescue group that I volunteer with. I watched him for 4 weeks, his calm dignity and charm won me over. He began to follow me as I did my activities on the 110 acre site. No one wanted to adopt him because he wasn't young, and he was so big. (He finally reached a healthy weight of 122 lbs). I adopted him and he was my BEST friend and kindred spirit for 10 yr. He worked as a therapy dog, and even went to church with me, a perfect gentleman. Kids loved him. He passed on 3 yrs ago, and I still miss him so much, I dream about him!

meaghan2k:When I turned 21 I decided I was going to adopt a dog. I did tons of research, told myself I was going to adopt an older dog that needed a home, but sure enough, the second I walked past the puppy cage this little guy came running up to me and absolutely chose me that day. I took him home a week later and named him Yeats, after my favorite poet. I was lucky to have him in my life for 6.5 short but loving years- he was diagnosed with lymphoma in October 2011 and I had to let him go a month and a half later. I went a month without a dog before I decided I would foster, which I failed at completely because after a day of having my newest dog I sent in the adoption fee and kept him. Seamus is coming up next!

meaghan2k:After Yeats, I knew I had to have a dog in the house. After seeing a picture of a little puppy named Freeway on a rescue group's FB page, I offered to foster him. He was turned into a high kill shelter in SC, lost in transport to VA, and found on the highway in VA on Thanksgiving Day. The minute I got him he rested his head on my shoulders and a man at the adoption event told me, "You're not fostering him. He just adopted you." He was absolutely right. I couldn't let him go and four months later he's the best dog a girl could ask for. Looking over him is his brother from another mother, Huxley, a cat I rescued from a friend of a friend's shed when he was a kitten. Rescued pets are the only way to go!

Debbie Davidson:Logan was at a kill shelter in North Carolina and had a very bad case of mange, at 5 months old he did not have long to live. Last Chance Animal Rescue in South Hampton, NY saved this boy, transported him here through Middle Mutts and I adopted him. He is still getting treatment for the mange but is much better, He is a very playful boy who loves to tease his fur brothers and sisters.

Nikki Heikke:These are my boys. Charlie Puppy came to me through a family who could not take him with to the new place they were moving into. He was only 5 months old. Three months later Poppa Puppy came to me the same way at 8 months old through another family. Poppa, being a pit bull, was a little more urgent. There are very few shelters that wouldn't have put him down because of his breed. So here it was that I had an 8 month old puppy already and another 8 month old puppy that desperately needed a new home. Getting them together was difficult since both of them were use to being the ONLY dog. When Poppa's family brought him to my house, they set up his outside kennel and put him in it. I brought Charlie outside and put him on his lead. They barked at each other and ran back and forth for a while. Finally they laid down next to each other and started cleaning one another through the fence. Now I can't separate them. They are the best of friends. They may not have been litter mates but they are truly brothers. I am so grateful to have them.

katee367:A 13 month old Lab/Pit mix, Ella, was trapped inside a high-kill shelter in New York City. Just hours before making the euthanization list, 19 year old Kate of Long Island, NY, rescued the pup and took her under her own wing. Kate had been thinking about Ella for 4 days after finding her picture and description on the internet. The urge to go rescue this dog had become so strong, that Kate could no longer sleep at night. She had wanted a puppy for years, but never in a million years thought she would have the guts to travel an hour into the city to find a dog she had never met, especially not knowing if the dog was still there or not. While traveling into the city, Kate caught herself frequently pausing and thinking, "What am I doing? I can't believe i'm actually doing this..." Ella was in isolation at the shelter for kennel cough, so nobody could see her unless they specifically asked to. Kate decided it was best to re-name Ella, Bella; the name that just kept coming out when people called her over. A few days after being brought to Bella's forever home, she started acting very listless. Bella would not eat and drank very little. "You could see it in her eyes," Kate would say, "Something is wrong." Right away, Kate became extremely concerned and brought Bella to the vet. As the vet examined, she looked up to Kate with a cocked smile on her face and replied,"She's pregnant." So no, a case of kennel cough, as the shelter diagnosed, was not so. Bella had morning sickness! Kate couldn't help but to think how much a difference a day would have made for poor Bella and her pups. No wonder the urge to rescue was so strong! Bella and Kate are now the best of friends, and are awaiting those tiny puppies in about a week or two, around the first week of December. What a "Merry Christmas" & "Happy Holidays" it will be!!
Like this article? Follow our Facebook page

Or follow us on Twitter

Follow @HuffPostBC