Wind Mobile's Withdrawal A Major Blow To Tories, But Verizon May Be Back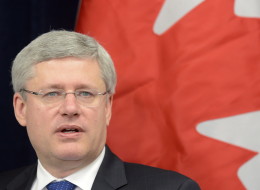 The Harper government went to war with Canada's big wireless companies, and lost. But there may yet be time for a rematch.
That's the message coming from many telecom experts reacting this week to the news that Wind Mobile, the likeliest candidate to become a fourth national carrier, has withdrawn from a crucial auction of wireless spectrum.
It's the Tories' goal to add a fourth major wireless player to Canada's market, a change they say will bring better prices and service to wireless customers, thanks to increased competition. It's a goal they set out in last year's throne speech.
The auction of 700 Mhz spectrum was supposed to be a major turning point for the telecom industry. This band of spectrum is considerably better than the spectrum wireless companies use now (it can penetrate better through walls, for instance) and wireless companies left out will be stuck offering lower-quality phone service.
Much to the chagrin of Big Telecom, the Tories had instituted rules for the auction designed to ensure that the Big Three — Bell, Rogers and Telus — would not be able to completely dominate the new wireless airwaves.
But with the withdrawal of Wind — and with the other two small players, Mobilicity and Public Mobile, basically out of the game — the likeliest outcome of the auction, which is expected to be wrapped up in the next several weeks, is that nothing will change.
"The move is a huge blow to the federal government's efforts to boost competition and lower prices for consumers," writes tech blogger and reporter Peter Nowak.
"The government is … left in an ironic position. If it allows this week's auction to go ahead, its main accomplishment will be the strengthening of the positions of the Big Three, who will come away with more quality spectrum than they went in with."
Story continues below
Most Memorable Quotes From The Wireless War
"I think a lot of customers don't want a cap on their monthly cellphone bill." -David Fuller, chief marketing officer for Telus

"There's going to be a bloodbath, because people are not going to give up on getting that block." -Darren Entwistle, Telus CEO, on what would happen if the government's rules for foreign companies who want to buy Canadian spectrum don't change.

"It was foolish, stupid, arrogant." -McGill University political scientist Richard Schultz, on a letter from Anthony Fell, Bell Canada's BCE director, to Stephen Harper.

"Kevin Crull our President wants us to give this report some coverage. It's a report on phone charges in Canada." -Excerpt from one of the alleged emails sent from senior Bell Media employees obtained by Carleton prof Dwayne Winseck. Winseck says Bell Media's president, Kevin Crull, pressured news directors from other outlets to provide favourable coverage of the CRTC's Wall report.

"Bell, Rogers and Telus … are accountable to Canadians for the airwaves we entrust to them in ways a foreign firm with 100 million customers back home could never be." -Toronto Star Publisher John Cruickshank on the consequences of Verizon's entry into Canada

"You suggest that 'U.S. giants don't need special help from the Canadian government,' but that's exactly how Bell got to where it is today." -Blogger Ben Klass on Bell

"Given we've invested $100 billion in Canada since 2000, we've earned the equal right to bid on spectrum against a company with the deep pockets of Verizon." - Josh Blair, chief corporate officer of Telus

"I don't think they have a commitment to rural Canada." -Darren Entwistle, Telus CEO, on Verizon

"Nobody believes that the incumbents want robust aggressive competition." -Industry Minister James Moore on Rogers, Bell and Telus

"Over the past several weeks Canadians from coast to coast have been treated to a veritable all-you-can-eat buffet of misinformation on the state of the wireless industry." - Anthony Lacavera, CEO of Wind Mobile on the Big Three's campaign

Canadians' Favourite And Least Favourite Cellphone Companies

Pictured: Wind Mobile CEO Anthony Lacavera

What You Need To Know About Wireless Code of Conduct

How much of the code is new?

Answer from Marc Choma of the Canadian Wireless Telecommunications Association, the industry lobby group representing incumbent players: A lot of these things are already common practice from carriers, but I think it's good that consumers, on a national basis, know this and it applies to everybody. It's going to supercede any provincial legislation and that was our main goal going into this because we were seeing a patchwork of regulations across provinces and it was costing the industry a lot of money to adapt their systems potentially 13 different ways.

Are there any restrictions in the code that will prevent the cost of two-year contracts going up as a result of the new rules?

Answer from the CRTC: The CRTC wireless code proceeding did not address pricing, as the Commission had previously determined that there is sufficient competition to protect consumer interests with respect to rates. Service providers are free to determine their rates for service and how much will be charged for phones up front. At the same time, improving consumers' abilities to switch providers should push service providers to compete on price.

How will the shorter contract length affect handset costs?

Answer from Steve Anderson, executive director of OpenMedia.ca, a wireless consumer advocacy group: It's unclear. There's no market reason while the cell phone companies would suddenly raise the cost of cellphone service because people are on shorter contracts. So if they do that it's really just price gouging. They could try and raise upfront handset costs, but the Canadian companies have higher revenue per user than any other telecom companies in the world and other places where we have two-year contracts, the device cost is not higher than it is in Canada, a great example is the U.S. (Pictured: Steve Anderson of OpenMedia)

Answer from Lawford: It's call your bluff time. The CRTC is saying "let's see if it's true that really your costs are so high and that really you're subsidizing these devices so much, or is it that you're locking people in so the contract is longer than the usable life of the device?" If we send people back in the market every two years is that going to make competition pick up the slack. If they all go up in lockstep, [then] the Competition Bureau should be looking into what's going on. Pictured: John Lawford of PIAC

Answer from Choma of CWTA: Changing the length of the subsidy from three years to two years can actually raise the price of the upfront cost for your device. So before you had the option of putting it over three years and you could get a much lower rate for your phone, but now you've only got 24 months to earn that subsidy back. Obviously, carriers are going to have to adapt their business models to comply with that. But we'll have to wait and see how carriers respond.

The new rules allow a fully purchased handset to be unlocked immediately or a subsidized handset to be unlocked in 90 days. What effect will this have?

Answer from Anderson of OpenMedia.ca: Unlocking the phone means it's easier to switch carriers, easier to go international and use different services that aren't Canadian, so it makes it more affordable. But I also think that area could have been better, for example they didn't talk about what the cost of unlocking would be. And even the 90-day part could have been stronger. If I get a contract for a phone I should be able to do what I want with it. Answer from Choma of CWTA: Most carriers already do that now and some of them actually do it before 90 days now.

Are providers allowed to charge a fee to unlock a phone?

Answer from CRTC: Yes. Since the CRTC did not examine rates or prices, it is up to the provider to decide on their unlocking fee. However, as of December 2, that rate must be clearly identified in your contract and your critical information summary. Answer from Shawn Hall, Telus spokesman: We already do that – we charge $35 and allow unlocking after 90 days. That covers our costs of providing the service.

What are the effects of the new rules on people who are not on a contract or already have their phones unlocked? 

Answer from the CRTC: People not currently on a contract will be covered if they sign a contract after December 2. If they are currently on an indeterminate or month-to-month contract, they will be covered as of December 2. Answer from Marc Choma of the Canadian Wireless Telecommunications Association: Most of the elements of the Code deal with contract services, so the impact on no-contract customers that already own their unlocked phone would be minimal.

Do the caps mean the carriers will cut off your data or roaming after a certain point?

Answer from Anderson of OpenMedia.ca: What's expected is once you hit your limit in data roaming charges, you'll receive a text message notification asking if you're okay with that and do you want to continue. Answer from Choma of CWTA: Most carriers already provide notifications when you are approaching your data limit, or provide you with notification that you are roaming and how to purchase roaming packages. With the new code, a customer's data services will be automatically suspended once the customer has reached $50 of usage, unless the customer expressly consents to override the $50 default limit. In the case of international roaming, a customer's service would be suspended after the customer has reached $100 of usage, again, unless the customer expressly consents to override the $100 default limit. Answer from Telus: Currently, Telus caps international data roaming at $200. We send customers a free text message when they hit that point letting them know (after a series of usage notifications starting at 2 MBs), and will only reactivate roaming if they ask us to. Answer from the CRTC: The code doesn't prescribe how carriers should do it. The way the code is set, there is a maximum amount carriers can charge unless they make specific arrangements with the consumer or the cell user gives consent to continue after a notification is delivered.

Why did the CRTC decide on two-year contracts, rather than one year, the direction the rest of the world is taking?

Answer from the CRTC: The Commission looked at what would be best for Canadians. Many jurisdictions feature two-year contracts – we also heard evidence during the hearing that multi-year contracts with subsidized devices allow Canadians to get new, sophisticated devices at a lower upfront cost. Answer from Lawford of PIAC: We're in Canada, so we're always behind. They could have done that too, but then they would have almost certainly raised everybody's rates, at least the cost of a handset quite a bit. I hope that as the two-year contract becomes standard the one-year will become a competitive offering.

Are the new rules on three-year contracts retroactive? Can I get out of a three-year contract today?

Answer from CRTC: The rules apply, as of December 2, to all new contracts. In addition, on June 3, 2015, all wireless customers are covered, regardless of when their contract was signed. In practice, that means that if someone signed a contract in May 2013, then on June 3rd 2015, they can cancel without penalty. Answer from Choma of CWTA: With most carriers right now, there isn't a cancellation fee. If you want to cancel, you just cancel and pay off your device subsidy.

Can a consumer use the new rules as an argument to fight an "outrageous roaming bill" they receive before they are technically protected?

Answer from CRTC: Consumers are always free to contact their service provider to contest a bill. The service provider is not obligated to lower the bill simply because new rules are on the horizon. Answer from Choma of CWTA: Yes they could. However, the Commissioner for Complaints for Telecommunications Services (CCTS) is already available for consumers that have billing issues. The CCTS will also be the body responsible for enforcing the new Code. Answer from Lawford of PIAC: No. In the meantime you can go to the CCTS and say the rate being billed wasn't made clear. The CCTS has a history of knocking those down unless the company can show the customer was made very aware of what was going on.

If you decide to get out of a three-year contract after 2 years, do you still have to pay fees like the cost of the handset?

Answer from the CRTC: If you currently have a contract and you want to exit, you will likely be charged a cancellation fee, which is determined by your service provider. Some provinces have rules setting out how these fees must be calculated. Once the code is in force, you will be able to exit after two years without any penalty or fee.

Sky high billing is the biggest concern in Canada. Why weren't rates per second and per megabyte addressed?

Answer from CRTC: The CRTC's wireless code proceeding did not address pricing, as the Commission had previously determined that there is sufficient competition to protect consumer interests with respect to rates. The new rules will enable consumers to make informed decisions and shop around for the best deal that meets their needs. In addition, the rules around bill shock, including caps on data and roaming, will reduce the high bills that some consumers see. Answer from Lawford of PIAC: The code wasn't intended to reduce rates or touch rates at all. The whole premise behind us even getting any rules was we're not talking about rates because the CRTC says, "We're not rate regulating, all we're doing is putting in standards so everyone is treated relatively fairly." The Commission could regulate rates, but they don't. But addressing high rates is the next step, so that [question is] onto something.

Will providers have to show separately the handset cost consumers pay each month?

Answer from CRTC: No. However, the service provider will need to clearly indicate the price of the phone, and any discount, in the contract and on the critical information summary.

So is there any incentive before or after the rules come into effect in December to choose a three-year contract?

Answer from Lawford of PIAC: If the code's coming out in December a lot of people will be wondering, "Should I lock in now if they offer me three years or wait until to get a two year [contract]?" You could wait and get the benefit of the code or cash in on a sweetheart deal for a three-year plan ahead of the code, which carriers are likely to offer. There will be some pretty nice deals coming even at the end of the summer, trying to get people in on the three-year plan. Answer from Anderson of OpenMedia.ca: After the rules go into effect, there may be some trinkets that they put into a three-year contract that they won't put into a two-year contract, but you'll still be able to leave whenever you want, so I think they might find ways to add value to three-year contracts and get people to sign onto them.
Extending the irony even further is the apparent fact that it was the Tories' own rules that may have prompted Wind's parent company, Dutch firm VimpelCom, to deny Wind the money it needs to participate in the auction.
As Nowak notes, VimpelCom wants to either own Wind Mobile outright, or have the freedom to sell it to whoever it wants. The government won't allow an out-and-out sale of Wind, for fear it will end up in the hands of one of the Big Three. And it won't allow VimpelCom to take full control of Wind either, Nowak says, because of the company's ties to Russia and because Wind heavily relies on equipment made by China's Huawei, a company some Western governments consider a national security threat.
"The feds don't want to introduce the possibility of foreign spying through telecommunications gear, and they don't want the industry to become even more concentrated," writes Nowak, leaving Wind Mobile a "stranded" investment.
Internet and e-commerce law professor Michael Geist, who described Wind's withdrawal from the spectrum as leaving the government's strategy "in tatters," says it's time to start looking at other options — including greater regulation of the wireless industry.
In a blog post last year, Geist laid out some potential options for reforming the industry, among them removing all foreign ownership restrictions on wireless companies.
The government could also legislate into existence a market for "mobile virtual network operators," or MVNOs, which are essentially resellers of wireless, Geist wrote. They don't own spectrum or cellphone towers, but buy space on large wireless companies' networks, and sell them at their own retail prices. The government could set wholesale rates for this market, Geist suggested.
He noted that these sorts of reforms would have been "unthinkable" a few years ago, but "as the wireless policy failures mount, the government must act boldly if it wants the Canadian market to be anything better than 'middle average'."
For those hoping for a fourth wireless company to arrive, there is still some hope coming out of the wireless auction.
For one thing, Wind's departure leaves a fourth block of wireless spectrum available in Ontario, Alberta and British Columbia (assuming the Big Three grab the other three blocks in those regions, which they will; in other parts of the country, regional players like MTS and Videotron will likely snap up the fourth block).
The Globe and Mail reports Wind is still in talks with the government, and could end up buying some of that spectrum later on from other owners.
And then there's one other possibility: The return of Verizon. The U.S. wireless giant was reported to be mulling entry into the Canadian market last summer, but ended up denying it's interested in coming north of the border.
But Greg MacDonald, a telecom analyst with Macquarie Capital Markets, said in a client note that Verizon is still in talks with Ottawa.
"In our opinion the government is focused on attracting Verizon back to this market so investors should consider scenarios that would make this more likely," MacDonald wrote, as quoted by the Globe.
The Globe confirmed MacDonald's assertion, reporting that Verizon is lobbying the federal government and has had six communications with Ottawa logged in the lobbyist registry.
WIRELESS PRICES: THE FACTS
Some of the data is contradictory, and much of it is outdated by a few years. But here's the closest we can get to the actual facts about how Canada's wireless bills really compare.
(Where dollar figures are cited, they represent the amount per subscriber, per month.)