Valentine's Day Gifts For Him: What The Man In Your Life Actually Wants
Buying a Valentine's Day gift for the man in your life can be a lot more complicated than, say, buying pretty much any other gift at all. As a general rule, men aren't into the traditional Valentine's Day presents of bouquets of roses and boxes of chocolate (but if he is, check those off your list and count yourself lucky).
Instead, finding a Valentine's Day gift for him can mean coming up with something that is thoughtful, useful and appropriate for your relationship status. That is to say, no matching his-and-her shirts after three weeks of dating. Or maybe ever. But if chosen right, the gift you give on February 14 can speak volumes about how much you care, and how well you know your man.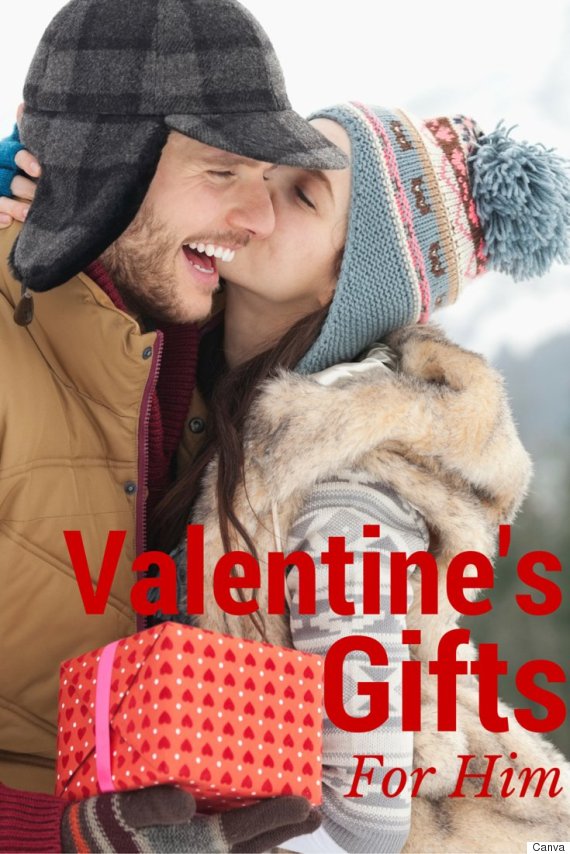 Romance tends to take on a different tone when it comes to guys, and in that vein, we've put together a list of 28 gift options for a variety of personalities and hobbies. We hope there's something in there for your man, or at least, that they inspire some great gift ideas. Let us know in the comments!
28 Non-Cheesy V-Day Ideas For Him
Smart watches are the new smart phones. This watch lets you send texts, emails, Facebook messages (lovey-dovey ones) and plays music synced with your phone right from your wrist. Sony Smartwatch, $150, available on Amazon.ca

This portable Bluetooth speaker is perfect for the guy in your life who loves his music playlist (out loud). HMDX Bluetooth Wireless Speaker, $50, available at Best Buy

Battlefield 4 lets you enter a world of shooting, missions and gun boats. The man in your life can either play with friends or other players online. Or you, of course. Battlefield 4, $60, available at Future Shop

If your sweetie is the kind of guy who hates getting up in the morning, drinking out of this mug might him make a little more bearable during those wee hours. Good Morning Handsome Mug, $10, available at Chapters Indigo

If your boyfriend or husband likes to add hot sauce to everything he eats, he'll be in awe when you get him a caddy of seven, with new flavours he probably hasn't tried. Tabasco Chrome Caddy with 7 Family Flavours, $38, available on Amazon.ca

If your guy takes way too long to take shower ... this awesome shower curtain might make him stay a tad bit longer. Wesley Bird For DENY Saltwood Shower Curtain, $89, available at Urban Outfitters

If your guy is a fan of the West Coast (even down south), this three-piece art set will make his bedroom (and yours) stand out. West Coast Subway Art Print, $61, available on Etsy

If your boo loves to take over the bar during family dinners or get togethers, help him be the star of the show with this tell-all booze guide. The Curious Bartender: The Artistry and Alchemy of Creating the Perfect Cocktail, $19, available at Chapters Indigo

Hands-free car speakers aren't only a safer idea, but this set also comes with 20 hours of talk time (with you of course). Jabra Drive In-Car Speakerphone, $70, available at Best Buy

If your man spends too many hours at the office, this world clock will not only make his workplace a little more stylish, but it will remind him to get home earlier! World Time Clock, $135, available at Chapters Indigo

For those of you with a giant budget, we suggest this awesome map recreation using Canadian licence plates. And to be fair, this gift can also be the perfect birthday, Christmas or anniversary gift. License Plate Map of Canada, $500, available on Etsy

This wine kit lets the guy in your life ferment his own concoction for those nights in. Grape juice not included, folks. Wine Making Kit, $66, available at Williams-Sonoma

Dinosaurs + pint glass = amazing. Triceratops Dinosaur Pint Glass, $21, available on Etsy

If your man is a BBQ king or has his own recipe for an awesome steak, let him get more personal with this monogram branding set. Monogrammed Steak Brand & Carving Board, $93, available at Williams-Sonoma

Socks and sandals may be a fashion faux pas, but this shower shoe with "massage" pad is the perfect gift for a guy who loves to stay comfortable at home. Or at the gym. Just not in public. Men's COC Adissage Slide, $40, available at ADIDAS

If your valentine is into travelling, keeping track of things and bragging a bit about where he's been, this map is going to make him very happy. In addition to the "scratch off" thrill, uncovering new countries adds colours and informative facts the map — the gift that keeps on giving! Scratch Map, $29.50, available at Indigo.

The love of your life is probably already your hero, but give him a subtle reminder with this Superman wallet. ASOS Superman Wallet, $21, available at ASOS

If your guy can't stop talking about the amazing juice bar next to his work, it might be time to give him the ultimate (and trendiest) blender around. And to try to feel better about the price, think about it this way — you'll be getting the smoothie benefits too. Vitamix

If your man loves vinyl, he already has a record player — but does he have a record player that also works with his iPod for when it's time to turn off the Sufjan Stevens and turn up the party? Audio-Technica AT-LP60USB Fully Automatic Belt Driven Turntable with USB Port, $149, available at Amazon.ca

If your guy is down with quality cuddle and pillow talk time, this Canada-inspired pillow will just make things a little more patriotic. Pillow Map, $34, available on Etsy

If your guy needs a wallet, this one is a nice, simple option. And even if he has a black leather wallet he adores and has no desire to give up, he'll appreciate having this casual option (for travel, say) in the long run. Kenny Wallet in Canvas, $39, available at Herschel

A tie is a bit too generic of a gift, and for that matter, too public. Fancy socks like these (there are loads of patterns to choose from) give your guy the option of having some fun with clothes while in a business meeting, and plus, he'll think of you whenever these peek out from under his pants. Robert Graham Key Pattern Dress Socks, $30, Harry Rosen.

A sweet little gift that will look fantastic and add a dose of colour to any guy's fridge, you'll probably find yourselves fighting for who gets to make the next move in Tetris as you get milk for your cereal. Tetris Magnets Set, $25, available at Amazon.ca

Perhaps the man in your life has regaled you with stories of the amazing breakfast sandwich he once in a little town in the middle of nowhere on a road trip. Now, you can not only let him prove himself worthy, but get yourself a rather fine breakfast at the same time. Hamilton Beach Breakfast Sandwich Maker, $29.99, available at Walmart, Bed Bath & Beyond and more

Forget buying him a bulky Swiss Army knife — this brilliant iPhone case actually has 22 tools contained within in, so he's prepared for anything (and can Google whatever he needs to fix at the same time). TaskOne iPhone Case, from $79.95.

If you can get your hands on this for your Simpsons fan, he will be the happiest valentine you ever did see. The set goes on sale for $200 on February 1, so keep your eye on the Lego site for where to buy it.

There's nothing like the annoyance of lost luggage to ruin a holiday, so if your guy travels often (for work or pleasure), spare both of you the agony of 'did my bag actually disappear into thin air?' with a tracking system that texts or emails you the location of your bags. Trakdot Luggage, $89.99.

Choosing a gift based on a man's handedness might sound random, but your guy will appreciate you realizing how touch it can be to work left-handed in a right-handed world. The wirelessness will only help him get his work done faster to hang out more with you. Sculpt Touch Mouse, $49.99, available at Future Shop.