Kate Middleton Wears Blue On Valentine's Day (PHOTOS)
Why so blue, Kate Middleton?
The Duchess of Cambridge spent Hallmark holiday Valentine's Day not wearing red or pink but cerulean blue while attending the opening of the ICAP Art Room at Northolt High School in England on Friday.
The L.K. Bennett sheath dress (which retails for $395 and is already sold out) features panels which recreate a built-in blazer style, half sleeves and a cinched waist.
Looking as if she was having the best time of her life, the Duchess carried a bouquet of colourful flowers which contrasted nicely against her favourite colour.
Unfortunately, hubby Prince William was nowhere in sight but perhaps the future King of England was whipping up a Valentine's Day surprise for his lady love with the help of baby Prince George. (There's a reason why they've been crowned the 'Most Romantic Couple' - just look at how cute they are together!)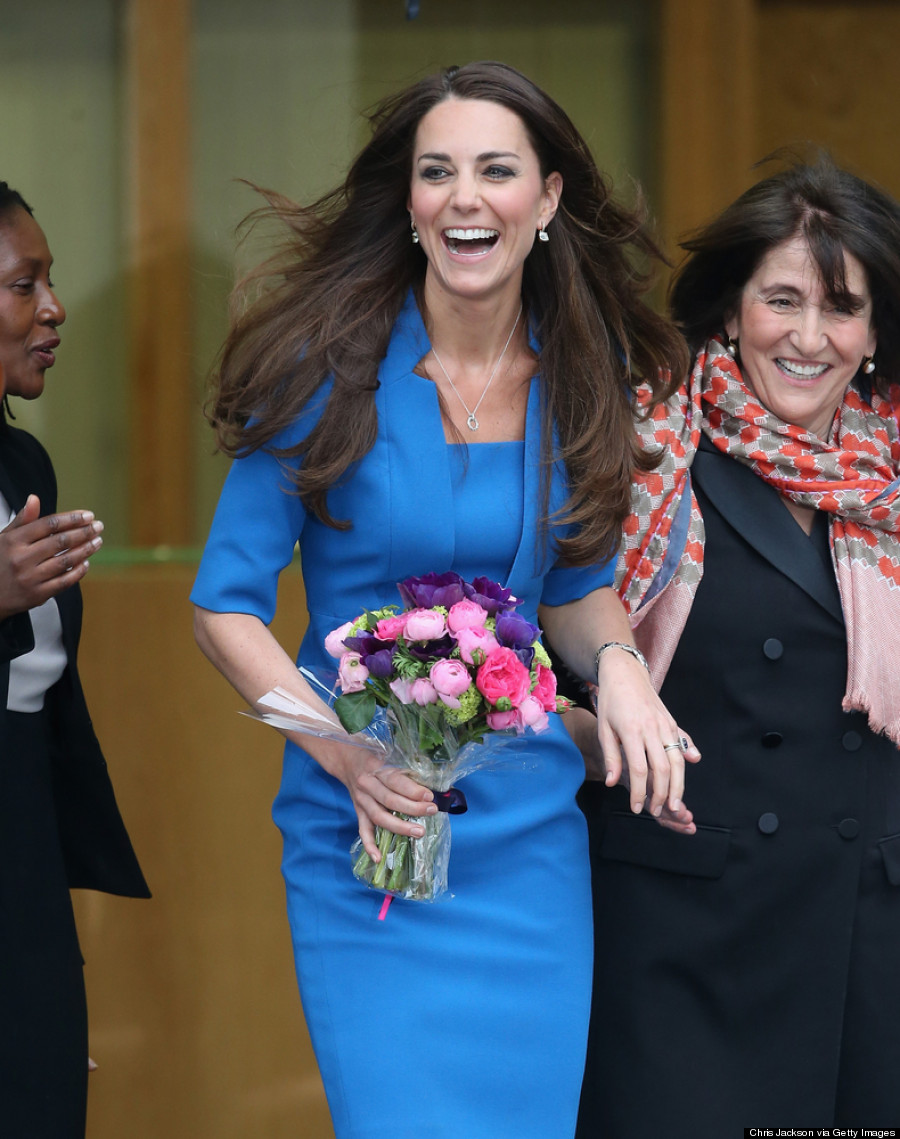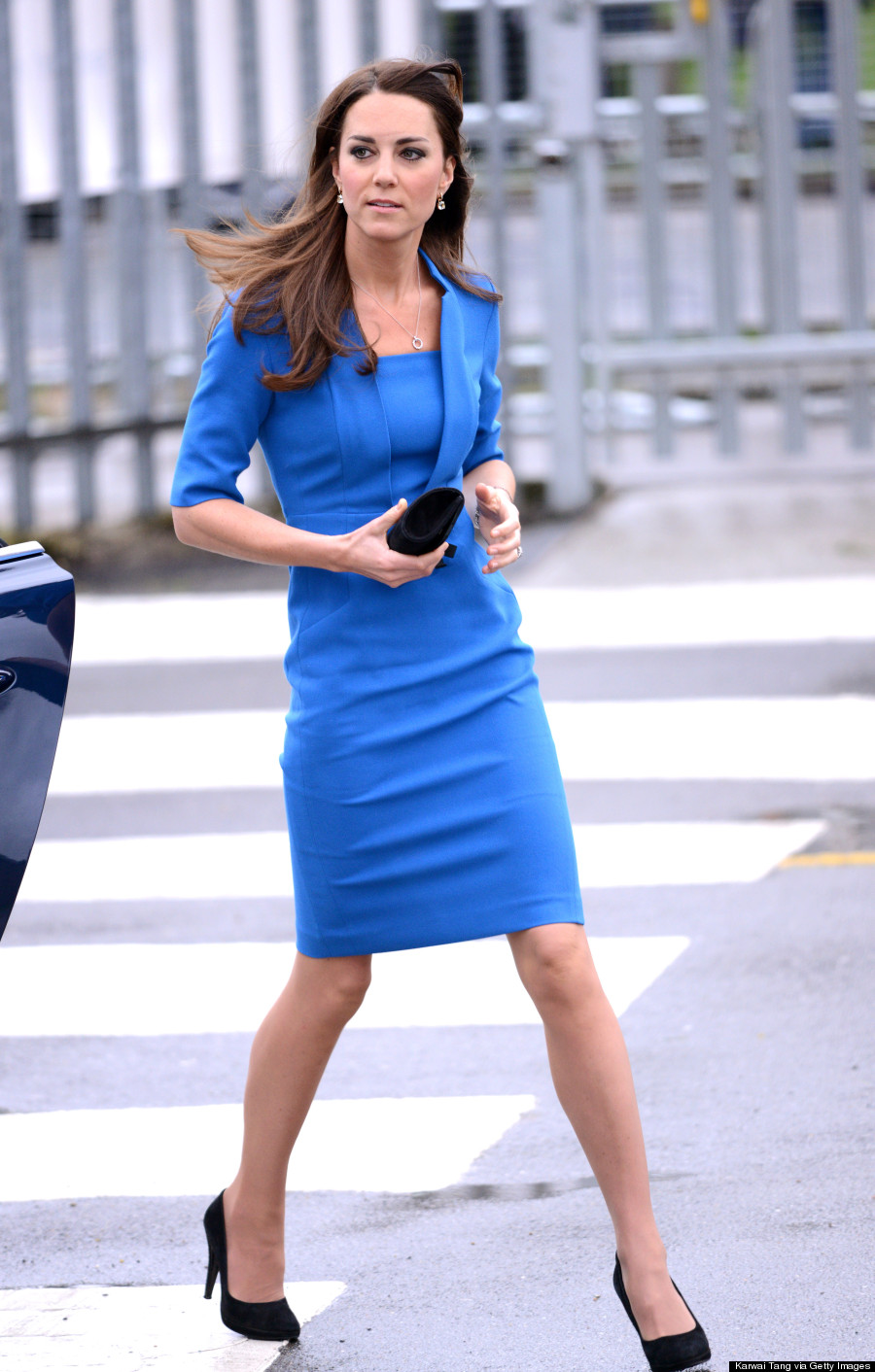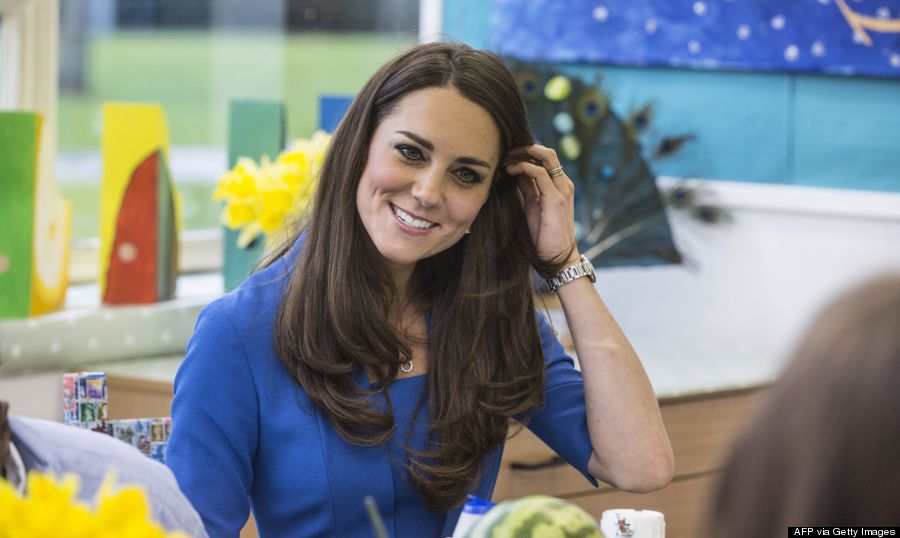 Aren't they so cute??
Kate Middleton's And Prince William's Cutest Moments
Prince William hugs his wife Kate after competing against her team in a dragon boat race at Dalvay-by-the-Sea on Prince Edward Island as part of the Duke and Duchess' Royal Tour of Canada, Monday, July 4, 2011. (AP Photo/Robert F. Bukaty)

LONDON, ENGLAND - JANUARY 11: Prince William, Duke of Cambridge meets artist Paul Emsley as Catherine, Duchess of Cambridge looks on after viewing his new portrait of the Duchess during a private viewing at the National Portrait Gallery on January 11, 2013 in London, England. (Photo by John Stillwell - WPA Pool/Getty Images)

LONDON, ENGLAND - DECEMBER 11: Catherine, Duchess of Cambridge and Prince William, Duke of Cambridge wear 3D glasses before a screening of David Attenborough's Natural History Museum Alive 3D at Natural History Museum on December 11, 2013 in London, England. (Photo by Suzanne Plunkett - WPA Pool/ Getty Images)

LONDON, ENGLAND - NOVEMBER 19: Catherine, Duchess of Cambridge and Prince William, Duke of Cambridge arrive for a visit to the Only Connect and ex-offenders projects on November 19, 2013 in London, England. Their Royal Highnesses also visited two further complimentary projects Bounce Back and Handmade Alliance, also based at the head office premises, before moving to a nearby Only Connect project venue to watch a dance performance. (Photo by Arthur Edwards-WPA Pool/Getty Images)

Prince William and Kate, the Duke and Duchess of Cambridge, arrive at the inaugural BAFTA Brits to Watch 2011 event at the Belasco Theater in Los Angeles, Saturday, July 9, 2011. (AP Photo/Chris Pizzello)

Prince William and Kate, the Duke and Duchess of Cambridge, share a laugh at a private reception at the British Consul-General's residence in Los Angeles, Friday, July 8, 2011. (AP Photo/Chris Pizzello, Pool)

LONDON, ENGLAND - SEPTEMBER 12: Prince William, Duke of Cambridge and Catherine, Duchess of Cambridge attend the Tusk Conservation Awards at The Royal Society on September 12, 2013 in London, England. (Photo by Danny E. Martindale/Getty Images)

LONDON, ENGLAND - JULY 23: Prince William, Duke of Cambridge and Catherine, Duchess of Cambridge leave the Lindo Wing of St Mary's Hospital with their newborn son on July 23, 2013 in London, England. The Duchess of Cambridge yesterday gave birth to a boy at 16.24 BST and weighing 8lb 6oz, with Prince William at her side. The baby, as yet unnamed, is third in line to the throne and becomes the Prince of Cambridge. (Photo by Oli Scarff/Getty Images)

LONDON, ENGLAND - JULY 23: Prince William, Duke of Cambridge and Catherine, Duchess of Cambridge leave the Lindo Wing of St Mary's Hospital with their newborn son on July 23, 2013 in London, England. The Duchess of Cambridge yesterday gave birth to a boy at 16.24 BST and weighing 8lb 6oz, with Prince William at her side. The baby, as yet unnamed, is third in line to the throne and becomes the Prince of Cambridge. (Photo by Oli Scarff/Getty Images)

LONDON, ENGLAND - JUNE 04: Prince William, Duke of Cambridge and Catherine, Duchess of Cambridge arrive for a service of celebration to mark the 60th anniversary of the Coronation Queen Elizabeth II at Westminster Abbey on June 4, 2013 in London, England. The Queen's Coronation took place on June 2, 1953 after a period of mourning for her father King George VI, following her ascension to the throne on February 6, 1952. The event 60 years ago was the first time a coronation was televised for the public. (Photo by Dan Kitwood/Getty Images)

Prince William, The Duke of Cambridge (R) and Catherine, The Duchess of Cambridge arrive for a visit at the Warner Brother's studio in Leavesden on April 26, 2013. AFP PHOTO/POOL/CHRIS JACKSON (Photo credit should read Chris Jackson/AFP/Getty Images)

In this image taken from video, Britain's Prince William, second left, looks at his bride, Kate Middleton, as they stand at the altar at Westminster Abbey for the Royal Wedding in London on Friday, April, 29, 2011. (AP Photo/APTN) EDITORIAL USE ONLY NO ARCHIVE PHOTO TO BE USED SOLELY TO ILLUSTRATE NEWS REPORTING OR COMMENTARY ON THE FACTS OR EVENTS DEPICTED IN THIS IMAGE

AYRSHIRE, UNITED KINGDOM- MARCH 05: Catherine, Duchess of Cambridge, known as the Countess of Strathearn, and Prince William, Duke of Cambridge, known as the Earl of Strathearn, when in Scotland during a visit to Dumfries House on March 05, 2013 in Ayrshire, Scotland. The Duke and Duchess of Cambridge braved the bitter cold to attend the opening of an outdoor centre in Scotland today. The couple joined the Prince of Wales at Dumfries House in Ayrshire where Charles has led a regeneration project since 2007. Hundreds of locals and 600 members of youth groups including the Girl Guides and Scouts turned out for the official opening of the Tamar Manoukin Outdoor Centre. (Photo by Danny Lawson - WPA Pool/Getty Images)

CAMBRIDGE, UNITED KINGDOM - NOVEMBER 28: Catherine, Duchess of Cambridge and Prince William, Duke of Cambridge smile and wave to the crowds from the balcony of Cambridge Guildhall as they pay an official visit to Cambridge on November 28, 2012 in Cambridge, England. (Photo by Chris Jackson/Getty Images)

Image from video of Britain's Prince William and Kate Middleton during a television interview recorded and aired on the day they announced their engagement Tuesday Nov.16, 2010. Prince William revealed that he proposed using the engagement ring of his mother, Diana, Princess of Wales, to make sure she "didn't miss out on the excitement". William and his long-term girlfriend, Kate Middleton, got engaged on holiday in Kenya last month and will marry next year. (AP Photo/pool)

Britain's Prince William and his fiancee Kate Middleton arrive for a media photocall, media at St. James's Palace in London, Tuesday Nov. 16, 2010, after they announced their engagement. The couple are to wed in 2011. (AP Photo/Sang Tan)

TUVALU - SEPTEMBER 18: Prince William, Duke of Cambridge and Catherine, Duchess of Cambridge drink coconut milk from a tree planted by the Queen in 1982 on September 18, 2012 in Tuvalu. Prince William, Duke of Cambridge and Catherine, Duchess of Cambridge are on a Diamond Jubilee tour representing the Queen taking in Singapore, Malaysia, the Solomon Islands and Tuvalu. (Photo by Arthur Edwards - Pool/Getty Images)

TUVALU - SEPTEMBER 18: Prince William, Duke of Cambridge and Catherine, Duchess of Cambridge visit Nauti Primary School on September 18, 2012 in Tuvalu. Prince William, Duke of Cambridge and Catherine, Duchess of Cambridge are on a Diamond Jubilee tour representing the Queen taking in Singapore, Malaysia, the Solomon Islands and Tuvalu. (Photo by Arthur Edwards - Pool/Getty Images)

Britain's Prince William (L) and his wife Catherine (R), the Duchess of Cambridge, dance during a 'fatale', a singing and dancing event, in Funafuti on Tuvalu on September 18, 2012. Nearly half the population of 10,500 turned out to greet the future king and his wife, a day after their lawyers lodged a criminal complaint in Paris against a French magazine that published photos of Catherine sunbathing topless. AFP PHOTO / TONY PRCEVICH (Photo credit should read Tony Prcevich/AFP/Getty Images)

HONIARA, GUADALCANAL ISLAND, SOLOMON ISLANDS - SEPTEMBER 16: Prince William, Duke of Cambridge and Catherine, Duchess of Cambridge smile as they arrive at Honiara Cathederal during their Diamond Jubilee tour of the Far East on September 16, 2012 in Honiara, Guadalcanal Island. Prince William, Duke of Cambridge and Catherine, Duchess of Cambridge are on a Diamond Jubilee tour representing the Queen, taking in Singapore, Malaysia, the Solomon Islands and Tuvalu. (Photo by Chris Jackson/Getty Images)

Britain's Prince William (L) and Catherine, the Duchess of Cambridge (R), speak to each other during their visit at the Borneo Rainforest Lodge in Danum Valley, some 70 kilometers (44 miles) west of Lahad Datu, on the island of Borneo on September 15, 2012. The visit of the Duke and Duchess of Cambridge to Malaysia is part of the royal couple's tour to celebrate Queen Elizabeth II's Diamond Jubilee. AFP PHOTO / POOL / MOHD RASFAN (Photo credit should read MOHD RASFAN/AFP/GettyImages)

SINGAPORE - SEPTEMBER 13: Catherine, Duchess of Cambridge and Prince William, Duke of Cambridge visit the British High Commisioner to Singapore's residence, Eden Hall on Day 3 of Prince William, Duke of Cambridge and Catherine, Duchess of Cambridge's Diamond Jubilee Tour of South East Asia on September 13, 2012 in Singapore. Prince William, Duke of Cambridge and Catherine, Duchess of Cambridge are on a Diamond Jubilee Tour of South East Asia and the South Pacific taking in Singapore, Malaysia, Solomon Islands and Tuvalu. (Photo by Ian Vogler-Pool/Getty Images)

Britain's Prince William and his wife Catherine, the Duchess of Cambridge, make a toast in the honour of Queen Elisabeth Diamond Jubilee at a British Gala reception at the Eden Hall in Singapore on September 12, 2012. Britain's Prince William and his wife Catherine arrived in Singapore on September 11 to kick off a nine-day Southeast Asian and Pacific tour marking Queen Elizabeth II's Diamond Jubilee. AFP PHOTO/ POOL /Nicolas ASFOURI (Photo credit should read NICOLAS ASFOURI/AFP/Getty Images)

CALGARY, AB, CANADA - JULY 07: Catherine, Duchess of Cambridge and Prince William, Duke of Cambridge wear their new Smithbilt cowboy hats as they watch a rodeo demonstration at a Government Reception at the BMO Centre on July 7, 2011 in Calgary, Alberta, Canada. The newlywed royal couple are on their eighth day of their first joint overseas tour visiting Canada and the United States. The 12 day visit to North America is taking in some of the more remote areas of the country such as Prince Edward Island, Yellowknife and Calgary. (Photo by David Rose - WPA Pool/Getty Images)

CALGARY, AB - JULY 08: Catherine, Duchess of Cambridge and Prince William, Duke of Cambridge attend the Calgary Stampede on July 8, 2011 in Calgary, Canada. The newly married Royal Couple are on the ninth day of their first joint overseas tour. The 12 day visit to North America is taking in some of the more remote areas of the country such as Prince Edward Island, Yellowknife and Calgary. The Royal couple started off their tour by joining millions of Canadians in taking part in Canada Day celebrations which mark Canada's 144th Birthday. (Photo by Chris Jackson/Getty Images)

YELLOWKNIFE, NT - JULY 05: Prince William, Duke of Cambridge and Catherine, Duchess of Cambridge look on during an an official welcome ceremony at the Somba K'e Civic Plaza on July 5, 2011 in Yellowknife, Canada. The newly married Royal Couple are on the sixth day of their first joint overseas tour. The 12 day visit to North America is taking in some of the more remote areas of the country such as Prince Edward Island, Yellowknife and Calgary. The Royal couple started off their tour by joining millions of Canadians in taking part in Canada Day celebrations which mark Canada's 144th Birthday. (Photo by Chris Jackson/Getty Images)

PRINCE EDWARD ISLAND, CANADA - JULY 04: Prince William, Duke of Cambridge and Catherine, Duchess of Cambridge arrive on shore after rowing dragon boats across Dalvay lake on July 4, 2011 in Charlottetown, Canada. The newly married Royal Couple are on the fifth day of their first joint overseas tour. The 12 day visit to North America is taking in some of the more remote areas of the country such as Prince Edward Island, Yellowknife and Calgary. The Royal couple started off their tour by joining millions of Canadians in taking part in Canada Day celebrations which mark Canada's 144th Birthday. (Photo by Chris Jackson/Getty Images)

PRINCE EDWARD ISLAND, PE - JULY 04: Catherine, Duchess of Cambridge and Prince William, Duke of Cambridge visit Province House on July 5, 2011 in Charlottetown, Canada. The newly married Royal Couple are on the fifth day of their first joint overseas tour as they visited Pronvince House, the location for the Charlottestown conference of 1864 where the idea of the nation of Canada forged. The 12 day visit to North America is taking in some of the more remote areas of the country such as Prince Edward Island, Yellowknife and Calgary. The Royal couple started off their tour by joining millions of Canadians in taking part in Canada Day celebrations which mark Canada's 144th Birthday. (Photo by Ian Vogler - Pool/Getty Images)

Prince William and Kate Middleton visit the Inner City Arts club in downtown Los Angeles, California on July 10, 2011.

Prince William and Kate Middleton on Day 6 of the London 2012 Olympic Games at Wimbledon on August 2, 2012 in London, England.

Prince William and Kate Middleton on Day 1 of the London 2012 Paralympic Games at Velodrome on August 30, 2012 in London, England.

Prince William, Duke of Cambridge and Catherine, Duchess of Cambridge watch the Snowbirds fly over from the stage at Parliament Hill for Canada Day Celebrations on July 1, 2011 in Ottawa, Canada.

Kate Middleton arrives with her father, Michael Middleton, at Westminster Abbey. (AFP photo)

Pippa Middleton arrives with the flowers girls and page boys at Westminster Abbey. (AFP photo)

Kate having her dress adjusted. (AFP photo)

Prince William and Kate at the altar during their wedding ceremony. (AFP photo)

Prince William and Kate at their wedding ceremony at Westminster Abbey. (AFP photo)

The couple exchanging rings at their ceremony. (AFP photo)

Prince William and Kate leaving Westminster Abbey after the wedding service. (AFP photo)

Prince Philip shakes hands with the Dean of Westminster John upon arrival at Westminster Abbey. (AFP photo)

Prince Harry and Prince William greet a guest while waiting for the arrival of Kate. (Getty photo)

Prince Charles kisses the hand of his mother, Queen Elizabeth, before his son's wedding ceremony. (AFP photo)

Flower girls and page boys arrive at the Royal Wedding. (AFP photo)

Florists deliver flowers and plants to Westminster Abbey in preparation for the Royal Wedding. (AFP photo)

Florists deliver flowers and plants to Westminster Abbey in preparation for the Royal Wedding (AFP photo)

Staff dress the balcony at Buckingham Palace ahead of the Royal Wedding. (Getty photo)

A worker makes the final preparations on the balcony of Buckingham Palace. (Getty photo)

Police Security during the Royal Wedding. (WireImage photo)

A horse, without a rider, gallops along the Processional Route during the Royal Wedding. (Getty photo)

Guests arrive at the wedding ceremony. (Getty photo)

Pippa Middleton and Eliza Lopez on their way to the ceremony. (AFP photo)

Ceremonial guards perform near Buckingham Palace. (Getty photo)

Flower girl Margarita Armstrong-Jones waives on her way to the ceremony. (Getty photo)

Prince William holds Kate's hand after their wedding service. (AFP photo)

Queen Elizabeth sheds a tear after the wedding of her grandson, Prince William. (AFP photo)

Prince Harry and James Middleton follow Prince William after the Royal Wedding ceremony. (AFP photo)

Prince William and Kate traveling along the Processional Route. (AFP photo)

Pippa Middleton leaving the wedding ceremony. (Getty photo)

Queen Elizabeth and Prince Philip leaving the Royal Wedding. (Flickr photo)

A band of the Queen's guard perform in the Mall on the day of the Royal Wedding. (Getty photo)

Prince Charles, Camilla and Carole Middleton arrive at Buckingham Palace after the wedding ceremony. (AFP photo)

Prince William and Kate arrive at Buckingham Palace. (AFP photo)

Prince William and Kate arrive at Buckingham Palace after their wedding ceremony. (Getty photo)

Prince William and Kate arrive at Buckingham Palace after their wedding. (Getty photo)

Kate arrivals at Buckingham Palace after her wedding to greet her guests. (AFP photo)

Details of Kate's engagement ring and flowers. (Getty photo)

Details of Kate's wedding and engagement rings. (Getty photo)

Kate bends down to talk to a flower girl from the balcony of Buckingham Palace. (WireImage photo)

Fans watch Prince William and Kate kissing on a giant screen in Trafalgar Square in central London. (Getty photo)

Royal Wedding fans dress for the occasion. (Getty photo)

Chefs putting the final touches on the Royal Wedding Cake. (Getty photo)

Cake designer Fiona Cairns standing in front of the Royal Wedding cake she designed. (AFP photo)

The Royal Wedding cake. (AFP photo)

Prince William and Kate leave in Prince Charles' vintage Aston Martin DB6 Volante. (Getty photo)

The couple leaving Buckingham Palace. (AFP photo)

The couple leaving Buckingham Palace. (AFP photo)

More fans dress-up for the celebration. (AFP photo)

Commemorative Royal Wedding serviettes and plates. (Getty photo)

Soliders in Lashkar Gah, Afghanistan celebrating the Royal Wedding. (Getty photo)

Children waving British flags during the Royal Wedding. (AFP photo)

Kate and Camilla leaving to travel to Buckingham Palace for the wedding reception. (AFP photo)

Prince William and Kate leave Clarence House for Buckingham Palace. (Getty photo)