Roll Up The Rim 2014 Prizes From Tim Hortons Include Toyota Corollas, Prepaid Visa Cards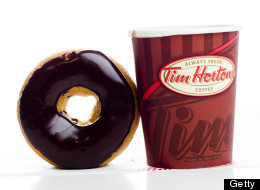 Tim Hortons has unveiled its Roll Up The Rim prizes for 2014, and there's a bonus twist this year in honour of the chain's 50th anniversary.
The coffee giant is offering more than 47 million contest prizes this year, including:
50 grand prizes of a 2014 Toyota Corolla Sport — in Tim Hortons red of course
100 Visa prepaid cards, valued at $5,000 each
25,000 $100 Tim Cards
Plus millions of coffee and food prizes

But wait! This year, there's more!

Tim's is offering customers a second chance to win 10 of those coveted Toyotas with a bonus roll on the other side of the cup, to celebrate their anniversary.

Tims is also holding a concurrent online contest, Rockin' RRRoll Up Roulette, which offers 10,000 more prizes and runs until March 16. Those prizes include:

Two Toyota Corollas
28 prizes of "free coffee for a year"
28 Napoleon grills
560 $25 Tim Cards

The odds of winning at least a coffee or a doughnut are one-in-six. Winning cups are distributed by a third party and scattered throughout the cup cases, which are randomly distributed in an attempt to ensure no one restaurant gets more winning cups than another.

Roll Up the Rim launches Feb. 17 and runs until Apr. 25 or until supplies last.

Last year's Roll up the Rim prizes included 100 pre-paid MasterCards loaded with $5,000 each, 40 Toyota Rav4s, 1,000 Napoleon grills, 25,000 Tims gift cards worth $100 each, and 47 million food and beverage prizes.