Oscars Worst-Dressed Outfits Aren't As Horrible As You Think (PHOTOS)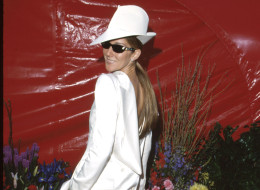 We did it for the 2014 Golden Globes, and we're doing it for the 2014 Oscars, too.
That's right: instead of conforming to the "best and worst" dressed formula, we're going to take a look back at the award show's most controversial outfits. Why? Because in retrospect, most were brave, unique, and interesting, and they deserve praise instead of condemnation.
So here's to originality over safe bets. These are 10 outfits we're happy to defend.
Story continues below slideshow:
In Defence Of The Worst-Dressed Oscar Outfits
We're glad Demi stuck to her day job: in 1989, she designed her own look for the red carpet and the result was not pretty. From the heavy velvet train, to the gold push-up bra, this has to be one of the worst Oscar looks ever. We understand it was the '80s, but as a hard rule, bicycle shorts never belong on a red carpet.

Besides the LBD in Breakfast at Tiffany's, this Hubert de Givenchy gown became one of Audrey's most famous looks, and for good reason – the delicate flowers and darling silhouette accented her feminine, elfin features beautifully. She accepted her award for Best Actress for her role in Roman Holiday with trademark grace and poise, and the 'Audrey look' we know today was born.

Cher's never been one to shy away from outrageous red carpet looks and in 1986, she upstaged even herself by showing up to the Oscars in this infamous, midriff-baring creation by Bob Mackie. The Las Vegas Showgirls headpiece kind of made her look like a sea urchin -- albeit, a sea urchin with a rockin' bod.

In 2006, Michelle Williams won an Academy Award for her role in Brokeback Mountain wearing a vintage-inspired Vera Wang gown. While some critics disliked the daring saffron hue on her, we think the bold colour – paired with a red lip and soft updo – suited lovely Michelle to a tee.

Created by costume designers Ruth Meyers and Bill Hargate, Geena Davis's 1992 "mullet dress" was a bulgy mess. She was nominated that year for her role in Thelma and Lousie, but remembered best for her kooky red carpet look.

Hollywood's golden girl never looked more radiant. In 2003, Kate Hudson showed up at the Oscars in a sequined Atelier Versace gown, complete with hand sewn lace embroidery and paired with stunning diamond jewelry. Accentuating the look with a relaxed updo and a gorgeous gold clutch, Kate was red carpet perfection.

The Canadian-grown diva hit a low note in 1992 with this backward Dior suit. Pairing the baggy, twisted tuxedo with an over-sized fedora and sunglasses, the ridiculous outfit landed our girl on all of the worst-dressed lists that year.

Critics were divided over Cruz's Versace gown in 2007 – the dramatic look was not for the faint of heart, and yes, there were a lot of feathers – but we think the Spanish actress pulled it off. The pale blush colour looked stunning on her, while a sleek bun kept all the drama on the dress.

Who could forget the infamous swan dress Björk wore in 2001? The Icelandic singer-songwriter's feathery costume was universally critiqued and goes down in Oscar history as one of the worst dresses of all time. Props to Björk, however, for achieving such a memorable look– we're still talking about 'the swan dress' over a decade later.

In 2005, Hilary Swank was at the top of her career – and her fashion game. The backless Guy Laroche gown showed off her million dollar body, and quickly became one of the most iconic Oscar dresses of all time – though we're still wondering how she managed to keep it all in place.

This may have been before her days as a Top Model judge, but Banks should have known better. The shiny purple satin and massive tulle skirt reminds us of bad '80s prom dress.

For the 27th Academy Awards, Grace Kelly donned a mint-green gown by Edith Head, winning Best Actress for her role in The Country Girl while making major waves on the fashion scene. The silk material for the dress alone reportedly cost $4,000, at the time making it the most expensive Oscar dress ever made.

More proof that dress-designing should be left to the pros: Kim Bassinger decided to go the DIY route when she showed up to the 1990 Oscars in her own creation – a massive, white satin ball-gown, which she bizarrely paired with a one-armed military jacket.

This lavender gown looked gorgeous on Mila, who in 2011 opted for a soft, understated look in a year where bold gowns took precedence. The Elie Saab dress's incredibly low neckline brought some sex appeal to the layers of chiffon lace, while a smoky eye and romantic updo highlighted the Black Swan actress's natural beauty.

The usually sleek Gwenyth Paltrow looked uncharacteristically sloppy in this Alexander McQueen dress in 2002, in part due to her decision to leave her bra at home. Raccoon eye makeup – and her terrible posture! – weren't doing her any favours, either.

For the 69th Annual Academy Awards, Kidman chose a unique, green-embroidered dress that made her stand out on the red carpet. The haute-couture look marked John Galiano's debut at Christian Dior in 1997 -- his first year at the fashion house.

Beware pink tulle on the red carpet: The Christian Dior ballerina dress Swank wore in 2003 was universally panned by fashion critics for making the Hollywood heavyweight look like a little girl playing dress-up.

Now this is how you do couture! This shimmery, bourdeux-coloured mermaid gown by Vera Wang embodied all the drama that is The Oscars. A stylish ponytail and bold statement necklace completed the striking look – all without aging the young starlet.

Faith Hill couldn't decide on a dress colour in 2002, so she decided to show up looking like an Easter egg.

The violet-eyed beauty snagged a Best Actress win for Butterfield 8 in 1961, and wowed Oscar audiences in a gown that embodied the mega-star's inimitable style. Pairing a pale yellow top with a flower-embroidered white skirt, she accessorized with a red rose appliqué on her hip, and (of course) a pair of ridiculously decadent pearl and diamond earrings.

Hudson made a fashion blunder in 2001 when she stepped onto the red carpet in this purple Stella McCartney creation. The dress itself wasn't actually so terrible; rather, bad styling may have been to blame. We could have done without the collared shoulder-piece, the bright fuchsia lipstick, and the poodle-inspired updo.

Kate put British designer Ben de Lisi on the map when she wore this one-shoulder design with flower detailing at the Academy Awards in 2002. The dress fit Kate like a glove and inspired a succession of one-shouldered red Oscar gowns for years to come.

Uma looks amazing in almost everything, but this 2004 getup baffled us. Part-pirate, part-peasant girl, the Christian Lacroux gown was a poufy mess that didn't do the Kill Bill actress justice.

A pale yellow Valentino dress with burgundy accents was a very shrewd choice for Blanchett, who in 2005 took home the Oscar for Best Supporting Actress for her portrayal of Hollywood icon Katharine Hepburn in The Aviator.

Channeling the Queen of Hearts in a heavy velvet gown, Juliette Bionche looked anything but regal when she accepted her Oscar for Best Supporting Actress in The English Patient in 1997. She looked more like the bride of Dracula than an Oscar-winner.

Theron won Best Actress for her role in Monster in this glittering Gucci gown, proving she was anything but. The slinky dress showed off her amazing curves, while her wavy, old-Hollywood hair was pure glamour.

2001 was a bad year for lilac, with Judd trying a bit too hard to channel the 1920s in an unflattering satin dress and piles of jewelry. This flapper-inspired look was a flop.

Minimalism works for Gwenyth -- she positively shined in Calvin Klein at the 2011 Academy Awards. Pops of colour from Louis Vuitton jewelry and simple straight hair complemented the shimmery look.

Jennifer Connelly may have won Best Supporting Actress for a Beautiful Mind, but the dress she wore to the 2002 Oscars was far from beautiful. The layered taupe gown washed out Connelly's pale skin, and that nonsensical beige scarf made the whole thing just look blah.

It was the leg heard 'round the world: Angelina Jolie's jutting pose may have been a bit over-the-top, but it started an Internet frenzy of Twitter handles and animated .gifs dedicated to the glamorous gam. The dark velvet Versace dress will no doubt go down in Oscar history – all because of a little leg.
1. Who: Cher, 1986
Well, first and foremost: if we had abs like Cher, we'd show them off when we won an Oscar, too. Second, what did everyone expect? The singer's Academy Awards debut in the '70s saw another two-piece style, but because it was in-step with the trends of the decade, she wasn't harped on it the way she was in 1986. Cher isn't a boring person, so her state of dress shouldn't be, either. After all, who else can pull off a Vegas-style feather headdress and balance it flawlessly?
2. Who: Hilary Swank, 2003
Movies give us permission to pretend for about two hours, and actors pretend for a living. So why wouldn't, on a night that celebrates pretending, Hilary Swank pretend to be a ballet dancer? (Or a princess. Whatever – it's her choice.) Exactly. Yet apparently there's no room for pretending at an award show that celebrates pretending. Even though we all pretended "Shakespeare In Love" deserved Best Picture.
3. Who: Lizzy Gardiner, 1995
If you're going to make a political and/or social statement, you might as well make one during a ceremony that broadcasts to millions of people around the world. Also, this is arguably a dress you'd find today at Forever 21 – or at least as part of an art installation that would be hailed as "brilliant."
4. Who: Uma Thurman, 2004
Was Uma Thurman's 2004 Academy Awards dress a little bit much? Absolutely. But a) that's never a bad thing, and b) the actress had just come off the "Kill Bill" extravaganza, so we can probably go ahead and excuse her for wanting to wear the exact opposite of what the film's costume department offered. Thurman is also tall, and can carry off copious amounts of fabric. And even if she couldn't, kudos for trying something critics didn't know how to handle.
5. Who: Demi Moore, 1989
You want 1989? You've got 1989. The stuff of "90210" dreams, Moore showed up wearing exactly what the late '80s and early '90s epitomized: spandex shorts, gold, sleeves, and an extravagant jacket to remind viewers that being a young actress is less about right/wrong fashion choices, and more about having fun for heaven's sake. And let's face it: she was probably more comfortable than anyone else thanks to wearing bottoms that allowed her to move.
6. Who: Kim Basinger, 1990
Frankly, Kim Basinger looks every bit the part of "Batman's" Vicki Vale in her one-sleeved floor-length number, and for that, we salute her. Besides, interpreting Tim Burton's infamous film aesthetic for the red carpet is genius: not only did she prove that she was the right actor for the part, her dress is still not forgotten 24 years later. (Team Basinger for life.)
7. Who: Kate Winslet, 1996
How dare a 20-year-old actress wear a pink gown to the Oscars (thought critics of Winslet's '96 red carpet choice)? Well frankly, how dare the Oscars be so conventional and boring? Frankly, considering she was 20, critics should be lucky Kate Winslet didn't show up in ripped jeans and belly tops like the rest of us would have. And even if she did do that, congratulations on the lack of pretentiousness that's defined your legacy and fashion choices, Rose Dewitt-Bukater.
8. Who: Celine Dion, 1999
Celine Dion wore pants on the red carpet and that was controversial. (Let's face it: the backwards-style jacket would've been totally fine had it been attached to a skirt. Case in point: Hilary Swank's backless gown she wore while winning the prize for "Million Dollar Baby.") But in retrospect, she merely predicted the trends for 15 years later: now, gentleman-inspired fashion and hats are everywhere. Then, she merely had the guts to try it before the industry said she could.
9. Who: Kate Hudson, 2001
It may have not been like the dresses we've seen on Kate Hudson in recent years, but the actress' 2001 Oscar choice was a terrific homage to her "Almost Famous" character, Penny Lane, as well as her mom Goldiw Hawn (who donned similarly risky pieces in the '60s and '70s). Thanks to the shimmer, fringe, and jacket, Hudson looked like a dressed-up version of a classic rock star, which made sense: only somebody with presence would wear a chandelier jacket so confidently.
10. Who: Bjork, 2001
We may have covered this "iconic" look in another article, but it's important to remember that if you dress up like a swan, you are to be defended indefinitely because wearing actual art takes serious guts. But of course, we learned that when discussing Cher's headpiece.