2014 Canadian Screen Awards Winners: 'Orphan Black,' David Cronenberg Honoured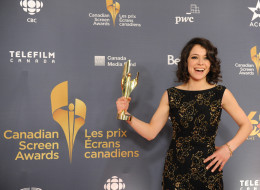 The Oscars may be over, but there were still more red carpets to pose on and gold statues to hand out in Toronto over the weekend, as the second annual Canadian Screen Awards celebrated the biggest names in Canadian film and TV.
Last year's emcee Martin Short returned to host the show, which proved to be a star-studded affair in 2014, with famous Canucks like Jessica Paré, Tatiana Maslany and Jay Baruchel providing some homegrown star power. And apart from "Gabrielle" spoiling a big night for Denis Villeneuve's "Enemy" by nabbing Best Picture honours, for the most part, the evening unfolded in rather predictable fashion -- from Maslany and "Orphan Black" cleaning up on the TV side, to Short cracking a steady stream of Rob Ford jokes during his opening monologue.
It's Always Better the Second Time Around
Last year, the Screen Awards were still something of a curious experiment, combining the best of Canadian film and TV into one massive awards show. Still, despite a few resulting scheduling quirks, like Best Actor and Actress being presented before their Best Supporting counterparts, the show seems to be gaining both traction and prestige in its second year.
"The main point is to celebrate Canadian film and TV and to honour the incredible work that we do, and to raise the profile of the work that we do," explained "The Grand Seduction" actress and presenter Liane Balaban. Bringing all those TV and film people together under one roof also has another added benefit, joked Short: "So that TV people can see what real arrogance looks like."
Of course, with so many awards to hand out, it's difficult to find time for them all, at least not without turning the Sunday awards show into an all-day affair. So, the night was broken into an off-air and televised portion, and the Fan Choice Award for Favourite Canadian Screen Star was presented to "Lost Girl" actress Zoie Palmer on the pre-show red carpet. Meanwhile, earlier in the week, the Academy of Canadian Cinema & Television awarded the additional television categories during an industry gala.
But for actors like for Maslany, who's been getting almost as much attention for her role on "Orphan Black" in the States as she does back home, the Screen Awards are something special: "For me, it's more exciting to be here tonight, because these are my friends and these are my co-workers, and that means the most to me."
"Orphan Black" Was A Big Winner
"Orphan Black" may have gotten overlooked at the Emmys this year, but the Screen Awards made up for the slight in a big way. All told, between the Thursday night gala and Sunday night's telecast, the Toronto-set sci-fi breakout hit took in a total of 10 awards. Or in other words, they're going to need every single one of Maslany's clones to help carry the show's armful of statues home.
After getting a little emotional during her acceptance speech for Best Actress in a drama series, Maslany explained to the press room afterwards how much the award meant to her, saying, "To be received so warmly by my peers and by people I've looked up to for so long, and who I aspire to be like, is just overwhelming."
It was well-deserved according to her "Orphan Black" showrunners Graeme Manson and John Fawcett. "The show wouldn't work without Tatiana," gushed Manson. "It's just a joy to watch someone on the top of their game like that."
"It was a roller-coaster ride trying to get this series green-lit, a lot of people didn't want it," explained Fawcett. But they stuck with it, and clearly the perseverance paid off. Still, don't think any of them are taking this success for granted. "By no means did we expect this kind of tidal wave of love, and it's been really wonderful," Maslany said.
On the comedy side, "Call Me Fitz" managed their own clean sweep, winning Best Comedy Series and Best Actress for Tracy Dawson and Actor for Jason Priestley.
"Gabrielle" Played Spoiler
As Canada's official selection for foreign-language Oscar consideration, "Gabrielle" didn't exactly come from nowhere to win Best Picture. At least initially, it looked like it would be Denis Villeneuve's night for "Enemy," after starting off strong with wins in cinematography, editing, and original score, along with Sarah Gadon for Supporting Actress. "We really made it as a group," said editor Matt Hannam, and that group effort certainly showed in the film's ten nominations and five wins.
Still, much like at the Oscars this year, Best Director and Best Picture ended up going to two different films at the Screen Awards, with Villeneuve taking home directing honours. "It must've been one of the closest races ever. There were so many good candidates," said "Gabrielle" producer Luc Déry. "And we're so happy." Meanwhile, Villeneuve was just as gracious, saying, "I didn't feel I was in competition, I was with friends."
And many of those friends also got to go home happy, as the awards were considerably more spread out on the film side, with "The F Word," "Empire of Dirt," "The Grand Seduction," and "The Auction" also collecting statues.
A Tribute to David Cronenberg
Beyond just the year's best film and TV, the night was also meant to celebrate one of Canada's most renowned directors, David Cronenberg, who received a lifetime achievement award from the Academy. The special tribute to the iconic Toronto filmmaker included a video montage and speeches by Baruchel and Viggo Mortensen, who called Cronenberg "the finest director and the sanest man I know."
Once the resulting standing ovation died down, the director kept things light, joking that he wants to go for an "afterlife-time achievement award" next. And later on, during the backstage press conference, Cronenberg said he was far from done making movies, telling the assembled press, "Just standing here, I'm getting all kinds of ideas for horror films."
Still, deciding to honour Cronenberg was a no-brainer for Short, since unlike some of his fellow countrymen, he chose to stay in Canada to make his films. In a way, he represents exactly what the Screen Awards are trying to achieve. "I think there was a time where you kind of felt there was a ceiling," Short said of working in the Canadian entertainment industry. "And I think that ceiling is really being smashed away."
But Villeneuve summed up the night's sentiment best, saying, "The thing that I admire the most about other filmmakers is when they are able to build their own world. And there's nobody like David Cronenberg."
Short Came Up Big Again
For the second straight year, Short delivered capably as the Screen Awards host, poking fun at the audience and himself - and the embattled Toronto mayor, of course, saying that if the night didn't go well, he planned on blaming it on "one of his drunken stupors," before rolling off a few other Ford digs.
He also took a shot at his competition, spoofing Ellen DeGeneres' memorable Oscar moment by asking the accountants responsible for counting the night's ballots to help him take "the least-retweeted picture in history."
Afterwards though, Short had nothing but praise for DeGeneres, saying the secret to hosting an awards show is understanding that the night isn't about you, but the people being honoured. "I think that's what Ellen did, and I thought it was a high watermark," he explained.
Short also said he tried not to let the pressure of wanting to top last year's show get to him, joking, "I kept thinking then Coppola couldn't have made his second 'Godfather' if he'd worried about that."
As for whether or not he's interested in coming back again next year, Short was more tight-lipped. But one thing's for sure, no matter who'll be hosting, the Canadian Screen Awards are here to stay.
Full List Of Winners Below Slideshow!
Now that every single media outlet has gushed with praise for this outstanding show, we thought now would be the right time to say: WE SAW IT FIRST. No, but seriously, we've been monitoring this Tatiana Maslany masterpiece since it was first buzzed about at TCA in 2012. So there. And really, it's not a stretch to say that "Orphan Black" is easily the best Canadian-made show on TV right now.

None of us were really sure what to expect from the Canadian version of "The Amazing Race." Would it have the same quality? Would the teams be entertaining? Would they visit beautiful locales across this great nation? Thank goodness the answer to those resounding questions is unanimously "yes." Prep for Season 2 in the fall summer of 2014.

For a reality show that's had umpteen seasons south of the border, it was tough to imagine a bunch of average Canadians making something out of this franchise. They shot way past the target, and "Big Brother Canada" supplied some of the biggest shocker moments of the TV season. Who could ever forget that ridiculous finale?

Man, this show. While it definitely doesn't appeal to everyone, you can't deny that "Lost Girl" has some of the most devoted fans of any TV show in existence. The succubus drama/comedy always manages to hit the right notes, and continues to grow and mature as it makes its way through its fourth season. Fully homegrown and an international hit, "Lost Girl" is something for Canadians to brag about.

Speaking of loyal fans, "Continuum" fans are running a close second to the "Lost Girl" fae-natics. About to enter its third season, "Continuum" has received praise both here and abroad for its clever storylines and interesting premise. Leading lady Rachel Nichols never fails to bring the kick-ass, either. Season 2 starts up soon.

This Irish-Canadian co-production has been turning heads since it premiered in March. While semi-similar to HBO's "Game Of Thrones," "Vikings" has a flavour all its own. It's sexy, fast-paced, and can be a bloody mess, but ultimately it's a story of a man's quest to secure a future for his family and bloodline.

Some of you may collectively moan and say, "Not another detective show!" We were in that same camp, but "Motive" has proven to be a different, innovative cop show. The cases on the show work backwards, so you start off with the perp and try to figure out his or her motivations. Season 2 is set to premiere in 2014.

It's no joke when people say that Canada has the TV market cornered on sci-fi. Not only do we shoot numerous sci-fi shows in this country, but we make some damn good ones. "Defiance" was a critical surprise and was renewed for a second season almost immediately after Season 1 started. Shot in Toronto, "Defiance" is a perfect illustration of what can be done with the right budget and creativity.

This picture says it all, doesn't it? Season 2 of "The Real Housewives Of Vancouver" pulled out all the stops and, frankly, got really, really ugly. It all came to a head in the vicious finale, enough to the point that we didn't even get a reunion special. OUCH. Currently, there are no plans for a Season 3 of "RHOV." (Though a little bird told us a "Real Housewives Of Toronto" may be in the works.)

So ... many ... cooking competition shows. In 2013, Canada produced so many cooking shows we can't even keep them straight. "Chopped Canada" is set to start in the first week of 2014, and "MasterChef Canada" is following suit. "Top Chef Canada" finished up its third season this year. Let's hope our nation doesn't take these shows too seriously -- we don't want an obesity epidemic on our hands!

Canada's first big foray into the world of daytime talk show panels has been a pretty big success. "The Social" is talked about, debated and watched by people across the country.

Awwwww, look at the lovely couple! Brad and Bianca, the first-ever "Bachelor Canada" pairing, are apparently still going strong. City recently announced that a second season is in the works, and they're casting men and women. This should be interesting.
Here's the complete list of winners from last night:
TELEVISION
Bell Media Award for Best Comedy Program or Series
"Call Me Fitz"
TMN/Movie Central (Bell Media/Corus Entertainment)
(eOne Television International, Amaze Film & Television, Big Motion Pictures)
David MacLeod, Dennis Heaton, John Morayniss, Matt MacLennan, Michael Souther, Noreen Halpern, Sheri Elwood, Teza Lawrence

Bell Media Award for Best Performance by an Actor in a Continuing Leading Comedic Role
"Call Me Fitz" - Thirty Percent less Pulp Fiction
TMN/Movie Central (Bell Media/Corus Entertainment)
Jason Priestley

Bell Media Award for Best Performance by an Actress in a Continuing Leading Comedic Role
"Call Me Fitz" - The Totally Legitimate Death of Meghan Fitzpatrick
TMN/Movie Central (Bell Media/Corus Entertainment)
Tracy Dawson

Best Host in a Variety, Lifestyle, Reality/Competition, Performing Arts or Talk Program or Series
"The Juno Awards 2013"
CTV (Bell Media)
Michael Bublé

Best News Anchor, National
"CTV National News"
CTV (Bell Media)
Lisa LaFlamme

Best Performance by an Actor in a Leading Role in a Dramatic Program or Mini-Series
"Jack"
CBC (CBC)
Rick Roberts

Best Performance by an Actress in a Leading Role in a Dramatic Program or Mini-Series
"Jack"
CBC (CBC)
Sook-Yin Lee

Best Reality/Competition Program or Series
Sponsor | A&E Networks
"Dragons' Den"
CBC (CBC)
Lisa Gabriele, Mike Armitage, Tracie Tighe

Shaw Media Award for Best Dramatic Series
"Orphan Black"
Space (Bell Media)
(Temple Street Productions)
Claire Welland, David Fortier, Graeme Manson, Ivan Schneeberg, John Fawcett, Karen Walton, Kerry Appleyard

Shaw Media Award for Best Performance by an Actor in a Continuing Leading Dramatic Role
"Flashpoint" - Fit for Duty
CTV (Bell Media)
Hugh Dillon

Shaw Media Award for Best Performance by an Actress in a Continuing Leading Dramatic Role
"Orphan Black" - Unconscious Selection
Space (Bell Media)
Tatiana Maslany

FILM

Achievement in Art Direction/Production Design
Michel Proulx - "Louis Cyr, l'homme le plus fort du monde/Louis Cyr: The Strongest Man in the World"

Achievement in Cinematography
Nicolas Bolduc CSC - "Enemy"

Achievement in Costume Design
Carmen Alie - "Louis Cyr, l'homme le plus fort du monde/Louis Cyr: The Strongest Man in the World"

Achievement in Direction
Sponsor | Pinewood Toronto Studios
Denis Villeneuve - "Enemy"

Achievement in Editing
Sponsor | The PostMan Post-Production Studio
Matthew Hannam - "Enemy"

Achievement in Make-Up
Sponsor | M•A•C Cosmetics
Jo-Ann Macneil, Karola Dirnberger, Paul Jones - "The Mortal Instruments: City of Bones"

Achievement in Music - Original Score
Danny Bensi, Saunder Jurriaans - "Enemy"

Achievement in Music - Original Song
Sponsor | Slaight Music
Jimmy Harry, Serena Ryder - "The Right Kind of Wrong" - "It's No Mistake"

Achievement in Overall Sound
Sponsor | Deluxe Toronto
Andrew Tay, David Drage, David Giammarco, Greg Chapman, Matt McKenzie, Peter Persaud - "The Mortal Instruments: City of Bones"

Achievement in Sound Editing
Sponsor | IMAX
Alex Bullick, Christian Schaaning, J.R. Fountain, Jill Purdy, Kevin Banks, Nathan Robitaille, Nelson Ferreira, Stephen Barden, Steve Baine - "The Mortal Instruments: City of Bones"

Achievement in Visual Effects
Andy Robinson, Dennis Berardi, Edward J. Taylor IV, James Cooper, Jason Edwardh, Jo Hughes, Leann Harvey, Sean Mills, Stephen Wagner, Trey Harrell - "The Mortal Instruments: City of Bones"

Adapted Screenplay
Elan Mastai - "The F-Word"

Best Animated Short
"Subconscious Password" - Chris Landreth, Marcy Page, Mark Smith

Best Live Action Short Drama
"Noah" - Patrick Cederberg, Walter Woodman

Best Motion Picture
Sponsor | William F. White International and Comweb Group
"Gabrielle" - Kim McCraw, Luc Déry

Best Short Documentary
Sponsor | Hot Docs
"Chi" - Anne Wheeler, Yves J. Ma, Tracey Friesen

Original Screenplay
Sponsor | Harold Greenberg Fund
Shannon Masters - "Empire of Dirt"

Performance by an Actor in a Leading Role
Gabriel Arcand - "Le Démantèlement/The Auction"

Performance by an Actor in a Supporting Role
Gordon Pinsent - "The Grand Seduction"

Performance by an Actress in a Leading Role
Gabrielle Marion-Rivard - "Gabrielle"

Performance by an Actress in a Supporting Role
Sarah Gadon - "Enemy"

Ted Rogers Best Feature Length Documentary
"Watermark" - Edward Burtynsky, Jennifer Baichwal, Nicholas de Pencier, Daniel Iron