'Creature Sightings' Facebook Group Removed After Calgary Complains
A Facebook group called 'Creature Sightings,' which made fun of Calgary street people, has been removed from the social networking site after public backlash.
The group, in which members would post images of street people passed out, drunk, urniating or sleeping in public places, attracted the attention of police and the disgust of homeless advocates.
Tim Richter, president of the Canadian Alliance to End Homelessness, called the group "simply disgusting" and said the online torment is a new form of bullying.
In one video post, two young men harrassed an elderly homeless man by following him throughout downtown buildings while yelling obscenities at him — an activity they called "creature hunting."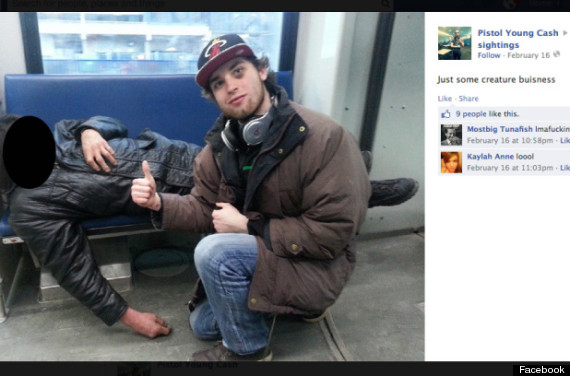 Sgt. Erin Partridge of the Calgary Police Service told CBC News investigators were monitoring the site to determine whether criminal offences occurred.
"We take this very seriously — that a website such as this is marginalizing our already vulnerable community members and is being viewed and actively engaged at and we really encourage members of the public not to further support it by going to the website," she said.
The group's founder, who goes by the name 'Pistol Young Cash' on the social networking site, told Metro Calgary the group's participants weren't solely out to harass and often offered their subjects money or gift cards to help them out.
"We are kind of using a shock/humour approach to also help raise awareness," he said.
Story continues below the slideshow
'Creature Sightings' Screengrabs
Celebrities who used to be homeless.

Before getting her big break on "American Idol," Clarkson lived out of her car after her LA apartment burned down. She allegedly showered daily at a health club where she had a membership.

Berry lived in homeless shelters at the age of 21 after she tried to pursue a Hollywood career, despite her mom's disapproval. "After a month or two, I ran out of money and called her. I said, `Mom, I hate to ask you this, but could you send me some money? I just have rent money. I can't eat this week," she said in 2007. And she said, I'm not going to start this calling home asking Mom for money. No. Figure it out or come home.' I was so mad. I didn't speak to her for a year and a half."

Swank grew up in a trailer park in Bellingham, Wash., before heading to Los Angeles with her mom at the age of 15 to pursue an acting career. The pair lived out of a car, booking auditions over payphones before Swank finally landed some small gigs. She tells CBS, "[My mom] was at a crossroads. My father and her were getting separated, and she said, 'Let's go to California.' And so $75, and a Mobil card, we drove down to California."

Jewel lived a hard life before making it big almost two decades ago. The singer's family was poor and lived in a house with no indoor plumbing. She confessed to writing songs while living in a van. "It was really hard for me to ever think that I was special when I was homeless," she told CNN in a recent interview. "I was writing things, I was writing songs, but I didn't think that they were that good. The fact that someone believed in me or thought that my life was special meant a lot to me, because I didn't know how to value it."

Carrey lived in a van with his family. He told "Inside the Actor's Studio," "My father was a musician who got a 'regular job' to support his children. When he lost his job that's when everything fell apart. We went from 'lower middle class' to 'poor'. We were living out of a van. I quit school at age 15 to begin working to help support my family as a janitor. I'd have a baseball bat on my janitor cart because I was so angry I just wanted to beat the heck out of something."

Before she made it in Hollywood, Lil' Kim was just getting by in Brooklyn, NY. Her father kicked her out as a teenager, and for a while, Kim was homeless. During her struggle, she met The Notorious B.I.G., who helped her go from a couch-surfing girl to Grammy-winning performer.

Shatner lived out of his pickup truck following the ending of "Star Trek." He told Details magazine, "It was the early 1970s and I was recently divorced. I had three kids and was totally broke. I managed to find work back east on the straw-hat circuit—summer stock—but couldn't afford hotels, so I lived out of the back of my truck, under a hard shell. It had a little stove, a toilet, and I'd drive from theater to theater. The only comfort came from my dog, who sat in the passenger seat and gave me perspective on everything. Otherwise, it would have just been me counting my losses."

Before making it big, Letterman lived out of a red 1973 Chevy pickup truck.

J.Lo couch-surfed at the age of 18 after her parents disagreed with her decision to pursue a career in Hollywood. "My mom and I butted heads," Lopez tells W. "I didn't want to go to college -- I wanted to try dance full-time. So she and I had a break. I started sleeping on the sofa in the dance studio. I was homeless, but I told her, 'This is what I have to do.' A few months later, I landed a job dancing in Europe. When I got back, I booked 'In Living Color.' I became a Fly Girl and moved to L.A. It all happened in a year."

"I was living in a car before I signed up for Avatar," the Australian actor confessed.

The actor and director lived in his car after one of his projects flopped in Atlanta.

In an interview with Jimmy Fallon, Parker said that he could "easily have been a one hit wonder and drifted off into obscurity," after Napster, but instead forged on, trying to build a consumer product. Until the PayPal IPO in 2002, Parker was forced to live a vagrant sort of life, "sleeping on couches," and setting up rules "about how long I'd freeload off of any one individual."

Shania Twain's parents had a tumultuous relationship that was only worsened by the family's lack of income. In 1979, Twain's mother reportedly rounded up her four children and drove more than 400 miles to a Toronto homeless shelter. She was 14 at the time.

The actor spent three weeks sleeping in New York City's Port Authority bus station after being evicted from his apartment. Out of desperation, Stallone took a role in an adult film, which paid $200 and helped him get back on his feet.

"You know, I had a couple of years of being homeless in Hollywood," Electra told the Review Journal. "A lot of people don't even know this." She was in her early 20s when her boyfriend stole all of her savings and left her stranded. "I remember sitting on a park bench in the valley," she says. "I was crying because I was stranded. It was over 100 degrees outside."

In the early 1980s, when he was in his teens, the African-born future model and actor was a homeless youth in Paris. "I lived on the streets for some time -- fighting for survival, searching out nothing more than my daily necessities for a meager existence," Hounsou told a U.S. Senate panel in 2008, according to People.

"I was homeless living in a car with my dad," McGraw reportedly told the Globe in 2009. "We eventually got a room at the downtown YMCA for five bucks a week."

Carey lived out of his car for 18 months while trying to earn a spot on "The Tonight Show With Johnny Carson."
Richter, however, told CBC it's clear the group's activity exploits the city's vulnerable and it's up to Calgarians as a community to stand up for those being humiliated on the site.
"If we recognize people on that site, we should sit them down and say, 'This is not OK,'" he said.
Kris Innes, a member of the group 'People Against the facebook group "Creature Sightings," posted early Wednesday morning that he received confirmation Facebook had removed the page.
With files from the Canadian Press