How 'Fargo' TV Series' Actors Nail That Minnesota Accent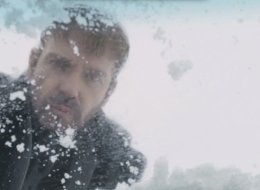 CALGARY - Aw jeez — it wouldn't be "Fargo" without the distinctive Minnesota accents.
Vancouver-based dialect coach Tony Alcantar worked with actors in the new FX television series "Fargo" — adapted from the famous 1996 Coen brothers' film — to get the sound just right.
"The Minnesota sound, in its extreme, is a more musical sound," said Alcantar, an improv actor by trade originally from Chicago.
Though the Chicago and Minnesota accents share a similar Midwestern flavour, Alcantar said the latter is more "sing-songy."
"I would say it's because the influence is more European," he said. "You're going to get that Germanic or Northern European lilt that the Swedes are known for, that the Germans are known for."
Alcantar, a Second City alum who teaches at the Vancouver Acting School, worked with actors auditioning for roles in "Fargo." After reading snippets of the script, Alcantar says he wanted in on the project.
"The more I read the different scenes, I thought, 'man, this is really good.' This is some of the best writing I've seen and I've been living in Vancouver for 15 years," he said.
"So I emailed the producer in Calgary and I said 'I would love to work on this show' and we had an interview going back and forth and I got hired to do it."
Alcantar held sessions with the cast members before shooting, which took place in and around Calgary, and was on set to make sure they didn't slip up.
Check out trailers for the upcoming series. Story continues below.
Sneak Peek At 'Fargo' TV Series
Because some people can't be killed with kindness. Fargo, an FX Original Series, premieres Tues, April 15 on FX.

Inside Fargo takes you down North Dakota's Enchanted Highway. Fargo premieres Tues, April 15 on FX.

Get ready for one heck of a story. Fargo, A New FX Original Series. Premieres April 15.

Lester's life is about to tumble out of control.

This April, Lorne Malvo is sharpening his skills.

Do you prey by the rules?

This April, Lorne Malvo's just passin' through.

One heck of a shopping list.

This April, prepare to be chilled to the bone.

This spring, who will run out of luck?

Welcome to Fargo. Aw jeez, here we go again. The cast and crew of Fargo show how FX's newest original series expands the world of the award winning film.

All new characters. All new story. The cast and crew of Fargo take you inside FX's unforgettable, new original series.

Get ready for one heck of a story. Fargo, A New FX Original Series. Premieres April 15.

Aw jeez, someone's up to no good in Fargo. An all new FX Original Series, premieres April 15 only on FX.
For actor Martin Freeman, who plays downtrodden insurance salesman Lester Nygaard, maintaining the right tone takes commitment.
"I stay in it every day. When I'm shooting, I'm always in it, because it would be too difficult to go from this to that," Freeman said in his natural way of speaking — a crisp British accent.
"So from the moment I get in the car, my work day, to the moment I get out of makeup, I'm speaking it. I hope I've got it, but it needs attending to. You need to work on it every day."
Allison Tolman — who plays a smart, young cop named Molly Solverson — hails from Texas, but has spent the last five years living in Chicago. So the Minnesota accent wasn't too difficult an adjustment.
"They're not the same accent, but they're cousins. They're close," she said.
"I think it's really nice. It makes it more sparse. They say less and they choose their words really carefully so there's more silence."
Keith Carradine — who plays Molly's dad, Lou — says the accent is important to the mood and tone of both the movie and film.
"It's a wonderful accent in that it has a kind of a benign patina that it lays over this really kind of sinister undertone of the things that are going on in this little community," he said.
"It sounds really kind of naive, just the accent. Oh, these are such sweet simple people and you find out that this incredibly awful stuff is going on."
Fargo airs Tuesdays at 10 p.m. in Canada on the new specialty channel FXX starting April 15. The first episode will also be shown on FX Canada.
Follow @LaurenKrugel on Twitter.