Fair Elections Act: Harper Pressed On Concerns From Seniors, Students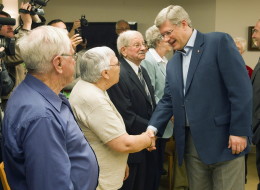 OTTAWA — Opposition parties leaped to the defence Tuesday of seniors and students who are worried the passage of the Conservatives' Fair Elections Act would leave them unable to vote in the next federal election due to a lack of adequate identification.
NDP Leader Thomas Mulcair asked Prime Minister Stephen Harper if he was concerned by a warning from CARP, the largest seniors organization in Canada, that Bill C-23 would make it more difficult for seniors to vote.
He also demanded to know whether Harper was bothered by fears expressed by the Canadian Federation of Students that the Fair Elections Act would make it harder for young people to vote, too.
Liberal MP Scott Simms demanded to know the same thing. "Thousands of seniors will be unable to vote in the next election. Why is the minister letting this happen?" Simms asked.

The prime minister said he wanted to make it clear to seniors, "who, of course, are very strong supporters of the Conservative Party, that [there are] various ways that they can demonstrate their identity and vote."
Harper said seniors could use their health card, an old age security card, a hospital/medical/clinic card, hospital bracelets worn in long-term-care facilities, statements of government benefits, a public transportation card or a library card, along with all other pieces of identification that are available to a broad range of Canadian voters.
But several seniors say that is not enough. They are worried that the elimination of vouching — whereby one poll resident confirms the identity of another who lacks proper identification — will prevent them from voting in 2015.
CARP released a letter from a woman named Sharon from Spruce Grove, Alta., who did not want her full identity known for fear of reprisals from other Conservatives in her area. The emotional letter described how Sharon feared her 97-year-old mother would be denied her right to vote.
She discussed how her mother had to leave her own home to live with her daughter, then had to move to assisted living, then to the hospital after suffering a bad fall, and then to another long-term-care facility. Her mother's finances are set up through automatic deposits and withdrawals so she has no bills with her address and no correspondence other than cards and letters from friends. Her driver's licence has expired. Her Alberta Health Care Card has her name but no address.

"The impaired mobility and very low income and not knowing how her life was going to play out. ID was not a priority," Sharon wrote.

In the past, the social worker at her mother's assisted-living residence had vouched for her and, Sharon acknowledged, other residents as well.
"Who would have ever dreamed that the government was going to take her democratic rights away?" she asked.
Her family's roots in Canada date back long before the world wars of the 20th century that claimed several relatives.They fought for democracy, she said, along with her father who spent more than 30 years in the military and sacrificed through the Great Depression.
"It is a shame that this government is stealing from those who cannot fight for themselves whether disabled or elderly or simply guilty of poverty and homelessness," she wrote.

Sharon said her mother, who will be 98 in May, was a good missionary who voted for Harper. "He is betraying her and other elderly Christian Conservatives," she said. "What is next and who is next?"

The Conservative government, its MPs and senators insisted in committee and in the House Tuesday that seniors and students who want to vote will make the effort.
Story continues after slideshow
Proposed Changes Under 'Fair Elections Act'
"The Fair Elections Act will ensure everyday citizens are in charge of democracy, by putting special interests on the sidelines and rule-breakers out of business," says Democratic Reform Minister Pierre Poilievre. Read more about the Fair Elections Act here.

The legislation proposes a mandatory public registry for mass automated election calls, jail time for those convicted of impersonating an elections official, and "increased penalties for deceiving people out of their votes."

In the interest of cracking down on voter fraud, the bill would prohibit the practice whereby one Canadian vouches for another's identity at a polling station. In fact, voter information cards will no longer be accepted as proof of identity. But the government says voters will still have 39 forms of authorized ID to choose from in order to prove their identity and residence.

The Commissioner of Canada Elections office, responsible for enforcing the elections law, will be moved under the mantle of the public prosecutor's office, not Elections Canada. Conservatives believe this will give the commissioner more independence as the Chief Electoral Officer will no longer be able to direct him to carry out investigations. In future, the commissioner would be appointed by the director of public prosecutions to a non-renewable, seven-year term. The legislation also bars former political candidates, political party employees, ministerial or MP staffers or employees of Elections Canada from being named commissioner. Tories believe the legislation will give the commissioner "sharper teeth" and a "longer reach" to seek out stronger penalties for offences.

The ceiling for individual political donations would be raised to $1,500 from $1,200 and party spending limits would be increased by five per cent. Union and corporate donations are still banned, though.

A long-standing ban on the premature transmission of election results will be lifted, meaning voters in Western Canada will get to know how things are shaping up out East before heading to the polls. Broadcasters can share results from Eastern Canada on election night, even if the polls aren't closed in the West. The government believes this change will uphold free speech.

The legislation would raise the amount candidates can contribute to their own campaigns to $5,000. Leadership contestants will be allowed to give their own campaign up to $25,000.
"Voters who vote in elections need to establish identity," Harper told the Commons.
"I do not think Canadians agree with the notion that elections should be decided by people who cannot indicate any form of identification," he said.
"Frankly, I think that if someone wants to vote, if they believe in their right to vote and want to participate, whatever effort it takes to produce the correct identification at the polls to confirm residency and address, which are both required to vote in the particular poll, I don't think that is too big of an effort to ask of Canadians," Tom Lukiwski, the Conservatives' point man on the Commons committee studying the Fair Elections Act, said Tuesday.
Former auditor general Sheila Fraser told a Senate committee earlier Tuesday that she is concerned that her daughter, who lives at home and receives all her bills through email, will also be unable to vote without vouching.
Lukiwski later questioned why Fraser's daughter would not make the effort to ask for a hard copy of her correspondence with her university in order to vote.
"My point was that today, if an election was called tomorrow, based on the information that she has right now, she doesn't have any of the documents that prove her residency," Fraser responded.
"I think it's a lot to ask — I don't know, I mean, why would my daughter go and get that document? It's because her mother would be after her to go and get it. I think there are a lot of young people who just, it would be too complicated, they wouldn't.
"I'm just concerned that there will be a lot of Canadians who will not be able to vote," Fraser added.
Conservative senators noted that students, the elderly and aboriginal people who live on reserves could ask for a letter of attestation from their student residence, seniors' home or First Nations band councils.
But several witnesses noted that no one is actually obliged to provide such letters to the people who request them.
"If you have 6,000 band members to send out letters to, it's expensive and there is no obligation to send them out," former chief electoral officer Jean-Pierre Kingsley told The Huffington Post Canada.
If that's what the government is depending on to guarantee people the right to vote, he said, the government should coerce organizations.
"If that's your big solution… force them in law to do it. And if they don't do it, they are committing an infraction," Kingsley said.
Chief Electoral Officer Marc Mayrand, who was also appearing before the Senate committee, said the notion that all Canadians have in their possession documents establishing their identity and their address "is simply wrong and not borne out by experience."
He called vouching a fail-safe in the electoral system, ensuring that some Canadians who have difficulty establishing their identity can still exercise their right to vote.
"We have not been able to find any other jurisdiction in Canada where a requirement to provide documentary proof of residence to vote is not also accompanied by a safety net such as vouching or a statutory declaration," he said.