Passover Recipes: 18 Easy Meals To Try In April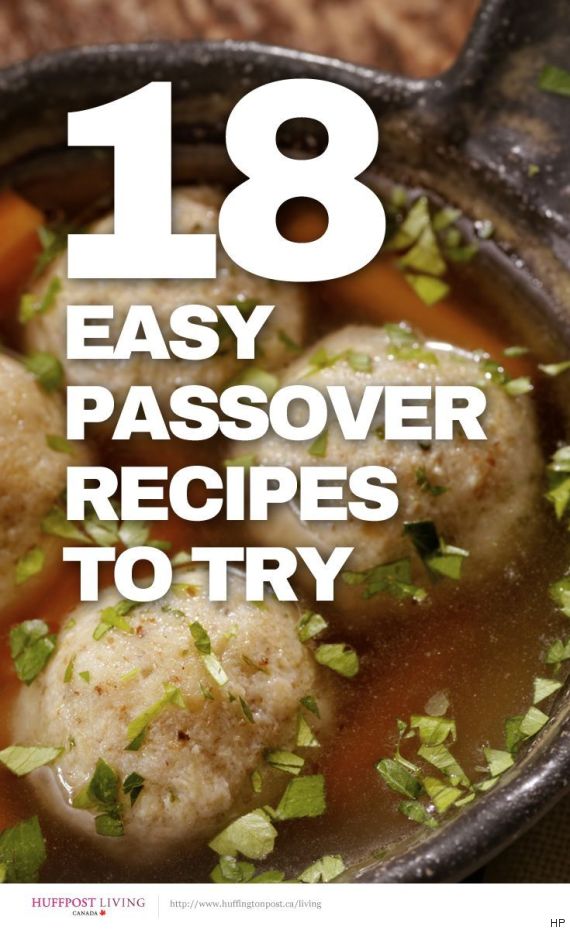 While Passover is one of the most celebrated and beloved of Jewish holidays, it does mean following dietary restrictions that can make planning dinner a little harder.
Passover, which celebrates the Jews' liberation from slavery in ancient Egypt and subsequent freedom under the guidance of Moses, lasts eight days between April 14 to 22 (like Hanukkah, the date changes every year).
According to Jewish beliefs, after being freed from the Egyptian Pharaoh's rule, Israelites left their homes in such a hurry that they couldn't even wait for their bread to rise. Thus, during Passover Jews abstain from chametz, grains that rise such as wheat, oats, rye, spelt and barley. Matzo, which doesn't rise, is a traditional staple in Passover meals.
Depending on whether you're Sephardic (originally from Spain or Portugal) or Ashkenazi (from central or eastern Europe), traditions might differ. For Sephardic Jews, rice, corn, peanuts and beans are permitted during the holiday, while for Ashkenazi Jews, they are not.
Adhering to these requirements can mean added time and effort into planning meals, especially for the seders of the first two nights, which generally gathers together all members of the family for meals that follow a particular order.
But that doesn't necessarily mean there is a shortage of delicious recipes and ingredients available around the web. There are tons of traditional and innovative ways Jews keep their bellies satisfied during Passover.
Here are 18 finger-licking recipes you have to try during the holiday!
Passover Recipes To Eat This Year
Craving dessert? This layered, no-bake matzo cake is the perfect solution. Find recipe here on Cooking on the Side here.

You can never go wrong with potatoes. This mushroom-stuffed potato dish is vegan-friendly and delicious. Get the recipe from May I Have That Recipe here.

A Passover classic, this matzo ball soup sticks to the basics. Find the recipe at Leek Soup Blog here.

If you're a fan of spinach, you'll be licking your fingers over this baked casserole. Get the recipe at Cuisineous here.

Incredibly, simple to make, these breaded chicken breasts are great with salad or soup. Find the recipe at Feed Your Soul Too here.

This twist on traditional potato latkes, these nest bites will taste good and look great on the dinner table. Find the recipe on May I Have That Recipe here.

If you're vegan, coming up with Passover meals can be difficult. Try this simple soup with celery and spices. Get the recipe on May I Have That Recipe here.

A twist on a Passover classic, these macaroons are sure to satisfy any sweet tooth. Find the recipe on SoCal Sustenance here.

These kebabs are easy to make and very versatile. Add your favourite spices and serve it up on a bed of vegetables. Find the recipe on Food, Pleasure and Health here.

Who doesn't love deviled eggs? With avocado, this recipe is extra creamy and filling. Check out the recipe on Skinny Taste here.

This classic roasted chicken recipe is sure to be flavourful and please the whole family. Find the recipe on Sweet Remedy here.

Finding satisfying dessert recipes for Passover doesn't have to be stressful — this decadent recipe is made with bittersweet chocolate and cream. Check out the recipe on Sweetapolita here.

Stuffed cabbage is another Passover favourite. Try this version that uses ground beef and mashed potatoes. Find the recipe on Busy in Brooklyn here.

If you're a pasta-lover who loves the comfort of carbs, trick your mouth with this zucchini and horseradish pasta that's completely Passover-friendly. Check out the recipe on Kitchen Tested here.

For a healthy, fulfilling meal, try this quick kale salad. Find the recipe on What Jew Wanna Eat here.

For the seafood lovers, this salmon looks absolutely divine! Find the recipe on Straight To The Hips Baby here.

This thick and creamy soup packs in flavour and is pretty easy to make. Find the recipe on Healthful Pursuit here.

You can't have bread, but you can still make rolls. Replace your pita and bread with lettuce instead. Find it on Worth Cooking here.