Easter Dinner Ideas: 15 Things We Actually Want To Eat This Weekend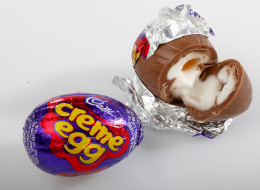 Easter may not be the holiday for sweet treats and over-the-top desserts, but when it comes down to it, there's nothing sweeter than a chocolate bunny followed by a plate of glazed pig.
While traditional Easter dinner and brunch menu items include ham, pork tenderloin and a lot of roasted vegetables, it is often the sugar, fatty and unhealthy stuff most of us tend to gorge on.
And face it, you know you get super excited when the Easter bunny (that clucks like a chicken) comes every year with a basket of Cadbury creme eggs.
Here are 15 things we actually want to eat this Easter weekend (and basically, every other weekend).
What We Actually Want To Eat For Easter Dinner
Cadbury Creme Eggs aren't part of any healthy and nutritional diets, but really, they should be.

If creme eggs aren't your fancy, try colourful mini eggs instead.

Easter ham hits the spot during weekend brunches and dinners. When it comes to getting our meat fix, we want it glazed.

Have several pancakes and don't know what do with them? Stack them and make a cake out of it — you'll thank us later.

Crepes are basically the fancy French cousin of the pancake. We suggest going all out with chocolate syrup and ice cream for breakfast.

Cheers! To start your weekend and your Easter brunch, grab a few glasses of mimosas.

We do like some of the healthy stuff. For Easter brunch, prepare a plate of fresh fruits and maybe — just maybe — even vegetables.

A rack of lamb is delicious on any given night. Since it's an Easter favourite, we'll take some more, please!

Easter... bunnies... carrots? Yes. It all makes perfect sense.

We're sick and tired of boring 'ol deviled eggs. Try something fun this year by adding a few slices of ham (glazed, duh) and some spicy hot sauces.

Another Easter tradition, these buns are filling and absolutely delicious.

Fried. Baked. Grilled. Mashed. Potatoes are a favourite any time of the day and for Easter, we want to eat them every single way.

Salmon is also a popular dish for Easter. For breakfast, try it with eggs or on cream cheese and a bagel.

For something a lot healthier and hearty, try a salmon dinner with veggies and rice.

You may remember how sweet Peeps were when you were a kid. If you haven't had any of these marshmallow birds in the last 10 years, don't be shy to eat two (or eight) this time around.

NEXT: Tasty recipes ideas for Easter dinner

Taking the more traditional Easter dinner route, this ham is topped with golden breadcrumbs and Madeira sauce. Get the recipe from Epicurious here.

The perfect appetizer even your kids will eat (read: finish). Get the recipe from The Little Green Bean here.

It may not be the most traditional type of bread to serve at Easter dinner, but this festive-looking sweet bread tastes amazing with smoked ham. Get the recipe from Taste of Home here.

A great vegan dinner option from the Veg Kitchen, this recipe is made with orange marmalade and tofu. Get the recipe here.

This Easter lamb is brushed with mashed-up garlicky mint. Get the recipe from Jamie Oliver here.

Served as either an appetizer or a main dish, this chicken recipe is made with provolone cheese and Dijon mustard. Get the recipe from Taste of Home here.

Another festive entree item for your family dinner, this recipe includes fresh herbs and spices. Get the recipe from In Honour Of Design here.

A great option for a side dish, roasted veggies can also help fill up the vegans and vegetarians at the table. Get the recipe from Saveur here.

Also known as aloo puttu, this Indian version of mashed potatoes might make an interesting side dish this year. Get the recipe from Cooks Joy here.

This side dish recipe combines the use of pancetta pieces and two types of peas. Get the recipe from The Food Network here.

Sure, you can go with regular deviled eggs ... or you could get creative and add some food dye. Get the full recipe from FOODjimoto here.

There's just something deeply satisfying about taking our favourite Easter-themed candy and making it into a cookie. Get the recipe from Claudia's Cookbook here.

Easter ... rabbits ... carrots ... get it? In all seriousness, these vegan carrot-walnut muffins make a healthier finale to your big Easter dinner. Get the recipe from Veg Kitchen here.

What a fun brunch idea! Take Pillsbury Crescent Rolls and load them up with different fillings for kid-friendly (or everyone-friendly) snacks. Get the recipe from Hungry Happenings here.

Your traditional grandparents may not appreciate the idea of serving pizza during Easter dinner, but it could be a tasty way to get out of cooking a pineapple ham. Get the recipe from Comfort of Cooking here.