Kate Middleton's Yellow Dress Has Special Significance For Australia (PHOTOS)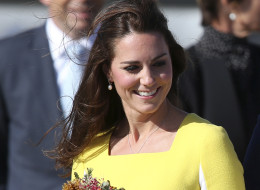 It's hard to top a puppy photo-op but Kate Middleton tried her best on her first day in Australia.
The Duchess of Cambridge sported a sunny yellow Roksanda Ilincic dress with white panels at the hem and under the three-quarter sleeves, which she paired with her signature patent beige LK Bennett heels and diamond earrings when she disembarked the plane in Sydney on April 16. (The dress even showed off a bit of leg, yeow!)
That Duchess Kate chose to wear yellow is no coincidence: it's one of Australia's national colours so we'll be sure to see more yellow hues during her 10-day stay Down Under.
Catherine is known for paying tribute to her host countries with her clothes: on one of her first days in New Zealand, the Princess wore a dress with silver beaded ferns, which is the country's national emblem.
Kate also toted around another important "accessory'": Prince George! The adorable little heir was carried by his mom (with dad Prince William in tow) as the couple disembarked from their flight, where they were greeted by dignitaries and fans at the iconic Sydney Opera House.
Kate Middleton's 'Banana' Yellow Dress In Australia
Britain's Prince George (C) is held by his father Prince William (R) as his mother Catherine, the Duchess of Cambridge (L), looks on as they are met upon their arrival from New Zealand at Sydney airport on April 16, 2014. William, his wife Kate and their son Prince George are on a three-week tour of New Zealand and Australia. AFP PHOTO/WILLIAM WEST (Photo credit should read WILLIAM WEST/AFP/Getty Images)

SYDNEY, AUSTRALIA - APRIL 16: In this handout image supplied by Admiralty House, the official Sydney residence of the Governor-General, Prince George of Cambridge, with his parents Prince William, Duke of Cambridge and Catherine, Duchess of Cambridge, receives a gift from the Governor-General Sir Peter Cosgrove at Admiralty House, on April 16, 2014 in Sydney, Australia. The Duke and Duchess of Cambridge are on a three-week tour of Australia and New Zealand, the first official trip overseas with their son, Prince George of Cambridge. (Photo by David Foote /Admiralty House via Getty Images)

SYDNEY, AUSTRALIA - APRIL 16: Prince William, Duke of Cambridge, Prince George of Cambridge and Catherine, Duchess of Cambridge arrive at Sydney Airport on a Australian Airforce 737 aircraft on April 16, 2014 in Sydney, Australia. The Duke and Duchess of Cambridge are on a three-week tour of Australia and New Zealand, the first official trip overseas with their son, Prince George of Cambridge. (Photo by Chris Jackson/Getty Images)

SYDNEY, AUSTRALIA - APRIL 16: Prince William, Duke of Cambridge, Prince George of Cambridge and Catherine, Duchess of Cambridge arrive at Sydney Airport on a Australian Airforce 737 aircraft on April 16, 2014 in Sydney, Australia. The Duke and Duchess of Cambridge are on a three-week tour of Australia and New Zealand, the first official trip overseas with their son, Prince George of Cambridge. (Photo by Chris Jackson/Getty Images)

SYDNEY, AUSTRALIA - APRIL 16: Prince William, Duke of Cambridge, Catherine, Duchess of Cambridge and Prince George of Cambridge meet dignitaries upon arriving at Sydney Airport on RAAF B737 on April 16, 2014 in Sydney, Australia. The Duke and Duchess of Cambridge are on a three-week tour of Australia and New Zealand, the first official trip overseas with their son, Prince George of Cambridge. (Photo by Ryan Pierse/Getty Images)

Prince William, Duke of Cambridge, Catherine, Duchess of Cambridge and Prince George of Cambridge arrive at Sydney Airport on RAAF B737 on April 16, 2014 in Sydney, Australia. The Duke and Duchess of Cambridge are on a three-week tour of Australia and New Zealand, the first official trip overseas with their son, Prince George of Cambridge.

SYDNEY, AUSTRALIA - APRIL 16: Prince William, Duke of Cambridge, Catherine, Duchess of Cambridge and Prince George of Cambridge arrive at Sydney Airport on RAAF B737 on April 16, 2014 in Sydney, Australia. The Duke and Duchess of Cambridge are on a three-week tour of Australia and New Zealand, the first official trip overseas with their son, Prince George of Cambridge. (Photo by Ryan Pierse/Getty Images)

SYDNEY, AUSTRALIA - APRIL 16: Prince William, Duke of Cambridge, Prince George of Cambridge and Catherine, Duchess of Cambridge arrive at Sydney Airport on a Australian Airforce 737 aircraft on April 16, 2014 in Sydney, Australia. The Duke and Duchess of Cambridge are on a three-week tour of Australia and New Zealand, the first official trip overseas with their son, Prince George of Cambridge. (Photo by Chris Jackson/Getty Images)

SYDNEY, AUSTRALIA - APRIL 16: Prince George of Cambridge shakes the Govenor General's wife, Lynne Cosgrove's hand as he arrives with Prince William, Duke of Cambridge,and Catherine, Duchess of Cambridge at Sydney Airport on a Australian Airforce 737 aircraft on April 16, 2014 in Sydney, Australia. The Duke and Duchess of Cambridge are on a three-week tour of Australia and New Zealand, the first official trip overseas with their son, Prince George of Cambridge. (Photo by Chris Jackson/Getty Images)

SYDNEY, AUSTRALIA - APRIL 16: Prince William, Duke of Cambridge, Prince George of Cambridge and Catherine, Duchess of Cambridge arrive at Sydney Airport on a Australian Airforce 737 aircraft on April 16, 2014 in Sydney, Australia. The Duke and Duchess of Cambridge are on a three-week tour of Australia and New Zealand, the first official trip overseas with their son, Prince George of Cambridge. (Photo by Chris Jackson/Getty Images)

SYDNEY, AUSTRALIA - APRIL 16: Catherine, Duchess of Cambridge greets the crowds of public outside Sydney Opera House on April 16, 2014 in Sydney, Australia. The Duke and Duchess of Cambridge are on a three-week tour of Australia and New Zealand, the first official trip overseas with their son, Prince George of Cambridge. (Photo by Chris Jackson/Getty Images)

SYDNEY, AUSTRALIA - APRIL 16: The Duke and Duchess of Cambridge walk down the stairs of the Sydney Opera House on April 16, 2014 in Sydney, Australia. The Duke and Duchess of Cambridge are on a three-week tour of Australia and New Zealand, the first official trip overseas with their son, Prince George of Cambridge. (Photo by Cameron Spencer/Getty Images)

SYDNEY, AUSTRALIA - APRIL 16: The Duke and Duchess of Cambridge walk down the stairs of the Sydney Opera House on April 16, 2014 in Sydney, Australia. The Duke and Duchess of Cambridge are on a three-week tour of Australia and New Zealand, the first official trip overseas with their son, Prince George of Cambridge. (Photo by Cameron Spencer/Getty Images)

SYDNEY, AUSTRALIA - APRIL 16: The Duke and Duchess of Cambridge walk down the stairs of the Sydney Opera House on April 16, 2014 in Sydney, Australia. The Duke and Duchess of Cambridge are on a three-week tour of Australia and New Zealand, the first official trip overseas with their son, Prince George of Cambridge. (Photo by Cameron Spencer/Getty Images)

SYDNEY, AUSTRALIA - APRIL 16: Prince William, Duke of Cambridge and Catherine, Duchess of Cambridge greet the crowds of public outside Sydney Opera House on April 16, 2014 in Sydney, Australia. The Duke and Duchess of Cambridge are on a three-week tour of Australia and New Zealand, the first official trip overseas with their son, Prince George of Cambridge. (Photo by Chris Jackson/Getty Images)

Britain's Prince George (C), is passed by his mother Catherine, the Duchess of Cambridge (R), as his father Britain's Prince William (L) as they are met upon their arrival from New Zealand at Sydney airport on April 16, 2014. William, his wife Kate and their son Prince George are on a three-week tour of New Zealand and Australia. AFP PHOTO/WILLIAM WEST (Photo credit should read WILLIAM WEST/AFP/Getty Images)

SYDNEY, AUSTRALIA - APRIL 16: The Duke and Duchess of Cambridge walk down the stairs of the Sydney Opera House on April 16, 2014 in Sydney, Australia. The Duke and Duchess of Cambridge are on a three-week tour of Australia and New Zealand, the first official trip overseas with their son, Prince George of Cambridge. (Photo by Cameron Spencer/Getty Images)

SYDNEY, AUSTRALIA - APRIL 16: Catherine, Duchess of Cambridge greets the crowds of public outside Sydney Opera House on April 16, 2014 in Sydney, Australia. The Duke and Duchess of Cambridge are on a three-week tour of Australia and New Zealand, the first official trip overseas with their son, Prince George of Cambridge. (Photo by Chris Jackson/Getty Images)

SYDNEY, AUSTRALIA - APRIL 16: Prince William, Duke of Cambridge and Catherine, Duchess of Cambridge greet the crowds of public outside Sydney Opera House on April 16, 2014 in Sydney, Australia. The Duke and Duchess of Cambridge are on a three-week tour of Australia and New Zealand, the first official trip overseas with their son, Prince George of Cambridge. (Photo by Chris Jackson/Getty Images)

SYDNEY, AUSTRALIA - APRIL 16: Prince William, Duke of Cambridge and Catherine, Duchess of Cambridge greet the crowds of public outside Sydney Opera House on April 16, 2014 in Sydney, Australia. The Duke and Duchess of Cambridge are on a three-week tour of Australia and New Zealand, the first official trip overseas with their son, Prince George of Cambridge. (Photo by Chris Jackson/Getty Images)

SYDNEY, AUSTRALIA - APRIL 16: The Duke and Duchess of Cambridge walk down the stairs of the Sydney Opera House on April 16, 2014 in Sydney, Australia. The Duke and Duchess of Cambridge are on a three-week tour of Australia and New Zealand, the first official trip overseas with their son, Prince George of Cambridge. (Photo by Cameron Spencer/Getty Images)

SYDNEY, AUSTRALIA - APRIL 16: Prince William, Duke of Cambridge and Catherine, Duchess of Cambridge greet the crowds of public outside Sydney Opera House on April 16, 2014 in Sydney, Australia. The Duke and Duchess of Cambridge are on a three-week tour of Australia and New Zealand, the first official trip overseas with their son, Prince George of Cambridge. (Photo by Chris Jackson/Getty Images)

SYDNEY, AUSTRALIA - APRIL 16: Prince William, Duke of Cambridge and Catherine, Duchess of Cambridge greet the crowds of public outside Sydney Opera House on April 16, 2014 in Sydney, Australia. The Duke and Duchess of Cambridge are on a three-week tour of Australia and New Zealand, the first official trip overseas with their son, Prince George of Cambridge. (Photo by Chris Jackson/Getty Images)

SYDNEY, AUSTRALIA - APRIL 16: The Duke and Duchess of Cambridge walk down the stairs of the Sydney Opera House on April 16, 2014 in Sydney, Australia. The Duke and Duchess of Cambridge are on a three-week tour of Australia and New Zealand, the first official trip overseas with their son, Prince George of Cambridge. (Photo by Cameron Spencer/Getty Images)

Britain's Prince George (C), is held by his father Prince William (R) as his mother Catherine, the Duchess of Cambridge (L), looks on as they are met upon their arrival from New Zealand at Sydney airport on April 16, 2014. William, his wife Kate and their son Prince George are on a three-week tour of New Zealand and Australia. AFP PHOTO/WILLIAM WEST (Photo credit should read WILLIAM WEST/AFP/Getty Images)

Britain's Prince William (R) and his wife Catherine, the Duchess of Cambridge (L), holding Prince George walk down the stairs upon their arrival from New Zealand at Sydney airport on April 16, 2014. William, his wife Kate and their son Prince George are on a three-week tour of New Zealand and Australia. AFP PHOTO/WILLIAM WEST (Photo credit should read WILLIAM WEST/AFP/Getty Images)

SYDNEY, AUSTRALIA - APRIL 16: The Duke and Duchess of Cambridge meet with the public at the Sydney Opera House on April 16, 2014 in Sydney, Australia. The Duke and Duchess of Cambridge are on a three-week tour of Australia and New Zealand, the first official trip overseas with their son, Prince George of Cambridge. (Photo by Cameron Spencer/Getty Images)

SYDNEY, AUSTRALIA - APRIL 16: The Duke and Duchess of Cambridge meet with the public at the Sydney Opera House on April 16, 2014 in Sydney, Australia. The Duke and Duchess of Cambridge are on a three-week tour of Australia and New Zealand, the first official trip overseas with their son, Prince George of Cambridge. (Photo by Cameron Spencer/Getty Images)

SYDNEY, AUSTRALIA - APRIL 16: The Duke and Duchess of Cambridge meet with the public at the Sydney Opera House on April 16, 2014 in Sydney, Australia. The Duke and Duchess of Cambridge are on a three-week tour of Australia and New Zealand, the first official trip overseas with their son, Prince George of Cambridge. (Photo by Cameron Spencer/Getty Images)

SYDNEY, AUSTRALIA - APRIL 16: The Duke and Duchess of Cambridge meet with the public at the Sydney Opera House on April 16, 2014 in Sydney, Australia. The Duke and Duchess of Cambridge are on a three-week tour of Australia and New Zealand, the first official trip overseas with their son, Prince George of Cambridge. (Photo by Cameron Spencer/Getty Images)

SYDNEY, AUSTRALIA - APRIL 16: The Duke and Duchess of Cambridge walk down the stairs of the Sydney Opera House on April 16, 2014 in Sydney, Australia. The Duke and Duchess of Cambridge are on a three-week tour of Australia and New Zealand, the first official trip overseas with their son, Prince George of Cambridge. (Photo by Cameron Spencer/Getty Images)

SYDNEY, AUSTRALIA - APRIL 16: Prince William, Duke of Cambridge, Catherine, Duchess of Cambridge and Prince George of Cambridge arrive at Sydney Airport on RAAF B737 on April 16, 2014 in Sydney, Australia. The Duke and Duchess of Cambridge are on a three-week tour of Australia and New Zealand, the first official trip overseas with their son, Prince George of Cambridge. (Photo by Ryan Pierse/Getty Images)

SYDNEY, AUSTRALIA - APRIL 16: Prince William, Duke of Cambridge, Catherine, Duchess of Cambridge and Prince George of Cambridge arrive at Sydney Airport on RAAF B737 on April 16, 2014 in Sydney, Australia. The Duke and Duchess of Cambridge are on a three-week tour of Australia and New Zealand, the first official trip overseas with their son, Prince George of Cambridge. (Photo by Ryan Pierse/Getty Images)

SYDNEY, AUSTRALIA - APRIL 16: Catherine, Duchess of Cambridge walks around a car after arriving at Sydney Airport on RAAF B737 on April 16, 2014 in Sydney, Australia. The Duke and Duchess of Cambridge are on a three-week tour of Australia and New Zealand, the first official trip overseas with their son, Prince George of Cambridge. (Photo by Ryan Pierse/Getty Images)

SYDNEY, AUSTRALIA - APRIL 16: Prince William, Duke of Cambridge, Prince George of Cambridge and Catherine, Duchess of Cambridge arrive at Sydney Airport on a Australian Airforce 737 aircraft on April 16, 2014 in Sydney, Australia. The Duke and Duchess of Cambridge are on a three-week tour of Australia and New Zealand, the first official trip overseas with their son, Prince George of Cambridge. (Photo by Chris Jackson/Getty Images)

SYDNEY, AUSTRALIA - APRIL 16: Prince William, Duke of Cambridge, Prince George of Cambridge and Catherine, Duchess of Cambridge arrive at Sydney Airport on a Australian Airforce 737 aircraft on April 16, 2014 in Sydney, Australia. The Duke and Duchess of Cambridge are on a three-week tour of Australia and New Zealand, the first official trip overseas with their son, Prince George of Cambridge. (Photo by Chris Jackson/Getty Images)

SYDNEY, AUSTRALIA - APRIL 16: Prince William, Duke of Cambridge, Prince George of Cambridge and Catherine, Duchess of Cambridge arrive at Sydney Airport on a Australian Airforce 737 aircraft on April 16, 2014 in Sydney, Australia. The Duke and Duchess of Cambridge are on a three-week tour of Australia and New Zealand, the first official trip overseas with their son, Prince George of Cambridge. (Photo by Chris Jackson/Getty Images)

SYDNEY, AUSTRALIA - APRIL 16: Prince William, Duke of Cambridge, Prince George of Cambridge and Catherine, Duchess of Cambridge arrive at Sydney Airport on a Australian Airforce 737 aircraft on April 16, 2014 in Sydney, Australia. The Duke and Duchess of Cambridge are on a three-week tour of Australia and New Zealand, the first official trip overseas with their son, Prince George of Cambridge. (Photo by Chris Jackson/Getty Images)

SYDNEY, AUSTRALIA - APRIL 16: Prince William, Duke of Cambridge, Catherine, Duchess of Cambridge and Prince George of Cambridge arrive at Sydney Airport on RAAF B737 on April 16, 2014 in Sydney, Australia. The Duke and Duchess of Cambridge are on a three-week tour of Australia and New Zealand, the first official trip overseas with their son, Prince George of Cambridge. (Photo by Ryan Pierse/Getty Images)

SYDNEY, AUSTRALIA - APRIL 16: Prince William, Duke of Cambridge, Catherine, Duchess of Cambridge and Prince George of Cambridge arrive at Sydney Airport on RAAF B737 on April 16, 2014 in Sydney, Australia. The Duke and Duchess of Cambridge are on a three-week tour of Australia and New Zealand, the first official trip overseas with their son, Prince George of Cambridge. (Photo by Ryan Pierse/Getty Images)

SYDNEY, AUSTRALIA - APRIL 16: Prince William, Duke of Cambridge, Catherine, Duchess of Cambridge and Prince George of Cambridge arrive at Sydney Airport on RAAF B737 on April 16, 2014 in Sydney, Australia. The Duke and Duchess of Cambridge are on a three-week tour of Australia and New Zealand, the first official trip overseas with their son, Prince George of Cambridge. (Photo by Ryan Pierse/Getty Images)

SYDNEY, AUSTRALIA - APRIL 16: Prince George of Cambridge shakes the Govenor General's wife, Lynne Cosgrove's hand as he arrives with Prince William, Duke of Cambridge,and Catherine, Duchess of Cambridge at Sydney Airport on a Australian Airforce 737 aircraft on April 16, 2014 in Sydney, Australia. The Duke and Duchess of Cambridge are on a three-week tour of Australia and New Zealand, the first official trip overseas with their son, Prince George of Cambridge. (Photo by Chris Jackson/Getty Images)

SYDNEY, AUSTRALIA - APRIL 16: Prince William, Duke of Cambridge, Prince George of Cambridge and Catherine, Duchess of Cambridge arrive at Sydney Airport on a Australian Airforce 737 aircraft on April 16, 2014 in Sydney, Australia. The Duke and Duchess of Cambridge are on a three-week tour of Australia and New Zealand, the first official trip overseas with their son, Prince George of Cambridge. (Photo by Chris Jackson/Getty Images)

SYDNEY, AUSTRALIA - APRIL 16: Prince William, Duke of Cambridge, Catherine, Duchess of Cambridge and Prince George of Cambridge arrive at Sydney Airport on RAAF B737 on April 16, 2014 in Sydney, Australia. The Duke and Duchess of Cambridge are on a three-week tour of Australia and New Zealand, the first official trip overseas with their son, Prince George of Cambridge. (Photo by Ryan Pierse/Getty Images)

SYDNEY, AUSTRALIA - APRIL 16: Catherine, Duchess of Cambridge and Prince George of Cambridge arrive at Sydney Airport on RAAF B737 on April 16, 2014 in Sydney, Australia. The Duke and Duchess of Cambridge are on a three-week tour of Australia and New Zealand, the first official trip overseas with their son, Prince George of Cambridge. (Photo by Ryan Pierse/Getty Images)

SYDNEY, AUSTRALIA - APRIL 16: Prince William, Duke of Cambridge, Catherine, Duchess of Cambridge and Prince George of Cambridge arrive at Sydney Airport on RAAF B737 on April 16, 2014 in Sydney, Australia. The Duke and Duchess of Cambridge are on a three-week tour of Australia and New Zealand, the first official trip overseas with their son, Prince George of Cambridge. (Photo by Ryan Pierse/Getty Images)

SYDNEY, AUSTRALIA - APRIL 16: Prince William, Duke of Cambridge, Prince George of Cambridge and Catherine, Duchess of Cambridge arrive at Sydney Airport on a Australian Airforce 737 aircraft on April 16, 2014 in Sydney, Australia. The Duke and Duchess of Cambridge are on a three-week tour of Australia and New Zealand, the first official trip overseas with their son, Prince George of Cambridge. (Photo by Chris Jackson/Getty Images)

SYDNEY, AUSTRALIA - APRIL 16: Prince William, Duke of Cambridge, Prince George of Cambridge and Catherine, Duchess of Cambridge arrive at Sydney Airport on a Australian Airforce 737 aircraft on April 16, 2014 in Sydney, Australia. The Duke and Duchess of Cambridge are on a three-week tour of Australia and New Zealand, the first official trip overseas with their son, Prince George of Cambridge. (Photo by Chris Jackson/Getty Images)

SYDNEY, AUSTRALIA - APRIL 16: Prince George of Cambridge shakes the Govenor General's wife, Lynne Cosgrove's hand as he arrives with Prince William, Duke of Cambridge,and Catherine, Duchess of Cambridge at Sydney Airport on a Australian Airforce 737 aircraft on April 16, 2014 in Sydney, Australia. The Duke and Duchess of Cambridge are on a three-week tour of Australia and New Zealand, the first official trip overseas with their son, Prince George of Cambridge. (Photo by Chris Jackson/Getty Images)

SYDNEY, AUSTRALIA - APRIL 16: Prince William, Duke of Cambridge, Prince George of Cambridge and Catherine, Duchess of Cambridge arrive at Sydney Airport on a Australian Airforce 737 aircraft on April 16, 2014 in Sydney, Australia. The Duke and Duchess of Cambridge are on a three-week tour of Australia and New Zealand, the first official trip overseas with their son, Prince George of Cambridge. (Photo by Chris Jackson/Getty Images)

SYDNEY, AUSTRALIA - APRIL 16: Prince William, Duke of Cambridge, Prince George of Cambridge and Catherine, Duchess of Cambridge arrive at Sydney Airport on a Australian Airforce 737 aircraft on April 16, 2014 in Sydney, Australia. The Duke and Duchess of Cambridge are on a three-week tour of Australia and New Zealand, the first official trip overseas with their son, Prince George of Cambridge. (Photo by Chris Jackson/Getty Images)

SYDNEY, AUSTRALIA - APRIL 16: Prince William, Duke of Cambridge, Prince George of Cambridge and Catherine, Duchess of Cambridge arrive at Sydney Airport on a Australian Airforce 737 aircraft on April 16, 2014 in Sydney, Australia. The Duke and Duchess of Cambridge are on a three-week tour of Australia and New Zealand, the first official trip overseas with their son, Prince George of Cambridge. (Photo by Chris Jackson/Getty Images)

SYDNEY, AUSTRALIA - APRIL 16: Prince William, Duke of Cambridge, Prince George of Cambridge and Catherine, Duchess of Cambridge arrive at Sydney Airport on a Australian Airforce 737 aircraft on April 16, 2014 in Sydney, Australia. The Duke and Duchess of Cambridge are on a three-week tour of Australia and New Zealand, the first official trip overseas with their son, Prince George of Cambridge. (Photo by Chris Jackson/Getty Images)

SYDNEY, AUSTRALIA - APRIL 16: Prince William, Duke of Cambridge (R) and Catherine, Duchess of Cambridge (2nd R) pose for a photo in front of the Sydney Harbour Bridge as New South Wales Governor Marie Bashir (L) and Sir Nicholas Shehadie look on during a reception at the Sydney Opera House on April 16, 2014 in Sydney, Australia. The Duke and Duchess of Cambridge are on a three-week tour of Australia and New Zealand, the first official trip overseas with their son, Prince George of Cambridge. (Photo by Jason Reed - Pool/Getty Images)

SYDNEY, AUSTRALIA - APRIL 16: Maria Borrallo, Prince George's nanny holds a kangaroo bag as Prince William, Duke of Cambridge, Prince George of Cambridge and Catherine, Duchess of Cambridge arrive at Sydney Airport on a Australian Airforce 737 aircraft on April 16, 2014 in Sydney, Australia. The Duke and Duchess of Cambridge are on a three-week tour of Australia and New Zealand, the first official trip overseas with their son, Prince George of Cambridge. (Photo by Chris Jackson/Getty Images)

SYDNEY, AUSTRALIA - APRIL 16: Prince William, Duke of Cambridge, Prince George of Cambridge and Catherine, Duchess of Cambridge arrive at Sydney Airport on a Australian Airforce 737 aircraft on April 16, 2014 in Sydney, Australia. The Duke and Duchess of Cambridge are on a three-week tour of Australia and New Zealand, the first official trip overseas with their son, Prince George of Cambridge. (Photo by Chris Jackson/Getty Images)

WELLINGTON, NEW ZEALAND - APRIL 16: Catherine, Duchess of Cambridge, Prince William, Duke of Cambridge and Prince George of Cambridge look on before boarding a Royal Australian Air Force plane for their flight to Australia at Wellington Airport's military terminal April 16, 2014 in Wellington, New Zealand. The Duke and Duchess of Cambridge are on a three-week tour of Australia and New Zealand, the first official trip overseas with their son, Prince George of Cambridge. (Photo by Hagen Hopkins/Getty Images)

WELLINGTON, NEW ZEALAND - APRIL 16: Catherine, Duchess of Cambridge greets members of the public during a walk about in Civic Square on April 16, 2014 in Wellington, New Zealand. The Duke and Duchess of Cambridge are on a three-week tour of Australia and New Zealand, the first official trip overseas with their son, Prince George of Cambridge. (Photo by Cameron Burnell - Pool/Getty Images)

WELLINGTON, NEW ZEALAND - APRIL 16: Prince William, Duke of Cambridge and Catherine, Duchess of Cambridge sign the Visitor's Book during a walk about in Civic Square on April 16, 2014 in Wellington, New Zealand. The Duke and Duchess of Cambridge are on a three-week tour of Australia and New Zealand, the first official trip overseas with their son, Prince George of Cambridge. (Photo by Cameron Burnell - Pool/Getty Images)

Britain's Catherine the Duchess of Cambridge visits Civic Square in Wellington on April 16, 2014. Prince William, Kate and their son Prince George are on a three-week tour of New Zealand and Australia. AFP PHOTO / MARTY MELVILLE / POOL (Photo credit should read Marty Melville/AFP/Getty Images)

WELLINGTON, NEW ZEALAND - APRIL 16: Catherine, Duchess of Cambridge, Prince William, Duke of Cambridge and Prince George of Cambridge wave to the crowd before boarding a Royal Australian Air Force plane for their flight to Australia at Wellington Airport's military terminal April 16, 2014 in Wellington, New Zealand. The Duke and Duchess of Cambridge are on a three-week tour of Australia and New Zealand, the first official trip overseas with their son, Prince George of Cambridge. (Photo by Hagen Hopkins/Getty Images)

WELLINGTON, NEW ZEALAND - APRIL 16: Catherine, Duchess of Cambridge, Prince William, Duke of Cambridge and Prince George of Cambridge look on before boarding a Royal Australian Air Force plane for their flight to Australia at Wellington Airport's military terminal April 16, 2014 in Wellington, New Zealand. The Duke and Duchess of Cambridge are on a three-week tour of Australia and New Zealand, the first official trip overseas with their son, Prince George of Cambridge. (Photo by Hagen Hopkins/Getty Images)

WELLINGTON, NEW ZEALAND - APRIL 16: Prince William, Duke of Cambridge and Catherine, Duchess of Cambridge arrive at Civic Square to greet the public on April 16, 2014 in Wellington, New Zealand. The Duke and Duchess of Cambridge are on a three-week tour of Australia and New Zealand, the first official trip overseas with their son, Prince George of Cambridge. (Photo by Cameron Burnell - Pool/Getty Images)

Britain's Prince William (L) and his wife Catherine (C) the Duchess of Cambridge visit Civic Square in Wellington on April 16, 2014. William, Kate and their son Prince George are on a three-week tour of New Zealand and Australia. AFP PHOTO / MARTY MELVILLE / POOL (Photo credit should read Marty Melville/AFP/Getty Images)

WELLINGTON, NEW ZEALAND - APRIL 16: Prince William, Duke of Cambridge and Catherine, Duchess of Cambridge hold puppies during a visit to the Royal New Zealand Police College on April 16, 2014 in Wellington, New Zealand. The Duke and Duchess of Cambridge are on a three-week tour of Australia and New Zealand, the first official trip overseas with their son, Prince George of Cambridge. (Photo by Kevin Stent - Pool/Getty Images)

WELLINGTON, NEW ZEALAND - APRIL 16: Catherine, Duchess of Cambridge holds a puppy during a visit to the Royal New Zealand Police College on April 16, 2014 in Wellington, New Zealand. The Duke and Duchess of Cambridge are on a three-week tour of Australia and New Zealand, the first official trip overseas with their son, Prince George of Cambridge. (Photo by Kevin Stent - Pool/Getty Images)

WELLINGTON, NEW ZEALAND - APRIL 16: Prince William, Duke of Cambridge and Catherine, Duchess of Cambridge hold puppies during a visit to the Royal New Zealand Police College on April 16, 2014 in Wellington, New Zealand. The Duke and Duchess of Cambridge are on a three-week tour of Australia and New Zealand, the first official trip overseas with their son, Prince George of Cambridge. (Photo by Mark Mitchell - Pool/Getty Images)

WELLINGTON, NEW ZEALAND - APRIL 16: Catherine, Duchess of Cambridge, Prince William, Duke of Cambridge and Prince George of Cambridge wave to the crowd before boarding a Royal Australian Air Force plane for their flight to Australia at Wellington Airport's military terminal April 16, 2014 in Wellington, New Zealand. The Duke and Duchess of Cambridge are on a three-week tour of Australia and New Zealand, the first official trip overseas with their son, Prince George of Cambridge. (Photo by Hagen Hopkins/Getty Images)

WELLINGTON, NEW ZEALAND - APRIL 16: Catherine, Duchess of Cambridge, Prince William, Duke of Cambridge and Prince George of Cambridge make their way to a Royal Australian Air Force plane for their flight to Australia at Wellington Airport's military terminal April 16, 2014 in Wellington, New Zealand. The Duke and Duchess of Cambridge are on a three-week tour of Australia and New Zealand, the first official trip overseas with their son, Prince George of Cambridge. (Photo by Hagen Hopkins/Getty Images)

WELLINGTON, NEW ZEALAND - APRIL 16: Catherine, Duchess of Cambridge, Prince William, Duke of Cambridge and Prince George of Cambridge look on before boarding a Royal Australian Air Force plane for their flight to Australia at Wellington Airport's military terminal April 16, 2014 in Wellington, New Zealand. The Duke and Duchess of Cambridge are on a three-week tour of Australia and New Zealand, the first official trip overseas with their son, Prince George of Cambridge. (Photo by Hagen Hopkins/Getty Images)

WELLINGTON, NEW ZEALAND - APRIL 16: Catherine, Duchess of Cambridge is presented with a toy police dog by Monet Bole, aged eight, during a visit to the Royal New Zealand Police College on April 16, 2014 in Wellington, New Zealand. The Duke and Duchess of Cambridge are on a three-week tour of Australia and New Zealand, the first official trip overseas with their son, Prince George of Cambridge. (Photo by Kevin Stent - Pool/Getty Images)

WELLINGTON, NEW ZEALAND - APRIL 16: Prince William, Duke of Cambridge and Catherine, Duchess of Cambridge are escorted by Police Commissioner Mike Bush (L) during a visit to the Royal New Zealand Police College on April 16, 2014 in Wellington, New Zealand. The Duke and Duchess of Cambridge are on a three-week tour of Australia and New Zealand, the first official trip overseas with their son, Prince George of Cambridge. (Photo by Mark Mitchell - Pool/Getty Images)

WELLINGTON, NEW ZEALAND - APRIL 16: Prince William, Duke of Cambridge and Catherine, Duchess of Cambridge watch a demonstration during a visit to the Royal New Zealand Police College on April 16, 2014 in Wellington, New Zealand. The Duke and Duchess of Cambridge are on a three-week tour of Australia and New Zealand, the first official trip overseas with their son, Prince George of Cambridge. (Photo by Kevin Stent - Pool/Getty Images)

WELLINGTON, NEW ZEALAND - APRIL 16: Catherine, Duchess of Cambridge and Prince William, Duke of Cambridge look at the friendship bands they were given during a walk about in Civic Square on April 16, 2014 in Wellington, New Zealand. The Duke and Duchess of Cambridge are on a three-week tour of Australia and New Zealand, the first official trip overseas with their son, Prince George of Cambridge. (Photo by Marty Melville - Pool/Getty Images)

WELLINGTON, NEW ZEALAND - APRIL 16: Catherine, Duchess of Cambridge, Prince William, Duke of Cambridge and Prince George of Cambridge wave to the crowd before boarding a Royal Australian Air Force plane their flight to Australia at Wellington Airport's military terminal April 16, 2014 in Wellington, New Zealand. The Duke and Duchess of Cambridge are on a three-week tour of Australia and New Zealand, the first official trip overseas with their son, Prince George of Cambridge. (Photo by Hagen Hopkins/Getty Images)

Britain's Prince William (R) and his wife Catherine (L) the Duchess of Cambridge visit Civic Square in Wellington on April 16, 2014. William, Kate and their son Prince George are on a three-week tour of New Zealand and Australia. AFP PHOTO / MARTY MELVILLE / POOL (Photo credit should read Marty Melville/AFP/Getty Images)

Britain's Catherine the Duchess of Cambridge wave farewell during a walk about in Civic Square in Wellington on April 16, 2014. William, Kate and their son Prince George are on a three-week tour of New Zealand and Australia. AFP PHOTO / MARTY MELVILLE / POOL (Photo credit should read Marty Melville/AFP/Getty Images)

Britain's Catherine (C) the Duchess of Cambridge speaks to two flower girls as she visits Civic Square in Wellington on April 16, 2014. William, Kate and their son Prince George are on a three-week tour of New Zealand and Australia. AFP PHOTO / MARTY MELVILLE / POOL (Photo credit should read Marty Melville/AFP/Getty Images)

Britain's Catherine the Duchess of Cambridge visits Civic Square in Wellington on April 16, 2014. Prince William, Kate and their son Prince George are on a three-week tour of New Zealand and Australia. AFP PHOTO / MARTY MELVILLE / POOL (Photo credit should read Marty Melville/AFP/Getty Images)

Britain's Prince William (R) with Catherine the Duchess of Cambridge visit Civic Square in Wellington on April 16, 2014. William, Kate and their son Prince George are on a three-week tour of New Zealand and Australia. AFP PHOTO / MARTY MELVILLE / POOL (Photo credit should read Marty Melville/AFP/Getty Images)

Catherine the Duchess of Cambridge visits Civic Square in Wellington on April 16, 2014. Prince William, Kate and their son Prince George are on a three-week tour of New Zealand and Australia. AFP PHOTO / MARTY MELVILLE / POOL (Photo credit should read Marty Melville/AFP/Getty Images)

WELLINGTON, NEW ZEALAND - APRIL 16: Catherine, Duchess of Cambridge, Prince William, Duke of Cambridge and Prince George of Cambridge talk to Governor-General Sir Jerry Mateparae and wife Lady Janine before boarding a Royal Australian Air Force plane for their flight to Australia at Wellington Airport's military terminal April 16, 2014 in Wellington, New Zealand. The Duke and Duchess of Cambridge are on a three-week tour of Australia and New Zealand, the first official trip overseas with their son, Prince George of Cambridge. (Photo by Hagen Hopkins/Getty Images)

WELLINGTON, NEW ZEALAND - APRIL 16: Catherine, Duchess of Cambridge and Prince William, Duke of Cambridge wave farewell after a walk about in Civic Square on April 16, 2014 in Wellington, New Zealand. The Duke and Duchess of Cambridge are on a three-week tour of Australia and New Zealand, the first official trip overseas with their son, Prince George of Cambridge. (Photo by Marty Melville - Pool/Getty Images)

Britain's Prince William (L) and his wife Catherine (C) the Duchess of Cambridge visit Civic Square in Wellington on April 16, 2014. William, Kate and their son Prince George are on a three-week tour of New Zealand and Australia. AFP PHOTO / MARTY MELVILLE / POOL (Photo credit should read Marty Melville/AFP/Getty Images)

WELLINGTON, NEW ZEALAND - APRIL 16: Catherine, Duchess of Cambridge waves farewell after a walk about in Civic Square on April 16, 2014 in Wellington, New Zealand. The Duke and Duchess of Cambridge are on a three-week tour of Australia and New Zealand, the first official trip overseas with their son, Prince George of Cambridge. (Photo by Marty Melville - Pool/Getty Images)

WELLINGTON, NEW ZEALAND - APRIL 16: Prince William, Duke of Cambridge and Catherine, Duchess of Cambridge hold puppies during a visit to the Royal New Zealand Police College on April 16, 2014 in Wellington, New Zealand. The Duke and Duchess of Cambridge are on a three-week tour of Australia and New Zealand, the first official trip overseas with their son, Prince George of Cambridge. (Photo by Mark Mitchell - Pool/Getty Images)

WELLINGTON, NEW ZEALAND - APRIL 16: Prince William, Duke of Cambridge and Catherine, Duchess of Cambridge hold puppies during a visit to the Royal New Zealand Police College on April 16, 2014 in Wellington, New Zealand. The Duke and Duchess of Cambridge are on a three-week tour of Australia and New Zealand, the first official trip overseas with their son, Prince George of Cambridge. (Photo by Kevin Stent - Pool/Getty Images)

CHRISTCHURCH, NEW ZEALAND - APRIL 14: Catherine, Duchess of Cambridge plays cricket in Latimer Square Gardens on April 14, 2014 in Christchurch, New Zealand. The Duke and Duchess of Cambridge are on a three-week tour of Australia and New Zealand, the first official trip overseas with their son, Prince George of Cambridge. (Photo by Ian Jones-Pool/Getty Images)

CHRISTCHURCH, NEW ZEALAND - APRIL 14: Catherine, Duchess of Cambridge bats during a game of cricket during the countdown to the 2015 ICC Cricket World Cup at Latimer Square on April 14, 2014 in Christchurch, New Zealand. The Royal couple are currently in New Zealand and touring the country until Wednesday, when they then head to Australia. (Photo by Joseph Johnson/Getty Images for ICC Cricket World Cup)

Catherine, the Duchess of Cambridge, hits a ball bowled from Britain's Prince William as they play a game of cricket during a visit to Latimer Square in Christchurch on April 14, 2014. Prince William, his wife Kate and their son Prince George are on a three-week tour of New Zealand and Australia. AFP PHOTO / MARTY MELVILLE (Photo credit should read Marty Melville/AFP/Getty Images)

CHRISTCHURCH, NEW ZEALAND - APRIL 14: Catherine, Duchess of Cambridge throws a sof cricket ball during the countdown to the 2015 ICC Cricket World Cup at Latimer Square on April 14, 2014 in Christchurch, New Zealand. The Royal couple are currently in New Zealand and touring the country until Wednesday, when they then head to Australia. (Photo by Joseph Johnson/Getty Images for ICC Cricket World Cup)

CHRISTCHURCH, NEW ZEALAND - APRIL 14: Catherine Duchess of Cambridge performs the traditional Maori greeting of the 'Hongi' as she visits Christchurch City Council Buildings on April 14, 2014 in Christchurch, New Zealand. The Duke and Duchess of Cambridge are on a three-week tour of Australia and New Zealand, the first official trip overseas with their son, Prince George of Cambridge. (Photo by Chris Jackson/Getty Images)

CHRISTCHURCH, NEW ZEALAND - APRIL 14: Catherine, Duchess of Cambridge performs the traditional Maori greeting of the 'Hongi' as she visits Christchurch City Council Buildings on April 14, 2014 in Christchurch, New Zealand. The Duke and Duchess of Cambridge are on a three-week tour of Australia and New Zealand, the first official trip overseas with their son, Prince George of Cambridge. (Photo by Chris Jackson/Getty Images)

CHRISTCHURCH, NEW ZEALAND - APRIL 14: Prince William, Duke of Cambridge and Catherine, Duchess of Cambridge unveil a plaque at a ceremony to open the new visitors centre at the Christchurch Botanical Gardens on April 14, 2014 in Christchurch, New Zealand. The Duke and Duchess of Cambridge are on a three-week tour of Australia and New Zealand, the first official trip overseas with their son, Prince George of Cambridge. (Photo by Anthony Phelps - Pool/Getty Images)

CHRISTCHURCH, NEW ZEALAND - APRIL 14: Catherine, Duchess of Cambridge plays cricket in Latimer Square Gardens on April 14, 2014 in Christchurch, New Zealand. The Duke and Duchess of Cambridge are on a three-week tour of Australia and New Zealand, the first official trip overseas with their son, Prince George of Cambridge. (Photo by Ian Jones-Pool/Getty Images)

CHRISTCHURCH, NEW ZEALAND - APRIL 14: Catherine, Duchess of Cambridge and Prince William Duke of Cambridge with the Cricket World Cup in Latimer Square Gardens on April 14, 2014 in Christchurch, New Zealand. The Duke and Duchess of Cambridge are on a three-week tour of Australia and New Zealand, the first official trip overseas with their son, Prince George of Cambridge. (Photo by Ian Jones-Pool/Getty Images)

CHRISTCHURCH, NEW ZEALAND - APRIL 14: Catherine, Duchess of Cambridge in Latimer Square Gardens on April 14, 2014 in Christchurch, New Zealand. The Duke and Duchess of Cambridge are on a three-week tour of Australia and New Zealand, the first official trip overseas with their son, Prince George of Cambridge. (Photo by Ian Jones-Pool/Getty Images)

CHRISTCHURCH, NEW ZEALAND - APRIL 14: Catherine, Duchess of Cambridge and Prince William, Duke of Cambidge meets members of the public in Latimer Square Gardens on April 14, 2014 in Christchurch, New Zealand. The Duke and Duchess of Cambridge are on a three-week tour of Australia and New Zealand, the first official trip overseas with their son, Prince George of Cambridge. (Photo by Ian Jones-Pool/Getty Images)

CHRISTCHURCH, NEW ZEALAND - APRIL 14: Catherine, Duchess of Cambridge plays cricket in Latimer Square Gardens on April 14, 2014 in Christchurch, New Zealand. The Duke and Duchess of Cambridge are on a three-week tour of Australia and New Zealand, the first official trip overseas with their son, Prince George of Cambridge. (Photo by Ian Jones-Pool/Getty Images)

CHRISTCHURCH, NEW ZEALAND - APRIL 14: Catherine, Duchess of Cambridge and Prince William Duke of Cambridge with the Cricket World Cup in Latimer Square Gardens on April 14, 2014 in Christchurch, New Zealand. The Duke and Duchess of Cambridge are on a three-week tour of Australia and New Zealand, the first official trip overseas with their son, Prince George of Cambridge. (Photo by Ian Jones-Pool/Getty Images)

CHRISTCHURCH, NEW ZEALAND - APRIL 14: Catherine, Duchess of Cambridge walks with some young cricketers during the countdown to the 2015 ICC Cricket World Cup at Latimer Square on April 14, 2014 in Christchurch, New Zealand. The Royal couple are currently in New Zealand and touring the country until Wednesday, when they then head to Australia. (Photo by Joseph Johnson/Getty Images for ICC Cricket World Cup)

CHRISTCHURCH, NEW ZEALAND - APRIL 14: Catherine, Duchess of Cambridge greets young cricketers during the countdown to the 2015 ICC Cricket World Cup at Latimer Square on April 14, 2014 in Christchurch, New Zealand. The Royal couple are currently in New Zealand and touring the country until Wednesday, when they then head to Australia. (Photo by Joseph Johnson/Getty Images for ICC Cricket World Cup)

CHRISTCHURCH, NEW ZEALAND - APRIL 14: Catherine, Duchess of Cambridge reacts to a bowl from Prince William, Duke of Cambridge, while batting during a game of cricket during the countdown to the 2015 ICC Cricket World Cup at Latimer Square on April 14, 2014 in Christchurch, New Zealand. The Royal couple are currently in New Zealand and touring the country until Wednesday, when they then head to Australia. (Photo by Joseph Johnson/Getty Images for ICC Cricket World Cup)

CHRISTCHURCH, NEW ZEALAND - APRIL 14: Catherine, Duchess of Cambridge reacts to a bowl from Prince William, Duke of Cambridge, while batting during a game of cricket during the countdown to the 2015 ICC Cricket World Cup at Latimer Square on April 14, 2014 in Christchurch, New Zealand. The Royal couple are currently in New Zealand and touring the country until Wednesday, when they then head to Australia. (Photo by Joseph Johnson/Getty Images for ICC Cricket World Cup)

Britain's Prince William (L) and his wife Catherine, the Duchess of Cambridge, are presented with a 2015 Cricket World Cup shirt during a visit to Latimer Square in Christchurch on April 14, 2014. Prince William, Kate and their son Prince George are on a three-week tour of New Zealand and Australia. AFP PHOTO / MARTY MELVILLE (Photo credit should read Marty Melville/AFP/Getty Images)

CHRISTCHURCH, NEW ZEALAND - APRIL 14: Catherine Duchess of Cambridge visits the Botanical Gardens on April 14, 2014 in Christchurch, New Zealand. The Duke and Duchess of Cambridge are on a three-week tour of Australia and New Zealand, the first official trip overseas with their son, Prince George of Cambridge. (Photo by Chris Jackson/Getty Images)

CHRISTCHURCH, NEW ZEALAND - APRIL 14: Catherine, Duchess of Cambridge plays cricket in Latimer Square Gardens on April 14, 2014 in Christchurch, New Zealand. The Duke and Duchess of Cambridge are on a three-week tour of Australia and New Zealand, the first official trip overseas with their son, Prince George of Cambridge. (Photo by Ian Jones-Pool/Getty Images)

CHRISTCHURCH, NEW ZEALAND - APRIL 14: Catherine, Duchess of Cambridge plays cricket in Latimer Square Gardens on April 14, 2014 in Christchurch, New Zealand. The Duke and Duchess of Cambridge are on a three-week tour of Australia and New Zealand, the first official trip overseas with their son, Prince George of Cambridge. (Photo by Ian Jones-Pool/Getty Images)

CHRISTCHURCH, NEW ZEALAND - APRIL 14: Catherine Duchess of Cambridge visits the Botanical Gardens on April 14, 2014 in Christchurch, New Zealand. The Duke and Duchess of Cambridge are on a three-week tour of Australia and New Zealand, the first official trip overseas with their son, Prince George of Cambridge. (Photo by Chris Jackson/Getty Images)

CHRISTCHURCH, NEW ZEALAND - APRIL 14: Catherine, Duchess of Cambridge plays cricket in Latimer Square Gardens on April 14, 2014 in Christchurch, New Zealand. The Duke and Duchess of Cambridge are on a three-week tour of Australia and New Zealand, the first official trip overseas with their son, Prince George of Cambridge. (Photo by Ian Jones-Pool/Getty Images)

CHRISTCHURCH, NEW ZEALAND - APRIL 14: Catherine Duchess of Cambridge and Prince William, Duke of Cambridge prepare to cut the 'flower ribbon' when they officially open the Visitor's Centre at the Botanical Gardens on April 14, 2014 in Christchurch, New Zealand. The Duke and Duchess of Cambridge are on a three-week tour of Australia and New Zealand, the first official trip overseas with their son, Prince George of Cambridge. (Photo by Chris Jackson/Getty Images)

CHRISTCHURCH, NEW ZEALAND - APRIL 14: Catherine Duchess of Cambridge visits Christchurch City Council Buildings on April 14, 2014 in Christchurch, New Zealand. The Duke and Duchess of Cambridge are on a three-week tour of Australia and New Zealand, the first official trip overseas with their son, Prince George of Cambridge. (Photo by Chris Jackson/Getty Images)

CHRISTCHURCH, NEW ZEALAND - APRIL 14: Catherine, Duchess of Cambridge and Prince William Duke of Cambridge with the Cricket World Cup in Latimer Square Gardens on April 14, 2014 in Christchurch, New Zealand. The Duke and Duchess of Cambridge are on a three-week tour of Australia and New Zealand, the first official trip overseas with their son, Prince George of Cambridge. (Photo by Ian Jones-Pool/Getty Images)

CHRISTCHURCH, NEW ZEALAND - APRIL 14: Catherine, Duchess of Cambridge and Prince William, Duke of Cambidge visit the Transitional Cathedral on April 14, 2014 in Christchurch, New Zealand. The Duke and Duchess of Cambridge are on a three-week tour of Australia and New Zealand, the first official trip overseas with their son, Prince George of , Dambridge. (Photo by Ian Jones - Pool /Getty Images)

CHRISTCHURCH, NEW ZEALAND - APRIL 14: Catherine Duchess of Cambridge visits the Botanical Gardens on April 14, 2014 in Christchurch, New Zealand. The Duke and Duchess of Cambridge are on a three-week tour of Australia and New Zealand, the first official trip overseas with their son, Prince George of Cambridge. (Photo by Chris Jackson/Getty Images)

CHRISTCHURCH, NEW ZEALAND - APRIL 14: Catherine, Duchess of Cambridge and Prince William Duke of Cambridge meets sets of twins as they greet the public in Latimer Square Gardens on April 14, 2014 in Christchurch, New Zealand. The Duke and Duchess of Cambridge are on a three-week tour of Australia and New Zealand, the first official trip overseas with their son, Prince George of , Dambridge. (Photo by Ian Jones - Pool /Getty Images)

CHRISTCHURCH, NEW ZEALAND - APRIL 14: Catherine, Duchess of Cambridge and Prince William Duke of Cambridge meets sets of twins as they greet the public in Latimer Square Gardens on April 14, 2014 in Christchurch, New Zealand. The Duke and Duchess of Cambridge are on a three-week tour of Australia and New Zealand, the first official trip overseas with their son, Prince George of , Dambridge. (Photo by Ian Jones - Pool /Getty Images)

CHRISTCHURCH, NEW ZEALAND - APRIL 14: Catherine Duchess of Cambridge and Prince William, Duke of Cambridge prepare to cut the 'flower ribbon' when they officially open the Visitor's Centre at the Botanical Gardens on April 14, 2014 in Christchurch, New Zealand. The Duke and Duchess of Cambridge are on a three-week tour of Australia and New Zealand, the first official trip overseas with their son, Prince George of Cambridge. (Photo by Chris Jackson/Getty Images)

CHRISTCHURCH, NEW ZEALAND - APRIL 14: Catherine Duchess of Cambridge and Prince William, Duke of Cambridge arrive to visit the Botanical Gardens on April 14, 2014 in Christchurch, New Zealand. The Duke and Duchess of Cambridge are on a three-week tour of Australia and New Zealand, the first official trip overseas with their son, Prince George of Cambridge. (Photo by Chris Jackson/Getty Images)

CHRISTCHURCH, NEW ZEALAND - APRIL 14: Catherine, Duchess of Cambridge meets members of the public in Latimer Square Gardens on April 14, 2014 in Christchurch, New Zealand. The Duke and Duchess of Cambridge are on a three-week tour of Australia and New Zealand, the first official trip overseas with their son, Prince George of Cambridge. (Photo by Ian Jones-Pool/Getty Images)

CHRISTCHURCH, NEW ZEALAND - APRIL 14: Catherine, Duchess of Cambridge and Prince William, Duke of Cambridge have a laugh as a curtain malfunctions at the Wigram Air Base Museum on April 14, 2014 in Christchurch, New Zealand. The Duke and Duchess of Cambridge are on a three-week tour of Australia and New Zealand, the first official trip overseas with their son, Prince George of Cambridge. (Photo by Phil Noble - Pool/Getty Images)

CHRISTCHURCH, NEW ZEALAND - APRIL 14: Catherine Duchess of Cambridge and Prince William, Duke of Cambridge prepare to cut the 'flower ribbon' when they officially open the Visitor's Centre at the Botanical Gardens on April 14, 2014 in Christchurch, New Zealand. The Duke and Duchess of Cambridge are on a three-week tour of Australia and New Zealand, the first official trip overseas with their son, Prince George of Cambridge. (Photo by Chris Jackson/Getty Images)

CHRISTCHURCH, NEW ZEALAND - APRIL 14: Catherine, Duchess of Cambridge greets young toddlers during the countdown to the 2015 ICC Cricket World Cup at Latimer Square on April 14, 2014 in Christchurch, New Zealand. The Royal couple are currently in New Zealand and touring the country until Wednesday, when they then head to Australia. (Photo by Joseph Johnson/Getty Images for ICC Cricket World Cup)

Britain's Prince William (R) and his wife Catherine, the Duchess of Cambridge, walk together during a visit to Latimer Square in Christchurch on April 14, 2014. William, Kate and their son Prince George are on a three-week tour of New Zealand and Australia. AFP PHOTO / MARTY MELVILLE (Photo credit should read Marty Melville/AFP/Getty Images)

CHRISTCHURCH, NEW ZEALAND - APRIL 14: Catherine, Duchess of Cambridge and Debbie Hockley, ICC Hall of Fame react following a game of cricket during the countdown to the 2015 ICC Cricket World Cup at Latimer Square on April 14, 2014 in Christchurch, New Zealand. The Royal couple are currently in New Zealand and touring the country until Wednesday, when they then head to Australia. (Photo by Joseph Johnson/Getty Images for ICC Cricket World Cup)

CHRISTCHURCH, NEW ZEALAND - APRIL 14: Catherine, Duchess of Cambridge and Debbie Hockley, ICC Hall of Fame react to Prince William, Duke of Cambridge batting during a game of cricket during the countdown to the 2015 ICC Cricket World Cup at Latimer Square on April 14, 2014 in Christchurch, New Zealand. The Royal couple are currently in New Zealand and touring the country until Wednesday, when they then head to Australia. (Photo by Joseph Johnson/Getty Images for ICC Cricket World Cup)

Catherine, the Duchess of Cambridge, plays a game of cricket during a visit to Latimer Square in Christchurch on April 14, 2014. Prince William, his wife Kate and their son Prince George are on a three-week tour of New Zealand and Australia. AFP PHOTO / MARTY MELVILLE (Photo credit should read Marty Melville/AFP/Getty Images)

Catherine, the Duchess of Cambridge, plays a game of cricket during a visit to Latimer Square in Christchurch on April 14, 2014. Prince William, his wife Kate and their son Prince George are on a three-week tour of New Zealand and Australia. AFP PHOTO / MARTY MELVILLE (Photo credit should read Marty Melville/AFP/Getty Images)

QUEENSTOWN, NEW ZEALAND - APRIL 13: Catherine Duchess of Cambridge takes part in wine tasting during a visit to the Amisfield Winery on April 13, 2014 in Queenstown, New Zealand. The Duke and Duchess of Cambridge are on a three-week tour of Australia and New Zealand, the first official trip overseas with their son, Prince George of Cambridge. (Photo by Arthur Edwards - Pool/Getty Images)

QUEENSTOWN, NEW ZEALAND - APRIL 13: Catherine, Duchess of Cambridge stumbles as she walks through the vineyard with Prince William, Duke of Cambridge visit the Amisfield Winery on April 13, 2014 in Queenstown, New Zealand. The Duke and Duchess of Cambridge are on a three-week tour of Australia and New Zealand, the first official trip overseas with their son, Prince George of Cambridge. (Photo by Craig Baxter - Pool/Getty Images)

QUEENSTOWN, NEW ZEALAND - APRIL 13: Catherine Duchess of Cambridge and Prince William, Duke of Cambridge take part in wine tasting during a visit to the Amisfield Winery on April 13, 2014 in Queenstown, New Zealand. The Duke and Duchess of Cambridge are on a three-week tour of Australia and New Zealand, the first official trip overseas with their son, Prince George of Cambridge. (Photo by Arthur Edwards - Pool/Getty Images)

QUEENSTOWN, NEW ZEALAND - APRIL 13: Catherine Duchess of Cambridge gets given some flowers by a young girl as she arrives at the Shotover Jet on the Shotover River on April 13, 2014 in Queenstown, New Zealand. The Duke and Duchess of Cambridge are on a three-week tour of Australia and New Zealand, the first official trip overseas with their son, Prince George of Cambridge. (Photo by Chris Jackson/Getty Images)

QUEENSTOWN, NEW ZEALAND - APRIL 13: Catherine Duchess of Cambridge and Prince William, Duke of Cambridge disembark the Shotover Jet on the Shotover River on April 13, 2014 in Queenstown, New Zealand. The Duke and Duchess of Cambridge are on a three-week tour of Australia and New Zealand, the first official trip overseas with their son, Prince George of Cambridge. (Photo by Chris Jackson/Getty Images)

QUEENSTOWN, NEW ZEALAND - APRIL 13: Catherine Duchess of Cambridge takes part in wine tasting during a visit to the Amisfield Winery on April 13, 2014 in Queenstown, New Zealand. The Duke and Duchess of Cambridge are on a three-week tour of Australia and New Zealand, the first official trip overseas with their son, Prince George of Cambridge. (Photo by Arthur Edwards - Pool/Getty Images)

QUEENSTOWN, NEW ZEALAND - APRIL 13: Catherine Duchess of Cambridge and Prince William, Duke of Cambridge walk through the vineyard during a visit to the Amisfield Winery on April 13, 2014 in Queenstown, New Zealand. The Duke and Duchess of Cambridge are on a three-week tour of Australia and New Zealand, the first official trip overseas with their son, Prince George of Cambridge. (Photo by Arthur Edwards - Pool/Getty Images)

QUEENSTOWN, NEW ZEALAND - APRIL 13: Catherine Duchess of Cambridge has her lifejacket fitted as she prepares to board the Shotover Jet on the Shotover River on April 13, 2014 in Queenstown, New Zealand. The Duke and Duchess of Cambridge are on a three-week tour of Australia and New Zealand, the first official trip overseas with their son, Prince George of Cambridge. (Photo by Chris Jackson/Getty Images)

QUEENSTOWN, NEW ZEALAND - APRIL 13: Catherine Duchess of Cambridge and Prince William, Duke of Cambridge disembark the Shotover Jet on the Shotover River on April 13, 2014 in Queenstown, New Zealand. The Duke and Duchess of Cambridge are on a three-week tour of Australia and New Zealand, the first official trip overseas with their son, Prince George of Cambridge. (Photo by Chris Jackson/Getty Images)

QUEENSTOWN, NEW ZEALAND - APRIL 13: Catherine Duchess of Cambridge and Prince William, Duke of Cambridge take part in wine tasting with with the winery's co-owner John Darby (L) during a visit to the Amisfield Winery on April 13, 2014 in Queenstown, New Zealand. The Duke and Duchess of Cambridge are on a three-week tour of Australia and New Zealand, the first official trip overseas with their son, Prince George of Cambridge. (Photo by Craig Baxter - Pool/Getty Images)

Catherine Duchess of Cambridge arrives at the Shotover Jet on the Shotover River on April 13, 2014 in Queenstown, New Zealand. The Duke and Duchess of Cambridge are on a three-week tour of Australia and New Zealand, the first official trip overseas with their son, Prince George of Cambridge. (Photo by Chris Jackson/Getty Images)

QUEENSTOWN, NEW ZEALAND - APRIL 13: Catherine Duchess of Cambridge and Prince William, Duke of Cambridge put on lifejackets as they board the Shotover Jet on the Shotover River on April 13, 2014 in Queenstown, New Zealand. The Duke and Duchess of Cambridge are on a three-week tour of Australia and New Zealand, the first official trip overseas with their son, Prince George of Cambridge. (Photo by Chris Jackson/Getty Images)

QUEENSTOWN, NEW ZEALAND - APRIL 13: Catherine Duchess of Cambridge and Prince William, Duke of Cambridge disembark the Shotover Jet on the Shotover River on April 13, 2014 in Queenstown, New Zealand. The Duke and Duchess of Cambridge are on a three-week tour of Australia and New Zealand, the first official trip overseas with their son, Prince George of Cambridge. (Photo by Chris Jackson/Getty Images)

QUEENSTOWN, NEW ZEALAND - APRIL 13: Catherine Duchess of Cambridge and Prince William, Duke of Cambridge disembark the Shotover Jet on the Shotover River on April 13, 2014 in Queenstown, New Zealand. The Duke and Duchess of Cambridge are on a three-week tour of Australia and New Zealand, the first official trip overseas with their son, Prince George of Cambridge. (Photo by Chris Jackson/Getty Images)

QUEENSTOWN, NEW ZEALAND - APRIL 13: Catherine Duchess of Cambridge and Prince William, Duke of Cambridge travel on the Shotover Jet on the Shotover River on April 13, 2014 in Queenstown, New Zealand. The Duke and Duchess of Cambridge are on a three-week tour of Australia and New Zealand, the first official trip overseas with their son, Prince George of Cambridge. (Photo by Chris Jackson/Getty Images)

QUEENSTOWN, NEW ZEALAND - APRIL 13: Catherine Duchess of Cambridge arrives at the Shotover Jet on the Shotover River on April 13, 2014 in Queenstown, New Zealand. The Duke and Duchess of Cambridge are on a three-week tour of Australia and New Zealand, the first official trip overseas with their son, Prince George of Cambridge. (Photo by Chris Jackson/Getty Images)

QUEENSTOWN, NEW ZEALAND - APRIL 13: Catherine Duchess of Cambridge arrives at the Shotover Jet on the Shotover River on April 13, 2014 in Queenstown, New Zealand. The Duke and Duchess of Cambridge are on a three-week tour of Australia and New Zealand, the first official trip overseas with their son, Prince George of Cambridge. (Photo by Chris Jackson/Getty Images)

QUEENSTOWN, NEW ZEALAND - APRIL 13: Catherine Duchess of Cambridge has her lifejacket fitted as she prepares to board the Shotover Jet on the Shotover River on April 13, 2014 in Queenstown, New Zealand. The Duke and Duchess of Cambridge are on a three-week tour of Australia and New Zealand, the first official trip overseas with their son, Prince George of Cambridge. (Photo by Chris Jackson/Getty Images)

QUEENSTOWN, NEW ZEALAND - APRIL 13: Catherine Duchess of Cambridge arrives at the Shotover Jet on the Shotover River on April 13, 2014 in Queenstown, New Zealand. The Duke and Duchess of Cambridge are on a three-week tour of Australia and New Zealand, the first official trip overseas with their son, Prince George of Cambridge. (Photo by Chris Jackson/Getty Images)

Britain's Prince William (2nd R) and his wife Catherine, the Duchess of Cambridge (R), chat to John Darby (2nd L), co-owner of the Amisfield Winery as James Dicey of Ceres (L) looks on during a visit to the winery in Queenstown on April 13, 2014. Britain's Prince William, his wife Kate and their son Prince George are on a three-week tour of New Zealand and Australia. AFP PHOTO / POOL / CRAIG BAXTER (Photo credit should read CRAIG BAXTER/AFP/Getty Images)

QUEENSTOWN, NEW ZEALAND - APRIL 13: Prince William, Duke of Cambridge and Catherine, Duchess of Cambridge travel on the Shotover Jet on the Shotover River on April 13, 2014 in Queenstown, New Zealand. The Duke and Duchess of Cambridge are on a three-week tour of Australia and New Zealand, the first official trip overseas with their son, Prince George of Cambridge. (Photo by Mark Mitchell - Pool/Getty Images)

QUEENSTOWN, NEW ZEALAND - APRIL 13: Prince William, Duke of Cambridge and Catherine, Duchess of Cambridge travel on the Shotover Jet on the Shotover River on April 13, 2014 in Queenstown, New Zealand. The Duke and Duchess of Cambridge are on a three-week tour of Australia and New Zealand, the first official trip overseas with their son, Prince George of Cambridge. (Photo by Mark Mitchell - Pool/Getty Images)

QUEENSTOWN, NEW ZEALAND - APRIL 13: Prince William, Duke of Cambridge and Catherine, Duchess of Cambridge travel on the Shotover Jet on the Shotover River on April 13, 2014 in Queenstown, New Zealand. The Duke and Duchess of Cambridge are on a three-week tour of Australia and New Zealand, the first official trip overseas with their son, Prince George of Cambridge. (Photo by Mark Mitchell - Pool/Getty Images)

QUEENSTOWN, NEW ZEALAND - APRIL 13: Prince William, Duke of Cambridge and Catherine, Duchess of Cambridge travel on the Shotover Jet on the Shotover River on April 13, 2014 in Queenstown, New Zealand. The Duke and Duchess of Cambridge are on a three-week tour of Australia and New Zealand, the first official trip overseas with their son, Prince George of Cambridge. (Photo by Mark Mitchell - Pool/Getty Images)

QUEENSTOWN, NEW ZEALAND - APRIL 13: Catherine Duchess of Cambridge speaks with students before boarding the Shotover Jet on the Shotover River on April 13, 2014 in Queenstown, New Zealand. The Duke and Duchess of Cambridge are on a three-week tour of Australia and New Zealand, the first official trip overseas with their son, Prince George of Cambridge. (Photo by Mark Mitchell - Pool/Getty Images)

QUEENSTOWN, NEW ZEALAND - APRIL 13: Catherine Duchess of Cambridge speaks with students before boarding the Shotover Jet on the Shotover River on April 13, 2014 in Queenstown, New Zealand. The Duke and Duchess of Cambridge are on a three-week tour of Australia and New Zealand, the first official trip overseas with their son, Prince George of Cambridge. (Photo by Mark Mitchell - Pool/Getty Images)

QUEENSTOWN, NEW ZEALAND - APRIL 13: Catherine Duchess of Cambridge and Prince William, Duke of Cambridge on the shore near the Shotover Jet on the Shotover River on April 13, 2014 in Queenstown, New Zealand. The Duke and Duchess of Cambridge are on a three-week tour of Australia and New Zealand, the first official trip overseas with their son, Prince George of Cambridge. (Photo by Mark Mitchell - Pool/Getty Images)

QUEENSTOWN, NEW ZEALAND - APRIL 13: Catherine Duchess of Cambridge on the shore near the Shotover Jet on the Shotover River on April 13, 2014 in Queenstown, New Zealand. The Duke and Duchess of Cambridge are on a three-week tour of Australia and New Zealand, the first official trip overseas with their son, Prince George of Cambridge. (Photo by Mark Mitchell - Pool/Getty Images)

QUEENSTOWN, NEW ZEALAND - APRIL 13: Catherine Duchess of Cambridge and Prince William, Duke of Cambridge on the shore near the Shotover Jet on the Shotover River on April 13, 2014 in Queenstown, New Zealand. The Duke and Duchess of Cambridge are on a three-week tour of Australia and New Zealand, the first official trip overseas with their son, Prince George of Cambridge. (Photo by Mark Mitchell - Pool/Getty Images)

QUEENSTOWN, NEW ZEALAND - APRIL 13: Catherine Duchess of Cambridge on the shore near on the Shotover Jet on the Shotover River on April 13, 2014 in Queenstown, New Zealand. The Duke and Duchess of Cambridge are on a three-week tour of Australia and New Zealand, the first official trip overseas with their son, Prince George of Cambridge. (Photo by Mark Mitchell - Pool/Getty Images)

DUNEDIN, NEW ZEALAND - APRIL 13: Catherine, Duchess of Cambridge walks across the tarmac at Dunedin International Airport on April 13, 2014 in Dunedin, New Zealand. The Duke and Duchess of Cambridge are on a three-week tour of Australia and New Zealand, the first official trip overseas with their son, Prince George of Cambridge. (Photo by Rob Jefferies/Getty Images)

Catherine the Duchess of Cambridge (L) receives a Hongi (Maori Greeting) from a Maori Elder during a Maori welcome at Dunedin airport in Dunedin on April 13, 2014. William, Kate and their son Prince George are on a three-week tour of New Zealand and Australia. AFP PHOTO / MARTY MELVILLE (Photo credit should read Marty Melville/AFP/Getty Images)

DUNEDIN, NEW ZEALAND - APRIL 13: Catherine, Duchess of Cambridge greets members of the public after attending a Palm Sunday service at St. Paul's Anglican Cathedral on April 13, 2014 in Dunedin, New Zealand. The Duke and Duchess of Cambridge are on a three-week tour of Australia and New Zealand, the first official trip overseas with their son, Prince George of Cambridge. (Photo by Gerard O'Brien - Pool/Getty Images)

DUNEDIN, NEW ZEALAND - APRIL 13: Catherine, Duchess of Cambridge greets members of the public after attending a Palm Sunday service at St. Paul's Anglican Cathedral on April 13, 2014 in Dunedin, New Zealand. The Duke and Duchess of Cambridge are on a three-week tour of Australia and New Zealand, the first official trip overseas with their son, Prince George of Cambridge. (Photo by Gerard O'Brien - Pool/Getty Images)

DUNEDIN, NEW ZEALAND - APRIL 13: Catherine, Duchess of Cambridge attends a Palm Sunday service at St. Paul's Anglican Cathedral on April 13, 2014 in Dunedin, New Zealand. The Duke and Duchess of Cambridge are on a three-week tour of Australia and New Zealand, the first official trip overseas with their son, Prince George of Cambridge. (Photo by Gerard O'Brien - Pool/Getty Images)

DUNEDIN, NEW ZEALAND - APRIL 13: (L-R) The Very Reverend Dr. Trevor James, Catherine, Duchess of Cambridge and Prince William, Duke of Cambridge attend a Palm Sunday service at St. Paul's Anglican Cathedral on April 13, 2014 in Dunedin, New Zealand. The Duke and Duchess of Cambridge are on a three-week tour of Australia and New Zealand, the first official trip overseas with their son, Prince George of Cambridge. (Photo by Gerard O'Brien - Pool/Getty Images)

DUNEDIN, NEW ZEALAND - APRIL 13: Catherine, Duchess of Cambridge greets members of the public after attending a Palm Sunday service at St. Paul's Anglican Cathedral on April 13, 2014 in Dunedin, New Zealand. The Duke and Duchess of Cambridge are on a three-week tour of Australia and New Zealand, the first official trip overseas with their son, Prince George of Cambridge. (Photo by Gerard O'Brien - Pool/Getty Images)

DUNEDIN, NEW ZEALAND - APRIL 13: Catherine, Duchess of Cambridge greets members of the public after attending a Palm Sunday service at St. Paul's Anglican Cathedral on April 13, 2014 in Dunedin, New Zealand. The Duke and Duchess of Cambridge are on a three-week tour of Australia and New Zealand, the first official trip overseas with their son, Prince George of Cambridge. (Photo by Gerard O'Brien - Pool/Getty Images)

Catherine the Duchess of Cambridge receives a hug from a little Girl during a Maori welcome at Dunedin airport in Dunedin on April 13, 2014. William, Kate and their son Prince George are on a three-week tour of New Zealand and Australia. AFP PHOTO / MARTY MELVILLE (Photo credit should read Marty Melville/AFP/Getty Images)

Catherine the Duchess of Cambridge waves as she arrives in Dunedin during a welcome at Dunedin airport in Dunedin on April 13, 2014. William, Kate and their son Prince George are on a three-week tour of New Zealand and Australia. AFP PHOTO / MARTY MELVILLE (Photo credit should read Marty Melville/AFP/Getty Images)

DUNEDIN, NEW ZEALAND - APRIL 13: Catherine, Duchess of Cambridge at the official greeting at Dunedin International Airport on April 13, 2014 in Dunedin, New Zealand. The Duke and Duchess of Cambridge are on a three-week tour of Australia and New Zealand, the first official trip overseas with their son, Prince George of Cambridge. (Photo by Rob Jefferies/Getty Images)

Catherine the Duchess of Cambridge receives a gift from a little Girl during a Maori welcome at Dunedin airport in Dunedin on April 13, 2014. William, Kate and their son Prince George are on a three-week tour of New Zealand and Australia. AFP PHOTO / MARTY MELVILLE (Photo credit should read Marty Melville/AFP/Getty Images)

Catherine the Duchess of Cambridge (L) receives a Hongi (Maori Greeting) from a little Girl during a Maori welcome at Dunedin airport in Dunedin on April 13, 2014. William, Kate and their son Prince George are on a three-week tour of New Zealand and Australia. AFP PHOTO / MARTY MELVILLE (Photo credit should read Marty Melville/AFP/Getty Images)

Catherine the Duchess of Cambridge receives a gift from a little Girl during a Maori welcome at Dunedin airport in Dunedin on April 13, 2014. William, Kate and their son Prince George are on a three-week tour of New Zealand and Australia. AFP PHOTO / MARTY MELVILLE (Photo credit should read Marty Melville/AFP/Getty Images)

DUNEDIN, NEW ZEALAND - APRIL 13: Catherine, Duchess of Cambridge receives a official Maori greeeting on arrival at Dunedin at Dunedin International Airport on April 13, 2014 in Dunedin, New Zealand. The Duke and Duchess of Cambridge are on a three-week tour of Australia and New Zealand, the first official trip overseas with their son, Prince George of Cambridge. (Photo by Rob Jefferies/Getty Images)

DUNEDIN, NEW ZEALAND - APRIL 13: Catherine, Duchess of Cambridge at the official greeting at Dunedin International Airport on April 13, 2014 in Dunedin, New Zealand. The Duke and Duchess of Cambridge are on a three-week tour of Australia and New Zealand, the first official trip overseas with their son, Prince George of Cambridge. (Photo by Rob Jefferies/Getty Images)

DUNEDIN, NEW ZEALAND - APRIL 13: Prince William, Duke of Cambridge and Catherine, Duchess of Cambridge at the official greeting at Dunedin International Airport on April 13, 2014 in Dunedin, New Zealand. The Duke and Duchess of Cambridge are on a three-week tour of Australia and New Zealand, the first official trip overseas with their son, Prince George of Cambridge. (Photo by Rob Jefferies/Getty Images)

DUNEDIN, NEW ZEALAND - APRIL 13: Prince William, Duke of Cambridge and Catherine, Duchess of Cambridge arrive at Dunedin International Airport on April 13, 2014 in Dunedin, New Zealand. The Duke and Duchess of Cambridge are on a three-week tour of Australia and New Zealand, the first official trip overseas with their son, Prince George of Cambridge. (Photo by Rob Jefferies/Getty Images)

DUNEDIN, NEW ZEALAND - APRIL 13: (L-R) Prince William, Duke of Cambridge and Catherine, Duchess of Cambridge attend 'Rippa Rugby' in the Forstyth Barr Stadium on day 7 of a Royal Tour to New Zealand on April 13, 2014 in Dunedin, New Zealand. The Duke and Duchess of Cambridge are on a three-week tour of Australia and New Zealand, the first official trip overseas with their son, Prince George of Cambridge. (Photo by David Rowland - Pool/Getty Images)

Catherine the Duchess of Cambridge (C) watches a children's rugby game at Forsyth Barr Stadium in Dunedin on April 13, 2014. William, Kate and their son Prince George are on a three-week tour of New Zealand and Australia. AFP PHOTO / MARTY MELVILLE (Photo credit should read Marty Melville/AFP/Getty Images)

DUNEDIN, NEW ZEALAND - APRIL 13: Catherine, Duchess of Cambridge watches 'Rippa Rugby' in the Forstyth Barr Stadium on day 7 of a Royal Tour to New Zealand on April 13, 2014 in Dunedin, New Zealand. The Duke and Duchess of Cambridge are on a three-week tour of Australia and New Zealand, the first official trip overseas with their son, Prince George of Cambridge. (Photo by Chris Jackson/Getty Images)

Britain's Prince William (front C) and his wife Catherine (L) speak as All Blacks captain Richie McCaw (R) looks on during a children's rugby game at Forsyth Barr Stadium in Dunedin on April 13, 2014. William, Kate and their son Prince George are on a three-week tour of New Zealand and Australia. AFP PHOTO / MARTY MELVILLE (Photo credit should read Marty Melville/AFP/Getty Images)

DUNEDIN, NEW ZEALAND - APRIL 13: Catherine, Duchess of Cambridge watches 'Rippa Rugby' in the Forstyth Barr Stadium on day 7 of a Royal Tour to New Zealand on April 13, 2014 in Dunedin, New Zealand. The Duke and Duchess of Cambridge are on a three-week tour of Australia and New Zealand, the first official trip overseas with their son, Prince George of Cambridge. (Photo by Chris Jackson/Getty Images)

DUNEDIN, NEW ZEALAND - APRIL 13: Catherine, Duchess of Cambridge and Prince William, Duke of Cambridge arrive to watch 'Rippa Rugby' in the Forstyth Barr Stadium on day 7 of a Royal Tour to New Zealand on April 13, 2014 in Dunedin, New Zealand. The Duke and Duchess of Cambridge are on a three-week tour of Australia and New Zealand, the first official trip overseas with their son, Prince George of Cambridge. (Photo by Chris Jackson/Getty Images)

DUNEDIN, NEW ZEALAND - APRIL 13: (L-R) Prince William, Duke of Cambridge, All Blacks player Richie McCaw and Catherine, Duchess of Cambridge watch 'Rippa Rugby' in the Forstyth Barr Stadium on day 7 of a Royal Tour to New Zealand on April 13, 2014 in Dunedin, New Zealand. The Duke and Duchess of Cambridge are on a three-week tour of Australia and New Zealand, the first official trip overseas with their son, Prince George of Cambridge. (Photo by Chris Jackson/Getty Images)

DUNEDIN, NEW ZEALAND - APRIL 13: (L-R) Prince William, Duke of Cambridge, All Black player Ritchie McCaw and Catherine, Duchess of Cambridge watch 'Rippa Rugby' in the Forstyth Barr Stadium on day 7 of a Royal Tour to New Zealand on April 13, 2014 in Dunedin, New Zealand. The Duke and Duchess of Cambridge are on a three-week tour of Australia and New Zealand, the first official trip overseas with their son, Prince George of Cambridge. (Photo by Chris Jackson/Getty Images)

DUNEDIN, NEW ZEALAND - APRIL 13: (L-R) Catherine, Duchess of Cambridge, Prince William, Duke of Cambridge and All Black player Ritchie McCaw watch 'Rippa Rugby' in the Forstyth Barr Stadium on day 7 of a Royal Tour to New Zealand on April 13, 2014 in Dunedin, New Zealand. The Duke and Duchess of Cambridge are on a three-week tour of Australia and New Zealand, the first official trip overseas with their son, Prince George of Cambridge. (Photo by Chris Jackson/Getty Images)

DUNEDIN, NEW ZEALAND - APRIL 13: Catherine, Duchess of Cambridge watches 'Rippa Rugby' in the Forstyth Barr Stadium on day 7 of a Royal Tour to New Zealand on April 13, 2014 in Dunedin, New Zealand. The Duke and Duchess of Cambridge are on a three-week tour of Australia and New Zealand, the first official trip overseas with their son, Prince George of Cambridge. (Photo by Chris Jackson/Getty Images)

DUNEDIN, NEW ZEALAND - APRIL 13: (L-R) Prince William, Duke of Cambridge, All Blacks player Richie McCaw and Catherine, Duchess of Cambridge watch 'Rippa Rugby' in the Forstyth Barr Stadium on day 7 of a Royal Tour to New Zealand on April 13, 2014 in Dunedin, New Zealand. The Duke and Duchess of Cambridge are on a three-week tour of Australia and New Zealand, the first official trip overseas with their son, Prince George of Cambridge. (Photo by Chris Jackson/Getty Images)

DUNEDIN, NEW ZEALAND - APRIL 13: (L-R) Prince William, Duke of Cambridge, All Blacks player Richie McCaw and Catherine, Duchess of Cambridge watch 'Rippa Rugby' in the Forstyth Barr Stadium on day 7 of a Royal Tour to New Zealand on April 13, 2014 in Dunedin, New Zealand. The Duke and Duchess of Cambridge are on a three-week tour of Australia and New Zealand, the first official trip overseas with their son, Prince George of Cambridge. (Photo by Chris Jackson/Getty Images)

DUNEDIN, NEW ZEALAND - APRIL 13: (L-R) Prince William, Duke of Cambridge, All Blacks player Richie McCaw and Catherine, Duchess of Cambridge watch 'Rippa Rugby' in the Forstyth Barr Stadium on day 7 of a Royal Tour to New Zealand on April 13, 2014 in Dunedin, New Zealand. The Duke and Duchess of Cambridge are on a three-week tour of Australia and New Zealand, the first official trip overseas with their son, Prince George of Cambridge. (Photo by Chris Jackson/Getty Images)

DUNEDIN, NEW ZEALAND - APRIL 13: Catherine, Duchess of Cambridge and All Black player Ritchie McCaw watch 'Rippa Rugby' in the Forstyth Barr Stadium on day 7 of a Royal Tour to New Zealand on April 13, 2014 in Dunedin, New Zealand. The Duke and Duchess of Cambridge are on a three-week tour of Australia and New Zealand, the first official trip overseas with their son, Prince George of Cambridge. (Photo by Chris Jackson/Getty Images)

HAMILTON, NEW ZEALAND - APRIL 12: Catherine, Duchess of Cambridge visits Rainbow Place Hospice on April 12, 2014 in Hamilton, New Zealand. The Duke and Duchess of Cambridge are on a three-week tour of Australia and New Zealand, the first official trip overseas with their son, Prince George of Cambridge. (Photo by Mark large - Pool/Getty Images)

HAMILTON, NEW ZEALAND - APRIL 12: Catherine, Duchess of Cambridge during a visit to the Avantidrome on April 12, 2014 in Hamilton, New Zealand. The Duke and Duchess of Cambridge are on a three-week tour of Australia and New Zealand, the first official trip overseas with their son, Prince George of Cambridge. (Photo by Tim Rooke - Pool /Getty Images)

HAMILTON, NEW ZEALAND - APRIL 12: Catherine, Duchess of Cambridge visits Rainbow Place Hospice on April 12, 2014 in Hamilton, New Zealand. The Duke and Duchess of Cambridge are on a three-week tour of Australia and New Zealand, the first official trip overseas with their son, Prince George of Cambridge. (Photo by Mark large - Pool/Getty Images)

HAMILTON, NEW ZEALAND - APRIL 12: Catherine, Duchess of Cambridge visits Rainbow Place Hospice on April 12, 2014 in Hamilton, New Zealand. The Duke and Duchess of Cambridge are on a three-week tour of Australia and New Zealand, the first official trip overseas with their son, Prince George of Cambridge. (Photo by Mark large - Pool/Getty Images)

HAMILTON, NEW ZEALAND - APRIL 12: Catherine, Duchess of Cambridge visits Rainbow Place Hospice on April 12, 2014 in Hamilton, New Zealand. The Duke and Duchess of Cambridge are on a three-week tour of Australia and New Zealand, the first official trip overseas with their son, Prince George of Cambridge. (Photo by Mark large - Pool/Getty Images)

HAMILTON, NEW ZEALAND - APRIL 12: Catherine, Duchess of Cambridge visits Rainbow Place Hospice on April 12, 2014 in Hamilton, New Zealand. The Duke and Duchess of Cambridge are on a three-week tour of Australia and New Zealand, the first official trip overseas with their son, Prince George of Cambridge. (Photo by Mark large - Pool/Getty Images)

HAMILTON, NEW ZEALAND - APRIL 12: Catherine, Duchess of Cambridge visits Rainbow Place Hospice on April 12, 2014 in Hamilton, New Zealand. The Duke and Duchess of Cambridge are on a three-week tour of Australia and New Zealand, the first official trip overseas with their son, Prince George of Cambridge. (Photo by Mark large - Pool/Getty Images)

HAMILTON, NEW ZEALAND - APRIL 12: Catherine, Duchess of Cambridge visits Rainbow Place Hospice on April 12, 2014 in Hamilton, New Zealand. The Duke and Duchess of Cambridge are on a three-week tour of Australia and New Zealand, the first official trip overseas with their son, Prince George of Cambridge. (Photo by Mark large - Pool/Getty Images)

HAMILTON, NEW ZEALAND - APRIL 12: Catherine, Duchess of Cambridge visits Rainbow Place Hospice on April 12, 2014 in Hamilton, New Zealand. The Duke and Duchess of Cambridge are on a three-week tour of Australia and New Zealand, the first official trip overseas with their son, Prince George of Cambridge. (Photo by Mark large - Pool/Getty Images)

HAMILTON, NEW ZEALAND - APRIL 12: Catherine, Duchess of Cambridge visits Rainbow Place Hospice on April 12, 2014 in Hamilton, New Zealand. The Duke and Duchess of Cambridge are on a three-week tour of Australia and New Zealand, the first official trip overseas with their son, Prince George of Cambridge. (Photo by Mark large - Pool/Getty Images)

HAMILTON, NEW ZEALAND - APRIL 12: Catherine, Duchess of Cambridge visits Rainbow Place Hospice on April 12, 2014 in Hamilton, New Zealand. The Duke and Duchess of Cambridge are on a three-week tour of Australia and New Zealand, the first official trip overseas with their son, Prince George of Cambridge. (Photo by Mark large - Pool/Getty Images)

HAMILTON, NEW ZEALAND - APRIL 12: Catherine, Duchess of Cambridge visits Rainbow Place Hospice on April 12, 2014 in Hamilton, New Zealand. The Duke and Duchess of Cambridge are on a three-week tour of Australia and New Zealand, the first official trip overseas with their son, Prince George of Cambridge. (Photo by Mark large - Pool/Getty Images)

HAMILTON, NEW ZEALAND - APRIL 12: Catherine, Duchess of Cambridge during a visit to the Avantidrome on April 12, 2014 in Hamilton, New Zealand. The Duke and Duchess of Cambridge are on a three-week tour of Australia and New Zealand, the first official trip overseas with their son, Prince George of Cambridge. (Photo by Tim Rooke - Pool /Getty Images)

HAMILTON, NEW ZEALAND - APRIL 12: Prince William, Duke of Cambridge and Catherine, Duchess of Cambridge during a visit to the Avantidrome on April 12, 2014 in Hamilton, New Zealand. The Duke and Duchess of Cambridge are on a three-week tour of Australia and New Zealand, the first official trip overseas with their son, Prince George of Cambridge. (Photo by Tim Rooke - Pool /Getty Images)

HAMILTON, NEW ZEALAND - APRIL 12: Prince William, Duke of Cambridge and Catherine, Duchess of Cambridge are presented with an Avanti cycling jersey for Prince George of Cambridge during a visit to the Avanti Drome on April 12, 2014 in Hamilton, New Zealand. The Duke and Duchess of Cambridge are on a three-week tour of Australia and New Zealand, the first official trip overseas with their son, Prince George of Cambridge. (Photo by Tim Rooke - Pool /Getty Images)

HAMILTON, NEW ZEALAND - APRIL 12: Prince William, Duke of Cambridge and Catherine, Duchess of Cambridge are presented with a Avanti mini bike for Prince George during a visit to the Avanti Drome on April 12, 2014 in Hamilton, New Zealand. The Duke and Duchess of Cambridge are on a three-week tour of Australia and New Zealand, the first official trip overseas with their son, Prince George of Cambridge. (Photo by Tim Rooke - Pool /Getty Images)

HAMILTON, NEW ZEALAND - APRIL 12: Catherine, Duchess of Cambridge during a visit to the Avantidrome on April 12, 2014 in Hamilton, New Zealand. The Duke and Duchess of Cambridge are on a three-week tour of Australia and New Zealand, the first official trip overseas with their son, Prince George of Cambridge. (Photo by Tim Rooke - Pool /Getty Images)

HAMILTON, NEW ZEALAND - APRIL 12: Prince William, Duke of Cambridge and Catherine, Duchess of Cambridge during a visit to the Avantidrome on April 12, 2014 in Hamilton, New Zealand. The Duke and Duchess of Cambridge are on a three-week tour of Australia and New Zealand, the first official trip overseas with their son, Prince George of Cambridge. (Photo by Tim Rooke - Pool /Getty Images)

HAMILTON, NEW ZEALAND - APRIL 12: Prince William, Duke of Cambridge and Catherine, Duchess of Cambridge are presented with a Avanti mini bike for Prince George during a visit to the Avanti Drome on April 12, 2014 in Hamilton, New Zealand. The Duke and Duchess of Cambridge are on a three-week tour of Australia and New Zealand, the first official trip overseas with their son, Prince George of Cambridge. (Photo by Tim Rooke - Pool /Getty Images)

HAMILTON, NEW ZEALAND - APRIL 12: Prince William, Duke of Cambridge and Catherine, Duchess of Cambridge during a visit to the Avantidrome on April 12, 2014 in Hamilton, New Zealand. The Duke and Duchess of Cambridge are on a three-week tour of Australia and New Zealand, the first official trip overseas with their son, Prince George of Cambridge. (Photo by Tim Rooke - Pool /Getty Images)

HAMILTON, NEW ZEALAND - APRIL 12: Prince William, Duke of Cambridge and Catherine, Duchess of Cambridge are presented with an Avanti cycling jersey for Prince George of Cambridge during a visit to the Avanti Drome on April 12, 2014 in Hamilton, New Zealand. The Duke and Duchess of Cambridge are on a three-week tour of Australia and New Zealand, the first official trip overseas with their son, Prince George of Cambridge. (Photo by Tim Rooke - Pool /Getty Images)

Prince William, Duke of Cambridge (L) and Catherine, Duchess of Cambridge (R) leave the Cambridge Town Hall on April 12 in Cambridge, New Zealand. The Duke and Duchess of Cambridge are on a three-week tour of Australia and New Zealand, the first official trip overseas with their son, Prince George of Cambridge.

Prince William, Duke of Cambridge (L) and Catherine, Duchess of Cambridge (R) leave the Cambridge Town Hall on April 12 in Cambridge, New Zealand. The Duke and Duchess of Cambridge are on a three-week tour of Australia and New Zealand, the first official trip overseas with their son, Prince George of Cambridge.

Catherine, Duchess of Cambridge meets with the public in the Cambridge town centre on April 12 in Cambridge, New Zealand. The Duke and Duchess of Cambridge are on a three-week tour of Australia and New Zealand, the first official trip overseas with their son, Prince George of Cambridge.

Prince William, Duke of Cambridge and Catherine, Duchess of Cambridge laugh on stage during a visit to the Avanti Drome on April 12 in Hamilton, New Zealand. The Duke and Duchess of Cambridge are on a three-week tour of Australia and New Zealand, the first official trip overseas with their son, Prince George of Cambridge.

Catherine, Duchess of Cambridge visits the Avanti Drome on April 12 in Hamilton, New Zealand. The Duke and Duchess of Cambridge are on a three-week tour of Australia and New Zealand, the first official trip overseas with their son, Prince George of Cambridge.

Catherine, Duchess of Cambridge visits the Avanti Drome on April 12 in Hamilton, New Zealand. The Duke and Duchess of Cambridge are on a three-week tour of Australia and New Zealand, the first official trip overseas with their son, Prince George of Cambridge.

Prince William, Duke of Cambridge and Catherine, Duchess of Cambridge laugh on stage during a visit to the Avanti Drome on April 12 in Hamilton, New Zealand. The Duke and Duchess of Cambridge are on a three-week tour of Australia and New Zealand, the first official trip overseas with their son, Prince George of Cambridge.

Catherine, Duchess of Cambridge and Prince William, Duke of Cambridge are seen arriving at Hamilton Airport on April 12 in Hamilton, New Zealand. The Duke and Duchess of Cambridge are on a three-week tour of Australia and New Zealand, the first official trip overseas with their son, Prince George of Cambridge.

Catherine, Duchess of Cambridge and Prince William, Duke of Cambridge arrive at Hamilton Airport on April 12 in Hamilton, New Zealand. The Duke and Duchess of Cambridge are on a three-week tour of Australia and New Zealand, the first official trip overseas with their son, Prince George of Cambridge.

Catherine, Duchess of Cambridge and Prince William, Duke of Cambridge arrive at Hamilton Airport on April 12 in Hamilton, New Zealand. The Duke and Duchess of Cambridge are on a three-week tour of Australia and New Zealand, the first official trip overseas with their son, Prince George of Cambridge.

Catherine, Duchess of Cambridge and Prince William, Duke of Cambridge are seen arriving at Hamilton Airport on April 12 in Hamilton, New Zealand. The Duke and Duchess of Cambridge are on a three-week tour of Australia and New Zealand, the first official trip overseas with their son, Prince George of Cambridge.

Catherine, Duchess of Cambridge and Prince William, Duke of Cambridge arrive at Hamilton Airport on April 12 in Hamilton, New Zealand. The Duke and Duchess of Cambridge are on a three-week tour of Australia and New Zealand, the first official trip overseas with their son, Prince George of Cambridge.

Catherine, Duchess of Cambridge and Prince William, Duke of Cambridge arrive at Hamilton Airport on April 12 in Hamilton, New Zealand. The Duke and Duchess of Cambridge are on a three-week tour of Australia and New Zealand, the first official trip overseas with their son, Prince George of Cambridge.

Prince William, Duke of Cambridge visits Pacific Aerospace on April 12 in Hamilton, New Zealand. The Duke and Duchess of Cambridge are on a three-week tour of Australia and New Zealand, the first official trip overseas with their son, Prince George of Cambridge.

AUCKLAND, NEW ZEALAND - APRIL 11: Catherine, Duchess of Cambridge arrives to the Viaduct Basin to sail with Team New Zealand on April 11, 2014 in Auckland, New Zealand. The Duke and Duchess of Cambridge are on a three-week tour of Australia and New Zealand, the first official trip overseas with their son, Prince George of Cambridge. (Photo by Fiona Goodall-Pool/Getty Images)

AUCKLAND, NEW ZEALAND - APRIL 11: Prince William, Duke of Cambridge and Catherine, Duchess of Cambridge arrive at RNZAF airbase, Whenuapai on April 11, 2014 in Auckland, New Zealand. The Duke and Duchess of Cambridge are on a three-week tour of Australia and New Zealand, the first official trip overseas with their son, Prince George of Cambridge. (Photo by Ian Vogler-Pool/Getty Images)

AUCKLAND, NEW ZEALAND - APRIL 11: Catherine, Duchess of Cambridge arrives at the Westpark Marina on a Sealegs amphibious marine craft at the Whenuapai RNZAF base on April 11, 2014 in Auckland, New Zealand. The Duke and Duchess of Cambridge are on a three-week tour of Australia and New Zealand, the first official trip overseas with their son, Prince George of Cambridge. (Photo by Phil Walter/Getty Images)

AUCKLAND, NEW ZEALAND - APRIL 11: Catherine, Duchess of Cambridge helms an America's Cup yacht as she races Prince William, Duke of Cambridge in Auckland Harbour on April 11, 2014 in Auckland, New Zealand. The Duke and Duchess of Cambridge are on a three-week tour of Australia and New Zealand, the first official trip overseas with their son, Prince George of Cambridge. (Photo by Chris Jackson/Getty Images)

AUCKLAND, NEW ZEALAND - APRIL 11: Prince William, Duke of Cambridge and Catherine, Duchess of Cambridge return from sailing where the Duchess and her crew beat Prince William and his crew onTeam New Zealand's yachts at the Viaduct Basin on April 11, 2014 in Auckland, New Zealand. The Duke and Duchess of Cambridge are on a three-week tour of Australia and New Zealand, the first official trip overseas with their son, Prince George of Cambridge. (Photo by Fiona Goodall-Pool/Getty Images)

AUCKLAND, NEW ZEALAND - APRIL 11: Prince William, Duke of Cambridge and Catherine, Duchess of Cambridge return from sailing where the Duchess and her crew beat Prince William and his crew onTeam New Zealand's yachts at the Viaduct Basin on April 11, 2014 in Auckland, New Zealand. The Duke and Duchess of Cambridge are on a three-week tour of Australia and New Zealand, the first official trip overseas with their son, Prince George of Cambridge. (Photo by Fiona Goodall-Pool/Getty Images)

AUCKLAND, NEW ZEALAND - APRIL 11: Team New Zealand's Dean Barker and Catherine, Duchess of Cambridge return from sailing where the Duchess and her crew beat Prince William and his crew onTeam New Zealand's yachts at the Viaduct Basin on April 11, 2014 in Auckland, New Zealand. The Duke and Duchess of Cambridge are on a three-week tour of Australia and New Zealand, the first official trip overseas with their son, Prince George of Cambridge. (Photo by Fiona Goodall-Pool/Getty Images)

AUCKLAND, NEW ZEALAND - APRIL 11: Catherine, Duchess of Cambridge travels by Sealegs craft to Westpark Marina to sail with Team New Zealand at the Viaduct Basin on April 11, 2014 in Auckland, New Zealand. The Duke and Duchess of Cambridge are on a three-week tour of Australia and New Zealand, the first official trip overseas with their son, Prince George of Cambridge. (Photo by David Rowland-Pool/Getty Images)

AUCKLAND, NEW ZEALAND - APRIL 11: Catherine, Duchess of Cambridge gestures to Prince William, Duke of Cambridge as she helms an America's Cup yacht as she races Prince William, Duke of Cambridge in Auckland Harbour on April 11, 2014 in Auckland, New Zealand. The Duke and Duchess of Cambridge are on a three-week tour of Australia and New Zealand, the first official trip overseas with their son, Prince George of Cambridge. (Photo by Chris Jackson/Getty Images)

AUCKLAND, NEW ZEALAND - APRIL 11: Prince William, Duke of Cambridge and Catherine, Duchess of Cambridge at the Viaduct Basin to sail with sail with Team New Zealand on April 11, 2014 in Auckland, New Zealand. The Duke and Duchess of Cambridge are on a three-week tour of Australia and New Zealand, the first official trip overseas with their son, Prince George of Cambridge. (Photo by Fiona Goodall-Pool/Getty Images)

AUCKLAND, NEW ZEALAND - APRIL 11: Catherine, Duchess of Cambridge and Prince William, Duke of Cambridge travel on the amphibious craft 'sealegs' in Auckland Harbour on April 11, 2014 in Auckland, New Zealand. The Duke and Duchess of Cambridge are on a three-week tour of Australia and New Zealand, the first official trip overseas with their son, Prince George of Cambridge. (Photo by Chris Jackson/Getty Images)

AUCKLAND, NEW ZEALAND - APRIL 11: Catherine, Duchess of Cambridge gestures to Prince William, Duke of Cambridge as she helms an America's Cup yacht as she races Prince William, Duke of Cambridge in Auckland Harbour on April 11, 2014 in Auckland, New Zealand. The Duke and Duchess of Cambridge are on a three-week tour of Australia and New Zealand, the first official trip overseas with their son, Prince George of Cambridge. (Photo by Chris Jackson/Getty Images)

AUCKLAND, NEW ZEALAND - APRIL 11: Catherine, Duchess of Cambridge helms an America's Cup yacht as she races Prince William, Duke of Cambridge in Auckland Harbour on April 11, 2014 in Auckland, New Zealand. The Duke and Duchess of Cambridge are on a three-week tour of Australia and New Zealand, the first official trip overseas with their son, Prince George of Cambridge. (Photo by Chris Jackson/Getty Images)

AUCKLAND, NEW ZEALAND - APRIL 11: Catherine, Duchess of Cambridge greets families of the RNZAF after arriving at Whenuapai on April 11, 2014 in Auckland, New Zealand. The Duke and Duchess of Cambridge are on a three-week tour of Australia and New Zealand, the first official trip overseas with their son, Prince George of Cambridge. (Photo by Ian Vogler-Pool/Getty Images)

AUCKLAND, NEW ZEALAND - APRIL 11: Catherine, Duchess of Cambridge on an America's Cup yacht as she races Prince William, Duke of Cambridge in Auckland Harbour on April 11, 2014 in Auckland, New Zealand. The Duke and Duchess of Cambridge are on a three-week tour of Australia and New Zealand, the first official trip overseas with their son, Prince George of Cambridge. (Photo by Chris Jackson/Getty Images)

AUCKLAND, NEW ZEALAND - APRIL 11: Prince William, Duke of Cambridge (R) and Catherine, Duchess of Cambridge at the Viaduct Basin to sail with sail with Team New Zealand on April 11, 2014 in Auckland, New Zealand. The Duke and Duchess of Cambridge are on a three-week tour of Australia and New Zealand, the first official trip overseas with their son, Prince George of Cambridge. (Photo by Fiona Goodall-Pool/Getty Images)

AUCKLAND, NEW ZEALAND - APRIL 11: Prince William, Duke of Cambridge and Catherine, Duchess of Cambridge return from sailing where the Duchess and her crew beat Prince William and his crew onTeam New Zealand's yachts at the Viaduct Basin on April 11, 2014 in Auckland, New Zealand. The Duke and Duchess of Cambridge are on a three-week tour of Australia and New Zealand, the first official trip overseas with their son, Prince George of Cambridge. (Photo by Fiona Goodall-Pool/Getty Images)

AUCKLAND, NEW ZEALAND - APRIL 11: Catherine, Duchess of Cambridge greets families of the RNZAF after arriving at Whenuapai on April 11, 2014 in Auckland, New Zealand. The Duke and Duchess of Cambridge are on a three-week tour of Australia and New Zealand, the first official trip overseas with their son, Prince George of Cambridge. (Photo by Ian Vogler-Pool/Getty Images)

AUCKLAND, NEW ZEALAND - APRIL 11: Catherine, Duchess of Cambridge and Prince William, Duke of Cambridge travel on the amphibious craft 'sealegs' in Auckland Harbour on April 11, 2014 in Auckland, New Zealand. The Duke and Duchess of Cambridge are on a three-week tour of Australia and New Zealand, the first official trip overseas with their son, Prince George of Cambridge. (Photo by Chris Jackson/Getty Images)

AUCKLAND, NEW ZEALAND - APRIL 11: Prince William, Duke of Cambridge and Catherine, Duchess of Cambridge return from sailing where the Duchess and her crew beat Prince William and his crew onTeam New Zealand's yachts at the Viaduct Basin on April 11, 2014 in Auckland, New Zealand. The Duke and Duchess of Cambridge are on a three-week tour of Australia and New Zealand, the first official trip overseas with their son, Prince George of Cambridge. (Photo by Fiona Goodall-Pool/Getty Images)

AUCKLAND, NEW ZEALAND - APRIL 11: Prince William, Duke of Cambridge and Catherine, Duchess of Cambridge return from sailing where the Duchess and her crew beat Prince William and his crew onTeam New Zealand's yachts at the Viaduct Basin on April 11, 2014 in Auckland, New Zealand. The Duke and Duchess of Cambridge are on a three-week tour of Australia and New Zealand, the first official trip overseas with their son, Prince George of Cambridge. (Photo by Fiona Goodall-Pool/Getty Images)

AUCKLAND, NEW ZEALAND - APRIL 11: Catherine, Duchess of Cambridge and Prince William, Duke of Cambridge travel on the amphibious craft 'sealegs' in Auckland Harbour on April 11, 2014 in Auckland, New Zealand. The Duke and Duchess of Cambridge are on a three-week tour of Australia and New Zealand, the first official trip overseas with their son, Prince George of Cambridge. (Photo by Chris Jackson/Getty Images)

AUCKLAND, NEW ZEALAND - APRIL 11: Prince William, Duke of Cambridge and Catherine, Duchess of Cambridge return from sailing where the Duchess and her crew beat Prince William and his crew onTeam New Zealand's yachts at the Viaduct Basin on April 11, 2014 in Auckland, New Zealand. The Duke and Duchess of Cambridge are on a three-week tour of Australia and New Zealand, the first official trip overseas with their son, Prince George of Cambridge. (Photo by Fiona Goodall-Pool/Getty Images)

Prince William, Duke of Cambridge (L) and Catherine, Duchess of Cambridge (R) arrive at the Whenuapai RNZAF base on April 11, 2014 in Auckland, New Zealand. The Duke and Duchess of Cambridge are on a three-week tour of Australia and New Zealand, the first official trip overseas with their son, Prince George of Cambridge.

Prince William, Duke of Cambridge (L) and Catherine, Duchess of Cambridge (R) arrive at the Whenuapai RNZAF base on April 11, 2014 in Auckland, New Zealand. The Duke and Duchess of Cambridge are on a three-week tour of Australia and New Zealand, the first official trip overseas with their son, Prince George of Cambridge.

Prince William, Duke of Cambridge (L) and Catherine, Duchess of Cambridge (R) arrive at the Whenuapai RNZAF base on April 11, 2014 in Auckland, New Zealand. The Duke and Duchess of Cambridge are on a three-week tour of Australia and New Zealand, the first official trip overseas with their son, Prince George of Cambridge.

Catherine, Duchess of Cambridge arrives at the Whenuapai RNZAF base on April 11, 2014 in Auckland, New Zealand. The Duke and Duchess of Cambridge are on a three-week tour of Australia and New Zealand, the first official trip overseas with their son, Prince George of Cambridge.

Prince William, Duke of Cambridge and Catherine, Duchess of Cambridge arrive at RNZAF airbase, Whenuapai on April 11, 2014 in Auckland, New Zealand. The Duke and Duchess of Cambridge are on a three-week tour of Australia and New Zealand, the first official trip overseas with their son, Prince George of Cambridge

Catherine, Duchess of Cambridge greets families of the RNZAF after arriving at Whenuapai on April 11, 2014 in Auckland, New Zealand. The Duke and Duchess of Cambridge are on a three-week tour of Australia and New Zealand, the first official trip overseas with their son, Prince George of Cambridge.

Catherine, Duchess of Cambridge greets Jane, Blair and 10-week-old Grace Oldershaw after arriving at Whenuapai on April 11, 2014 in Auckland, New Zealand. The Duke and Duchess of Cambridge are on a three-week tour of Australia and New Zealand, the first official trip overseas with their son, Prince George of Cambridge.

Catherine, Duchess of Cambridge greets 5-month-old Madeleine Tilbury and mother, Melissa Tilbury after arriving at Whenuapai on April 11, 2014 in Auckland, New Zealand. The Duke and Duchess of Cambridge are on a three-week tour of Australia and New Zealand, the first official trip overseas with their son, Prince George of Cambridge.

Catherine, Duchess of Cambridge greets 5-month-old Madeleine Tilbury and mother, Melissa Tilbury after arriving at Whenuapai on April 11, 2014 in Auckland, New Zealand. The Duke and Duchess of Cambridge are on a three-week tour of Australia and New Zealand, the first official trip overseas with their son, Prince George of Cambridge.

Catherine, Duchess of Cambridge greets families of the RNZAF after arriving at Whenuapai on April 11, 2014 in Auckland, New Zealand. The Duke and Duchess of Cambridge are on a three-week tour of Australia and New Zealand, the first official trip overseas with their son, Prince George of Cambridge.

WELLINGTON, NEW ZEALAND - APRIL 10: Catherine, Duchess of Cambridge looks on during a state reception at Government House on April 10, 2014 in Wellington, New Zealand. The Duke and Duchess of Cambridge are on a three-week tour of Australia and New Zealand, the first official trip overseas with their son, Prince George of Cambridge. (Photo by Hagen Hopkins/Getty Images)

WELLINGTON, NEW ZEALAND - APRIL 10: Catherine, Duchess of Cambridge attends an art unveiling of a portrait of Queen Elizabeth II by New Zealand artist Nick Cuthell during Day 4 of a Royal Tour to New Zealand at Government House on April 10, 2014 in Wellington, New Zealand. The Duke and Duchess of Cambridge are on a three-week tour of Australia and New Zealand, the first official trip overseas with their son, Prince George of Cambridge. (Photo by Arthur Edwards - Pool/Getty Images)

WELLINGTON, NEW ZEALAND - APRIL 10: Catherine, Duchess of Cambridge attends an art unveiling during Day 4 of a Royal Tour to New Zealand at Government House on April 10, 2014 in Wellington, New Zealand. The Duke and Duchess of Cambridge are on a three-week tour of Australia and New Zealand, the first official trip overseas with their son, Prince George of Cambridge. (Photo by Mark Mitchell - Pool/Getty Images)

WELLINGTON, NEW ZEALAND - APRIL 10: Catherine, Duchess of Cambridge and Prince William, Duke of Cambridge unveil a portrait of Queen Elizabeth II by New Zealand artist Nick Cuthell during Day 4 of a Royal Tour to New Zealand at Government House on April 10, 2014 in Wellington, New Zealand. The Duke and Duchess of Cambridge are on a three-week tour of Australia and New Zealand, the first official trip overseas with their son, Prince George of Cambridge. (Photo by Mark Mitchell - Pool/Getty Images)

WELLINGTON, NEW ZEALAND - APRIL 10: Catherine, Duchess of Cambridge attends an art unveiling of a portrait of Queen Elizabeth II by New Zealand artist Nick Cuthell during Day 4 of a Royal Tour to New Zealand at Government House on April 10, 2014 in Wellington, New Zealand. The Duke and Duchess of Cambridge are on a three-week tour of Australia and New Zealand, the first official trip overseas with their son, Prince George of Cambridge. (Photo by Arthur Edwards - Pool/Getty Images)

WELLINGTON, NEW ZEALAND - APRIL 10: Catherine, Duchess of Cambridge and Prince William, Duke of Cambridge attend an art unveiling of a portrait of Queen Elizabeth II by New Zealand artist Nick Cuthell during Day 4 of a Royal Tour to New Zealand at Government House on April 10, 2014 in Wellington, New Zealand. The Duke and Duchess of Cambridge are on a three-week tour of Australia and New Zealand, the first official trip overseas with their son, Prince George of Cambridge. (Photo by Arthur Edwards - Pool/Getty Images)

WELLINGTON, NEW ZEALAND - APRIL 10: Catherine, Duchess of Cambridge and Prince William, Duke of Cambridge pose for a picture as they attend an art unveiling of a portrait of Queen Elizabeth II by New Zealand artist Nick Cuthell during Day 4 of a Royal Tour to New Zealand at Government House on April 10, 2014 in Wellington, New Zealand. The Duke and Duchess of Cambridge are on a three-week tour of Australia and New Zealand, the first official trip overseas with their son, Prince George of Cambridge. (Photo by Arthur Edwards - Pool/Getty Images)

WELLINGTON, NEW ZEALAND - APRIL 10: Catherine, Duchess of Cambridge stands next to a painting of Queen Elizabeth II unveiled during a state reception at Government House on April 10, 2014 in Wellington, New Zealand. The Duke and Duchess of Cambridge are on a three-week tour of Australia and New Zealand, the first official trip overseas with their son, Prince George of Cambridge. (Photo by Hagen Hopkins/Getty Images)

WELLINGTON, NEW ZEALAND - APRIL 10: Prince William, Duke of Cambridge and Catherine, Duchess of Cambridge arrive during a state reception at Government House on April 10, 2014 in Wellington, New Zealand. The Duke and Duchess of Cambridge are on a three-week tour of Australia and New Zealand, the first official trip overseas with their son, Prince George of Cambridge. (Photo by Hagen Hopkins/Getty Images)

WELLINGTON, NEW ZEALAND - APRIL 10: New Zealand artist Nick Cuthell and Catherine, Duchess of Cambridge share a joke as they attend an art unveiling of a portrait of Queen Elizabeth II by New Zealand artist Nick Cuthell during Day 4 of a Royal Tour to New Zealand at Government House on April 10, 2014 in Wellington, New Zealand. The Duke and Duchess of Cambridge are on a three-week tour of Australia and New Zealand, the first official trip overseas with their son, Prince George of Cambridge. (Photo by Arthur Edwards - Pool/Getty Images)

WELLINGTON, NEW ZEALAND - APRIL 10: Catherine, Duchess of Cambridge talks to New Zealand artist Nick Cuthell as they attend an art unveiling of a portrait of Queen Elizabeth II during Day 4 of a Royal Tour to New Zealand at Government House on April 10, 2014 in Wellington, New Zealand. The Duke and Duchess of Cambridge are on a three-week tour of Australia and New Zealand, the first official trip overseas with their son, Prince George of Cambridge. (Photo by Kevin Stent-Pool/Getty Images)

WELLINGTON, NEW ZEALAND - APRIL 10: (L-R) Artist Nick Cuthell, New Zealand Prime Minister John Key and Catherine, Duchess of Cambridge attend a art unveiling during Day 4 of a Royal Tour to New Zealand at Government House on April 10, 2014 in Wellington, New Zealand. The Duke and Duchess of Cambridge are on a three-week tour of Australia and New Zealand, the first official trip overseas with their son, Prince George of Cambridge. (Photo by Kevin Stent-Pool/Getty Images)

WELLINGTON, NEW ZEALAND - APRIL 10: Catherine, Duchess of Cambridge attends a art unveiling during Day 4 of a Royal Tour to New Zealand at Government House on April 10, 2014 in Wellington, New Zealand. The Duke and Duchess of Cambridge are on a three-week tour of Australia and New Zealand, the first official trip overseas with their son, Prince George of Cambridge. (Photo by Kevin Stent-Pool/Getty Images)

WELLINGTON, NEW ZEALAND - APRIL 10: Catherine, Duchess of Cambridge and Prince William, Duke of Cambridge attend an art unveiling of a portrait of Queen Elizabeth II during Day 4 of a Royal Tour to New Zealand at Government House on April 10, 2014 in Wellington, New Zealand. The Duke and Duchess of Cambridge are on a three-week tour of Australia and New Zealand, the first official trip overseas with their son, Prince George of Cambridge. (Photo by Kevin Stent-Pool/Getty Images)

WELLINGTON, NEW ZEALAND - APRIL 10: Prince William, Duke of Cambridge and Catherine, Duchess of Cambridge mingle during a state reception at Government House on April 10, 2014 in Wellington, New Zealand. The Duke and Duchess of Cambridge are on a three-week tour of Australia and New Zealand, the first official trip overseas with their son, Prince George of Cambridge. (Photo by Hagen Hopkins/Getty Images)

WELLINGTON, NEW ZEALAND - APRIL 10: Catherine, Duchess of Cambridge inspects a portrait of Queen Elizabeth II, painted by New Zealand artist Nick Cuthell and unveiled during a state reception at Government House on April 10, 2014 in Wellington, New Zealand. The Duke and Duchess of Cambridge are on a three-week tour of Australia and New Zealand, the first official trip overseas with their son, Prince George of Cambridge. (Photo by Hagen Hopkins/Getty Images)

WELLINGTON, NEW ZEALAND - APRIL 10: (EDITORS NOTE: Retransmission of #483715335 with alternate crop.) Catherine, Duchess of Cambridge laughs as she attends an art unveiling during Day 4 of a Royal Tour to New Zealand at Government House on April 10, 2014 in Wellington, New Zealand. The Duke and Duchess of Cambridge are on a three-week tour of Australia and New Zealand, the first official trip overseas with their son, Prince George of Cambridge. (Photo by Kevin Stent-Pool/Getty Images)

WELLINGTON, NEW ZEALAND - APRIL 10: Catherine, Duchess of Cambridge and Prince William, Duke of Cambridge attend an art unveiling of a portrait of Queen Elizabeth II during Day 4 of a Royal Tour to New Zealand at Government House on April 10, 2014 in Wellington, New Zealand. The Duke and Duchess of Cambridge are on a three-week tour of Australia and New Zealand, the first official trip overseas with their son, Prince George of Cambridge. (Photo by Kevin Stent-Pool/Getty Images)

WELLINGTON, NEW ZEALAND - APRIL 10: Catherine, Duchess of Cambridge attends an art unveiling of a portrait of Queen Elizabeth II during Day 4 of a Royal Tour to New Zealand at Government House on April 10, 2014 in Wellington, New Zealand. The Duke and Duchess of Cambridge are on a three-week tour of Australia and New Zealand, the first official trip overseas with their son, Prince George of Cambridge. (Photo by Kevin Stent-Pool/Getty Images)

BLENHEIM, NZ - APRIL 10: Prince William, Duke of Cambridge and Catherine, Duchess of Cambridge attend a ceremony at the war memorial in Seymour Square on April 10, 2014 in the town of Blenheim, New Zealand. The Duke and Duchess of Cambridge are on a three-week tour of Australia and New Zealand, the first official trip overseas with their son, Prince George of Cambridge. (Photo by Phil Noble-Pool/Getty Images)

WELLINGTON, NEW ZEALAND - APRIL 10: Catherine, Duchess of Cambridge attends an art unveiling of a portrait of Queen Elizabeth II during Day 4 of a Royal Tour to New Zealand at Government House on April 10, 2014 in Wellington, New Zealand. The Duke and Duchess of Cambridge are on a three-week tour of Australia and New Zealand, the first official trip overseas with their son, Prince George of Cambridge. (Photo by Kevin Stent-Pool/Getty Images)

BLENHEIM, NZ - APRIL 10: Prince William, Duke of Cambridge and Catherine, Duchess of Cambridge attend a ceremony at the war memorial in Seymour Square on April 10, 2014 in the town of Blenheim, New Zealand. The Duke and Duchess of Cambridge are on a three-week tour of Australia and New Zealand, the first official trip overseas with their son, Prince George of Cambridge. (Photo by Phil Noble-Pool/Getty Images)

BLENHEIM, NEW ZEALAND - APRIL 10: Catherine, Duchess of Cambridge smiles as she meets the gathered crowds in Seymour Square during Day 4 of a Royal Tour to New Zealand on April 10, 2014 in Blenheim, New Zealand. The Duke and Duchess of Cambridge are on a three-week tour of Australia and New Zealand, the first official trip overseas with their son, Prince George of Cambridge. (Photo by Chris Jackson/Getty Images)

BLENHEIM, NEW ZEALAND - APRIL 10: Catherine, Duchess of Cambridge smiles as she meets the gathered crowds in Seymour Square during Day 4 of a Royal Tour to New Zealand on April 10, 2014 in Blenheim, New Zealand. The Duke and Duchess of Cambridge are on a three-week tour of Australia and New Zealand, the first official trip overseas with their son, Prince George of Cambridge. (Photo by Chris Jackson/Getty Images)

WELLINGTON, NEW ZEALAND - APRIL 10: Catherine, Duchess of Cambridge attends the wreath laying ceremony at the Blenheim War Memorial on April 10, 2014 in Blenheim, New Zealand. The Duke and Duchess of Cambridge are on a three-week tour of Australia and New Zealand, the first official trip overseas with their son, Prince George of Cambridge. (Photo by Martin Hunter/Getty Images)

WELLINGTON, NEW ZEALAND - APRIL 10: Prince William, Duke of Cambridge and Catherine, Duchess of Cambridge attend the wreath laying ceremony at the Blenheim War Memorial on April 10, 2014 in Blenheim, New Zealand. The Duke and Duchess of Cambridge are on a three-week tour of Australia and New Zealand, the first official trip overseas with their son, Prince George of Cambridge. (Photo by Martin Hunter/Getty Images)

BLENHEIM, NEW ZEALAND - APRIL 10: Catherine, Duchess of Cambridge meets veterans in Seymour Square during Day 4 of a Royal Tour to New Zealand on April 10, 2014 in Blenheim, New Zealand. The Duke and Duchess of Cambridge are on a three-week tour of Australia and New Zealand, the first official trip overseas with their son, Prince George of Cambridge. (Photo by Ross Setford-Pool/Getty Images)

BLENHEIM, NEW ZEALAND - APRIL 10: Catherine, Duchess of Cambridge meets veterans in Seymour Square during Day 4 of a Royal Tour to New Zealand on April 10, 2014 in Blenheim, New Zealand. The Duke and Duchess of Cambridge are on a three-week tour of Australia and New Zealand, the first official trip overseas with their son, Prince George of Cambridge. (Photo by Ross Setford-Pool/Getty Images)

BLENHEIM, NEW ZEALAND - APRIL 10: Catherine, Duchess of Cambridge speaks with members of the crowd at a ceremony at the war memorial in Seymour Square on April 10, 2014 in the town of Blenheim, New Zealand. The Duke and Duchess of Cambridge are on a three-week tour of Australia and New Zealand, the first official trip overseas with their son, Prince George of Cambridge. (Photo by Ross Setford-Pool/Getty Images)

BLENHEIM, NEW ZEALAND - APRIL 10: Prince William, Duke of Cambridge sits in a WW1 aircraft as Catherine, Duchess of Cambridge looks on during a visit to Omaka Aviation Heritage Centre with Sir Peter Jackson on April 10, 2014 in Blenheim, New Zealand. The Duke and Duchess of Cambridge are on a three-week tour of Australia and New Zealand, the first official trip overseas with their son, Prince George of Cambridge. (Photo by Martin Hunter/Getty Images)

BLENHEIM, NEW ZEALAND - APRIL 10: Prince William, Duke of Cambridge and Catherine, Duchess of Cambridge attend the wreath laying ceremony at the Blenheim War Memorial on April 10, 2014 in Blenheim, New Zealand. The Duke and Duchess of Cambridge are on a three-week tour of Australia and New Zealand, the first official trip overseas with their son, Prince George of Cambridge. (Photo by Ross Setford-Pool/Getty Images)

BLENHEIM, NEW ZEALAND - APRIL 10: Prince William, Duke of Cambridge and Catherine, Duchess of Cambridge attend the wreath laying ceremony at the Blenheim War Memorial on April 10, 2014 in Blenheim, New Zealand. The Duke and Duchess of Cambridge are on a three-week tour of Australia and New Zealand, the first official trip overseas with their son, Prince George of Cambridge. (Photo by Ross Setford-Pool/Getty Images)

BLENHEIM, NZ - APRIL 10: Catherine, Duchess of Cambridge speaks with members of the crowd at a ceremony at the war memorial in Seymour Square on April 10, 2014 in the town of Blenheim, New Zealand. The Duke and Duchess of Cambridge are on a three-week tour of Australia and New Zealand, the first official trip overseas with their son, Prince George of Cambridge. (Photo by Derek Flynn-Pool/Getty Images)

WELLINGTON, NEW ZEALAND - APRIL 10: Catherine, Duchess of Cambridge attends the wreath laying ceremony at the Blenheim War Memorial on April 10, 2014 in Blenheim, New Zealand. The Duke and Duchess of Cambridge are on a three-week tour of Australia and New Zealand, the first official trip overseas with their son, Prince George of Cambridge. (Photo by Derek Flynn-Pool/Getty Images)

BLENHEIM, NEW ZEALAND - APRIL 10: Prince William, Duke of Cambridge and Catherine, Duchess of Cambridge attend the wreath laying ceremony at the Blenheim War Memorial on April 10, 2014 in Blenheim, New Zealand. The Duke and Duchess of Cambridge are on a three-week tour of Australia and New Zealand, the first official trip overseas with their son, Prince George of Cambridge. (Photo by Derek Flynn-Pool/Getty Images)

BLENHEIM, NEW ZEALAND - APRIL 10: Catherine, Duchess of Cambridge smiles as she meets the gathered crowds in Seymour Square during Day 4 of a Royal Tour to New Zealand on April 10, 2014 in Blenheim, New Zealand. The Duke and Duchess of Cambridge are on a three-week tour of Australia and New Zealand, the first official trip overseas with their son, Prince George of Cambridge. (Photo by Chris Jackson/Getty Images)

BLENHEIM, NEW ZEALAND - APRIL 10: Catherine, Duchess of Cambridge meets veterans in Seymour Square during Day 4 of a Royal Tour to New Zealand on April 10, 2014 in Blenheim, New Zealand. The Duke and Duchess of Cambridge are on a three-week tour of Australia and New Zealand, the first official trip overseas with their son, Prince George of Cambridge. (Photo by Chris Jackson/Getty Images)

BLENHEIM, NZ - APRIL 10: Catherine, Duchess of Cambridge speaks with members of the crowd at a ceremony at the war memorial in Seymour Square on April 10, 2014 in the town of Blenheim, New Zealand. The Duke and Duchess of Cambridge are on a three-week tour of Australia and New Zealand, the first official trip overseas with their son, Prince George of Cambridge. (Photo by Phil Noble-Pool/Getty Images)

BLENHEIM, NEW ZEALAND - APRIL 10: Catherine, Duchess of Cambridge smiles as she meets the gathered crowds in Seymour Square during Day 4 of a Royal Tour to New Zealand on April 10, 2014 in Blenheim, New Zealand. The Duke and Duchess of Cambridge are on a three-week tour of Australia and New Zealand, the first official trip overseas with their son, Prince George of Cambridge. (Photo by Chris Jackson/Getty Images)

BLENHEIM, NEW ZEALAND - APRIL 10: Catherine, Duchess of Cambridge smiles as she meets the gathered crowds in Seymour Square during Day 4 of a Royal Tour to New Zealand on April 10, 2014 in Blenheim, New Zealand. The Duke and Duchess of Cambridge are on a three-week tour of Australia and New Zealand, the first official trip overseas with their son, Prince George of Cambridge. (Photo by Chris Jackson/Getty Images)

Catherine, the Duchess of Cambridge holds Prince George during a Plunket nurse and parents group visit at Government House in Wellington on April 9, 2014. Plunket is a national not-for-profit organisation that provides care for children and families in New Zealand. William, Kate and their son Prince George are on a three-week tour of New Zealand and Australia. AFP PHOTO / POOL / MARTY MELVILLE (Photo credit should read Marty Melville/AFP/Getty Images)

WELLINGTON, NZ - APRIL 09: Catherine, Duchess of Cambridge holds Prince George of Cambridge during a Plunket nurse and parents group visit at Government House on April 9, 2014 in Wellington, New Zealand. Plunket is a national not-for-profit organization that provides care for children and families in New Zealand. The Duke and Duchess of Cambridge are on a three-week tour of Australia and New Zealand, the first official trip overseas with their son, Prince George of Cambridge. (Photo by Marty Melville-Pool/Getty Images)

Britain's Prince George is held by his mother Catherine, the Duchess of Cambridge, during a visit to the Plunket nurse and parents group at Government House in Wellington on April 9, 2014. Plunket is a national not-for-profit organisation that provides care for children and families in New Zealand. Britain's Prince William, Kate and their son Prince George are on a three-week tour of New Zealand and Australia. AFP PHOTO / POOL / MARTY MELVILLE (Photo credit should read Marty Melville/AFP/Getty Images)

Catherine (C), the Duchess of Cambridge, holds Prince George (R) as she picks up a toy he dropped during a Plunket nurse and parents group visit at Government House in Wellington on April 9, 2014. Plunket is a national not-for-profit organisation that provides care for children and families in New Zealand. Britain's Prince William, Kate and their son Prince George are on a three-week tour of New Zealand and Australia. AFP PHOTO / POOL / MARTY MELVILLE (Photo credit should read Marty Melville/AFP/Getty Images)

WELLINGTON, NZ - APRIL 09: In this handout photo provided by Government House NZ, Prince William, Duke of Cambridge, Catherine, Duchess of Cambridge and Prince George of Cambridge attend Plunkett's Parent's Group at Government House on April 9, 2014 in Wellington, New Zealand. The Duke and Duchess of Cambridge are on a three-week tour of Australia and New Zealand, the first official trip overseas with their son, Prince George of Cambridge. (Photo by Government House NZ via Getty Images)

WELLINGTON, NZ - APRIL 09: In this handout photo provided by Government House NZ, Prince William, Duke of Cambridge, Catherine, Duchess of Cambridge and Prince George of Cambridge attend Plunkett's Parent's Group at Government House on April 9, 2014 in Wellington, New Zealand. The Duke and Duchess of Cambridge are on a three-week tour of Australia and New Zealand, the first official trip overseas with their son, Prince George of Cambridge. (Photo by Government House NZ via Getty Images)

WELLINGTON, NZ - APRIL 09: In this handout photo provided by Government House NZ, Catherine, Duchess of Cambridge and Prince George of Cambridge attend Plunkett's Parent's Group at Government House on April 9, 2014 in Wellington, New Zealand. The Duke and Duchess of Cambridge are on a three-week tour of Australia and New Zealand, the first official trip overseas with their son, Prince George of Cambridge. (Photo by Government House NZ via Getty Images)

WELLINGTON, NZ - APRIL 09: Catherine, Duchess of Cambridge holds Prince George of Cambridge as they attend Plunkett's Parent's Group at Government House on April 9, 2014 in Wellington, New Zealand. The Duke and Duchess of Cambridge are on a three-week tour of Australia and New Zealand, the first official trip overseas with their son, Prince George of Cambridge. (Photo by Marty Melville-Pool/Getty Images)

Catherine, the Duchess of Cambridge holds Prince George during a Plunket nurse and parents group visit at Government House in Wellington on April 9, 2014. Plunket is a national not-for-profit organisation that provides care for children and families in New Zealand. William, Kate and their son Prince George are on a three-week tour of New Zealand and Australia. AFP PHOTO / POOL / MARTY MELVILLE (Photo credit should read Marty Melville/AFP/Getty Images)

WELLINGTON, NZ - APRIL 09: Catherine, Duchess of Cambridge and Prince George of Cambridge attend Plunkett's Parent's Group at Government House on April 9, 2014 in Wellington, New Zealand. The Duke and Duchess of Cambridge are on a three-week tour of Australia and New Zealand, the first official trip overseas with their son, Prince George of Cambridge. (Photo by James Whatling-Pool/Getty Images)

WELLINGTON, NZ - APRIL 09: Catherine, Duchess of Cambridge and Prince George of Cambridge attend Plunkett's Parent's Group at Government House on April 9, 2014 in Wellington, New Zealand. The Duke and Duchess of Cambridge are on a three-week tour of Australia and New Zealand, the first official trip overseas with their son, Prince George of Cambridge. (Photo by Marty Melville-Pool/Getty Images)

WELLINGTON, NZ - APRIL 09: Catherine, Duchess of Cambridge and Prince George of Cambridge attend Plunkett's Parent's Group at Government House on April 9, 2014 in Wellington, New Zealand. The Duke and Duchess of Cambridge are on a three-week tour of Australia and New Zealand, the first official trip overseas with their son, Prince George of Cambridge. (Photo by James Whatling-Pool/Getty Images)

WELLINGTON, NZ - APRIL 09: Catherine, Duchess of Cambridge and Prince George of Cambridge attend Plunkett's Parent's Group at Government House on April 9, 2014 in Wellington, New Zealand. The Duke and Duchess of Cambridge are on a three-week tour of Australia and New Zealand, the first official trip overseas with their son, Prince George of Cambridge. (Photo by James Whatling-Pool/Getty Images)

WELLINGTON, NZ - APRIL 09: Catherine, Duchess of Cambridge and Prince George of Cambridge attend Plunkett's Parent's Group at Government House on April 9, 2014 in Wellington, New Zealand. The Duke and Duchess of Cambridge are on a three-week tour of Australia and New Zealand, the first official trip overseas with their son, Prince George of Cambridge. (Photo by James Whatling-Pool/Getty Images)

WELLINGTON, NZ - APRIL 09: Catherine, Duchess of Cambridge and Prince George of Cambridge attend Plunkett's Parent's Group at Government House on April 9, 2014 in Wellington, New Zealand. The Duke and Duchess of Cambridge are on a three-week tour of Australia and New Zealand, the first official trip overseas with their son, Prince George of Cambridge. (Photo by James Whatling-Pool/Getty Images)

WELLINGTON, NZ - APRIL 09: Catherine, Duchess of Cambridge and Prince George of Cambridge attend Plunkett's Parent's Group at Government House on April 9, 2014 in Wellington, New Zealand. The Duke and Duchess of Cambridge are on a three-week tour of Australia and New Zealand, the first official trip overseas with their son, Prince George of Cambridge. (Photo by James Whatling-Pool/Getty Images)

Britain's Prince William (C) and his wife Catherine (L) meet a Maori warrior during a welcoming ceremony at Government House in Wellington on April 7, 2014. Britain's Prince William, his wife Kate and their son Prince George are on a three-week tour of New Zealand and Australia. AFP PHOTO / MARTY MELVILLE (Photo credit should read Marty Melville/AFP/Getty Images)

Catherine (L), the Duchess of Cambridge, receives a 'hongi', a traditional Maori greeting, by a Maori elder during a welcoming at Government House in Wellington on April 7, 2014. Britain's Prince William, Kate and their son Prince George are on a three-week tour of New Zealand and Australia. AFP PHOTO / MARTY MELVILLE (Photo credit should read Marty Melville/AFP/Getty Images)

Catherine (L), the Duchess of Cambridge, meets a Maori warrior during a welcoming ceremony at Government House in Wellington on April 7, 2014. Britain's Prince William, his wife Kate and their son Prince George are on a three-week tour of New Zealand and Australia. AFP PHOTO / MARTY MELVILLE (Photo credit should read Marty Melville/AFP/Getty Images)

WELLINGTON, NEW ZEALAND - APRIL 07: Catherine, Duchess of Cambridge and Prince George of Cambridge arrive at Wellington Military Terminal on an RNZAF 757 from Sydney on April 7, 2014 in Wellington, New Zealand. The Royal Family have arrived in New Zealand for the first day of a Royal Tour to New Zealand and Australia. Over a period of three weeks the Royal trio will visit 12 Cities in New Zealand and Australia taking part in activities as wide ranging as a yacht race in Auckland Harbour, paying their respects to victims of the 2011 earthquake in Christchurch and visiting Ayres Rock in Australia. (Photo by Chris Jackson/Getty Images)

WELLINGTON, NEW ZEALAND - APRIL 07: Catherine, Duchess of Cambridge, Prince William, Duke of Cambridge and Prince George of Cambridge arrive at Wellington Military Terminal on an RNZAF 757 from Sydney on April 7, 2014 in Wellington, New Zealand. The Royal Family have arrived in New Zealand for the first day of a Royal Tour to New Zealand and Australia. Over a period of three weeks the Royal trio will visit 12 Cities in New Zealand and Australia taking part in activities as wide ranging as a yacht race in Auckland Harbour, paying their respects to victims of the 2011 earthquake in Christchurch and visiting Ayres Rock in Australia. (Photo by Chris Jackson/Getty Images)

Britain's Prince William (L) and his wife Catherine (2nd L) meet the Governor-General of New Zealand Lt. Gen. Jerry Mateparae (R) with his wife Janine (2nd R) during a welcoming ceremony at Government House in Wellington on April 7, 2014. Britain's Prince William, his wife Kate and their son Prince George are on a three-week tour of New Zealand and Australia. AFP PHOTO / MARTY MELVILLE (Photo credit should read Marty Melville/AFP/Getty Images)

WELLINGTON, NEW ZEALAND - APRIL 07: Catherine, Duchess of Cambridge and Prince George of Cambridge arrive at Wellington Airport on April 7, 2014 in Wellington, New Zealand. The Duke and Duchess of Cambridge are on a three-week tour of Australia and New Zealand, the first official trip overseas with their son, Prince George of Cambridge. (Photo by Hagen Hopkins/Getty Images)

WELLINGTON, NEW ZEALAND - APRIL 07: Catherine, Duchess of Cambridge and Prince George of Cambridge arrive at Wellington Military Terminal on an RNZAF 757 from Sydney on April 7, 2014 in Wellington, New Zealand. The Royal Family have arrived in New Zealand for the first day of a Royal Tour to New Zealand and Australia. Over a period of three weeks the Royal trio will visit 12 Cities in New Zealand and Australia taking part in activities as wide ranging as a yacht race in Auckland Harbour, paying their respects to victims of the 2011 earthquake in Christchurch and visiting Ayres Rock in Australia. (Photo by Chris Jackson/Getty Images)

WELLINGTON, NEW ZEALAND - APRIL 07: Catherine, Duchess of Cambridge and Prince George of Cambridge arrive at Wellington Airport on April 7, 2014 in Wellington, New Zealand. The Duke and Duchess of Cambridge are on a three-week tour of Australia and New Zealand, the first official trip overseas with their son, Prince George of Cambridge. (Photo by Hagen Hopkins/Getty Images)

WELLINGTON, NEW ZEALAND - APRIL 07: Catherine, Duchess of Cambridge and Prince George of Cambridge arrive at Wellington Military Terminal on an RNZAF 757 from Sydney on April 7, 2014 in Wellington, New Zealand. The Royal Family have arrived in New Zealand for the first day of a Royal Tour to New Zealand and Australia. Over a period of three weeks the Royal trio will visit 12 Cities in New Zealand and Australia taking part in activities as wide ranging as a yacht race in Auckland Harbour, paying their respects to victims of the 2011 earthquake in Christchurch and visiting Ayres Rock in Australia. (Photo by Chris Jackson/Getty Images)

WELLINGTON, NEW ZEALAND - APRIL 07: Catherine, Duchess of Cambridge, Prince William, Duke of Cambridge and Prince George of Cambridge arrive at Wellington Military Terminal on an RNZAF 757 from Sydney on April 7, 2014 in Wellington, New Zealand. The Royal Family have arrived in New Zealand for the first day of a Royal Tour to New Zealand and Australia. Over a period of three weeks the Royal trio will visit 12 Cities in New Zealand and Australia taking part in activities as wide ranging as a yacht race in Auckland Harbour, paying their respects to victims of the 2011 earthquake in Christchurch and visiting Ayres Rock in Australia. (Photo by Chris Jackson/Getty Images)

WELLINGTON, NEW ZEALAND - APRIL 07: Prince William, Duke of Cambridge, Catherine, Duchess of Cambridge and Prince George of Cambridge arrive at Wellington Airport on April 7, 2014 in Wellington, New Zealand. The Duke and Duchess of Cambridge are on a three-week tour of Australia and New Zealand, the first official trip overseas with their son, Prince George of Cambridge. (Photo by Hagen Hopkins/Getty Images)

WELLINGTON, NEW ZEALAND - APRIL 07: Catherine, Duchess of Cambridge and Prince George of Cambridge arrive at Wellington Military Terminal on an RNZAF 757 from Sydney on April 7, 2014 in Wellington, New Zealand. The Royal Family have arrived in New Zealand for the first day of a Royal Tour to New Zealand and Australia. Over a period of three weeks the Royal trio will visit 12 Cities in New Zealand and Australia taking part in activities as wide ranging as a yacht race in Auckland Harbour, paying their respects to victims of the 2011 earthquake in Christchurch and visiting Ayres Rock in Australia. (Photo by Chris Jackson/Getty Images)

Catherine (L), the Duchess of Cambridge, meets a Maori performance group during a welcoming ceremony at Government House in Wellington on April 7, 2014. Britain's Prince William, his wife Kate and their son Prince George are on a three-week tour of New Zealand and Australia. AFP PHOTO / MARTY MELVILLE (Photo credit should read Marty Melville/AFP/Getty Images)

Britain's Prince William (3rd R) and his wife Catherine (3rd L) are talked through the presentation by Maori elders during a welcoming ceremony at Government House in Wellington on April 7, 2014. Britain's Prince William, his wife Kate and their son Prince George are on a three-week tour of New Zealand and Australia. AFP PHOTO / MARTY MELVILLE (Photo credit should read Marty Melville/AFP/Getty Images)

WELLINGTON, NEW ZEALAND - APRIL 07: Catherine, Duchess of Cambridge and Prince George of Cambridge arrive at Wellington Airport on April 7, 2014 in Wellington, New Zealand. The Duke and Duchess of Cambridge are on a three-week tour of Australia and New Zealand, the first official trip overseas with their son, Prince George of Cambridge. (Photo by Hagen Hopkins/Getty Images)

Britain's Prince William (C) and his wife Catherine (R) meet local schoolchildren during a welcoming ceremony at Government House in Wellington on April 7, 2014. Britain's Prince William, his wife Kate and their son Prince George are on a three-week tour of New Zealand and Australia. AFP PHOTO / MARTY MELVILLE (Photo credit should read Marty Melville/AFP/Getty Images)

WELLINGTON, NEW ZEALAND - APRIL 07: Catherine, Duchess of Cambridge and Prince George of Cambridge arrive at Wellington Military Terminal on an RNZAF 757 from Sydney on April 7, 2014 in Wellington, New Zealand. The Royal Family have arrived in New Zealand for the first day of a Royal Tour to New Zealand and Australia. Over a period of three weeks the Royal trio will visit 12 Cities in New Zealand and Australia taking part in activities as wide ranging as a yacht race in Auckland Harbour, paying their respects to victims of the 2011 earthquake in Christchurch and visiting Ayres Rock in Australia. (Photo by Chris Jackson/Getty Images)

WELLINGTON, NEW ZEALAND - APRIL 07: Catherine, Duchess of Cambridge, Prince William, Duke of Cambridge and Prince George of Cambridge arrive at Wellington Military Terminal on an RNZAF 757 from Sydney on April 7, 2014 in Wellington, New Zealand. The Royal Family have arrived in New Zealand for the first day of a Royal Tour to New Zealand and Australia. Over a period of three weeks the Royal trio will visit 12 Cities in New Zealand and Australia taking part in activities as wide ranging as a yacht race in Auckland Harbour, paying their respects to victims of the 2011 earthquake in Christchurch and visiting Ayres Rock in Australia. (Photo by Chris Jackson/Getty Images)

WELLINGTON, NEW ZEALAND - APRIL 07: Catherine, Duchess of Cambridge and Prince George of Cambridge arrive at Wellington Military Terminal on an RNZAF 757 from Sydney on April 7, 2014 in Wellington, New Zealand. The Royal Family have arrived in New Zealand for the first day of a Royal Tour to New Zealand and Australia. Over a period of three weeks the Royal trio will visit 12 Cities in New Zealand and Australia taking part in activities as wide ranging as a yacht race in Auckland Harbour, paying their respects to victims of the 2011 earthquake in Christchurch and visiting Ayres Rock in Australia. (Photo by Chris Jackson/Getty Images)

Britain's Prince William (C) and his wife Catherine (centre L-red coat) are talked through a presentation by Maori warrior (R and far L) by Maori elders during a welcoming ceremony at Government House in Wellington on April 7, 2014. Britain's Prince William, his wife Kate and their son Prince George are on a three-week tour of New Zealand and Australia. AFP PHOTO / MARTY MELVILLE (Photo credit should read Marty Melville/AFP/Getty Images)

Britain's Prince William (C) and his wife Catherine (L) meet a Maori performance group during a welcoming ceremony at Government House in Wellington on April 7, 2014. Britain's Prince William, his wife Kate and their son Prince George are on a three-week tour of New Zealand and Australia. AFP PHOTO / MARTY MELVILLE (Photo credit should read Marty Melville/AFP/Getty Images)