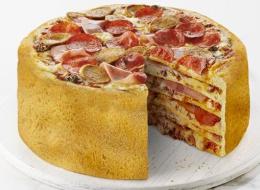 In Canada, this is what we call innovation.
Boston Pizza is currently carrying out "Pizza Game Changers," a spring promotion in which it comes up with new product ideas and asks the public to vote on which one it should make.
Topping the list on Friday was "Pizza Cake," a six-layer item that looks like the kind of dish you would find on "Epic Meal Time."
In fact, we're pretty sure the cake is the only product on the list we could see them making. Other "innovations" include pizza mints, a pizza protector and a gas-powered pizza cutter.
Boston Pizza is also serving some crazy foods as part of the promotion including the Calzono, the Pizza Taco and Pizzaburger Sliders.
"Pizza Game Changers" ends June 1, according to the company's Facebook page. Check out what you can eat until then:
Boston Pizza's 'Pizza Game Changers' Innovations
Chipotle and chicken taco wrapped in a pizza shell. Feed. Us. Now.

It has beef, black beans, cheesy queso dip, peppers, rice, tomatoes, cheddar, mozzarella, peppers and parmesan. This is what a calzone might look like if it were made in Mexico.

Anyone on a paleo diet should steer clear of this dish, which has cactus-cut potatoes, cheddar, mozzarella, BBQ steak and beer-braised onions.

Boston Pizza's Pizzaburger, just a little smaller. It's the kind of thing that Harold and Kumar would settle for if they couldn't find a White Castle.

Try to imagine Sriracha in place of tomato sauce and you have a pretty good idea of how hot this is.

Because some people just can't master a regular napkin.

Because it just looks that much cooler than carrying a pen in your front left pocket.

Why can't your car ALWAYS smell like you just brought a pizza home?

Give your slice the Fort Knox treatment.

Sometimes teeth just can't do the trick.

It has a four-stroke, two-horsepower engine and a steel-alloy cutting blade. You know, in case you want to douse your walls in marinara sauce.

Perfect for a first date!

Brought to you by "Epic Meal Time"!
Like this article? Follow our Facebook pageOr follow us on TwitterFollow @HuffpostCaLiv