Measles In Alberta: Naturopaths, Chiropractors Promoting Anti-Vaccine Messages (VIDEO)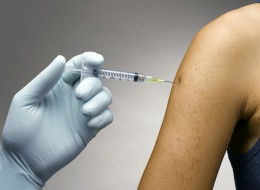 With a measles outbreak hitting as many as 22 victims across Alberta, some health professionals in the province continue to promote anti-vaccine messages, such as the scientifically discredited link between immunizations and autism.
Chiropractors, naturopaths and even a medical doctor have promoted these messages on their websites, in media interviews and in flyers handed out to their patients.
They have done so despite a litany of scientific study that contradicts them, and over pleas from health officials urging parents to vaccinate their kids against a potentially deadly disease.
Amid news of measles cases appearing in Alberta and elsewhere, a Calgary chiropractic clinic, Northside Wellness Centre, posted a link on its website on April 1 to a video titled, "Do vaccines cause autism?"
The video, narrated by actor and anti-vaccine advocate Rob Schneider, points out that as children have received more vaccinations in the last three decades, the U.S. autism rate has "skyrocketed," from 1 in 10,000 to 1 in 50 (it's currently 1 in 68, according to the Centers for Disease Control).
It goes on to say that "dozens of published research papers show that yes, vaccines and autism are linked."
Another chiropractor, Dr. Brad Harper at the Healing Hands Wellness Centre in Okotoks, proudly touts on his website that his son has never been vaccinated, but does not mention autism.
Neither clinic would return a request for comment, but Dr. Brian Gushaty, registrar with the Alberta College and Association of Chiropractors, said members should refrain from speaking about vaccinations and immunization.
"It's not something that's within the scope of practice for chiropractors in Alberta in the first place, so we don't think that chiropractors making commentary from their professional perspective is appropriate in any way," he told The Huffington Post Alberta.
"In fact, we expect them not to make comment."
The college is working through a list of websites that has been brought to its attention by Calgary Herald columnist Rob Breakenridge, who has written extensively about vaccinations. Gushaty confirmed that Northside Wellness Centre is on its list as well.
But chiropractors aren't alone in promoting the link.
Dr. Michael Mason-Wood, a doctor at Natural Terrain Naturopathic Clinic in Edmonton, links the two in a section on his website. He lists "vaccination stress" from the diphtheria (DPT) and the measles, mumps and rubella (MMR) vaccines as a "medical concern" that is often paired with an autism diagnosis.
Dr. Mason-Wood was not available for an interview. He deferred comment to his wife, Dr. Christina Bjorndal, who also works at Natural Terrain. She, too, was not available.
HuffPost Alberta made repeated attempts to contact the College of Naturopathic Doctors of Alberta for comment.
Dr. Allissa Gaul, the college president, did not return calls but she did speak to CBC News about this issue on April 10.
She told the Calgary Eyeopener program that the college would take disciplinary action against any member who was "falsely leading people to a particular conclusion," though that would only happen if someone made a complaint.
She added, however, that doctors should support their patients if they decide not to be immunized against diseases such as measles.
"If somebody chooses not to vaccinate, they should also have a support person behind them," Gaul said.
Dr. Gordon Storey, a vaccine expert at the University of Calgary, warned that medical doctors and naturopathic doctors are not the same thing.
"Doctors are under a college of medicine in a province that will regulate doctors to make sure they don't practice malpractice medicine," he said.
"There's no such thing that would govern naturopaths, so they can basically say anything they like, and each individual is not bound to follow the scientific literature."
But at least one medical doctor is promoting anti-vaccine messages in a patient handout posted to his clinic's website.
Dr. Bruce Hoffman at Calgary's Hoffman Centre for Integrative Medicine has a lengthy paper on his website that slams the critics of Dr. Andrew Wakefield, a U.K. doctor whose 1998 paper in The Lancet is credited as the first to link MMR vaccines with autism.
Wakefield's paper was retracted and he was barred from practising medicine in the UK after it turned out that he had performed spinal taps on children without the proper qualifications, and had paid kids for blood samples at his son's birthday party, BBC News reported.
The Hoffman Centre patient handout , titled "Vaccine Protest," defends Wakefield's research. The handout says Wakefield's paper proposed, "almost in passing," that there might be a link between bowel inflammation and autism in children who had received the measles vaccine, and that the "inflammation was caused by the measles virus from the vaccine itself."
The handout mentions seven peer-reviewed articles and a book that made a "powerful scientific link" between vaccines and neurodevelopmental damage.
The handout says "a growing number of researchers have also supplied hard data from very carefully done research that strongly suggest a link."
Hoffman did not return a request for comment. A representative for the doctor told HuffPost Canada that the contents of the handout were written by another doctor from a different organization, and conveys the views of that doctor.
Meanwhile, the college of physicians sent an email to doctors last week on behalf of Alberta Health Services that encouraged vaccination against measles.
Doctors are permitted to express contrary opinions, "but if they're putting their patients at risk by doing something then that's different," spokeswoman Kelly Eby told HuffPost Alberta.
Hoffman does not have any disciplinary decisions on his record. The college could not confirm whether there are any active investigations, as they remain confidential.
Asked whether the college is concerned about the information that Hoffman has circulated, Eby said that would be a decision for its professional conduct department, adding that it would be "irresponsible for me to guess what their answer might be."
Like the college of chiropractors, Eby said they could investigate a member through a complaint, or if they become aware of information through other means, such as the media.
Alberta Health Minister Fred Horne said that health professionals have a responsibility to support the province's vaccine program.
"We had eradicated measles pretty much across the country until recently when we began to see some outbreaks like we're seeing in Alberta today," he told The Huffington Post Alberta.
"Ultimately, it is a personal choice, I wouldn't disagree with that, but there are consequences to those choices."
CORRECTION: A previous version of this story indicated Dr. Bruce Hoffman was the author of a patient handout document posted on the website of his clinic. A representative for Hoffman and the clinic told HuffPost that the contents of the patient handout were written by another doctor from a different organization, and conveyed the views of that doctor. This version of the story has been updated.
Want to share this article? Follow our Facebook pageOr follow us on TwitterFollow @HuffPostAlberta
12 Vaccines For Your Child
Your newborn should get this shot even before leaving the hospital, and receive another dose at one to two months and a third at six to 18 months. The vaccine protects against an incurable, liver-infecting virus, hepatitis B, which can be passed to a baby during childbirth if the mother is infected. This virus spreads through contact with blood or other body fluids (sharing toothbrushes and utensils can put you at risk). Soreness at the site of the shot, or a slight fever, is the most common side effect, according to Gabrielle Gold-von Simson, M.D., assistant professor of pediatrics at NYU Langone Medical Center in New York.

The DTaP vaccine protects against diphtheria (a germ that can form a gray or black film in the throat), tetanus (an infection that can cause muscle spasms so strong they can break bones), and pertussis (a highly contagious disease that causes a severe, uncontrollable cough, known as whooping cough). Five vaccine doses are given to children at two months, four months, six months, 15 to 18 months and four to six years. (And boosters at age 11 or 12 and then every 10 years.) DTaP may be combined with other vaccinations to reduce the number of shots needed. "Now, it's DTaP with hepatitis B and the polio vaccine. So, it's five in one," Dr. Gold-von Simson says.

This combo shot protects against three viruses: measles (which causes high fever and a body-wide rash); mumps (which causes face pain, swelling of the salivary glands, and sometimes scrotal swelling in boys); and rubella or German measles (which can cause birth defects if the infection occurs during pregnancy). The first shot is given at 12 to 15 months of age and once again between the ages of four and six. MMR is sometimes combined with the chickenpox vaccine into one shot (brand name ProQuad). "All these different preparations are designed to reduce the amount of shots the pediatrician has to give," says Dr. Gold-von Simson.

Chickenpox, a highly contagious rash that many people remember from childhood, is caused by the varicella virus. A varicella vaccine was first licensed in 1995 and now spares future generations this itchy misery. Chickenpox infections can be especially dangerous in adults who don't have immunity from the vaccine or haven't had it in childhood, and can also lead to shingles, an extremely painful blistering rash. The shot is given to children at 12 to 15 months and again between four and six years. The vaccine can cause soreness at the site of the shot, fever, and, in some cases, a mild rash.

"Haemophilus influenza type b is the bacterium that causes meningitis," says Dr. Gold-von Simson. Meningitis, an inflammation of the membranes surrounding the brain and spinal cord, is particularly dangerous for kids under the age of five. Hib vaccines are generally given at two, four, six, and 12 to 15 months of age. Depending on the vaccine used, the six-month shot may not be needed. Fever, swelling, and redness at the site of the shot are potential side effects.

Polio vaccine is "such a success," says Dr. Gold-von Simson. "Because of the vaccine, there are no more cases (of polio)." There are no more in the United States that is. The virus hasn't been eradicated worldwide, so kids still get the IPV, or inactivated polio vaccine, which is a shot containing killed virus. Polio is bad news, and can cause paralysis and even death. Children are given the IPV at two months, four months, between six to 18 months, and then again between the ages of four and six years.

This vaccine, known as PCV13 (brand name Prevnar), protects against 13 types of Streptococcus pneumoniae, which are bacteria that can cause all sorts of mayhem, including meningitis, pneumonia, ear infections, blood infections, and even death. A total of four shots are given to kids (at two, four, six, and 12 to 15 months of age) to protect them against the germs, known collectively as pneumococcal bacteria. The most common side effects of the vaccine include drowsiness, swelling at the site of the shot, mild fever, and irritability.

Flu vaccinations are given each year starting in the fall. The Centers for Disease Control and Prevention recommends them for kids ages six months or older, although they aren't required for school attendance. (Connecticut and New Jersey require the vaccine for attending child-care centers and preschool.) Common side effects from the vaccine include soreness, redness, or swelling at the site of the shot. Fever and aches may occur too. "If you have an egg allergy, you shouldn't have the influenza vaccine," says Dr. Gold-von Simson.

The rotavirus vaccine (RV) (brand names RotaTeq, Rotarix) is given to children at two and four months of age. (RotaTeq is also given at six months.) The vaccine protects against a virus that is the most common cause of severe diarrhea and vomiting in young kids worldwide. About 55,000 children in the U.S. were hospitalized each year due to rotavirus before the vaccine was licensed in 2006. It is not required for school attendance. The vaccine is in liquid form and given by mouth to babies. It may make them a bit more irritable and can also cause mild diarrhea or vomiting.

Kids can catch hepatitis A from sharing food or drinks or by putting contaminated food or objects in their mouths. It's a viral infection that affects the liver, and can cause a number of symptoms, including fever, tiredness, jaundice, and loss of appetite. Children ages 12 through 23 months generally get two doses of the Hep A vaccine, with a minimum interval of six months between shots. Some states require the vaccine for school attendance. Soreness where the shot was given, headache, and loss of appetite are the most common side effects of the vaccine.

This vaccine, known as MCV4 (brand name Menactra), protects against meningococcal bacteria, which can infect the membranes surrounding the brain and spinal cord. MCV4 is recommended for kids at 11 or 12 years of age, and anyone between ages two and 55 who is at increased risk of infection (people with certain health conditions, military recruits). Teens starting college should be vaccinated with MCV4 before going to school if they didn't previously get the shot. (Freshman living in dorms are at increased risk of infection.) A little pain at the site of the shot is the most common side effect.

Human papillomavirus (HPV) vaccine (brand names Gardasil, Cervarix) is given in three doses over a six-month period, and is approved for girls between ages nine and 26. While there are over a hundred types of HPV, this vaccine protects against two sexually transmitted types that are the most common causes of cervical cancer. Gardasil also protects against two types that cause genital warts and is approved for boys between nine and 26 as well. The vaccine works only if given before an infection, so doctors recommend it for kids well before they could become sexually active. Although most states don't require HPV vaccination, many are considering mandating it for preteen girls.