MMVAs 2014: Lorde, Imagine Dragons First Confirmed Performers For MuchMusic Video Awards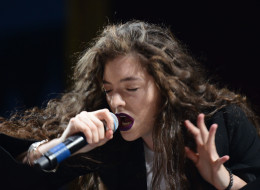 Lorde and Imagine Dragons are the first performers confirmed for the 25th annual Much Music Video Awards.
According to a press release, the two will be part of the live show set for downtown Toronto on June 15 and are both nominated for fan choice awards for Your Fave International Artist/Group of the year along with Miley Cyrus and Katy Perry. Fans can also nominate one of five "Wildcard Choices": One Direction, Beyonce, Taylor Swift, Selena Gomez and Pharrell Williams.
"We are thrilled to welcome first-time performers Imagine Dragons and Lorde to the MMVAs this year," MMVAs executive producer Sheila Sullivan said. "As two of the hottest performers in the world right now, who have both made such an incredible impact on music in such a short time, their electrifying energy and unique appeal are a perfect fit for this year's 25th anniversary show."
Other nominees in the fan choice area were announced, including Your Fave Video of the Year. Drake ("Worst Behavior"), Arcade Fire ("Reflektor"), SonReal ("Everywhere We Go") and Hedley ("Anything") are nominated in this category. Five "Wildcard Choices" include City and Colour ("Thirst"), Fefe Dobson ("Legacy"), Autoerotique ("Asphyxiation"), Serena Ryder ("What I Wouldn't Do") and The Weeknd featuring Drake ("Live For").
Finally, Your Fave Artist/Group of the Year includes nominees Drake, Hedley, The Weeknd and Justin Bieber. The "Wildcard Choices" include Arcade Fire, Classified, Sara and Tegan, Avril Lavigne and Down With Webster. Fans can vote online at the show's site or vote for through mobile device.
Voting closes on May 19 at 11:59 p.m. Eastern. A full lineup of nominees will be revealed in the coming weeks.

The MMVAs have featured many performers over the years including Lady Gaga, Katy Perry, Jonas Brothers, Rihanna, Lady Gaga and Britney Spears.
MuchMusic Video Awards Best And Worst Moments
In 2009, Lady Gaga was still trying to solidify her place as a top tier pop star and her MMVA appearance provided some fiery ammunition. During a medley of "LoveGame" and "Poker Face" her boobs — well, technically her bra — exploded, showering the stage with sparks. Said Gaga sagely afterwards, "My new name is Hot Tits."

At the time Arcade Fire were right on the verge of becoming the sort of super-huge rock band who has Thanksgiving dinners with Bono and get to make their all their own rules. This rendition of "Rebellion (Lies)," the band's first-ever North American live television performance, featured an undead marching band coming to life mid-song. Shortly after this the band swore off award show appearances for years.

Long before twerking and Major Lazer's "Bubble Butt" defined rump-shaking, Colombian singing star Shakira treated Canada to a display of ass-wiggling that bordered on the hypnotic while performing "Whenever Wherever." Her hips, as in turns out, don't lie.

When the Beastie Boys (RIP MCA FOREVER) descended on the Much building it quite literally made a whole city block go bonkers. Things were even nutty in the VIP tent where we watched Sam Roberts — at the time one of the most popular rockers in Canada — try to jump a barricade and get closer to the stage, but the security guards grabbed him and wouldn't let him.

After being broken up for 12 years, pioneering boy band NKOTB chose the MMVAs to make their big televised return. They played a medley of hits and made all the exhausted chaperon moms in the audience momentarily very excited.

One of the MMVAs big cliches is for bands to arrive on the red carpet in some sort of silly manner. There have been tanks, ice cream trucks, school buses... it's all very sad. Here's Marianas Trench overcompensating as they show up with a full marching band, gymnasts and cheerleaders in 2009.

Looking back on my concert notes, I wrote "Who are these tiny tramps?" when I saw them surrounded by security in the VIP area. Still not sure.

One of the MuchMusic empire's big things is to pick an act and steadfastly champion them. It's a noble notion. And sometimes it helps foster legacy artists like Matthew Good, but other times it means The Midway State win things. The band, seen here in this promo clip getting an award from Drake, have won as many MMVAs in the last decade as Lady Gaga, Rihanna and Sam Roberts.

It was bad enough that Lenny Kravitz inflicted the world with his version of "American Woman," the least necessary, most overrated cover song ever. But the ignominy of making The Guess Who all-but-invisible side-players on their own song is an unforgivable slap in the face. I also have it on good authority Kravitz refused to leave his dressing room that night until someone brought him cookies. Ass.

I once watched Puddle Of Mudd lead singer Wes Scantlin stand outside a woman's washroom at an MMVA after-party and try to hit on every woman who had just emerged from having a pee. It was... undignified.