Canada's 'Real Estate Agent Bubble' A Sign Of A Deep-Seated Economic Problem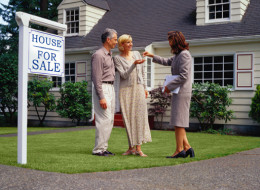 There's been plenty of discussion in recent years over whether Canada's seemingly unstoppable house price hikes are a sign of a real estate bubble destined to come crashing down.
But in an analysis at the National Post, Garry Marr sees a different kind of bubble: A real estate agent bubble.
Citing numbers from the Canadian Real Estate Association, Marr points out there are now more than 108,000 realtors in Canada, up from slightly more than 60,000 in 2000.
In Toronto alone, the number of realtors has doubled in that time, to 39,000 from around 20,000 at the turn of the century.
"We have almost as many people selling houses as making them," Marr writes. "Statistics Canada said in its labour force survey for the year 2013, there were 131,000 carpenters. There are only 202,200 cooks in Canada."
Story continues below
What $390,000 Will Buy You Across Canada
The average price of a house in Canada in the fall of 2013 was about $390,000. Here's what that amount will buy you in the country's various real estate markets.

Trois-Rivieres is one of the most affordable housing markets in Canada, and here the average house price will get you something close to a palace. Three bedrooms and some pretty awesomely fitted-out bathrooms in this 2,000-square-foot home.

This 580-square-foot cottage is located in Toronto's inner east end and has one bedroom on the main floor and a second in the basement. It may be small, but it's actually sort of remarkable that you can still buy a standalone house anywhere in the 416 for under $400,000. Listed at $389,000.

This custom-built split-level house on the east side of Regina has 1,800 square feet of floor space, and features a family with room with a fireplace.

At 548 square feet, this loft condo is only slightly smaller than that cottage in Toronto. But it's certainly slicker; it's located in yuppie-ish Yaletown and features a stainless-steel appliance kitchen with a movable island. Listed for $384,000.

$388,000 will get you this house with four bedrooms and as many fireplaces in charming little Summerside. A whopping 4,464 square feet of floor space on a half-acre lot makes this easily the largest home on this list.

Fort McMurray, the heart of Alberta's oilsands, may be a small city, but thanks to enormous oil business salaries, it has real estate prices like a big city. This two-bedroom condo on the south side of town features oak cabinets and a gas fireplace, and lists for $393,500.

Like in Toronto and Vancouver, $390,000 isn't quite enough to buy you your own standalone home in central areas of Montreal these days. But you can still get a lot more space for the money than you would in those other cities. This two-bedroom apartment on the third floor of a gorgeous stone building in the Plateau has 962 square feet of floor space. Lists for $389,000.

Mississauga is not known for its architecture, but maybe it should be, because some of the condo towers going up around Square One are far more interesting than the ones going up in downtown Toronto, 35 km to the east. For $385,000 you can move into a two-bedroom condo in the buildings known as the "Marilyn Monroe towers." The twin buildings were the 2012 winners of Emporis' best new skyscraper in the world award. Listed at $385,400.

At 2,400 square feet, this is definitely one of the larger houses you can buy in Canada for the cost of an average home. Kitchen features granite countertops and the master bedroom has a walk-in closet and three-piece bath. Lists for $385,900.

Who says you need a million bucks to own a house with a backyard in Greater Vancouver? Here's a three-bedroom property on 1,040 square feet, and it's SkyTrain-close. OK, a beauty it isn't, and Surrey isn't exactly close to downtown, but still. Listed at $389,880.

This 1,820-square-foot house, on the very southeastern tip of Winnipeg, features a master bedroom with walk-in closet and a three-piece ensuite bath. It's two years old and lists for $389,900.

Nine-foot ceilings in this 14-year-old house on a cul-de-sac in West Edmonton. Finished basement includes jacuzzi and sauna. Listed for $392,000.

This house, in a rural area 150 kilometres west of Winnipeg, is about as close to a southern plantation-style home as it gets in Canada. It's newer than it would appear, built in 1991, and sits on 75 acres of land.
But it's not just realtors: Employment and investment in real estate-related businesses has been very strong, perhaps too strong to be justified by economic fundamentals.
The number of people employed in construction hit a record high in the past few years, in records going back some four decades. Some 7.6 per cent of Canadians were employed in construction, compared to a long-term average of about 5 per cent. Meanwhile, the number of people employed in manufacturing hit a record low last year.
So what's behind this? The simple answer is soaring house prices. The more detailed -- and perhaps worrisome -- answer is that Canada appears to be undergoing a distortion of its economy.
Something happened to the economy during the last economic crisis. Capital stopped flowing to manufacturing and started flooding into real estate.
With the U.S. economy in a slump, no one was expecting a renaissance of exports to America. Meanwhile, record-low interest rates made mortgages more affordable, demand picked up and prices soared. In that economy, an investor would naturally take their money out of manufacturing and other struggling areas and throw it into real estate. Except now this process is beginning to make Canada's economy heavily reliant on real estate.
And the problem with that, as many economists point out, is that when a slump inevitably arrives in the housing market, it will take down a disproportionately large number of jobs. Putting its eggs in one basket could cost Canada in the long term.
The banks are contributing to this problem as well, at least according to the International Monetary Fund, which declared last year that Canadian banks "lend too much to mortgages and too little to small and medium enterprises."

That, in part, helps explain why manufacturing is in such a slump that Canada has been losing four per cent of its factory jobs, on average, every year since the recession.
Bank of Canada Governor Stephen Poloz is optimistic that the "great export turnaround" is just around the corner -- the U.S. will start buying more of Canada's stuff and investment will return to manufacturing and exports.
But the latest data shows little evidence this is happening, at least for now. And the housing market has become so lucrative that no one wants to disturb the money-making status quo.
As Marr points out, with a single-family home in Toronto how hovering around the $1 million mark, the two realtors involved in a transaction stand to split $50,000 between themselves on a single house.
Meanwhile, the economists at the mortgage-lending banks continue to insist there is nothing wrong with the amount of housing construction, and nothing unaffordable about current house prices.
Let's hope they're right, otherwise Canada's economy will have written a cheque it can't cash.