Kendall Jenner At Billboard Awards: 'You Guys, I'm the Worst Reader'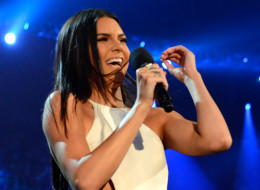 Kendall Jenner had a test run at her upcoming gig co-hosting the MuchMusic Video Awards with her sister Kylie Jenner.
But if the Billboard Awards are anything to go by, the MMVAs could be an amazing trainwreck. The 18-year-old reality TV star and model was introducing the latest boy band, 5 Seconds of Summer, but nearly called them One Direction and then made the awkward situation even more awkward by admitting: 'You guys, I'm the worst reader!"
Billboard Music Awards 2014
LAS VEGAS, NV - MAY 18: Singer/actress Jennifer Lopez (L) and recording artist Pitbull perform onstage during the 2014 Billboard Music Awards at the MGM Grand Garden Arena on May 18, 2014 in Las Vegas, Nevada. (Photo by Ethan Miller/Getty Images)

LAS VEGAS, NV - MAY 18: Singer Shakira performs onstage during the 2014 Billboard Music Awards at the MGM Grand Garden Arena on May 18, 2014 in Las Vegas, Nevada. (Photo by Ethan Miller/Getty Images)

LAS VEGAS, NV - MAY 18: Singer Lorde performs onstage during the 2014 Billboard Music Awards at the MGM Grand Garden Arena on May 18, 2014 in Las Vegas, Nevada. (Photo by Ethan Miller/Getty Images)

LAS VEGAS, NV - MAY 18: Recording artists Miranda Lambert (L) and Carrie Underwood perform onstage during the 2014 Billboard Music Awards at the MGM Grand Garden Arena on May 18, 2014 in Las Vegas, Nevada. (Photo by Ethan Miller/Getty Images)

LAS VEGAS, NV - MAY 18: Singer Jason Derulo (L) and rapper 2 Chainz perform onstage during the 2014 Billboard Music Awards at the MGM Grand Garden Arena on May 18, 2014 in Las Vegas, Nevada. (Photo by Ethan Miller/Getty Images)

LAS VEGAS, NV - MAY 18: Singer/actress Jennifer Lopez performs onstage during the 2014 Billboard Music Awards at the MGM Grand Garden Arena on May 18, 2014 in Las Vegas, Nevada. (Photo by Ethan Miller/Getty Images)

LAS VEGAS, NV - MAY 18: Rapper 2 Chainz performs onstage during the 2014 Billboard Music Awards at the MGM Grand Garden Arena on May 18, 2014 in Las Vegas, Nevada. (Photo by Ethan Miller/Getty Images)

LAS VEGAS, NV - MAY 18: Actress/singer Jennifer Lopez performs onstage during the 2014 Billboard Music Awards at the MGM Grand Garden Arena on May 18, 2014 in Las Vegas, Nevada. (Photo by Ethan Miller/Getty Images)

LAS VEGAS, NV - MAY 18: Recording artist Ariana Grande performs onstage during the 2014 Billboard Music Awards at the MGM Grand Garden Arena on May 18, 2014 in Las Vegas, Nevada. (Photo by Ethan Miller/Getty Images)

LAS VEGAS, NV - MAY 18: Recording artists Charli XCX (L) and Iggy Azalea perform onstage during the 2014 Billboard Music Awards at the MGM Grand Garden Arena on May 18, 2014 in Las Vegas, Nevada. (Photo by Ethan Miller/Getty Images)

LAS VEGAS, NV - MAY 18: Recording artists Charli XCX (L) and Iggy Azalea perform onstage during the 2014 Billboard Music Awards at the MGM Grand Garden Arena on May 18, 2014 in Las Vegas, Nevada. (Photo by Ethan Miller/Getty Images)

LAS VEGAS, NV - MAY 18: Recording artist Shakira performs onstage during the 2014 Billboard Music Awards at the MGM Grand Garden Arena on May 18, 2014 in Las Vegas, Nevada. (Photo by Ethan Miller/Getty Images)

LAS VEGAS, NV - MAY 18: Recording artist Shakira performs onstage during the 2014 Billboard Music Awards at the MGM Grand Garden Arena on May 18, 2014 in Las Vegas, Nevada. (Photo by Ethan Miller/Getty Images)

LAS VEGAS, NV - MAY 18: Recording artist Ariana Grande performs onstage during the 2014 Billboard Music Awards at the MGM Grand Garden Arena on May 18, 2014 in Las Vegas, Nevada. (Photo by Ethan Miller/Getty Images)

LAS VEGAS, NV - MAY 18: Recording artist Ricky Martin (C) performs onstage during the 2014 Billboard Music Awards at the MGM Grand Garden Arena on May 18, 2014 in Las Vegas, Nevada. (Photo by Ethan Miller/Getty Images)

LAS VEGAS, NV - MAY 18: Recording artist Ricky Martin performs onstage during the 2014 Billboard Music Awards at the MGM Grand Garden Arena on May 18, 2014 in Las Vegas, Nevada. (Photo by Ethan Miller/Getty Images)

LAS VEGAS, NV - MAY 18: Recording artist Luke Hemmings of 5 Seconds of Summer performs onstage during the 2014 Billboard Music Awards at the MGM Grand Garden Arena on May 18, 2014 in Las Vegas, Nevada. (Photo by Ethan Miller/Getty Images)

LAS VEGAS, NV - MAY 18: Recording artist Dan Reynolds of Imagine Dragons performs onstage during the 2014 Billboard Music Awards at the MGM Grand Garden Arena on May 18, 2014 in Las Vegas, Nevada. (Photo by Ethan Miller/Getty Images)

LAS VEGAS, NV - MAY 18: Singer Robin Thicke performs onstage during the 2014 Billboard Music Awards at the MGM Grand Garden Arena on May 18, 2014 in Las Vegas, Nevada. (Photo by Ethan Miller/Getty Images)

LAS VEGAS, NV - MAY 18: Recording artist Dan Reynolds of Imagine Dragons performs onstage during the 2014 Billboard Music Awards at the MGM Grand Garden Arena on May 18, 2014 in Las Vegas, Nevada. (Photo by Ethan Miller/Getty Images)

LAS VEGAS, NV - MAY 18: Recording artist Luke Bryan performs onstage during the 2014 Billboard Music Awards at the MGM Grand Garden Arena on May 18, 2014 in Las Vegas, Nevada. (Photo by Ethan Miller/Getty Images)

LAS VEGAS, NV - MAY 18: Recording artist Luke Hemmings of 5 Seconds of Summer performs onstage during the 2014 Billboard Music Awards at the MGM Grand Garden Arena on May 18, 2014 in Las Vegas, Nevada. (Photo by Ethan Miller/Getty Images)

LAS VEGAS, NV - MAY 18: Recording artist Ryan Tedder of OneRepublic performs onstage during the 2014 Billboard Music Awards at the MGM Grand Garden Arena on May 18, 2014 in Las Vegas, Nevada. (Photo by Ethan Miller/Getty Images)

LAS VEGAS, NV - MAY 18: (L-R) Recording artists Jennifer Lopez, Pitbull, and Claudia Leitte perform onstage during the 2014 Billboard Music Awards at the MGM Grand Garden Arena on May 18, 2014 in Las Vegas, Nevada. (Photo by Ethan Miller/Getty Images)

LAS VEGAS, NV - MAY 18: Recording artists Miranda Lambert (L) and Carrie Underwood perform onstage during the 2014 Billboard Music Awards at the MGM Grand Garden Arena on May 18, 2014 in Las Vegas, Nevada. (Photo by Ethan Miller/Getty Images)